People are going crazy after Medicine and Engineering after finishing their High School Education. Most of the students opt Engineering and Medicine blindly as it is treated as a sign of prestige in Society. However, the lucrative career options that come with these courses is one more reason that draws the attention of Students.
However, there are a lot more career options other than Engineering and Medicine that can provide you great career options and a better future.  Rather than simply going with the trends identify your skills and interests before opting for any career. It is necessary to check for future Job opportunities before drifting into any Career.
Let's get deep into the article and look for some of the best courses other than Engineering and Medicine.
Bachelor of Science Courses
Once Engineering came into limelight Bachelor of Science Courses are faded away for no reason. Both Parents and Students started ignoring it irrespective of the fact that the course gives various opportunities. You can study diverse subject areas in these courses and many of the IT Companies are even recruiting B.Sc Holders too.
You can go for M.Sc after B.Sc and have a promising career. This Course has great scope for those who wish to enter the research fields and can be great for those who take it seriously. The course can be done in various disciplines like IT, Agriculture and Computer Science, etc.
Few other disciplines include
Physics
Nautical Science
Hotel Management
Electronics
Forestry
Horticulture
Electronics and Communication
Mathematics
Sc. Biotechnology
Chemistry
Bachelor of Architecture(B.Arch)
It is a 5-year course that is pursued by students following higher secondary education. This Course produces quality licensed and professional architects who can work in government and private ventures. With the growing demand for construction business, there is an improvement in the Job Prospects.
Pursuing the B.Arch Course from a reputed university or college will have more chances of getting hired.
Fashion Design Courses
Students who have a passion for Fashion can opt for a degree in this field. The Course focuses on building groundwork in the design sense, individual artistic expression, research, conceptualization. Students with an artistic and creative mind can only excel in this field. Few of the Under Graduate Programs in the Fashion Design is
Fashion Design and Technology
Fashion Communication
Textile Design
Design (Leather)
Interior Designing
Product Design
Design (Accessory)
Furniture and Interior Design course
If you want an additional master's degree or wanted to study further you can do advanced courses in the country or around the world.
Integrated Law Courses
Aspirants who want to go with a Career in Law have many Integrated Law Courses that can shape your career. Similar to Engineering and Medicine Courses, Law Courses can be great for students who have specialized in Science.
Some of the Integrated Law Courses are
Sc. + LL.B.
Com. + LL.B.
Com. + LL.B.
BBA + LL.B.
You can go with a few other certification courses recognized by the government to excel in the field.
Teaching Courses
Teaching is considered a noble profession and isn't a usual profession. A teacher has a great role in shaping a student and influencing him. They are responsible for creating better citizens of India. You can go for various Teaching Courses after finishing your Plus Two. They are as such
Bachelor of Education (B.Ed.)
El. Ed. and M.A. in Elementary Education
Diploma in Early Childhood Care and Education
You can even go with Physical Education the most interesting task of teaching by applying for NET Exam followed by a Master's Degree.
Marine Field Courses
If you love to explore the beauty of the sea, travel to foreign ports and experience different cultures with a decent salary then Marine Courses can be great. Students can go with a diploma in marine engineering or B.Sc Courses in areas like
Logistics and Shipping
Ship Building and Repair
Nautical Science
Naval Architecture and Offshore Engineering
Maritime Science
Apart from decent salaries, you can have many other perks and benefits. You can be a part of the sector by undergoing courses like GME, Saloon rating, DECK rating,  Engine rating, GP rating, and NCV courses.
Bachelor of Pharmacy(B.Pharm)
If you are interested in Medicine but looking for some alternative you can Opt for B.Pharm. Students done with higher secondary education can pursue the Course. Aspirants who underwent this course will get a license to practice as a Pharmacist.
Graduates can work in the various fields of Public and Private Sectors like prescription, manufacture, & provision of medicines.
Bachelor of Business Administration(BBA)
Students who wish to pursue a degree in Business can look for this Career Option. This 3-year Bachelors's Degree can be great for both Science and Mathematics Students. You will get decent jobs with this course and you can even go for advanced degrees like an MBA. Improve your job prospects and move up to managerial roles in the organization.
Aviation Courses
Aviation Sector has various job opportunities for graduates who are having passion in this career. You can pick the favorite area in the industry and undergo a job-oriented course in a particular area right after your 12th. We listed a few of the popular courses and aviation study areas that you can look into after your high school education.
Airport management
Ground Staff and Cabin Crew Training
Commercial Pilot training
Airfare and Ticketing Management
Aviation hospitality
AME (Aircraft Maintenance Engineering)
Bachelor of Hotel Management (BHM)
It is a 4 Year Undergraduate Program like Engineering Degree. Students wishing to have their career in the Hotel Industry can go with this career Option. This job Oriented Course can help students take up different roles in the travel and hotel industry. Spending 2 more years after this enhances your job prospects.
Make sure you get the Hotel Management Degree from a reputed university or college to have more chances of hiring.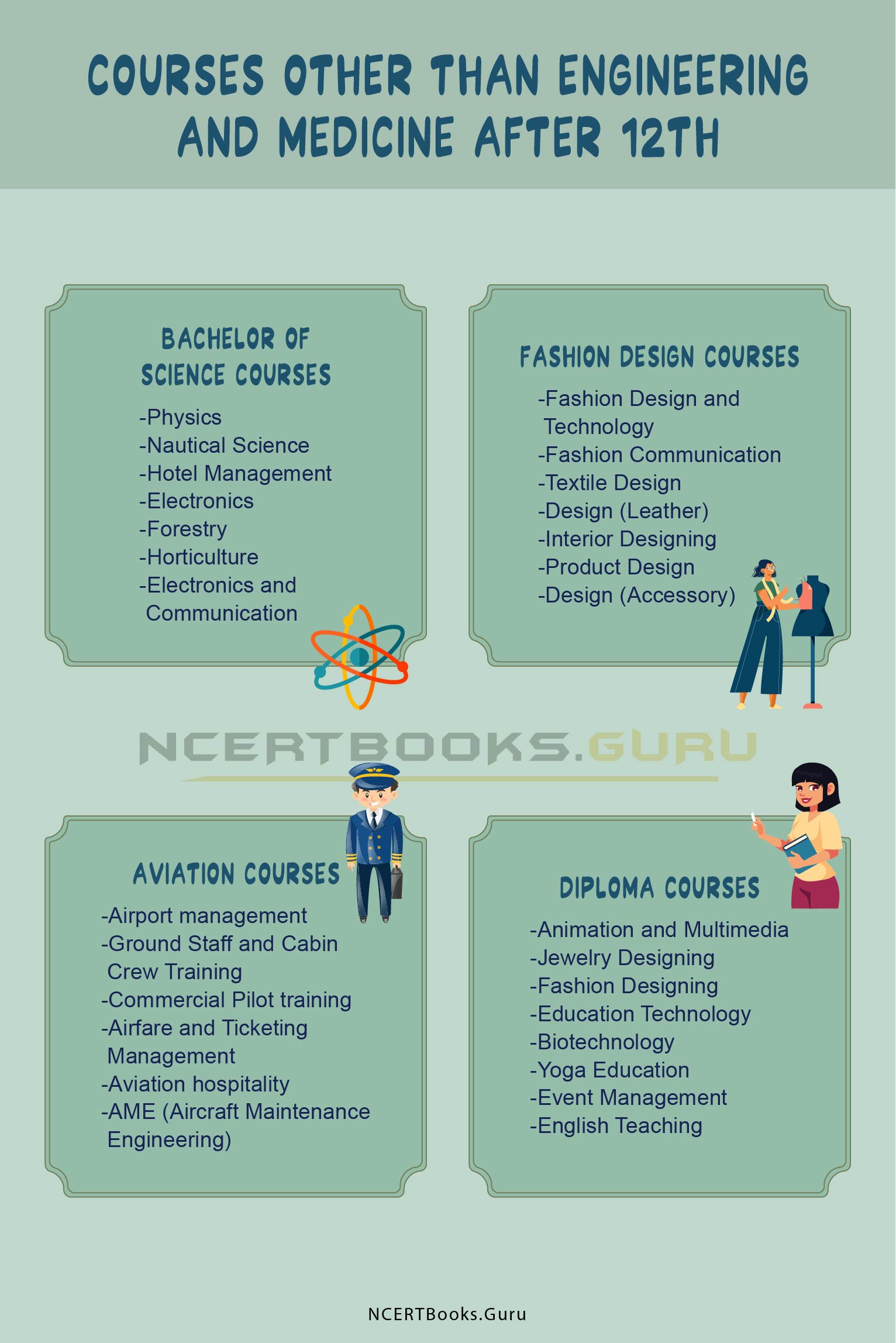 Bachelor of Management Studies (BMS)
Apart from the BBA Course, Students willing to pursue a degree in Management can look for a BMS Degree. It is a three year course that can be done by the 12th students of the Science stream. Both BBA and BMS can be great to establish a career in the field of Business Management.
BMS degree lays a stronger foundation of traditional management and even covers elements of commerce.
Diploma Courses
If you want a job oriented degree rather than regular ones you can go with various diploma courses available. Course Duration for these courses is a few months or an year unlike a 3 year or 4 year degree. You can go for a diploma in preferred stream after your Plus Two to get decent job. Some of the job oriented diploma courses for 12th students with Science Stream.
Animation and Multimedia
Jewelry Designing
Fashion Designing
Education Technology
Biotechnology
Yoga Education
Event Management
English Teaching
Interior Designing
Print Media Journalism
Banking and Finance
Retail Management
Film making, Video Production, and Editing
Final Words
With Lucrative Options available why go with a course just because everyone is doing or your family pressurized you. Analyze the Options available and select a career where you can excel and contribute to something. If you have any other recommendations feel free to suggest us so that we can add on to the list.
Related Course Details