FRM Course Details: If you are desired to challenge yourself by solving financial risks then becoming a certified FRM holder is the correct career option. From this page, you can gain complete knowledge about FRM Full Form, Course eligibility, Fee structure, FRM Course Certification, Exam Pattern, and Career opportunities for FRM Certificate Holder. Moreover, you can have an idea of FRM certified holder job designations and Earnings of FRM certification professionals through this article.
What is FRM?
FRM course full form is Financial Risk Management, is a professional designation bestowed by the Global Association of Risk Professionals (GARP). Candidates who finish their FRM Certification Program successfully within the allocated duration are awarded as a certified FRM by GARP. It is a globally appreciated symbol for those who manage risk.
After seeing the rapid changes in the finance industry all over the world there is a requirement for experts who manage risk, money, and investment to earn worldwide standardized modern knowledge, and also FRM strives to fill that gap. However, the FRM exam is a practice-oriented examination offered in two parts; questions are meant to relate theory to practical, real-world, problems. View more info about FRM Course details in the below modules.
FRM Course Details
| | |
| --- | --- |
| Course  | FRM |
| Full form | Financial Risk Management |
| FRM Course Eligibility | Minimum graduation |
| Duration | Exams will be conducted twice in a year |
| Fee Offered for exam |  $350 |
| Course Type | Certified Exam |
| Starting salary offered |  INR 900,000 |
| Advance Courses | Advance Certificate in Financial Accounting, Advance Certificate in Financial Statement Analysis |
| Employment opportunities | Market Risk Manager, Regulatory Risk Manager, Commercial Risk Manager |
FRM Certification & Eligibility Criteria
The certification exam for financial risk management is held twice in a year by the council. Candidates will be certificated based on qualification through merit scores in the exam. Interested aspirants can appear for the FRM Certification Exam in May and November. Anyone can take this exam as there are no educational or professional requirements to appear for the FRM Exam.
FRM Course Duration
Based on the aspirant's focus and dedication, it takes a minimum of 1 year to finish both the exams of the FRM course. Candidates can give the exams of FRM Part I and Part II in May and November. Also, there is FRM exam validity for 5 years from the date of registration. That means the aspirant should clear both the exams and get 2 years of experience, and acquire the certificate within these 5 years. However, to become a Certified Financial Risk Manager, aspirants must meet with the following outline of the program: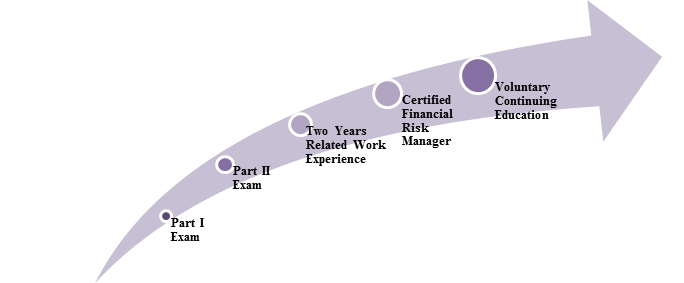 Financial Risk Management (FRM) Course Certification
Candidates who meet with the requirements of the FRM Exam can be eligible for the certification. Aspirants should follow the three main steps for becoming a certified FRM. The following steps are the only way to complete the certification of FRM. So, follow them:
One should pass the FRM Exam Part I.
After that, candidates have to pass FRM Exam Part II within 4 years after passing the Part I FRM Exam.
They need to show 2 years of professional full-time financial risk management work experience.
If you need more clarity on this, you can check the above-displayed image of the FRM Course Program Outline. Check out the below modules and get to know more about FRM Part I Exam and FRM Part II Exam details.
FRM Part I Exam Pattern & Syllabus
One of the first steps that you should fulfill to become a Certified Financial Risk Manager is clearing the FRM Part I Exam. Aspirants should know about the exam pattern and concepts & theories involved under risk management and what should be included to a risk manager's daily work. Every year, the exam of FRM Part I will be conducted in May and November months. So, candidates need to concentrate on the required Part I important tools and concepts to clear the exam. There are 100 MCQs to be solved within 4 Hours. The below diagram portrays the subjects that the aspirants are expected to prepare for the level I exam with their respective weightage.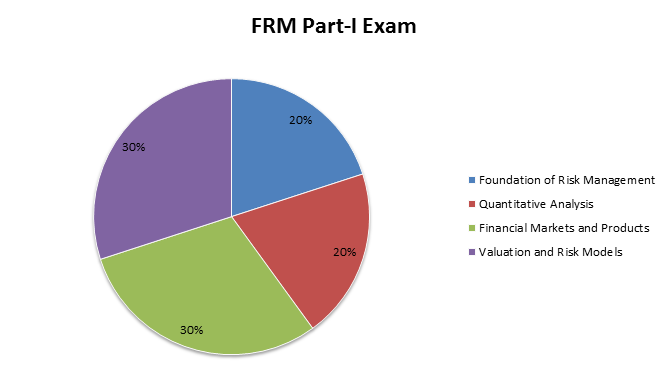 FRM Part II Exam Pattern & Syllabus
And the second step candidates should follow after qualifying the part 1 exam of FRM is the Financial Risk Manager Exam Part II. They have to clear this FRM part 2 exam also to become a certified FRM. The FRM Exam Part II centers on the practical application of risk management tools involved in Part I to particular areas of risk management like credit risk, market risk, and operational risk. Aspirants can take this exam in May and November every year. You will be seen 80 multiple choice questions to attempt within 4 Hours of exam duration. The below diagram narrates the subjects with their respective weightage, which are supposed to prepare by the candidates for the level II FRM Exam.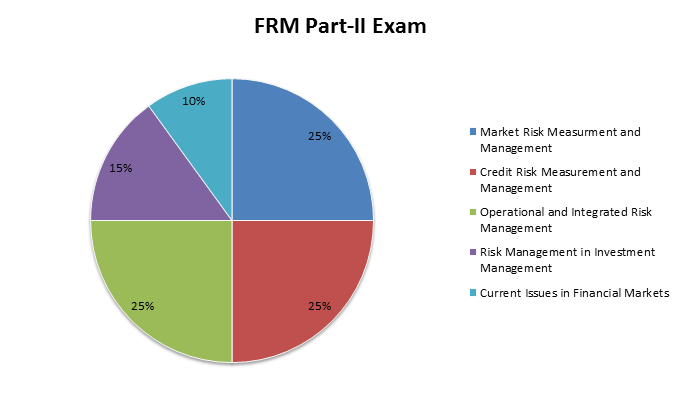 Fee Structure for FRM Certification
The estimated Financial risk management certification Free Structure is mentioned below. Make use of the below points and know the application and examination fee structure for 2 papers by verifying further. To have a prior idea on the FRM Certification Fees, we have provided the fee structure here:
Part I
Early Registration: $825
Standard Registration: $950
Late Registration: $1125
Part II
Early Registration: $350
Standard Registration: $475
Late Registration: $650
As there is no fee for the exam of FRM Certification. Candidates have to pay the fee for registration and that would be taken in the amount of Exam as mentioned above. You can only register for the exam in an online mode. Candidates can expect the registration process on the dates of continuity months.
FRM Career Options – Industries Employing Certified FRM's
The certification course of a financial risk manager is an ultimate designation that aids you with specialized knowledge and skills in the field of financial risk management. It offers varied career options in Risk Management, Trading, Structuring, Modeling, etc. You can also check Different Courses After MBA or Management Engineering Courses to pursue or get steps on How to become an Entrepreneur in India. After completion of your FRM Course, you can start your career in the following fields:
Banks
Risk and technology vendors
Asset management firms
Hedge funds
Credit agencies
Corporations (including non-financial corporations)
Consulting firms
Insurance firms
Central banks
Investment banks
Government/regulatory agencies
Job Profiles for FRM Certification Holder
In this present situation, every industry requires FRMs, as they consider FRMs has extensive knowledge and high professional standards to manage risk, investment, and money. FRM certificate holders can get jobs in various firms and industries and they will be worked in some of the main Job profiles involved in the firms like listed below:
Risk Quantification Manager
Enterprise Risk Manager
Risk Manager
Market risk specialists
Credit risk specialists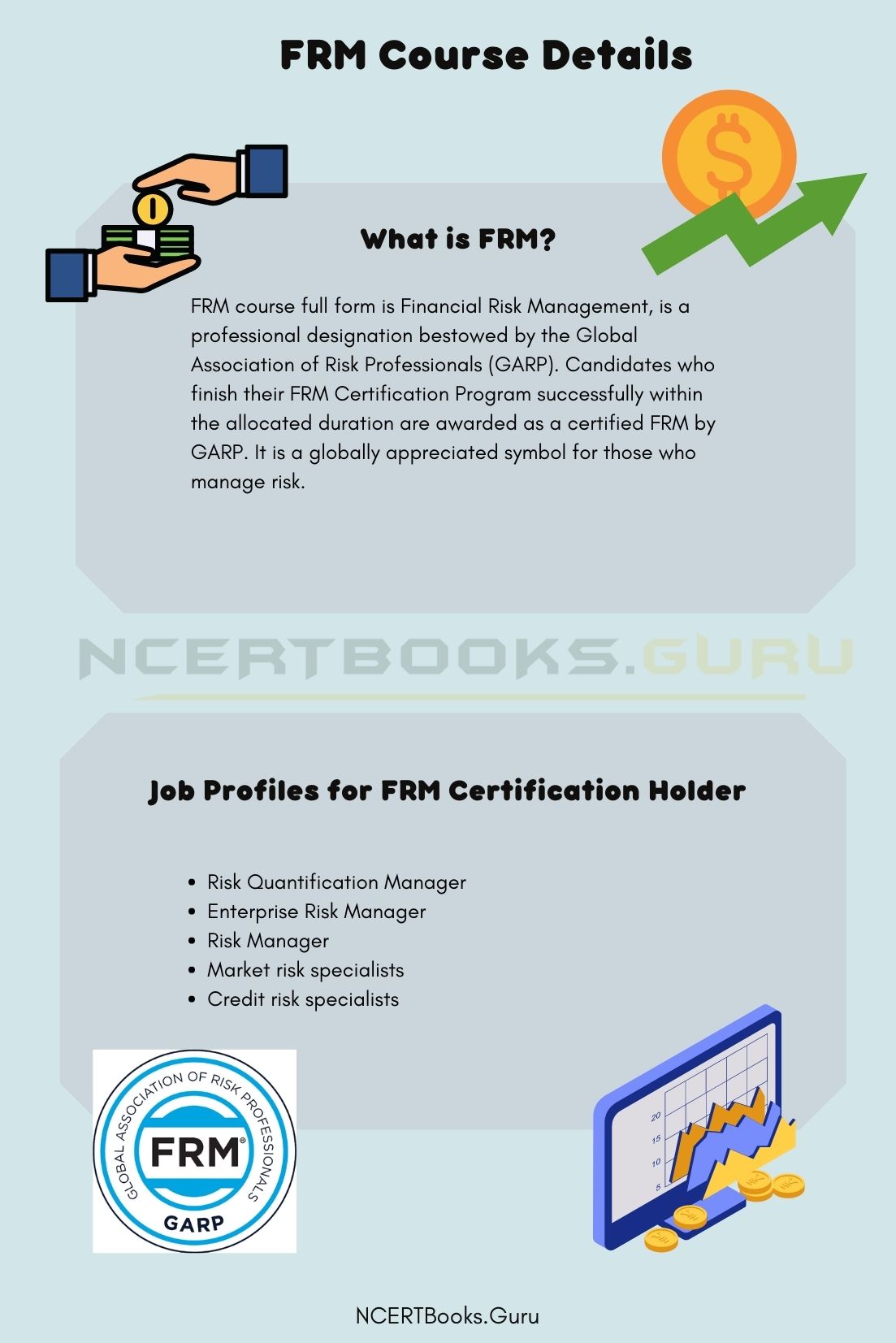 FRM Certificate Holder Salary Details
Candidates who hold FRM Certificate can earn the average salary in India is INR 900,000. The salary for FRM professional and experienced candidates can earn a bigger amount compared with the salary amount of a fresher. Also, the earnings may vary based on the skillset and diligence and experience gained by the individual in the workforce.
More related articles:
FAQs on Financial Risk Management (FRM) Certification
1. What is the mode of examination for both Part I and Part II FRM Exam?
Both FRM Part I and II exams would be manual via paper and pencil.
2. When can one appear for the exam?
Financial Risk Management Certification Part I & Part II exams are available on the 3rd Saturday of May & November each year.
3. How much work experience required before applying for the FRM Exam?
However, there are no educational or professional prerequisites to apply for the Financial Risk Manager Exam. But, to become a Certified FRM, individuals must have professional experience of two years in risk-related full-time professional experience positions including portfolio management, risk consulting, and other fields.
4. What are my career opportunities after becoming a Certified FRM?
There are various career prospects available as it is the most prominent designations in the risk management industry. FRM certified holders job options can be like Chief Risk Officer, Senior Risk Analyst, Head of Operational Risk, and Director, Investment Risk Management, etc.
5. What is the Salary of FRM in India?
FRM Certified holders can get an average salary in India is INR 90,000 also it depends on the firm and the industry they are working in and also the experience the candidate hold.
6. Which is the best reference book for the FRM Examination?
Some of the best FRM Reference Books are listed below:
2017 FRM (part 1) Curriculum (GARP) Books + Free Question Bank
2017 FRM (part 2) Curriculum (GARP) Books + Free Question Bank
Summary
Hope, the information shared as a part of the FRM Course Details has lit up you a bit. For any other information needed feel free to drop us your suggestions via comment box and we will help you resolve them at the soonest possible. Keep in touch with us to know more about different course details, study materials, notes, and books you need as a part of preparation.