CFA Course Details: Aspirants willing to join CFA Course can go through the entire information all in one place. Access Details like CFA Full Form, Eligibility & Requirements, Fee Structure, Duration, Salary, etc. Refer to the Charted Financial Analyst Syllabus so that you will be aware of what to prepare. Clarify all your queries by going through the entire article and join the globally recognized course and lay a strong foundation of real-world investment analysis.
About CFA
Charted Financial Analyst Course provides distinctive and diverse programs for candidates who are willing to become investment professionals. It embarks financial and investment management skills in aspirants.  This globally recognized program provides a strong base for the investment analysis world. In order to pursue this course, you need to undergo a CFA Entrance Examination.
CFA Course Details
| | |
| --- | --- |
| Course  | CFA |
| CFA Course Full form | Chartered Financial Analyst |
| CFA Course Eligibility |  Bachelor's Degree |
| Duration | 2 years |
| Fee Offered for CFA | $450 (One Time Charge) |
| Course Type | Certification |
| Starting salary offered |  Rs. 3 lakhs |
| Similar Course | CA, CA+, CMA |
| Employment opportunities | Research Analyst, Finance Manager, Credit Analyst |
CFA Course Syllabus
It is necessary for candidates to be aware of the Syllabus beforehand in order to score well in the examination. CFA curriculum follows the same subjects at each level of the exam. However, the difficulty level of the exam increases with each level. Candidates should clear all three levels of examination for CFA Course i.e. Level I, Level II, Level III. Have a look at the subjects and topics you need to cover as a part of the CFA Syllabus. They are along the lines
Ethical and Professional Standards
Financial Reporting and Analysis
Economics
Quantitative Methods
Corporate Finance
Fixed Income
Equity Investments
Portfolio Management
Alternative Investments
Derivatives
Eligibility Criteria for CFA Course
Candidates who want to pursue the CFA course should complete Bachelors's Degree or equivalent from any discipline. Candidates who are in the final year of the Bachelor's Programme can even apply for the CFA Certification Course.
Institutes offering CFA Course
FTMS Global Academy India Private Limited
Central India Institute of Management Studies – CIIMS Raipur
Mansukh Institute of Financial Markets – MIFM
Indian Institute of Business Management and Studies – IIBMS
Required Skillset for CFA Course
Discipline
Time Management
Diligence
Integrity
Attention to Detail
Focus
Curiosity
Self-motivation
Agility
Communication skills
Entrance Exams for CFA Course
Candidates willing to opt CFA need to complete three levels of Chartered Financial Analyst Exam i.e. Level I, Level II, Level III held by CFA Institute. Aspirants are required to clear each level of the exam subsequently.
CFA Fee Structure
Total Fee for the entire CFA Certification is 32,000/- for all the modules. Check out the fee structure for the Charted Financial Analyst in advance as there can be a slight variation.
Job Opportunities after Pursuing CFA Course
Wealth Management firms
Investment Management
Credit Rating or Analysis
Equity Research
Portfolio Management firms
CFA Career Prospects
After completing the CFA certification, you can have plenty of opportunities in various departments and get handsome packages. CFA Course opens up plenty of opportunities both in government and private sectors and they are as under
Business Consultant
Chief Executive Officer
Private Bankers
Risk Manager
Research Analyst
Investment Banking Analyst
Corporate Financial Analyst
Financial Advisor
Do, Check:
Earnings of CFA Certificate Holder
CFA Certificate holder can earn on an average of 3 Lakhs Per Annum. Once, you gain enough experience and skillset salary will not be the constraint and you can demand more.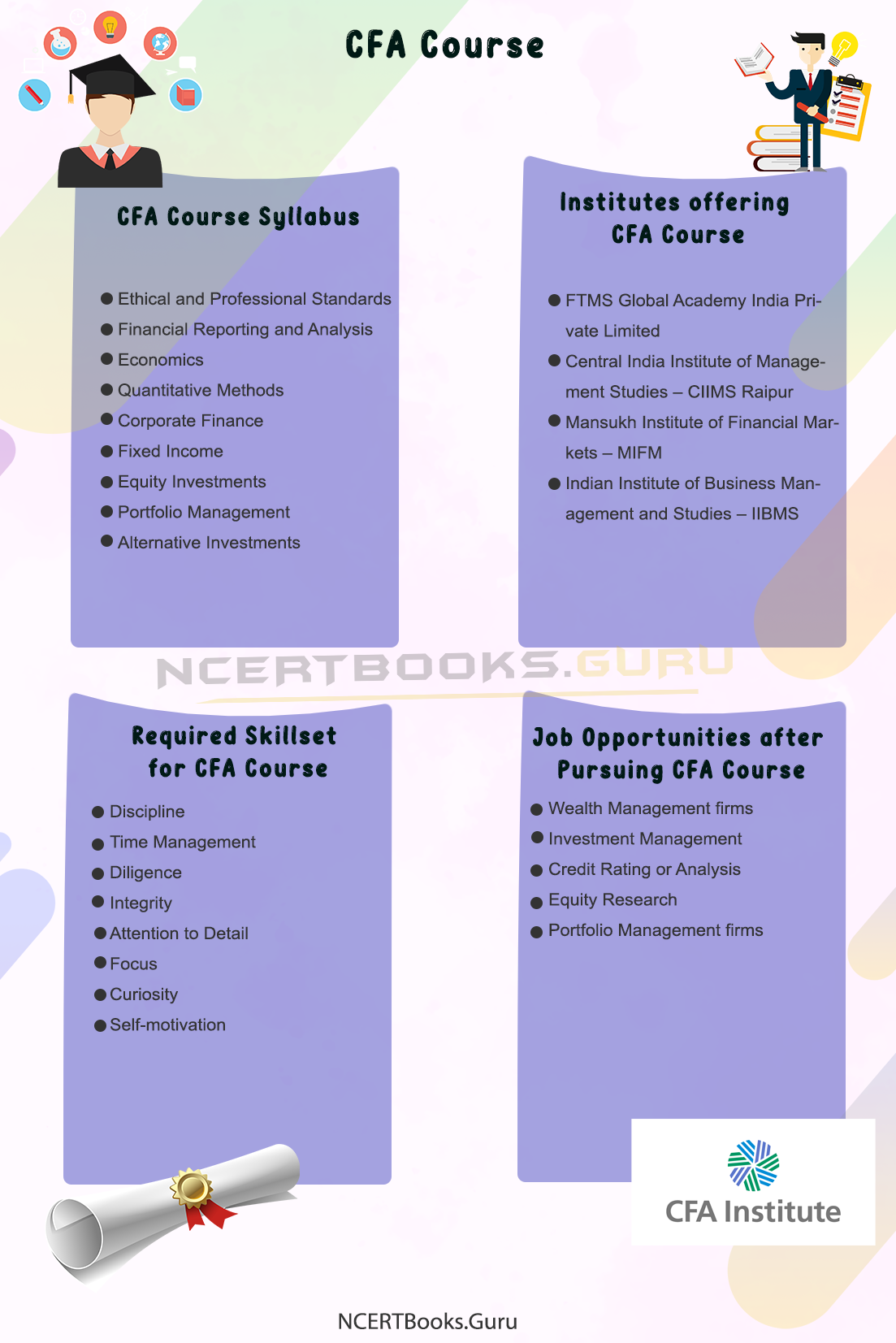 FAQs on CFA Course
Starting Salary for CFA Professional will be around 3 LPA and once you gain enough experience you can earn more.
CFA Exams are difficult to clear but if you put enough effort and prepare well, you can clear the exam.
3. Can CFA be done after 12th?
Students can join the Charted Financial Analyst Course after finishing the Bachelor's Degree or Equivalent. Thus, Candidates who finished their 12th can't apply.
Summary
We believe we have shared enough information about the CFA Course Details like Eligibility, Entrance Exams, Colleges List, and Salary. For any other information required feel free to reach us and we will help you out at the soonest possible. Stay connected with our site for more study related stuff like course details, syllabus, books and other study materials, etc.