How To Become A Business Analyst In India: Planning and communication problems are usually at the root of business improvement projects' failures. There are numerous reasons most of the projects are never projected to be finished on time or on budget. Increasingly, businesses recognize the importance of improving outdated processes, adopting new technologies and hiring a good business analyst in order to remain competitive. A career as a business analyst is highly rewarding and lucrative, particularly if you're an analytical thinker who enjoys solving business problems.
Refer to Course Details to know more about related courses and find details like Admission Process, Eligibility Criteria, etc.
Who is a Business Analyst?
When someone's job is to examine some specific accords in detail to keep updated on the present and future financial and business crisis, they are called an analyst. As a Business Analyst, you may pursue a variety of paths based on your background and prospects. Business Analysts are persons who have demonstrated strong analytical and communication both written and verbal skills. Accordingly, graduates with any degree either technical or non-technical can pursue this role.
Eligibility Criteria for Business Analyst
Students coming from a wide range of educational backgrounds can enroll in Business Analysis courses.
To pursue a business analysis course, students must meet the following basic academic requirements:
Candidates must earn 10+2 levels or equivalent examinations level before enrolling in a Diploma course.
Candidate must get an average of 50-60% in 12th-grade mathematics and statistics to be able to apply to Undergraduate programs.
Students could also choose relevant undergraduate regulations for their undergraduate degree even if they did not select the disciplines mentioned above.
Two to three years are required for the postgraduate program. Bachelor's degrees in the relevant subject are required.
Do Refer:
Role of Business Analyst
Business analysts need to know how things work for them in order to pursue this career path. Business Analysts regularly use a variety of techniques, which include excelling at communicating and analyzing data, as well as possessing technical and project management skills.
Every development step in the business sector is connected by them. They fill the gaps between departments. Analysts interact with subject matter experts and business stakeholders. Using business problems as a basis for analyzing information and analyzing documents.
Business Analysts today recognize several characteristics of their roles, which include the following:
Identification of opportunities for improving business operations and processes together with the business.
Creating, modifying, or maintaining systems for the business or information technology.
Gathering information, analyzing documents, and analyzing business requirements.
Annotate function and, sometimes, design of the system.
Assisting with the implementation of the system by interfacing with the architects and developers.
Assist in the testing of the system and in creating system documentation.
Scope of a Business Analyst in India
In order to start their careers, business analysts communicate with recruiters about entry-level positions relevant to their undergraduate degrees. Business analysts are expected to be in demand by 14% by 2024, according to the Bureau of Labor Statistics. The average percentage for growing occupations is among the highest.
A Business Analyst can pursue the following five career paths:
Business Analyst, IT
Data Analyst
Business Analyst Manager
Statistical Analyst
Data Business Analyst
Recruiters look for candidates with qualifications to fulfill various requirements of these career paths. The ability to analyze and communicate effectively is essential for success as a Business Analyst in any industry.
Major Skills Required for a Business Analyst in India
To become a successful Business Analyst, you may need a variety of skills. The following skills are required to become a Business Analyst based on a candidate's educational background and experience:
Awareness of business opportunities
Interpersonal skills and communication
Organizing and managing time
Ability to solve problems
Ability to analyze
The ability to lead and manage
Interest in learning how to work with computers and manage projects
Python programming
Microsoft Excel
Mathematical knowledge
Aptitude for business and strategy
Programs in Business Analysis
Some of the top colleges in India offer courses in Business Analytics and Development. Some of these courses are listed below:
BBA degree
Bachelor of Business Management
MBA degree
Diploma in Business Administration
PG Diploma in Business Analysis
Innovation, agility, and adaptability are key components of a successful organization, especially in today's complex business environment. If economic conditions are not favourable, traditional methods might not lead to achieving goals. Taking customer needs and transforming them into new products, services, and profits is how companies accomplish their goals.
Businesses rely on Business Analysts to identify requirements for their projects or programs, and then communicate them to stakeholders, facilitators, and other partners to ensure they are implemented in an efficient manner.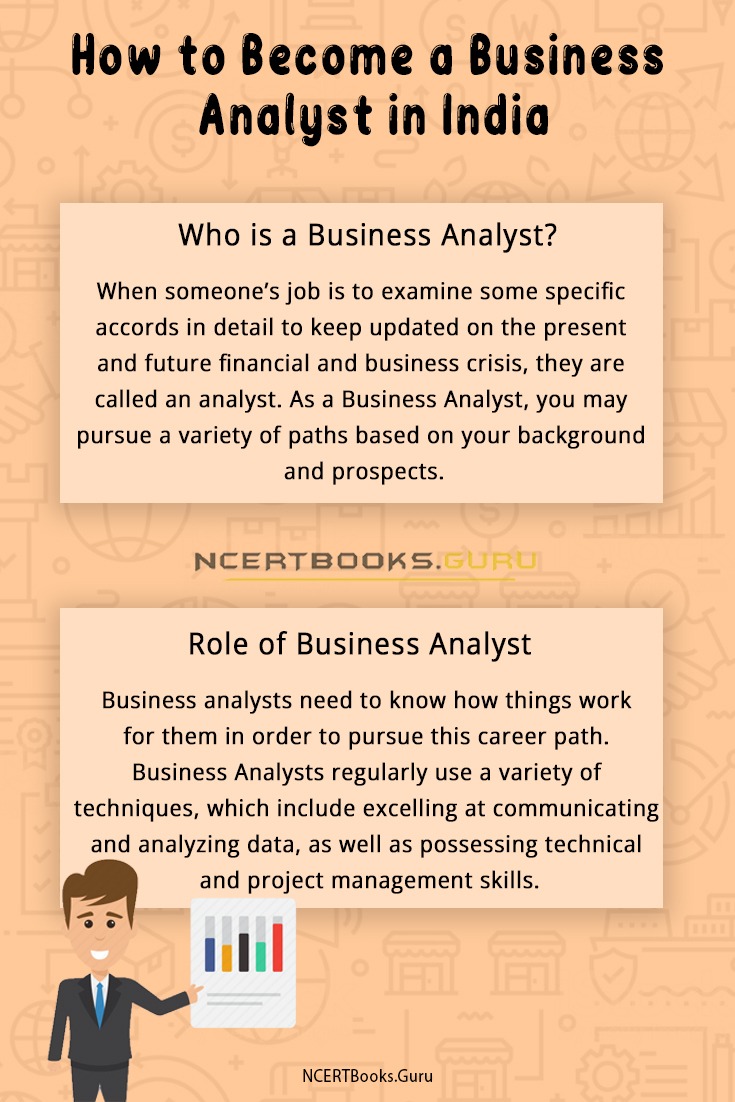 FAQ's on How to Become a Business Analyst in India?
Question 1.
Which business analyst companies are the best in India?
Answer:
The following are some of the best corporate houses that hire business analysts in India, according to a Linkedin report.
Tata Consultancy Services
Cognizant
Accenture
GENPACT
Wipro
Infosys
IBM
Deloitte
HPE
Fractal Analytics, Mu Sigma Analytics, and AbsolutData are a few startups that offer excellent career opportunities in Business Analytics.
Question 2.
What are the institutions that offer Business Analyst courses?
Answer:
The number of Business Analysts in India is increasing as more institutions and organizations offer Business Analyst courses.
Some of the best Indian institutes that offer business analysis courses include the following:
IIM, Kolkata
IIM, Bangalore
Indian Statistical Institute, Kolkata
Indian School of Business, Hyderabad
Great Lakes Institute of Management
Praxis Business School
Question 3.
What is the salary of a Business Analyst?
Answer:
As one of the most sought-after professionals, business analysts combine business and analytical skills, and they are often rewarded with high salaries. Business analysts in India earn an average salary of INR 12.70 lakh regardless of their experience level.