Product managers play a crucial role in bringing products to the public's attention. A product manager is a highly organized, technically skilled employee of the organization who also possesses critical-thinking abilities and a desire to work creatively.
So if you are a person who is looking to become a product manager, then this page is for you. This article will explain everything about what is product manager, the educational qualifications required for career opportunities, salary structure, and much more. Read further to find more about the product manager role in India.
Who is a Product Manager?
Throughout the product lifecycle, product managers coordinate the development, design, implementation, and launch of products. They collaborate with individuals and teams to guarantee that the product has the characteristics it needs to succeed on the market. A product manager is a leader who uses data and analytics to make strategic choices.
They require knowledge and understanding to make product choices since they are responsible for all aspects of development, including managing procedures such as the product backlog and roadmap, as well as appeasing stakeholders, finding investors, and speaking with potential consumers.
Product managers coordinate efforts throughout a company and with end-users and investors to assess each party's requirements and roles and assure the completion of a working product.
How to become a Product Manager in India?
To become a product manager in India, you just need to hold a degree and have lots of experience. Apart from holding a degree, you will also need to follow the below steps to become a product manager in India.
Step 1: Choosing a Career Path
To become a product manager, you can choose one of three paths:
Enroll for MBA Programme: An MBA program in product management can help you improve your professional abilities. Aspiring product managers typically attend a school with three to five years of business experience, so they already possess some of the necessary abilities.
Undergoing Training: The Association of International Product Marketing & Management offers project management certification courses. An online course and exam are required for certification. In their education, this program incorporates international best practices in product management.
Learn While Working: In certain circumstances, a candidate may be placed in a junior product management position, learning from more experienced product managers. Product managers learn on the job and gain the abilities they need to advance in the field of product management in this ideal situation. Building a case study, doing market planning, proposing a business strategy, and performing competitive analysis are all abilities that may be learned on the job.
Step 2: Sharpen your Skills
After you have earned degrees and certifications, you will have to sharpen your skills. The skills which are essential for becoming a successful product manager in India are:
Technical Proficiency: Knowing how the product works at the code level, understanding the software development lifecycle techniques, running A/B testing, and working on product analytics are all examples of technical competence.
Empathy: The important soft skills that a product manager must have are empathy and knowing what the user wants and how the user thinks.
Creative and Strategic Thinking: Innovation and creativity are essential in the day-to-day responsibilities of a product manager, whether it's establishing a plan to bring a product to market or responding to challenges that arise along the route.
Communication and Negotiation Skills: A product manager links various departments and stakeholders within an organisation. The job necessitates effective diplomatic, interpersonal, and communication abilities to guarantee seamless understanding and interaction between the corporate leadership, departments, and stakeholders.
Business Administration Skills: All of the other skills will be useful only if the product manager is well-organized and knows how to lead a team successfully. Organizational abilities are required to guarantee that even the most complicated project stages operate well and that the product is delivered on time and on budget.
Step 3: Apply for Leadership Course
Taking a leadership course is a simple method to enhance your CV while looking for product management jobs. Leadership training is available in a variety of formats. Look for leadership training courses online, go to a local institution or university, or ask around your network. Local chambers of commerce and professional groups are likely to provide a plethora of leadership possibilities.
Step 4: Prepare Resume
You may start preparing yourself on a resume once you have completed your product management education and skill development.
Consider the talents and courses you should include in your new product management resume. Create a compelling goal that explains why you should be recruited as a product manager. The most successful objective statements are those that are specifically customized to the job or organization to which you are applying.
Even if you haven't worked as a product manager for a long time, you may generalize and emphasize numerous abilities that can be applied to other fields such as marketing or project management. Describe how you collaborated with product managers to achieve a goal and what role you played.
Step 5: Start Applying for Product Manager Roles in India
Now it's time to apply for Product Manager vacancies announced by the organizations. You can hunt for job opportunities in various applications such as Linkedin, Naukri, and so on. Make sure you are reading the reviews from Glassdoor before appearing for the job interview.
Refer to the different types of course details available on our pages and clear all your ambiguities on whether to opt for a particular course or not.
Product Manager Salary in India
The following is a list of the most common product management job roles in India, along with their average salaries:
Product Manager – INR 1,724,129
Associate Product Manager – INR 964,617
Group Product Manager – INR 1,789,046
Product Owner – INR 1,542,224
Promotions and Career Opportunities of Product Manager in India
Within an organization, there are many product management job responsibilities and designations. Based on numerous aspects such as product strategy, offers, seniority level, and customers, each company will define the positions slightly differently. Furthermore, the types and sizes of companies will determine which jobs and titles are available inside the product management hierarchy.
After being a product manager in a company, you will have the opportunity to get promoted further as follows:
Stage 1: Product Manager
Stage 2: Associate Product Manager
Stage 3: Group Product Manager
Stage 4: Product Owner
Stage 5: Director of Product Management
Stage 6: Vice president of Product Management
Stage 7: Cheif Product Officer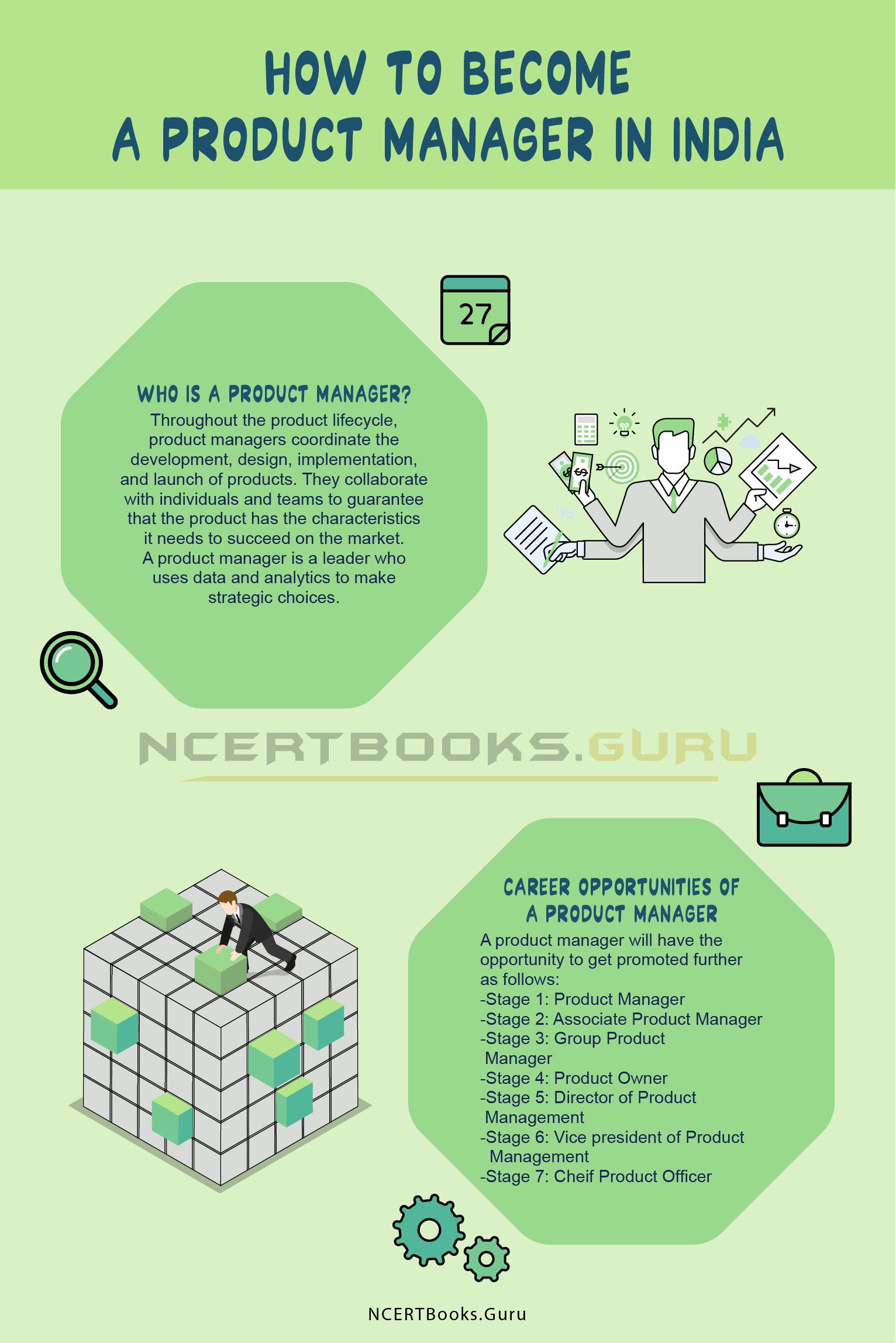 Refer Similar Articles:
FAQs on How to Become a Product Manager in India
1. How to become a product manager without experience in India?
There is no option to become a product manager without experience. However, in few organizations, if you have undergone leadership training and internships, you can become a product manager.
2. How to become a product manager after the 12th?
To become a product manager after class 12, you will need to earn a degree, sharpen your skills, undergo internships, and then apply for product manager vacancies in organizations.
3. What is the product manager's salary?
In India, the average annual salary for a Product Manager is Rs. 15,00,000. In India, the highest annual salary for a Product Manager is Rs. 27,00,000.