A company's highest-ranking executive is the Chief Executive Officer (CEO). Although the role of the CEO varies depending on the company, the CEO's main responsibilities will include setting the company's overall direction and managing its operations and resources.
Basically, the CEO is a person who is primarily in charge of the company, and his or her decisions can have a major impact on its way. The position carries a lot of power and even more responsibility, and it usually comes with a lot of money. Because of this, many people would wish to become CEO in India and if you are among them, then this article is for you. This article discussed how to become a CEO in India, educational qualifications, salary, and job opportunities. Read on to find more.
CEO Full Form – "Chief Executive Officer"
What to Study to become CEO in India?
The eligibility criteria and educational qualifications to become a CEO in India are given below:
A candidate aspiring to become a CEO in India will have to clear his or her bachelor's degree in business or economics.
After completing Bachelors's degree, he/she should complete a Master of Business Administration (MBA) or similar post-graduate qualification.
How to become a CEO in India?
The steps to becoming a CEO in India are listed below:
Step 1: Choose Right Subject in Class 12
If you are really serious about becoming a CEO, then you should start preparing for the same from high school. Choose the stream which has finance, economics, business studies as important subjects in your Class 12.
Step 2: Earn a Bachelors Degree
Earn a bachelor's degree in business, economics, or the industry you want to work in. For that, you should now take your entrance exam and enroll in college, where you will complete your bachelor's degree. A bachelor's degree in management courses, such as Bachelor of Business Administration or Bachelor of Business Management should be completed.
Step 3: Pursue a Masters Degree
Pursue a master's degree in business administration (MBA) or a similar post-graduate degree. This means that after finishing your bachelor's degree, you should enroll in the best management college. The names of the colleges or universities where you earned your degree may also be important. You should pursue a master's degree in marketing, accounting, business administration, or business analytics.
Step 4: Join Organisation or Company
If you do not wish to continue your study, you may begin working immediately after completing your bachelor's degree. You may only be able to start with an entry-level position this way, but you will be able to get into the office.
Work your way up through a firm or gain substantial leadership experience across a variety of industries. Demonstrate your ability to lead and manage a business or a business unit within a large organization at the senior management and executive levels. In small and medium businesses, you can become a CEO with as little as 10-15 years of experience, however, in larger businesses, you will need 20-25 years of industry expertise.
We have created a rundown of different course details such as eligibility, admission, job profiles, salary offered, etc.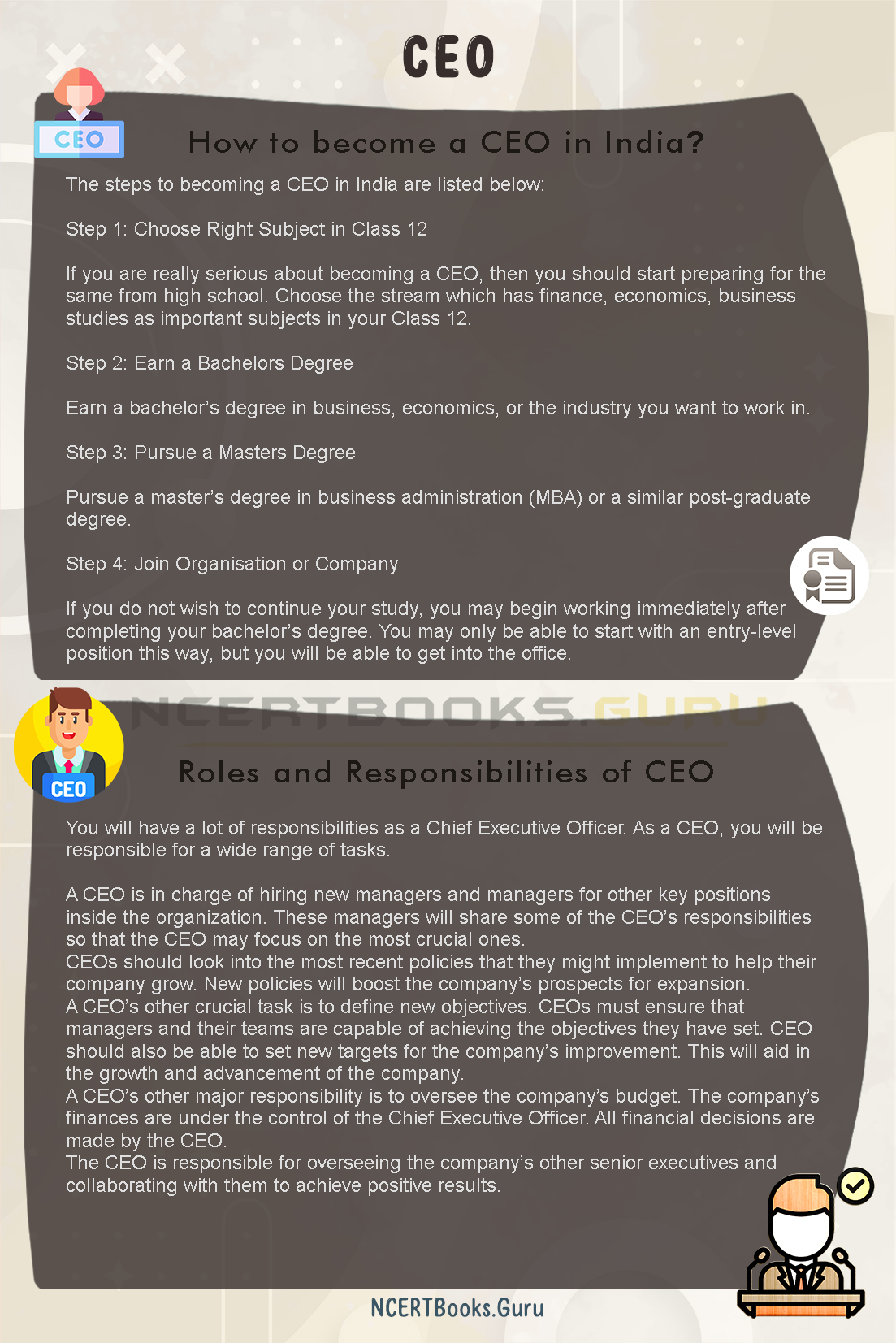 Roles and Responsibilities of CEO in India
You will have a lot of responsibilities as a Chief Executive Officer. As a CEO, you will be responsible for a wide range of tasks.
A CEO is in charge of hiring new managers and managers for other key positions inside the organization. These managers will share some of the CEO's responsibilities so that the CEO may focus on the most crucial ones.
CEOs should look into the most recent policies that they might implement to help their company grow. New policies will boost the company's prospects for expansion.
A CEO's other crucial task is to define new objectives. CEOs must ensure that managers and their teams are capable of achieving the objectives they have set. CEO should also be able to set new targets for the company's improvement. This will aid in the growth and advancement of the company.
A CEO's other major responsibility is to oversee the company's budget. The company's finances are under the control of the Chief Executive Officer. All financial decisions are made by the CEO.
The CEO is responsible for overseeing the company's other senior executives and collaborating with them to achieve positive results.
Key Skills required to become a CEO in India
Apart from educational qualifications, a person who is aspiring to become a CEO in India will have to have the following skills
Financial Management
Commercial Acumen
Financial Acumen
Strategic Thinking
Strategic Planning
Stakeholder Management
Leadership
Community Services
Communication Skills
Do Check:
Salary and Pay Scale of CEO in India
When you are the CEO of a company, you will receive the highest salary. You will be paid the highest income in the industry. However, estimating the precise amount is tricky because the salary is determined by the size of the company for which you are the CEO.
However, CEOs typically earn between 30 and 40 lakhs per year on average. Furthermore, depending on the size and position of the firm for which they work, Cheif executive officer salary package can be worth ten crores or more.
The CEO of the majority of businesses is either the founder or a corporate employee. So, if you are serious about getting that job, you need to start working hard right away.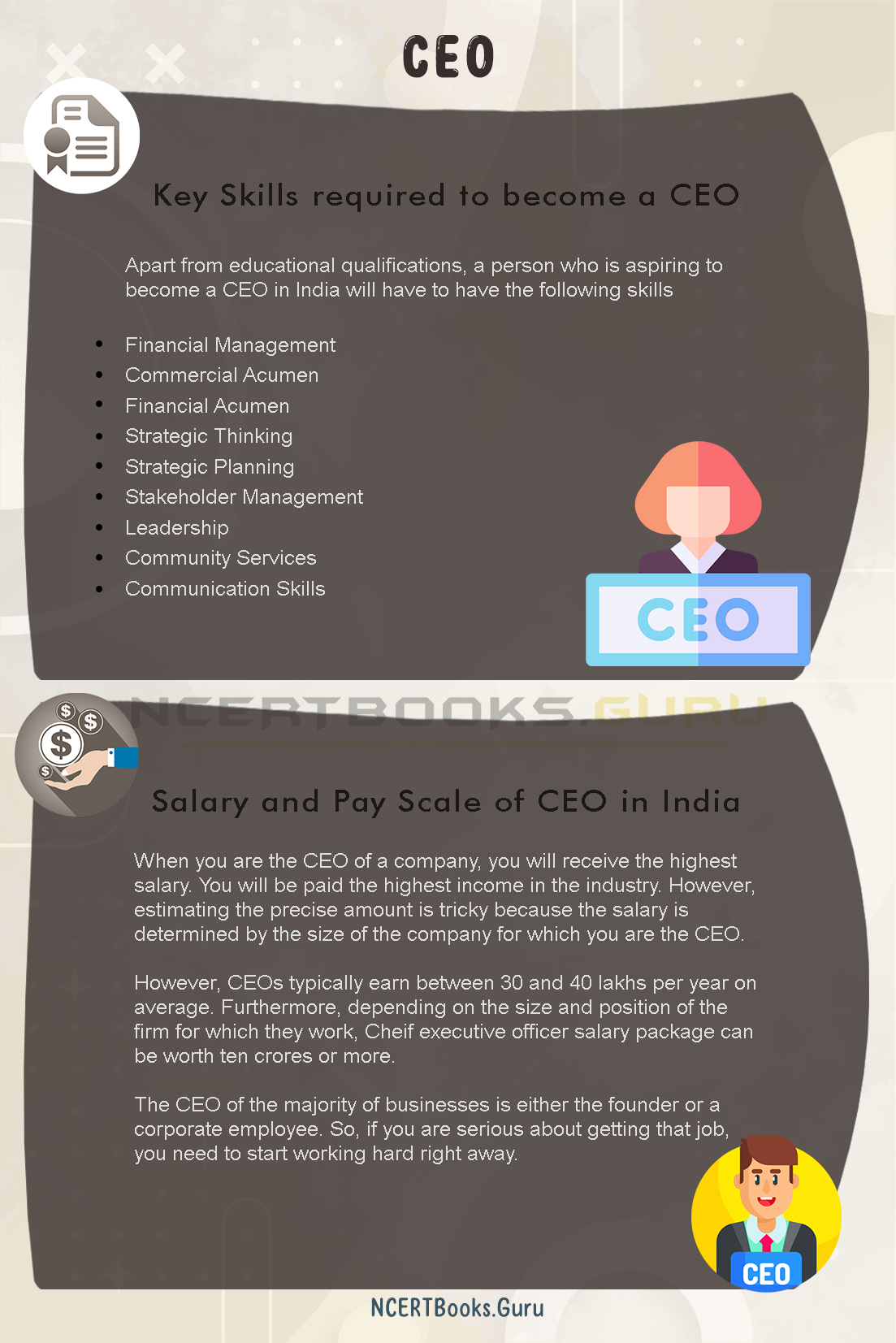 FAQs on How to become a CEO in India
1. How to become a CEO after the 12th?
Becoming a CEO requires a great level of education, years of experience, and the capacity to lead a business overall. Becoming a CEO directly after the 12th is only achievable if your family has a business and you are going to grasp the position with that effect. However, we recommend you to follow the hierarchy mentioned on this page to become a CEO in India after Class 12.
2. What is a CEO Salary in India?
In India, the average annual salary for a CEO is Rs. 24,00,000.
3. How to become a CEO of a Company in India?
To become the CEO in an organization or company, one needs to get a bachelor's degree, relevant experience, and abilities, as well as demonstrate their value to the company.