The position of a chief financial officer in India is an important one. A CFO takes up the responsibility of planning, implementing, and managing all the activities related to finance in the organization and he or she is responsible for all fiscal decisions. Tracking cash, analyzing the company's financial strength, and proposing corrective actions are also some of the responsibilities of a CFO in India.
Currently, there are many new startups and businesses coming up. Therefore, there is a growing demand for a chief financial officer in India. It is a great time to aim for the companies whose revenues are increasing as CFOs are associated with 19% greater cost efficiencies.
Key Responsibilities of a Chief Financial Officer
The position of a chief financial officer is at the top of the hierarchy, therefore, a CFO in India holds many key responsibilities in an organization. Most of the decisions and responsibilities are related to purchases, investments, pricing, tax, and debt at the departmental level.
A CFO is directly responsible for all the transactions happening between the departments of an organization. He or she is also responsible for several expense reports and publishing these reports to the management.
Every organization has compliance and audit technicalities that are handled by the chief financial officer. These compliances increase in a publicly listed company and a CFO needs to take care of local and global regulations.
As the position is related to finance, a CFO manages the company-wide financials along with forecasting the financials. This responsibility also extends to budget planning and allocation of finance.
Managerial finance, corporate strategy, and financial innovation are also handled by a CFO.
How to Become a Chief Financial Officer in India?
To hold the position of chief financial officer, a student needs to get acquainted with accounts and finance first. There are certain steps one needs to follow to go in the direction of becoming a CFO.
Many colleges in India provide a course for Accounting, finance, and economics. To get admission into such colleges requires good scores in class 10th and 12th. Therefore, a candidate needs to first focus on their school examination or take the several entrance examinations required for colleges.
If a student is serious about a career in finance, he or she may take up commerce in class 12th and further study B.Com or BBA in their undergraduate study.
A student with a commerce background is usually given a preference when it comes to higher courses, however, a commerce background isn't always necessary.
There are several colleges in India that conduct their admission on the basis of entrance examinations. So, a student wishing to study in those colleges needs to prepare the syllabus for the entrance test well to get admission in bachelor's or master's degree.
Proper research is necessary before delving into a field of study. To become a CFO in India, a student needs to select a college that provides proper opportunities for on-field research and work exposure through internships. A good college can open up several avenues.
Eligibility Criteria to become a CFO in India
If someone is wondering how to become a chief financial officer in India, the process is quite simple. However, to actually reach the position requires a lot of dedication and merit. It is always better to set on the path as early as class 12th.
School Level Preparation
To become a CFO in India, the preparation needs to start early. A student needs to score a minimum of 50 percent aggregate in any discipline of arts, commerce, or science during class 12th or equivalent.
Many colleges conduct entrance examinations for admission so students need to prepare the syllabus accordingly.
Undergraduate Preparation
It is not necessary to take admission in a finance-related discipline to become a CFO in India. A student needs to fulfill the criteria of admission for the college to secure a seat.
The minimum duration of an undergraduate degree in India is 3 years and an undergraduate degree is paramount.
Postgraduate Preparation
A candidate needs a master's degree to become a CFO.
The master's degree should be held for a finance-related discipline as a chief financial officer needs to have in-depth knowledge related to accountancy, business management, and finance.
Do Refer:
Educational Qualifications to become a Chief Financial Officer in India
If a student wishes to become a CFO, there are certain educational qualifications and exams he or she needs to qualify in order to reach the goal. Do note that the position of a CFO is on the top of the pyramid and one needs to work towards the top.
Bachelor's Degree: A right bachelor's degree can offer accurate insight into the financial world. Therefore, a student needs to opt for degrees like BBA, BBM, or B.Com. A bachelor's degree is the first step towards working in the financial domain and becoming a CFO in India one day.
Masters of Business Administration (Finance): A master's degree with a specialization in finance is required to gain in-depth knowledge regarding finance. An elite institute can open doors for a student into the corporate world and help him or her to climb up the ladder.
Dual specializations in MBA, like Finance and Operations, will also help a candidate develop confidence and exposure. There are also MBA programs designed for working professionals in India.
Chartered Accountant: Chartered Accountant is a professional course that teaches a student about taxation and accounting standards. Becoming a chartered accountant improves one's chances of becoming a chief financial officer as he or she would have gained knowledge and skills about various Accounting practices.
Chartered Financial Analyst: CFA or Chartered Financial Analyst is also a course almost similar to that of a Chartered Accountant. CFA is more focused on the investment aspect of the business by assessing cash flows and financial domains. Becoming a CFA opens up avenues for becoming a CFO.
Financial Risk Manager: FRM is also a similar course to Chartered Accountant and Chartered Financial Analyst. A financial risk manager deals with Financial risk and takes strong decisions regarding the risks at a company. The syllabus includes fundamentals related to minimizing risks and maximizing profits.
Short-term Training Programs: If a candidate is already working in a finance-related field, he or she may want to upskill themselves through various online organizations and courses. There is a myriad of short-term training programs like compliance management, import, and export manager, Financial risk management, operations management, and financial analysis to help a person become a CFO.
Career Path of Chief Financial Officer in India
Even though the path and criteria to become a CFO looks very easy, the reality is different. There is only one position of CFO in a company and many competitors vying for that seat.
To become a Chief Financial Officer in India, one needs to go through promotions, internal job positions and needs to stick to the company for a long time. A background in finance is the minimum requirement along with experience in the finance domain to become eligible for the post.
A chief financial officer can also come from a background of operations as the operation manager is responsible for cost management. A CFO needs to have leadership skills and anyone working as a manager in the finance or operations domain is eligible to become a Chief Financial Officer. A CFO can further have the chance to become a CEO of the company as well.
To know more about other courses of similar discipline or any other discipline you can always look up our Course Details page and know the eligibility criteria, admission process, course duration, etc.
Job Profiles for Chief Financial Officer
To become a chief financial officer in India, a candidate needs to enter into the company with one of the designations mentioned below to increase their chances of becoming a CFO.
Business Manager
Director of Administration
Director of Finance
Director of Operations
Director of WorkForce Management
Financial Manager
General Manager
Operations Manager
Skillset required to become a CFO in India
Along with an appropriate designation, certain skills are also required for an aspirant to become a Chief Financial Officer in India. These skills are:
Accountability and Ownership
Analytical skills
Attention to details
Communication skills
Cost management skills
Frugality
Leadership skills
MS Excel and Database Query Knowledge
Problem-solving skills
Reporting and Presentation skills
Stakeholder management
Time management skills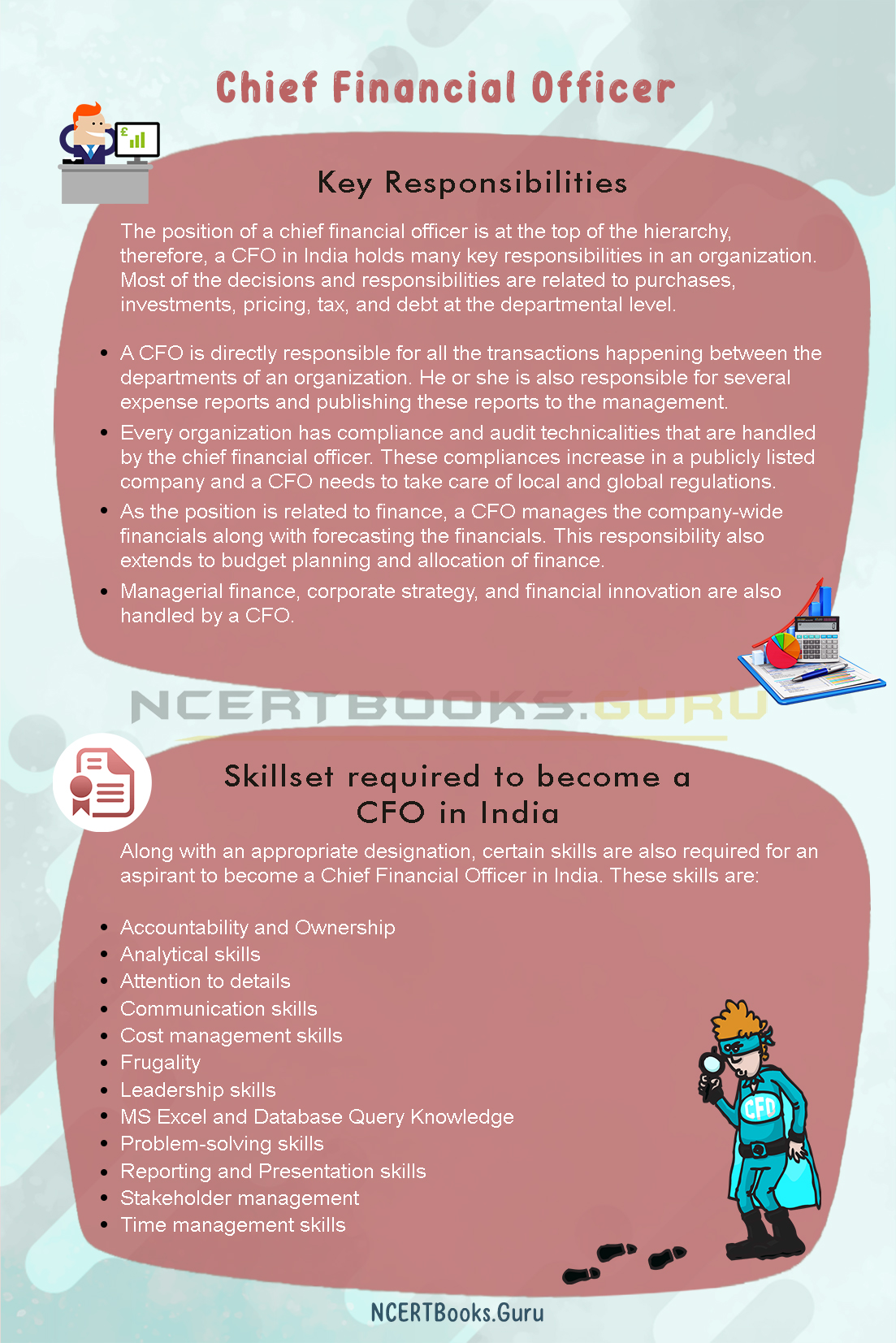 Types of CFOs
It is not enough to know how to become a chief financial officer in India but a candidate also needs to know the type of CFOs in various companies.
The Financier
A CFO specializing in the field of finance oversees structuring financial tools, planning, and working of internal corporate work. A financier CFO also manages investor relations and understands the legal aspects of financing.
The Economist
An economist CFO is a vital addition to a company as an economist can significantly boost business growth. This is due to their excellence in articulating complex financial models, understanding unit economics, and having a good grasp of various business activities.
The Operator
An operator CFO is intertwined in the art of corporate dynamics along with project monitoring, financial modeling, and budget building. An operator CFO is always more involved hands-on with various operations across the company.
Salary of a CFO in India
Being at the top of the hierarchy means that the pay scale of a Chief Financial Officer in India is usually very high. Given the number of responsibilities they have, they are compensated with high remunerations.
The minimum salary in India for a CFO is very close to 10 lakh a month, however, the average range of salary hovers between 30 lakhs to 80 lakhs.
Along with the salary, there are numerous incentives attached to the role as well. CFOs are given many perks like bonuses, a share in the profit, and stock options in the company. The salary also increases exponentially with experience and skills along with the location and size of the organization.
Conclusion
As the position of a Chief Financial Officer in India is at the top of the pyramid, an aspiring student needs to set realistic expectations. It takes a minimum of 10 to 12 years of dedicated efforts to become a CFO in an organization. In addition to efforts, loyalty towards the company is also paramount to reach the topmost role in the organization.