Diploma in Physiotherapy Course: Aspirants who love to serve society in the medical field can go for this physiotherapist career option as it comes under medical nursing. Students can learn how to treat patients with physical disabilities and injuries in a variety of locations, including hospitals, health centres, private practices, and sports clubs, as part of their course work.
Wanna check all physiotherapy courses before deciding to step into diploma courses in physiotherapy then click the link available here. Also, you will get to know fully about the diploma course in physiotherapy like course duration, eligibility, exams, fees, colleges, career options, salary from the further modules.
Table of Contents
What is the Diploma in Physiotherapy?
The Diploma in Physiotherapy (DPT) is a medical nursing professional course. After successfully completing class 12th in the Science stream, the course can be pursued. To be more specific, D.PT. is concerned with physiotherapy and related healthcare fields.
The two-year diploma programme is intended to produce skilled and qualified professionals who can perform specific tasks to improve the lives of patients. Diploma in Physiotherapy aims to produce competent professionals capable of assisting specialists in various medical procedures by covering topics such as Physical Rehabilitation, Electrotherapy, and other methods of helping patients regain physical mobility.
Highlights of Diploma Course in Physiotherapy
The following table will let you know quickly about the major highlight of the physiotherapy diploma course:
| | |
| --- | --- |
| Course Level | Diploma |
| Full Name | Diploma in Physiotherapy |
| Diploma in Physiotherapy Course Duration | Two years |
| Examination Type | Semester |
| Diploma in Physiotherapy Eligibility Criteria | Passed 10+2 with minimum 50% marks in Science stream |
| Admission Process | Merit-based/ based on marks secured in the entrance test |
| Diploma in Physiotherapy Fee | Rs 10,000/- to Rs 5,00,000/- |
| Average Starting Salary | Rs 3,00,000/- to 20,00,000/- LPA |
Why Should You Pursue Physiotherapy Diploma Course?
The aspirations and goals of each individual will determine whether or not they pursue a Diploma in Physiotherapy degree. The following are some of the benefits of taking this course:
A severe shortage of qualified personnel: the WHO mandates that at least one physiotherapist be available for every 10,000 people. According to reports, India has only 5000 licenced physiotherapists. As a result, there is a 95,000 professional shortage. This emphasises the vast employment opportunities available to physiotherapy professionals with a diploma.
Part of a growing industry: India's healthcare sector is expected to grow at a rate of 16-17% in the coming years. Individuals can find work in the healthcare and hospitality industries because of their rapid growth.
Physiotherapists are also needed as rehab specialists for athletes in a variety of sports industries.
Physiotherapists in India are generally employed by various hospitals, nursing homes, or care centres in India.
In India, a physiotherapist earns an average of INR 300,000 per year. They also receive a variety of benefits and perks, including medical insurance, DA, PF, and travel expenses.
Rehabilitative medicine includes physiotherapy. Physical therapy, physical movements, massages, and exercise are all used in physiotherapy to improve and cure injuries, diseases, and deformities.
Students who complete this course will gain scientific knowledge, problem-solving skills, and technical skills, and physiotherapists will gain communication skills that will allow them to interact with patients.
Candidates are kept up to date on the latest developments in the field on a regular basis.
Diploma in Physiotherapy Course Syllabus
The syllabus for the physiotherapy diploma course is given as follows:
First Year:
Pharmacology
Clinical Pathology
Physical Exercise Therapy
Applied Pathology
General Physiology
General Anatomy
Second Year:
Psychology
Electrotherapy
Gynaecology
Computer Training
Physical Rehabilitation Medicine
Third Year:
Orthopaedics
Out-Patient Therapy
Physical Rehabilitation
Medical Physiotherapy
Biomechanics and Kinesiology
Surgical Physiotherapy
Also, Find
Diploma in Physiotherapy Subjects
In most physiotherapy colleges, the subjects taught for Diplomas in Physiotherapy are nearly identical. The following are the subjects covered in the Diplomas in Physiotherapy syllabus.
| | |
| --- | --- |
| Anatomy | Clinical observation |
| Pathology | First aid and nursing |
| Biochemistry | Psychology |
| Food Science and nutrition | Sports science and medicine |
| General medicine and surgery | Sociology |
| Physiotherapy in general medicine and surgery | Pharmacology |
| Biomechanics | Rehabilitation science |
| Electrotherapy | Orthopaedics |
| Bioengineering | Exercise therapy |
| Microbiology | Physiology |
Top Diploma in Physiotherapy (DPT) Colleges in India 2022
The top-best Diploma in Physiotherapy After 10th Colleges in India are listed below along with the average annual diploma in physiotherapy fees:
| Name of the College | Average Annual DPT Course Fees |
| --- | --- |
| Christian Medical College, Tamil Nadu | INR 22,130 |
| National Institute of Mental Health and Neuro Sciences, Bangalore | INR 54,000 |
| National Institute of Management and Technology (NIMT), Greater Noida | INR 153,000 |
| King's George Medical University (KGMU), Lucknow | INR 73,000 |
| Aligarh Muslim University (AMU), Aligarh | INR 216,700 |
| Institute Of Postgraduate Medical Education And Research | INR 15,000 |
| Shri Ram Murti Smarak Institutions, Bareilly | INR 33,330 |
| Madras Medical College, Chennai | N/A |
| Era's Lucknow Medical College And Hospital, Lucknow | INR 145,000 |
| Madhav University | INR 55,000 |
| Teerthanker Mahaveer University | INR 60,500 |
| Mahatma Jyoti Rao Phoole University | INR 26,000 |
| CMJ University | INR 56,000 |
Diploma in Physiotherapy Admissions Process 2022
Admission to the Diploma in Physiotherapy Program is primarily based on a merit list or an entrance exam. Every year, the admissions process begins in May or June.
The admissions process has been postponed this year due to the covid 19 pandemic. The admissions process, on the other hand, is expected to begin as soon as the central and state boards announce the class 12th results.
Diploma Course in Physiotherapy Eligibility Criteria
The following are the eligibility requirements for those interested in pursuing a Diploma in Physiotherapy. It should be noted that the eligibility criteria for each institute will vary.
Candidates must have passed the 10+2 examination or its equivalent in the Science stream from a recognised board of education to be eligible to pursue the DPT course.
Candidates must have received a qualifying exam score of at least 45 percent in subjects such as physics, chemistry, biology, and/or mathematics.
A few of the college's applicants must also take the entrance exam.
List of Entrance Exams for the Diploma in Physiotherapy
For admission to Physiotherapy, there are numerous national and state-level entrance exams to take.
Indraprastha University Common Entrance Test (IPU CET)
Bihar Combined Entrance Competitive Examination (BCECE)
LPUNEST
The Combined Paramedical, Pharmacy, and Nursing Entrance Exam (CPNET)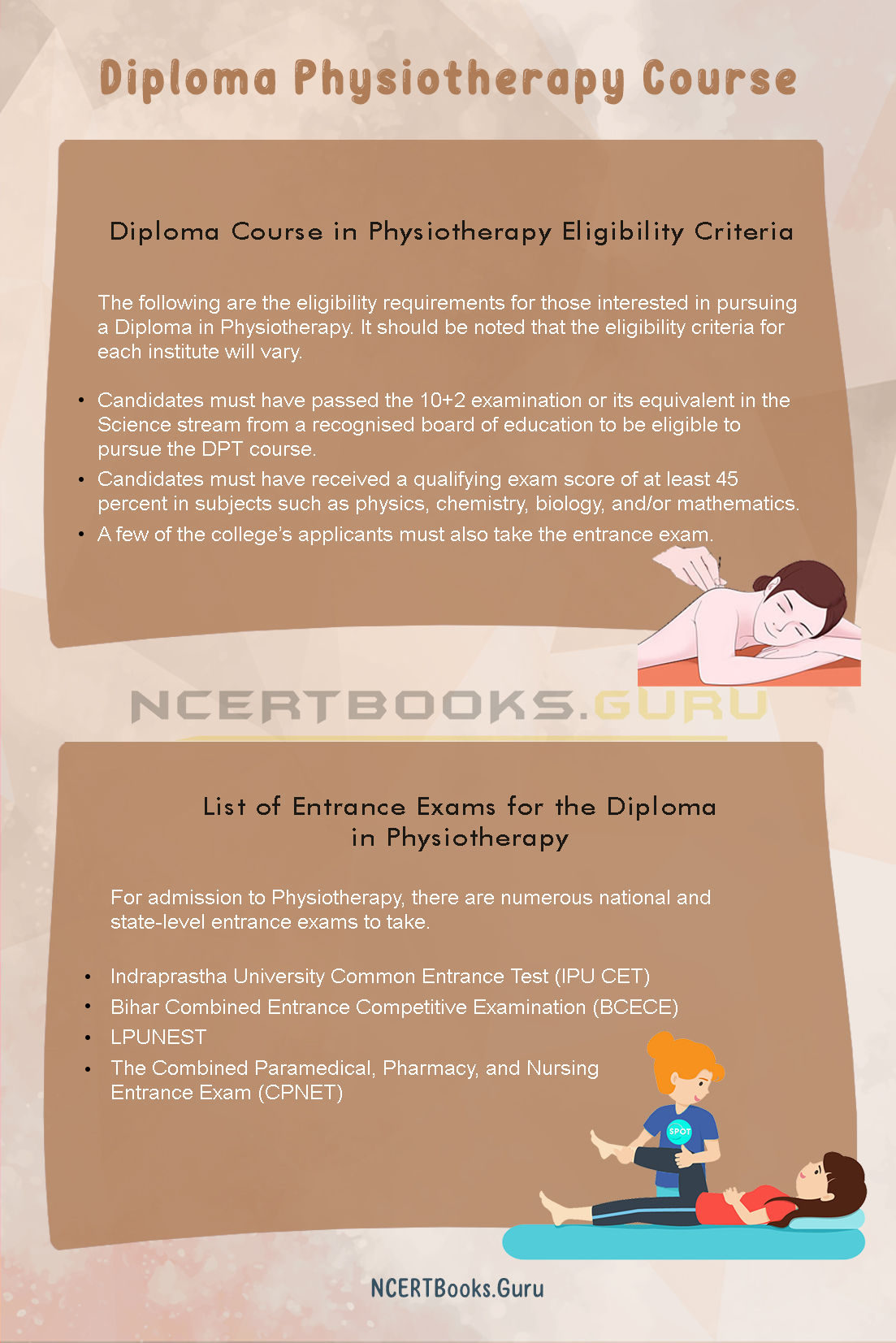 Future Prospects for Diploma Physiotherapy Course Certified Candidates
Students with diplomas in physiotherapy can either work for a corporation or continue their education. One can work in the fields like as shown:
Physiotherapy centres,
physiotherapy clinics,
rehabilitation clinics,
gyms,
sports franchises, and other places after completing the DPT course.
Students with physiotherapy diplomas can work in a variety of settings, including colleges and universities, defence medical organizations, health institutions, orthopedic departments, the pharmaceutical industry, and the private and public sectors.
Students interested in furthering their education can pursue a Bachelor's degree in physiotherapy, a Master's degree in physiotherapy, or a Doctoral degree in physiotherapy.
Bachelor of Physiotherapy (BPT): A bachelor of physiotherapy (BPT) is a four-year undergraduate programme focused on the science of physical movement. Admission to BPT is typically based on national and state-level entrance exams such as the IPU CET, BCECE, VEE, and others. However, several institutions offer direct admission to the course, either based on academic performance or on a first-come, first-served basis.
BSc Physiotherapy is a three-year graduate-level course in physiotherapy. It allows candidates to provide preventive and therapeutic services with the goal of restoring function and preventing disability as a result of disease, trauma, or injury. The entrance exam or merit list is used to determine admission to this programme.
Doctoral programmes are available to students who are interested in research. Opportunities in top research and academic institutions open up after completing a Ph.D.
Diploma Course in Physiotherapy Job Profiles & Salary
Candidates who are excited to take the course of diploma physiotherapy should aware of the job opportunities like roles and the pay scale. So here in the below table, we have given some of the common Diploma in Physiotherapy salary and job roles for certified students.
| Job Profile | Diploma in Physiotherapy Salary |
| --- | --- |
| Professor | INR 9 LPA |
| Therapy Manager | INR 5 LPA |
| Research Assistant | INR 4 LPA |
| Customer Care Assistant | INR 4 LPA |
| Self Employed Private Physiotherapist | INR 6 LPA |
FAQs On DPT (Diploma Physiotherapy) Courses in India
1. How long does a Diploma in Physiotherapy take?
Candidates need to study diploma in physiotherapy for two long years and get certified from the colleges so that they can apply for jobs in related sectors and firms.
2. What are the requirements to apply for Physiotherapy-related Job vacancies?
A recent graduate can work as a physiotherapist, therapy manager, osteopath, Defence Medical Establishments, researcher, lecturer, sports physiotherapist, self-employed private physiotherapist, and consultant.
3. What can I do after Diploma in Physiotherapy?
Sports teams/franchises, Rehabilitation clinics, NGOs, Government hospitals, Gyms/Fitness Centres, and Private Hospitals/Clinics are all places where a recent graduate can work.
Conclusion
We hope the candidates who are looking for the complete details about diploma in physiotherapy course get enough information from this guide. If not, then let us know via comments below and choose your higher studies, career path wisely. Need to go for the second option in the medical field then check out our course details page at ncertbooks.guru