BPT Course Details: Candidates willing to pursue a career in the Bachelor of Physiotherapy Course can make use of the information listed below. Get to know related details like Eligibility, Course Duration, Fee Structure, BPT Full Form, Colleges, etc. Apart from this clear all your queries related to Physiotherapy by going through them further. Have a glance at the list of topics to be covered as a part of the BPT Syllabus.
What is BPT?
Bachelor of Physiotherapy is an undergraduate professional program that teaches about physical movement and channelizing it to avoid disability and ailments of movement.  It is a part of rehabilitative medicine and focuses on massages, physical therapy, and exercises to improve, cure injuries, deformities and diseases. Physiotherapy doesn't rely on drugs and medicine unlike the traditional branches of medicine. Instead, it uses Physical Treatment to improve the situation.
Physiotherapy Course Details
| | |
| --- | --- |
| Course  |  BPT |
| BPT Full form | Bachelor of Physiotherapy |
| Eligibility | 10+2 or equivalent |
| Duration | Four and a half years |
| Fee Offered |  1 – 5 LPA |
| Course Type | Regular mode |
| Starting BPT salary offered | 2.95 – 5 LPA |
| Advance Courses | Master of Physiotherapy |
| Employment opportunities | Physiotherapist, Rehabilitation Specialist, Consultant, Sports physiotherapist |
BPT Course Syllabus
To have a better idea of the Physiotherapy Syllabus and Course Content let's get into the article further. Go through the list of BPT Subjects you need to prepare as a part of the Curriculum. Usually, the Physiotherapy course is a 4-year undergraduate course that follows a semester-based system. Check out the BPT Books that are useful for students to score good marks.
You will have a total of 8 semesters during the entire course 2 each year. BPT is a paramedical course and students have to study the Syllabus similar to that in MBBS. Candidates will have few practical subjects as a part of their Curriculum and they are also provided in the later modules.
Semester I
English
Physiology
Biochemistry
Basic Nursing
Anatomy
Semester II
Psychology
Orientation to Physiotherapy
Biomechanics
Sociology
Integrated Seminars
First year Practical Subjects
Orientation to Physiotherapy
Physics and chemistry
Semester III
Pharmacology
Pathology
First Aid & CPR
Microbiology
Constitution of India
Semester IV
Introduction to Treatment
Research Methodology & Biostatics
Electrotherapy
Exercise Therapy
Clinical Observation Posting
Second Year Practical Subjects
Basic Nursing, First Aid & CPR
Introduction to Treatment
Clinical Observation Posting
Semester V
General Medicine
General Surgery
Semester VI
Supervised Rotatory Clinical Training
Orthopedics and Sports Physiotherapy
Third Year Practical Subjects
Physiotherapy in Dentistry
Evidence-Based Physiotherapy Practice
Semester VII
Neurology and neurosurgery
Community medicine
Neuro- Physiology
Community-based Rehabilitation
Semester VIII
Supervised Rotatory clinical training
Evidence-based physiotherapy and practice
Ethics, Administration and Supervision
Project
Must See: B.Com Course Details
BPT Advanced Courses
Here are some of the advanced courses that you can opt for after finishing your Bachelor of Physiotherapy Course.
Master of Physiotherapy
Ph.D
Colleges list offering BPT Course
Below is the list of some of the top colleges that provide a Physiotherapy Course. You can pick from any of them and join the BPT Course. They are as under
Prakash Institute of Physiotherapy Rehabilitation and Allied Medical Sciences
Punjabi University
Pt. J.N.M. Medical College
Pt. Deen Dayal Upadhyaya Institute for Physically Handicapped, New Delhi
Rajiv Gandhi University of Health Sciences
RajaRajeswari College of Physiotherapy
S.D.D.Institute of Physiotherapy and Rehabilitation
Physiotherapy Entrance Exams
We have listed some of the top entrance examinations held for the BPT course. They are along the lines
CET (Common Entrance Test)
JIPMER All India Entrance Exam
Guru Govind Indraprastha University Physiotherapy Entrance Exam
BPT Admission Process
Candidates need to secure minimum aggregate in their 10+2. However, some colleges will have minimum criteria that students need to meet. Candidates will be given admission in colleges based on their performance in the college-specific entrance test.
Physiotherapy Course Eligibility Criteria
Candidates can pursue BPT Course after completing 12th in Science Stream from a Recognised Education Board. However, Candidates should pursue Science Stream with Physics, Chemistry, and Biology as their mainstream. Some colleges conduct their own entrance test and require minimum qualifying marks to give admission. Interested students can also pursue a Diploma in Physiotherapy Courses to become physiotherapists.
Get to know about more types of Course Details organized streamwise and category wise.
BPT Course Fee Structure
Usually, the Bachelor of Physiotherapy Courses Fee varies based on the college. Some Colleges charge less whereas some charge more. On Average Physiotherapy, the Course ranges from 1 – 5 Lakhs Per Annum.
BPT Course Duration
BPT is a 4 Year Undergraduate Course that revolves around revolves around the treatment of patients facing the issue of injury and pain caused by stress, accidents, stroke to name a few. It also includes a 6-month clinical internship involving the science of physical movement trained at preventing disability and disease.
Also, Read:
Career Opportunities after BPT Course
Once you finish the BPT Course you will have a plethora of opportunities to go with. Some of them are listed below
Osteopath
Lecturer
Assistant Physiotherapist
Customer Care Assistant
Consultant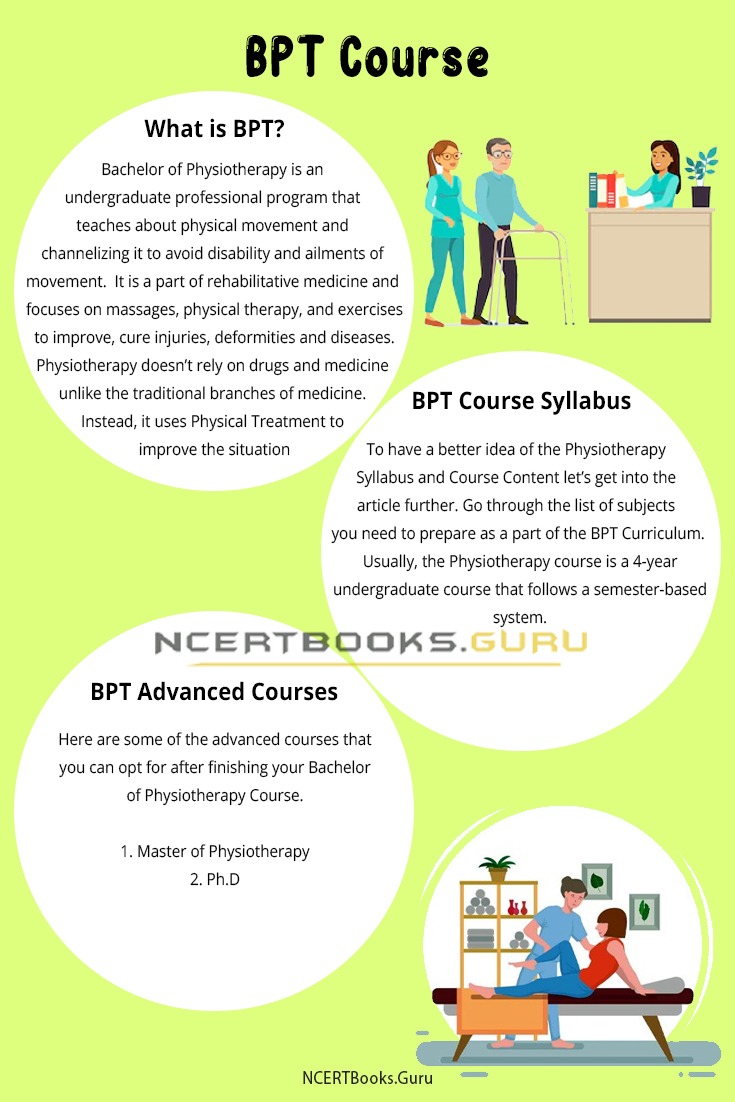 Salary Offered to BPT Candidates
Physiotherapists have been in demand for a very long time. However, with the growing demand for sports activities, demand for Physiotherapists are also rising alongside. Not just in the sports sector, they can find ample career opportunities in the Private Sector. The Average Salary for a BPT Candidate is 2.95 LPA. However, it varies from firm to firm, and based on the skillset and work experience you gain thereafter.
FAQs on BPT Course?
BPT is a 4 Year Undergraduate Course that revolves around revolves around the treatment of patients facing the issue of injury and pain caused by stress, accidents, stroke to name a few.
2. Is Physiotherapy a Good Career Choice?
Yes, it is a good career option considering the aspects of Physiotherapy which have improved and people consider Physiotherapist a much-needed professional in the medical fraternity.
3. How many subjects are there in Physiotherapy?
Topics covered in Physiotherapy include Human Anatomy, physiology, pharmacology, pathology, psychology, biomechanics, medical and surgical conditions,  rehabilitation, disability prevention, and other subjects.
Candidate's salary may vary from 2.95 – 5.5 LPA based on the skillset and experience of the individual.
There is a wide scope for Physiotherapy in the future. You can go with specializations in the fields of geriatrics, cardiorespiratory, geriatrics, orthopedics & neurology.
Conclusion
We believe the information shared above regarding BPT Course Details is true to our knowledge. If you still have any queries feel free to drop us a comment and let us know. We will help you out as soon as possible with the best possible solution to your query.