Cosmetology Courses Online: In today's world, every person wants to look attractive. Whether it is for a social media post or a party. That is when people rush to salons and makeover experts. If you are someone who loves to beautify people, then let us introduce you to cosmetology courses. Cosmetology courses revolved around everything related to hairstyling, skincare, hair removal, beauty therapies, professional makeup, etc.
It might look like a fun course since it is related to looking glamorous, but one needs a professional degree or certification to pursue a career in cosmetology. Let us get started by listing the two main categories of cosmetology:
Clinical Cosmetology: Clinical cosmetology is the advanced study of medical practices that are related to hair and skin. The course is pursued by qualified doctors or MBBS graduates.
General/Non-Clinical Cosmetology: Unlike clinical cosmetology, general cosmetology does not require a professional medical degree or background. The course involves hair and skincare procedures practiced in salons and spas.
How to Get Started with a Cosmetology Career?
If you want a career in cosmetology, you can opt for different kinds of cosmetology courses after 12th depending on the duration you would prefer:
Certificate courses
Advanced PG or Master courses
Cosmetology Job Profiles
The educational or professional certificate will allow you to proceed with a career in cosmetology. It will also help you specialize in any one particular sector depending on the course you choose. Some of the specializations are as follows:
Beauty therapy
Facials
Makeup, massage
Hairstyling
Aromatherapy
Mehendi
Tattoos
Herbal beauty care
Electrolysis
Nail art
Cosmetologist
Cosmetology Diploma Courses
A diploma in cosmetology allows you to pick a specialization, the courses are:
Diploma in Fashion Media Make up
Diploma in Cosmetology
Diploma in Makeup
Diploma in Beauty Culture
Diploma in Hair Styling
Diploma in Laser Aesthetics
Advanced Diploma in Cosmetology
Advanced Diploma in Aesthetics
Eligibility: To enroll in any one of the diploma courses in cosmetology, the student will need to pass the 10th or 12th class examination. Some institutes also allow 8th class passed students or anybody of the age 16 years old or above to be eligible for the course.
Course Structure: The course duration can range from 1-6 months. The exact duration depends on the institute guideline. The student will be equipped with skills related to the chosen specialization towards the completion of the course.
Scope: After completing the course, the student can work as Beauty Care Distributor, Hairstylist, Nail Care Artists, Salon Sales Consultant, Manufacturer Sales Representative or an Image Consultant.
See More:
Cosmetology Certificate Courses
Certificate courses in cosmetology provide a good understanding and usage of various beauty and hair products. The student can choose from the following certifications
Certificate in Professional Makeup
Certificate in Cosmetology
Certificate Course in Herbal Beauty and Therapy
Certificate Course in Massage Therapy
Certificate course in Beauty Culture
Certificate in Hair Styling
Certificate in Aesthetics
Certificate in Laser Aesthetics
Advanced Certificate in Cosmetology
Advanced Certificate in Aesthetics
Eligibility: 10th or 12th class pass out students can enroll themselves for certification in cosmetology. Some institutes also allow students above the age of 16 years. Students can also get Beautician Course Details.
Course Structure: Certificate courses are usually of shorter duration and can range from 1-3 months, depending on the institute.
Scope: With the completion of a certificate course in cosmetology, a student can be a makeup artist or hairstylist in the television and film industry or the advertising industry. The student can also work in hotels and resorts or event management firms as beauty, nail, hair, or skin specialists.
Cosmetology Advanced PG Course
Advanced PG courses are clinical cosmetology courses, only designed for students in the medical field. Some of the options are:
PG Diploma in Medical Cosmetology
PG Diploma in Clinical Cosmetology
PG Diploma in Cosmetology (PGDC)
PG Diploma in Cosmetic Dermatology
PG Diploma in Trichology
Eligibility: The student appearing for a clinical cosmetology diploma or a PG diploma in cosmetology should have relevant qualifications such as MBBS, MD, or any other relevant medical diploma or degree.
Course Structure: The duration of the course varies from 1-2 years, depending on the institute or the specific field chosen.
Scope: A student passed in any of the PG diplomas related to cosmetology can work in Skin Clinics, Hospitals, Beauty Therapy Institutes, or Hair Care Clinics as a working professional, beauty writer, or professional.
Get to know about more types of Course Details organized streamwise and category wise.
Cosmetology Industry Domain/ Career Opportunities/ Salary
You can prep yourself for a fun ride in cosmetology with the given courses above. Apart from the mentioned scope in beauty, hair care and medical industry, the students of cosmetology courses can also take up the entrepreneurship road and start their own salon, spa or professional makeup parlor! They can also work as freelancers in any of the given specializations.
If the student has a hack of marketing, he or she can work as a beauty care distributor, beauty magazine distributor, salon sales consultant, manufacturer sales representative or retail representative for cosmetics. The salary will range on the basis of the position and experience and can vary from INR 20,000-2,00,000 monthly (can be higher for clinical cosmetology students).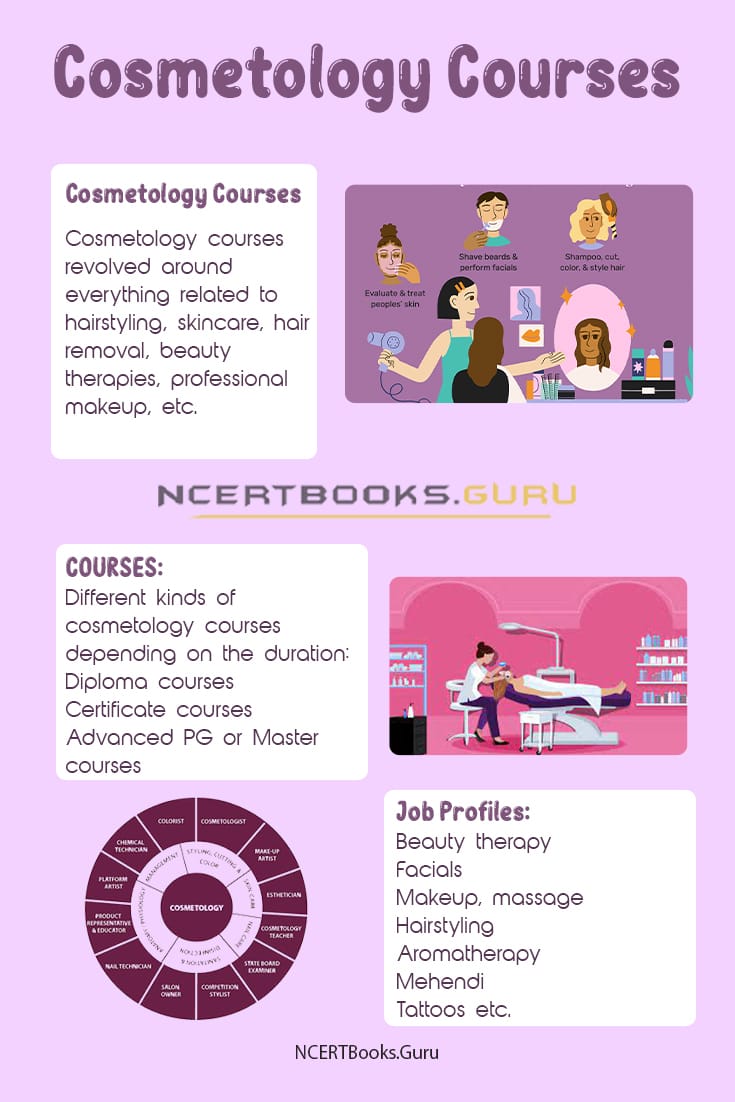 FAQ's On Cosmetology Courses
Question 1.
How much does the cosmetology course costs?
Answer:
The cost depends on the category and type of the course you have opted for such as medical or non-medical, along with other factors such as duration, specification and institute.
Question 2.
Do I need a license to practice the profession?
Answer:
Yes, you will require a license from a certified board to pursue your career in cosmetology. Some institutes provide students with globally recognized certificates.
Question 3.
Will I get help in making my portfolio?
Answer:
Yes, you will get a chance to make your personal portfolio during the course, showcasing your skills per your specification.
If styling and beautifying people is what you like, this is the career for you!