If you are interested in helping people look their best then we suggest a diploma course in cosmetology. This cosmetology course is mainly about the physical appearance of every individual and their beauty care treatments. For people who are looking to launch their careers as a cosmetologist then this article will help you a lot.
Not only for the people who want to start their careers but also who have already started their careers as a beautician and thinking to take your career to next level, this article will be useful.
Cosmetology is a study of beauty treatment. A diploma in a cosmetology course mainly communicates the training experience in techniques, cosmetic treatment of skin, hair, and nails, and tools you need to use. In this article, we will help you to know about the courses, eligibility to become a cosmetologist, career paths if you study diploma everything will be discussed here.
You can refer to Course Details if you are looking for any other course details.
Cosmetology Diploma Course: Overview
The important highlights about the cosmetology diploma course are as follows for quick reference:
Popular Courses

Diploma: Diploma in Practical Dermatol (Cosmetology), Diploma in Cosmetology, Master Diploma in Cosmetology, etc.
Certificate: Nail Training Courses, Beauty Tips, and Tricks: An Introduction to Applying Makeup, Certificate in Nail Technician Training, etc…
International Certification: International Diploma in Beauty, Course in Beauty Therapy and Make-up, Certificate in Manicures, etc.

Diploma in Cosmetology Eligibility

Certificate: Available for all.
International Certification: Available to all.
Diploma: Anyone who had Completed Schooling with an aggregate of 50% Marks.
UG: Students who had secured at least 50% Marks in 12th from Science Stream with Physics, Biology, and Chemistry as base Subjects.

Duration

Certificate: 5 Hours to 6 Months.
International Certification: 3 Months to 2 Years.
Diploma: 6 Months to 18 Months.
UGD: 3 Years to 4 Years

Online Course
Available
Types of Online Course
Coursera, Skillshare, Udemy, Devine Online, etc. (Includes Paid and Unpaid courses)
Average Cosmetology Courses Fees

Certificate: INR 1,000 to 50,000.
International Certification: INR 25,000 to 2,00,000.
Diploma: INR 50,000 to 1,20,000.
UGD: INR 1,00,000 to 2,50,000.

Average Salary

Certificate: INR 1,20,000 to 1,80,000.
International Certification: INR 4,00,000 to 6,00,000.
Diploma: INR 3,00,000 to 4,00,000.

Top Job Prospects
Cosmetologist, Nail Care Artist, Hairstylist, Makeup Artist, Salon Sales Consultant, Beauty Care Distributor, Cosmetology Instructor/Coach.
Eligibility Criteria for Cosmetology Courses
Before knowing anything about the diploma courses we need to know what is the eligibility that you need, to study medical cosmetology courses is important. Check the eligibility criteria below.
For Short Term Courses:
Candidate should complete their 10th grade from a recognized school. And for advanced courses, you need to complete any basic course in cosmetology.
Diploma Courses:
Complete 12th grade in a recognized school.
If any candidate had completed a certification course after the 10th, then they are also eligible for a diploma course.
Master's Courses:
Candidates must have an advanced diploma certificate from a reputable beauty and makeup institute.
Documents Required for the Admission in Cosmetology Diploma
After meeting the eligibility criteria if you want to get admission in any diploma course in cosmetology you need to take the following documents. There will be a few differences between universities. And they will announce a list of documents to carry.
Proof of Date of Birth.
Mark sheets of 10th and 12th grade.
Transfer Certificate.
School leaving Certificate.
Residential Certificate.
Caste Certificate.
Character Certificate.
Migration Certificate.
Diploma in Cosmetology Syllabus
Take a look at the syllabus you need to study for the diploma.
Basic Skin Care
Skin Analysis.
Classification of skin types.
Theory of massage.
Use of skin testing gadgets.
Nail care.
Foot spa and hand spa.
Filling of Record card.
Haircutting
The practice of nail art
Makeup
Hair coloring.
Haircare.
Nail tip and Nail wrap application.
Precautions.
Manicure/pedicure.
Product knowledge.
Clent consultation.
Procedure.
Certification Courses in Cosmetology
This table shows the popular certification courses in cosmetology offline.
| | | | |
| --- | --- | --- | --- |
| Certificate Name | Institute Name | Diploma in Cosmetology Fee | Course Duration |
| Certification course in basic beauty | Hazel International Institute of Beauty & Wellness | INR 10,000 | 2 months |
| Certificate in Cosmetology | Punjab University, Chandigarh, University of Madras, Chennai, Bharathiar University, Coimbatore | INR 20,000 | 4 months |
| Certificate Course in Artistry Makeup | JD Institute of Fashion Technology, ISAS International Beauty School. | INR 10,000 | 2 months |
| Certificate Course in Professional Make-Up | Hazel International Institute of Beauty & Wellness | INR 10,000 | 2 months |
| Certificate Course in Basic Hair Designing | Hazel International Institute of Beauty & Wellness | INR 10,000 | 2 months |
Note: We have seen the certification courses offline but we have also certification courses online by many providers like Udemy, Skillshare, and many beauty academies.
Some of the online certification names are
The Ultimate Masterclass for Face Makeup.
Advanced Skin Science for Beauty Therapists.
Online Air-brush Makeup Training course.
The skin structure for beautician beginners.
Best Colleges for Diploma in Cosmetology in India
We are looking into the list of top colleges in India to study diploma in cosmetology after 10th.
Anoo's International Beauty School, Somajiguda, Hyderabad.
Radio Bhuvan Career Supermarket, Colaba, Mumbai.
Institute of Cosmetic and Laser Surgery, S.V. Patel Road, Borivli, Mumbai.
Eves Beauty Parlour and Academy, NCR Delhi.
VLCC Academy of Beauty Health and Management has Institutes in all major Indian Cities.
Skills Required in Cosmetology Courses
Here are some basic skills required for a cosmetologist if you would like to have a good career in the future.
Communication skills: It is required in any profession. It helps you to interact with any type of people and you can handle them very easily.
Listening and presentation skills: This will help you in your work areas if you are a consultant or manager.
Interpersonal skills: This also will help you to interact with people. And it learns how to behave with the customer.
Hard work: For any occupation hard work is important. So that you can achieve anything and you can grow.
Top Companies Hiring Diploma in Cosmetology
Now, we will see the list of companies hiring people who have completed their course diploma.
Beauty Therapy Clinics.
Beauty Parlours.
Skin Clinics.
Cosmetic Companies.
Fashion Industry.
Cosmetology Consultant.
Beauty Research Institutes.
Spas.
Cosmetology Schools.
Career Path after Cosmetology Diploma
After completion of your diploma in cosmetology, you have many career paths in cosmetology. After completion of your course, you can settle by opening your own beauty clinic or you can work in any job. Some of the top job options we have after completion of cosmetology courses.
Makeup Artists
Nail Technician.
Cosmetologist
Fashion Show Stylist
Hair Stylist.
Not only these we have many opportunities. We have mentioned only some of them. You must have completed hair styling courses to get selected as a hair stylist.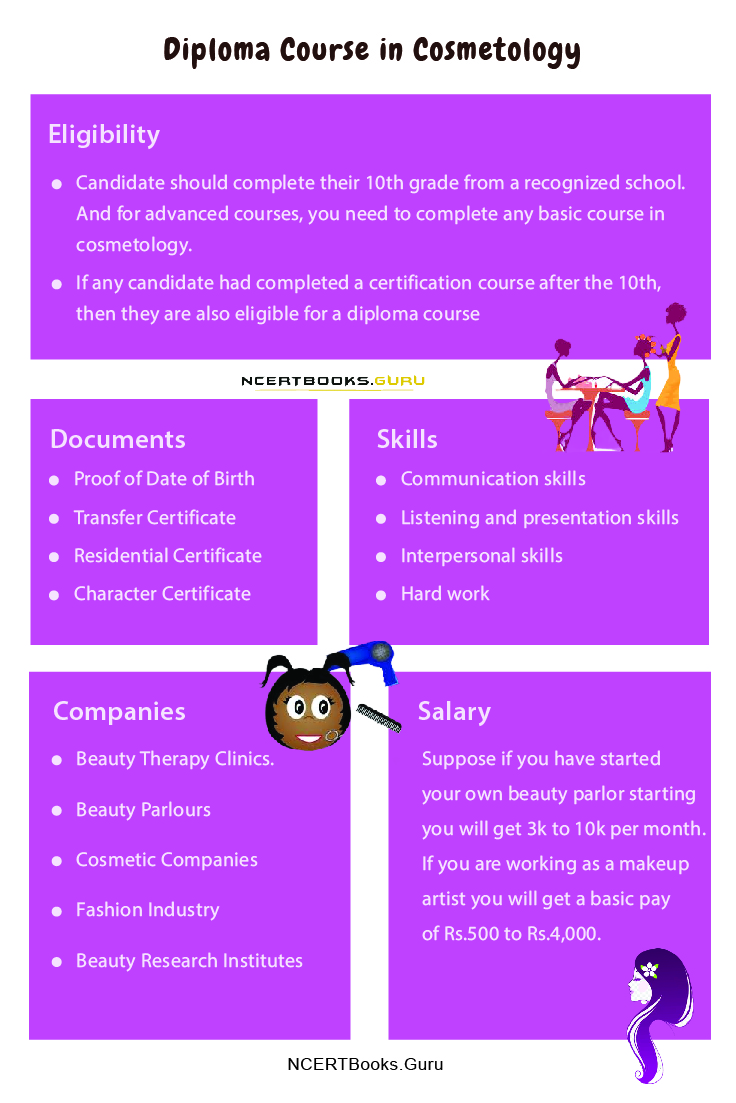 Salary For a Cosmetologist after Diploma
When you start your career after completing your diploma we have different pay for a different career path. Suppose if you have started your own beauty parlor starting you will get 3k to 10k per month. If you are working as a makeup artist you will get a basic pay of Rs.500 to Rs.4,000.
Ans it depends on your proficiency and talent that you work for your customers. We don't have a certain amount of pay. It is based on your experience and the skill you have. The salary will be almost the same for the candidates who have finished Beautician Course Details.
Do Check:
FAQs on Diploma Cosmetology Courses
1. What is Cosmetology?
Cosmetology is a study of beauty treatments for the face, hair, and skin
2. Do we have online Courses for the study of cosmetology?
Yes, we have many online platforms that provide cosmetology courses. Some of them are Udemy, Skillshare, and many others.
3. Is cosmetology a good career?
Yes. Nowadays most people are beauty conscious. Everyone likes to look beautiful by their looks, hair, and structure.
4. What is a salary of a Cosmetologists?
The salary of cosmetologists is mainly dependent on their skill set and experience they have. Salary varies from person to person.
Final Words On Cosmetology Diploma Course
Hoping that we have covered all the complete information about the diploma course and career paths after the diploma. Still, if you have any queries you can sign in and comment to us below. We will help you and we will answer all your queries with patience. And still, if you want to take a look at any other diploma courses you can visit our website ncertbooks.guru.