Medical Cosmetology Courses In India: The healthy lifestyle of people has been deteriorating these days. Even the pollution, usage of gadgets, eating junk food, and stress have damaged the skin of people. Skin problems are not only for the old people but due to these problems the youngsters are facing skin issues. Acne, pimples, skin damage, premature wrinkles, reduced muscle tone, and dark circles, are common problems. Thus, to overcome these problems cosmetologists can be very helpful.
Medical Cosmetology Courses provide a detailed description of the skin treatment, not only for skin but for the nails and hairs too. This course is in high demand these days as the environment is expecting people to care about their skin.
If you want to be Medical Cosmetologist then you must look for exciting courses in India. However, if you cannot find everything in one place then we are here to help you. You can get detailed information about the courses in India for Medical Cosmetology in the below article.
Detailed List for Medical Cosmetology Courses In India
The medical cosmetology courses in India are available for PG degrees. They can be categorized as PG Diploma, PG certificate Diploma, and Advanced certificate program. Here you can find the detailed list of medical cosmetology courses after MBBS in India.
PG Diploma Courses
PG Diploma in Cosmetic Dermatology
PG Diploma in Medical Cosmetology
PG Diploma in Trichology
PG Diploma in Clinical Cosmetology
Advanced Certificate Courses
Advanced Diploma in Medical Cosmetology
Certificate Courses
PG Certificate in Medical Cosmetology
PG Certificate in Cosmetic Dermatology
PG Certificate in Clinical Cosmetology
Specialization in Medical Cosmetology Education
As you have now made up your mind that you want to build your career in medical cosmetology, then you can pursue specialization according to your interest. You can choose various courses such as
Skin Care
Professional Makeup
Perfumery and Aromatherapy
Manicure, Pedicure
Hair Transplant
Hair Removal (Laser and other methods)
Cosmetology
Beauty Therapy
Beauty Culture
Ayurvedic Cosmetology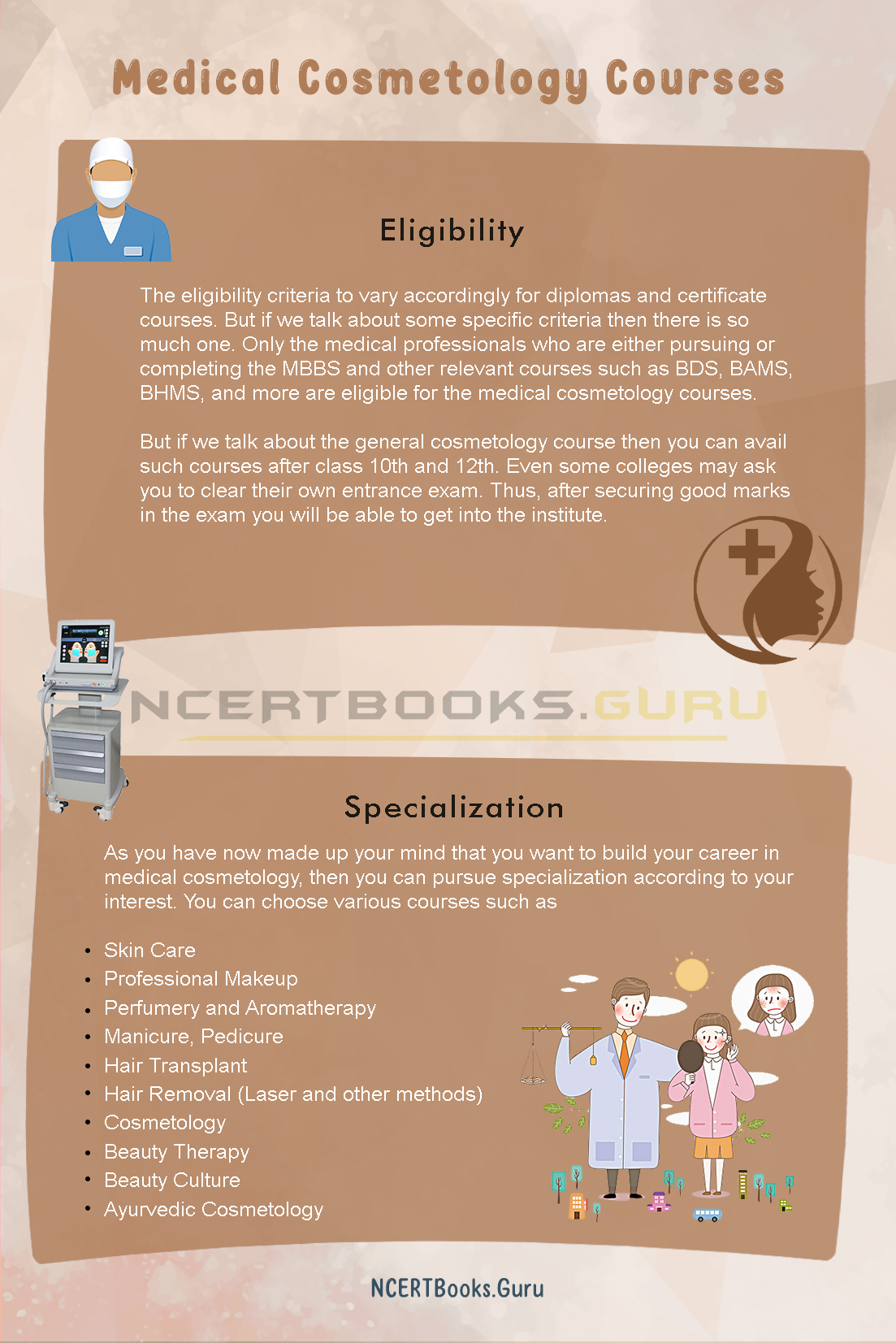 Medical Cosmetology Courses Eligibility
The eligibility criteria to vary accordingly for diplomas and certificate courses. But if we talk about some specific criteria then there is so much one. Only the medical professionals who are either pursuing or completing the MBBS and other relevant courses such as BDS, BAMS, BHMS, and more are eligible for the medical cosmetology courses.
But if we talk about the general cosmetology course then you can avail such courses after class 10th and 12th. Even some colleges may ask you to clear their own entrance exam. Thus, after securing good marks in the exam you will be able to get into the institute.
Medical Cosmetology Course Duration
How many years it takes to complete the medical cosmetology courses in India is the common question that everyone wants to know before entering into the complete details. As the course duration varies according to the different colleges but you can easily complete a few cosmetology courses in just 1-2 years.
Top Colleges For Medical Cosmetology Courses After MBBS In India
Best Medical Cosmetology Colleges in India are listed here:
VLCC Academy of Beauty Health & Management
Pearl Academy of Fashion (PAF), Jaipur
National and Regional Vocational Training Institutes for Women
International Women Polytechnic, Delhi
Habib's Hair Academy
Shahnaz Husain International Beauty Academy
Do Check
Required Skills for Becoming a Medical Cosmetologist in India
You want to become a medical cosmetologist then you must possess these skills.
Good communication skills
Proper knowledge of beauty products
Knowledge of skin, hair, and nails
In-depth knowledge of different skin types
Knowledge of color and skin-matching
Physical stamina to work for long hours
Cleanliness and organization
Time Management Skills
Career After Medical Cosmetology Courses In India
You can find amazing jobs of your choice after completing Medical Cosmetology Courses. Here are the few job profiles which are eagerly waiting for you.
Hairstylist
Makeup Artist for the TV and film industry
Nail Care Stylist
Manufacturer Sales Representative
Fashion Show Stylist
Salon Sales Consultant
Beauty Magazine Writer
Cosmetologist
Hair Transplant specialist
Top Recruiters That Hire Medical Cosmetologists in India
Do not think that you just need to work in the small parlours. There are big and reputed firms that hire medical cosmetologists all over India. You can easily get recruitment with the following defined companies.
Urban Company
Fortis Hospital
VLCC Cosmetics
MAC Cosmetics
Toni and Guy
Bobbi Brown
Emami
Sephora
L'Oréal Salon
Nykaa
NARS Cosmetics
Kaya Clinic
Lakme Salon
Clinique
Blossom Kochhar
Medical Cosmetologists Salary
As the career is in high demand thus the salary provided is also high. You can easily earn around Rs. 1.5 to Rs 2 lakhs even at the beginning of completion of your course. With the passage of time, you will be able to earn more. As you are gaining a high professional degree so you can easily earn Rs 50,000 per month.
FAQs on Medical Cosmetology Courses for Doctors in India
1. What are the ways in which I can become Medical Cosmetologist in India?
To become a licensed Cosmetologist in India, you need to pursue a specific degree for the same. You can look for the certificate courses after 12 from the specific medical cosmetology school.
2. Is MBBS necessary for the Medical Cosmetology Courses In India?
To become a professional Medical Cosmetologist you need to have at least an MBBS or higher degree for the professional and complex tasks related to Cosmetology. But for general skin cosmetology, the basic activities are performed at common salons and beauty parlors.
3. What is the main role of a Medical Cosmetologist?
The main role of the Medical Cosmetologist is to deal with the pimple, acne, hair transplant, dark spots, wrinkles, and related aspects. The main role is related to skin treatment. Even the treatments like fillers and botox are performed by Medical Cosmetologists.
4. Is taking up Medical Cosmetology Courses In India a good career option?
Yes, in India numerous people are interested in skin treatments. Due to the increasing pollution, the skin quality is deteriorating. This is one of the fastest-growing industries and provides good career opportunities not only in India but also abroad.
5. Do hair styling and hair colouring also comes under Medical Cosmetology?
When you study the syllabus for medical cosmetology then you will be taught about the aspects and the ingredients used in the hair colouring and which type of hair suits the skin type. But for general hair cutting, you don't need a medical cosmetologist degree, a basic certificate course is enough for you.
Conclusion
Now, you have detailed information related to the Medical Cosmetology Courses In India. If you want to know more about the medical courses you can visit our official website Ncertbooks. guru. Also, if you are still confused about the amazing career opportunities you can check our main page on course details or else ask your questions in the comment section below and get a quick solution for your doubts.