Paramedical Courses: Paramedical courses are one of the most popular courses that job oriented. Given below, you will many paramedical courses and information related to them. Paramedical courses have an enormous scope in India, and their popularity is increasing every year. You can see how much they're demand is growing because the admission in these courses is increasing every year and the number of courses offered is also increasing.
Many institutes are offering many different Paramedical courses for students. Some of the classes are that are provided in the medical sector are MBBS, BDS, BAMS, Nursing, B.V.Sc. , Pharmacy and BHMS. However, the medical courses that don't fall in the main category but are still medical courses are called Paramedical courses.
What are the Paramedical Courses?
Paramedical courses are the ones that are a part of the Medical sector. These courses are essential and useful as the other courses which are related to the medical courses. They are as job oriented as significant medical courses. People working in the paramedical sector are known as paramedics.
The paramedical courses help students learn and become excellent healthcare workers and technicians. The jobs of these technicians and workers are as important as the other jobs of the other people working in the medical sector. These people play an integral and crucial role in the healthcare industry of the country.
Paramedical jobs are on the rise in the country because the demand for them is increasing every year. Another fact about the healthcare industry is that the need for the workers is more aboard. A lot of people prefer working aboard because the paycheck is bigger there when you compare it to India.
Students can apply for the courses of their choice depending on their choice and preference. Both 10th and 12th standard students can apply for paramedical courses in India.
Types of Paramedical Courses
Students can choose the different Paramedical courses depending on when they are applying for it. All the courses have a different time frame and syllabus. Given below are the main paramedical courses which are available in the various colleges in India-
Bachelor's Degree courses
Diploma courses
Certificate courses
List of Bachelor's Courses in Paramedical
The list of the courses which are given below is the Bachelor's degree course. These courses are three years long each and some have an additional one year for practical learning. The eligibility is for students who have passed 10th and 12th in science stream with Biology as a significant course.
Bachelor in Physiotherapy
Bachelor of Occupational Therapy
Bachelor of Science in Operational Theatre Technology
Bachelor of Science in Dialysis Technology
Bachelor of Science in Medical Lab Technology
Bachelor of Science in X-Ray Technology
Bachelor of Science in Radiology
Bachelor of Science in Medical Imaging Technology
Bachelor of Science in Ophthalmic Technology
BASLP
Bachelor of Science in Audiology and Speech Therapy
Bachelor of Science in Optometry
Bachelor of Science in Anaesthesia Technology
Also, Check:
List of Diploma Courses  in Paramedical
Given below are diploma courses for students who want to pursue Paramedical courses. These courses can last up to a maximum of three years. Students who have completed 10th and 12th can apply for the diploma courses and pursue it. Every college or university has different academic programs.
Diploma in Physiotherapy
Diploma in Occupational Therapy
Diploma in Operation Theatre Technology
Diploma in Dialysis Technology
Diploma in Medical Lab Technology
Diploma in X-Ray Technology
Diploma in Radiology
Diploma in Medical Imaging Technology
Diploma in Medical Record Technology
Diploma in Nursing Care Assistant
ANM
GNM
Diploma in Ophthalmic Technology
Diploma in Hearing Language and Speech
Diploma in Anaesthesia Technology
Diploma in Dental Hygienist
Diploma in Rural Health Care
Diploma in Community Health Care
List of Certificate Courses in Paramedical Sector
Given below are the best certificate courses for students who want to pursue a paramedical career. The certificate courses are for a time frame of six to twelve months. A minimum qualification of 10th standard is required for students to apply for the certificate courses. Every institute has different requirements for students to apply for these certificate courses.
Certificate course in X-Ray Technician
Certificate course in Lab Assistant/ Technician
Certificate course in Dental Assistant
Certificate course in Operation Theatre Assistance
Certificate course in Nursing Care Assistant
Certificate course in ECG and CT Scan Technician
Certificate course in Dialysis Technician
Certificate course in Home Based Health Care
Certificate course in Rural Health Care
Certificate course in HIV and Family Education
Certificate course in Nutrition and Childcare
Get more types of Course Details arranged streamwise and category wise.
Paramedical Entrance Examinations
Many colleges conduct their entrance exams every year for students to get admissions. However, states and the central governments to conduct paramedical entrance examinations for students to get an admission. Here are a few entrance exams that are conducted are:
AIIMS: AIIMS is an institute that offers both Under Graduate and Post Graduate courses. For admission in these courses, AIIMS conducts entrance exams every year. The registration for these exams starts in February which and the review takes place in May. Interested candidates can apply online for appearing for these examinations.
MHT-CET: The State Government of Maharashtra conducts the State- Level entrance examination every year. Students who are interested in the healthcare sector can apply for the entrance examination. The study is conducted in May every year.
Paramedical Courses Duration
The Bachelor's Degree Course for Paramedical courses requires about three or maximum fours to complete.
The Diploma Courses for Paramedical Course requires about three to complete.
The Certificate Courses for Paramedical courses require about six to twelve months to complete.
Paramedical Courses Eligibility Criteria after Class 12
There are a few criteria that a student should fulfill to apply for a paramedical course. Here is a list of a few requirements:
The candidate must have passed class 12 with a minimum percentage of 5o and Biology as one of the main subjects.
For diploma courses, there is no minimum percentage requirement because every college is different, and their needs are different.
Many colleges accept candidates based on their 12th board examination results.
A lot of colleges conduct their entrance examination for students to get an admission in their college and some other college accept the results of the entrance exam that students may have written on a state or national level.
Paramedical Sector Scope
The scope in the Paramedical sector is immense not only in India but around the globe. There are plenty of jobs opportunities available in the public and private sectors for Paramedics. The Healthcare industry is one of the fastest-growing areas in the country, and the scope in this sector is broad. The need for paramedics who can assist and aid the specialist is in high demand.
Healthcare is one of the most essential and crucial sectors in any country. Both the central and state government try their best to provide the best healthcare system for the citizens of the country. Many hospitals recruit paramedics every year; some are Fortis hospital, Apollo Hospital, Manipal Hospital, and Columbia Asia Hospitals.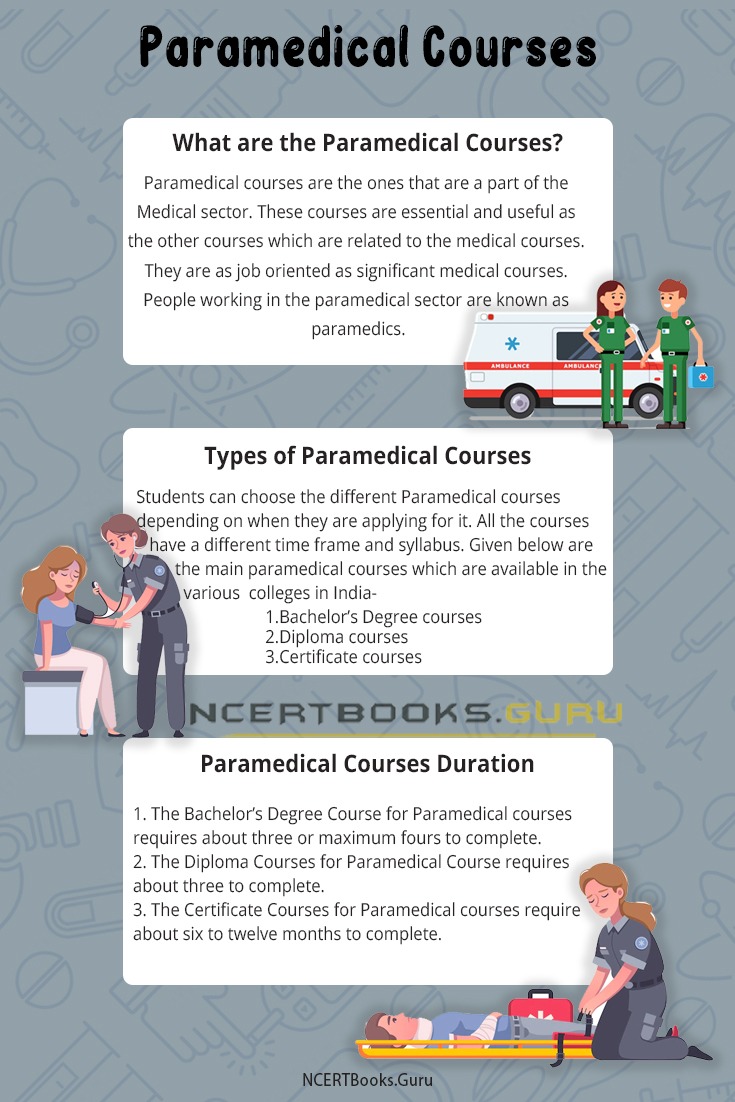 Paramedical Career Opportunities
The salary is one of the incentives for a person who is working in any sector. A minimum salary for a paramedic per annum is around Rs. 2,20,000 – Rs. 10,00,000. The pay keeps increasing as the experience of the person increases. Candidates who wish to enter the Paramedical field need to have practical knowledge and skills. The candidates can do internships which is help them understand the working of a paramedic.
Here are a few jobs that you can apply for after completing a course in the Paramedical sector:
Nurse
Physiotherapist
Occupational Therapist
Audiologist and Speech Therapist
Radiographers
Rehabilitation Workers
FAQ's On Paramedical Courses
Question 1.
What are the kinds of courses you can do to pursue a career in Paramedics?
Answer:
The kind of courses that you can pursue a career in Paramedical courses is a Bachelor's degree,  Diploma or a Certificate Course.
Question 2.
How long does it take to complete a Bachelor's degree in a Paramedical course?
Answer:
It takes four years to complete a Bachelor's degree in a Paramedical course. The course consists of Practical training too.
Question 3.
Name some job opportunities for students who take up Paramedical courses?
Answer:
There are several job opportunities for students who take up Paramedical you. Some are nurses, Radiologists, and Occupational therapists.