BMS Course Details: Candidates who are interested in getting a BMS degree can check for course-related information here. You can get information on Duration, Fee, Eligibility, Admission, Syllabus, Jobs, and Salary Structure here. After completing class 12 from a recognized board, students can undergo this course and have a great career ahead. You will have various options for jobs to join after finishing the BMS Degree Course.
About BMS Course Details
Bachelor of Management Studies (BMS) is a three-year degree course that provides vast knowledge in management. It is an undergraduate program that provides in-depth knowledge about human resources, economics, and business studies. The course contains details about innovation in management, strong entrepreneurship qualities, finance, stock, risk analysis, etc. that are essential parts of a business. There are multiple training sessions and co-curricular activities in this course. These activities are essential for the complete growth of the students.
This course helps the students to get prepared to face difficult challenges in business. This course also helps those students who are interested in starting their journey as entrepreneurs. BMS course helps to enhance business, management, problem-solving, and negotiation skills among the students. It is the perfect undergraduate course for those who have a zeal to solve a business's critical problems and are team players.
Overview of BMS Course Details
| | |
| --- | --- |
| Course  | BMS |
| BMS Full-form | Bachelors of Management Studies |
| Eligibility Criteria | 12th passed from any recognized board with a minimum of 45% to 50% |
| Duration | 3 Years |
| Fee Structure | Under 1.5 Lakhs |
| Course Type | Undergraduate Program |
| BMS Course Salary | 3LPA to 12LPA |
| Admission Process | Merit or Entrance Exam based |
| Examination Type | Semester |
| Top Recruiting Areas | Business Firms, Academic Institutions, Marketing and Sales, Banks, Finance and Retailing, Self-Employment, Consultancy, etc. |
Subjects in BMS Degree
The contents of this degree are mentioned below. Those interested in this degree course can look at the details mentioned below to get an advance idea on the course.
Strategic Management.
Managerial Economics.
Bank Strategy and Management.
Entrepreneurship.
Introduction to International Business.
Leadership and others.
List of Top Colleges in India Offering BMS Course
Here, we are mentioning some top listed colleges that are offering BMS undergraduate courses. You can choose the best college according to your preference. It is always better to research the college before joining it.
Shaheed Sukhdev College of Business Studies, Delhi
Shiv Nadar University, Greater Noida
Wilson College, Mumbai
Indsearch, Pune
St Xavier's College, Kolkata
University of Delhi, Delhi
Jai Hind College, Mumbai
HR College of Commerce and Economics, Mumbai
See More:
BMS Undergraduate Course and Eligibility
One can join this course after completing 10+2 from a recognized board with 45% to 60%. The percentage differs depending on the college. Candidates willing to join this course must have English as a compulsory subject in their high school. The age limit for the general category is 22 years. However, the age limit is 24 years for reserved category.
BMS Course Fee Structure
The fee structure varies from college to college. The average course fee for Bachelor of Management Studies varies from 8000 to 2 lakhs per annum.
BMS Admission Procedure
Candidates can take admission in this course by giving entrance exams such as UGAT. Some colleges take direct admissions based on the candidate's merit. Suppose you need to fill up the application form of the particular college, either online or offline. After that, you will get a call or email from the concerned authority. Then you should follow their instructions for further procedure.
BMS Course Duration
The duration of this course is three years. Most of the colleges have three years degree course on BMS. You should check the exact duration from the college's website.
BMS Course Syllabus
There are six semesters in the Bachelor of Management Studies. Here are the details of the BMS Course Subjects. You may have a look at it in advance to prepare yourself well.
Semester I
Foundation of Human Skill ( Part 1 )
Finance and Cost Accounting
Business Law
Quantitative Methods for Business ( Part 1 )
Effective Communication ( Part 1 )
Principles of Management ( Part 1 )
Introduction to Computers
Semester II
Foundation of Human Skill ( Part 2 )
Industrial Law
Computer Application in Business
Business Environment
Managerial Economics ( Part 2 )
Production Management
Environmental Management
Semester III
Management Accounting
Managerial Economics ( Part 2 )
Marketing Management
Materials Management
Effective Communication ( Part 2 )
Principles of Management ( Part 2 )
Management Accounting
Semester IV
International Marketing
Elements of Direct and Indirect Taxes
Export-Import Procedures and Documentation
Management of Small Scale Industries
Productivity and Quality Management
Public Relations Management
International Marketing
Semester V
Human Resource Management
Service Sector Management
Financial Management
Elements of Logistics Management
Management of Co-operatives
Rural Marketing
Project Work
Semester VI
Entrepreneurship
Quantitative Method of Business ( Part 2 )
Indian Management Thought and Practices
Marketing Research
Econometrics or International Finance (Elective Paper – 1)
Special Study in Finance or Special Study in Marketing (Elective Paper – 2)
Project Work
BMS Job Profiles
After completing a Bachelor of Management Studies, you can have a lot of job opportunities. So, you will have a bright career. Some job opportunities are mentioned below :
Business Consultant
Finance Manager
Human Resource Executive
Teacher
Market Research Analyst
Budget Analyst
Marketing Manager
Project Manager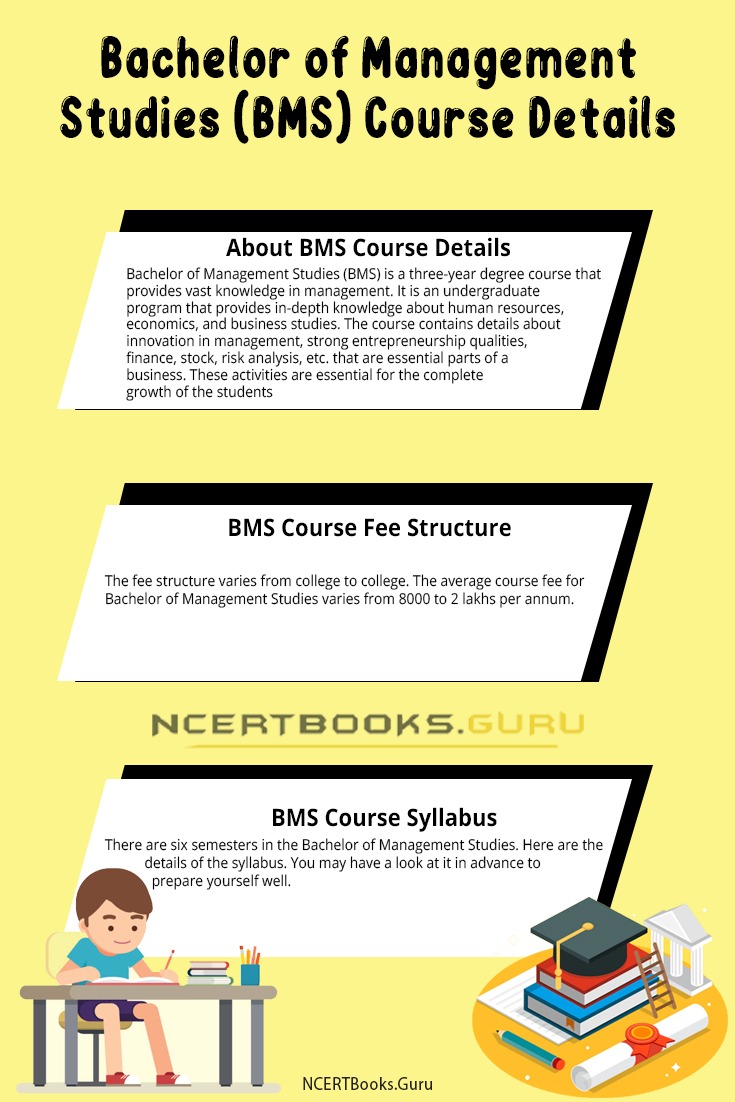 Salary Offered After BMS
The average salary offered after completing BMS is 3LPA to 12LPA, depending on the company and position. However, it also varies depending on the merit and personality of an individual.
FAQ's on BMS Course Details
Question 1.
What are the popular specializations of Bachelor of Management Studies?
Answer:
The popular specializations for BMS are Entrepreneurship, Catering Science & Hotel Management, Leadership and Innovation, Marketing, and Service Management.
Question 2.
What is the duration of the BMS Course?
Answer:
Most of the colleges offer a three-year degree course on BMS (Bachelor of Management Studies).
Question 3.
Who can pursue this course?
Answer:
Anyone from Science, Arts on Commerce background, after completing class 12 with a minimum of 45% marks can apply for this course. However, the criteria of percentage differ from college to college.
Question 4.
What is the career scope of BMS in India?
Answer:
BMS has a very well career scope in India. Because nowadays, every Indian company wants to hire candidates with a management background for different positions of their organization. You may have an excellent corporate career. You can also pursue higher studies like PGDM, MBA, MMS, and other certificate and diploma courses after completing BMS ( Bachelor of Management Studies ).
Summary
We believe that the information provided above will help many students who have recently completed their school and are looking for a good job oriented course. For any other queries, you may reach out to us via the comment section. Stay connected with us to know more about different courses after 12th in detail.