How to Become a Biomedical Engineer In India?: A biomedical engineer is a trained specialist who designs and builds medical instruments and equipment for healthcare providers. They are also finding solutions to many medical issues utilizing technological advancements. The field of BE Biomedical Engineering applies engineering principles to diagnoses and therapeutics in doctors' treatment practices. In this 4-Year undergraduate program, you will learn how to run medical machinery through software.
Biomedical engineers use the expertise of biology, engineering, chemistry, and medicine when developing products for biomedicine. Utilizing digital devices and technologies, healthcare professionals' lives are made easier. A wide variety of industries require them, including the agricultural industry, the food industry, and engineering.
Refer to Course Details to know more about related courses and find details like Admission Process, Eligibility Criteria, etc.
The following information provides the information you need to succeed as a Biomedical Engineer in the future.
What is the Eligibility Criteria To Become a Biomedical Engineer?
Here are the detailed eligibility requirements to become a Biomedical Engineer:
Science must be one of the subjects studied in the 12th grade.
A biomedical engineer must possess an undergraduate degree, such as a B.Tech, a B.E or a B.Sc in biomedical engineering.
An applicant taking undergraduate admission should have a minimum percentage of intermediate studies that is determined by the university.
How to Become a Biomedical Engineering?
Studying certain courses and striving to work as a professional according to the skill set is necessary for the dream of becoming a Biomedical Engineer. In order to advance in a career as a Biomedical Engineer, a person should follow these principles:
As a student, if you find biomedical engineering to be a suitable career option, you will have to decide to enroll in the science stream in Class 12th in order to pursue this career option. Undergraduate students can enroll in engineering or science courses in relevant fields.
Decide what degree program you want to pursue, such as B.Tech in Biomedical Engineering, B.Sc in Biomedical Science, or B.E in Biomedical Engineering. A course in biomedical engineering is the best choice if you want to become one.
For being eligible to take an undergraduate course, you have to check the list of admissions exams and make sure that you score high marks in the entrance examination to be admitted to a top Indian university. It is possible to get into the IITs and NITs of India that provide Biomedical Engineering courses through IIT JEE. The BHU Undergraduate Admission Test, AMU Undergraduate Admission Test, and other university-level examinations can be taken for admission to Biomedical Science courses at BHU. Merit-based admissions are also offered by some universities.
It is possible for students to participate in internships while studying at institutes, which allows them to learn new skills and gain practical experience. Students can choose from a wide range of pharmaceutical, engineering, and health industries that offer internship programs. You should pounce on this opportunity as soon as you can.
After completing a bachelor's degree, you can look into on-campus, off-campus, or specialized jobs. If you want to pursue higher education in India or abroad, you can take specialized courses.
When you complete your studies you have the opportunity to explore a variety of career options and then find the one that fits you best.
See More:
Scope for Biomedical Engineers
Engineers in the stream of Biomedical Engineering use engineering knowledge and abilities to find solutions to clinical problems. Electrical engineering, gadgets, computers, and instrumentation are part of a multidisciplinary subject that provides information about various engineering topics from a natural perspective.
As far as their career options go, graduates of Biomedical Engineering can choose from many options. There are many choices available when it comes to working with companies, such as medical institutes, hospitals, instrument manufacturers, diagnostic centres, installation units, etc.
Depending on the type of position and the level of specialization a Biomedical Engineer chooses, there are numerous duties to be performed. An engineer involved in biomedicine has the following responsibilities:
Biomedical Equipment Technician
Cellular, Tissue, and Genetic Engineers
Clinical Biomedical Engineers
Orthopedic Bioengineers
Biomaterial Professional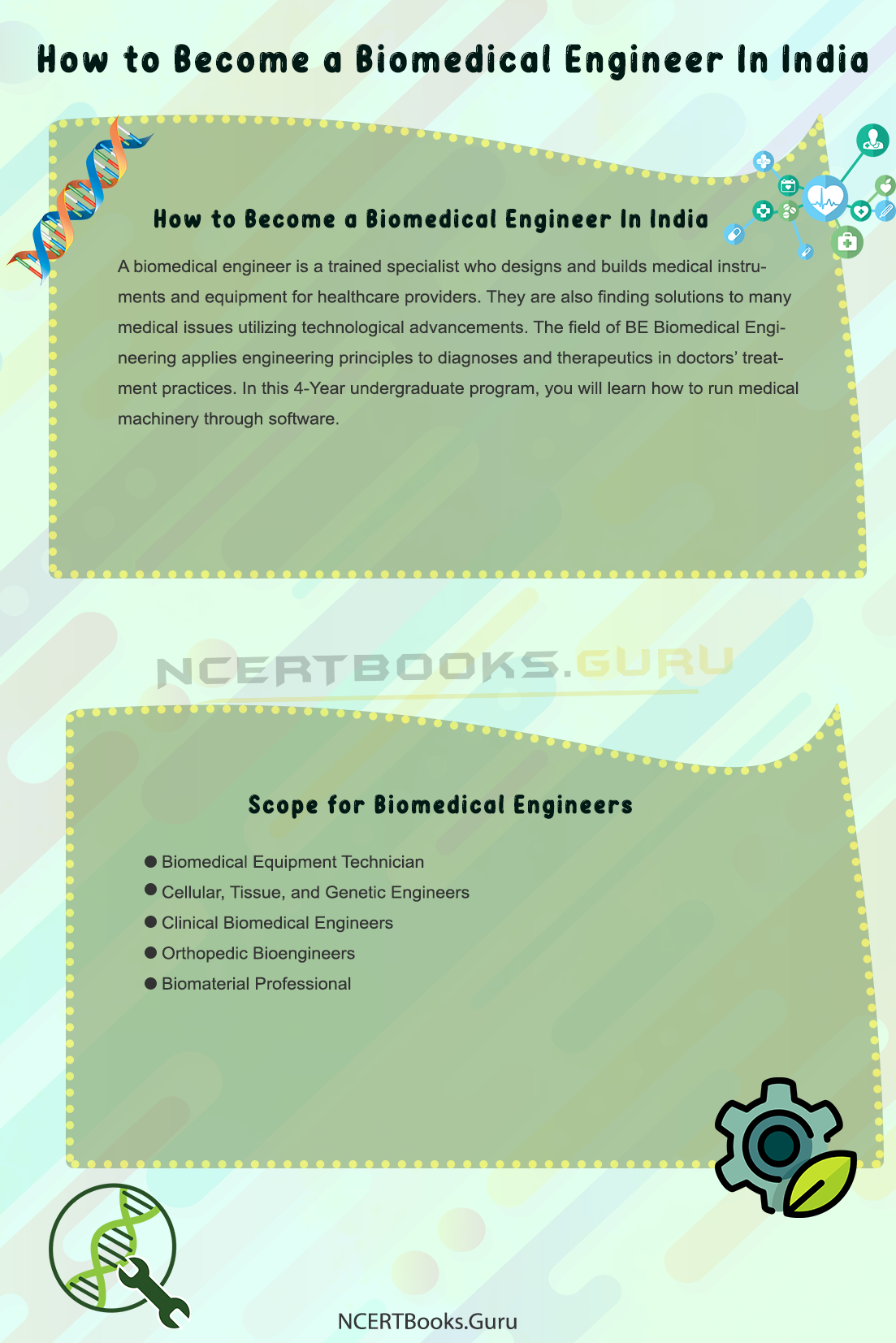 FAQ's on How to Become a Biomedical Engineer in India?
Question 1.
Can this program be completed via distance learning?
Answer:
Yes, distance learning is offered for this course by open colleges including IGNOU, Annamalai University, Lovely Professional University, Andhra University, and others.
Question 2.
What are the fees for the Biomedical Engineering course?
Answer:
Institutions/universities have varying charges based on their types. It is a relatively cheap option if the college is government-run, and a costly option if it is a private institution. Average annual fees may range from 5,000 -5,00,000.
Question 3.
How much participation is necessary?
Answer:
Colleges are not too precise regarding attendance standards, but 66.67% attendance is expected.