How To Become A Bio Technologist In India?: Biotechnology is the study and establishment of biological processes to improve the quality of life and enhance the productivity of foods, feeds, and pharmaceuticals. India's economy is booming in the biotechnology sector, wherein new firms are forming all the time. Many jobs and hundreds of billions of dollars of revenue can be earned as a professional working in the biotechnology industry.
A biotechnological product is one that incorporates principles of biochemistry and technology to deliver products that benefit people and the environment. Genetic engineering aims to expand the food supply, treat diseases, and resolve environmental issues by modifying genes. It encompasses products such as medicines, vaccines, biofuels, and biochemicals that are developed every year.
Jobs in biotechnology are plentiful in India. One problem is that you need to decide what you want to do from a lot of different jobs. Once you begin searching for Biotechnology jobs, you are likely to come across numerous postings informing you to visit the company's website. In India, the majority of companies are looking to hire biotechnology experts to work on their projects.
Refer to Course Details to know more about related courses and find details like Admission Process, Eligibility Criteria, etc.
What Does A Bio Technologist Do?
The following are some of the major roles and responsibilities of a biotechnologist:
The purpose of biotechnology is to enhance the quality of human life by utilizing microbial and molecular resources.
Biotechnology and breeding can both be used to increase crop yields.
Understanding how plants and animals function, including their origin, relationships, development, anatomy, and function.
The job of a biotechnologist is to collect and analyze biological data about organisms and their environments in relation to one another.
As a supervisor, oversee the work of technicians and technologists in the biological field.
Data is stored, processed, and analyzed using computer programs.
Inform the public and industry about scientific reports and technical studies.
In universities and colleges, they offer courses and supervise students.
Develop and implement biological research programs for governments, pharmaceutical companies, and medical research firms.
Prepare management plans for renewable resources.
Examine the environmental impact of land and water use now and in the future.
Assess ways to improve the environment or yields, such as crop yields.
Eligibility Criteria for a Bio Technologist
The following criteria must be met by candidates interested in Biotechnology Engineering:
The student should have passed 10+2.
A student must have Physics, Chemistry, and Biology as mandatory subjects.
Many educational institutions also require Mathematics to be a compulsory subject.
Refer More:
Scope for a Bio Technologist
Biotechnology engineering offers many career opportunities. Graduates from biotechnology engineering programs have a variety of job options, including healthcare, pharmaceutical, and other businesses.
Scientists and engineers in the field of biotechnology make use of biological systems to develop new products. Researchers also assist in various research projects at research labs or institutions.
Currently, Samsung Healthcare, Stryker, Toshiba Medical Systems, Drager, and other biotechnology companies hire biotechnology engineers every year, increasing the scope of employment for students specializing in the subject.
Following a degree in Biotechnology engineering, graduates are likely to work in the following areas:
Assistant Researcher and Analyst
Technicians
Biological Professors
Biological Scientist
Biologist
Clinical Research Associates
Medicine Researcher
Income/ Earnings of a Bio Technologist
Research in biotechnology aims to prevent and treat diseases, and the major focus is on the development of new techniques in human biology and medicine. In addition to being a rapidly growing industry, jobs in biotechnology are more in demand than ever before. There is a lot of money to be made in biotechnology in India. There is an increasing need for knowledgeable professionals in this field due to its vastness.
Bachelor's degrees in biotechnology are the right option. Moreover, the demand for the product has increased along with the industry's growth. From a biological perspective, biotechnology involves investigating how living organisms work, their structure, and function from multiple perspectives.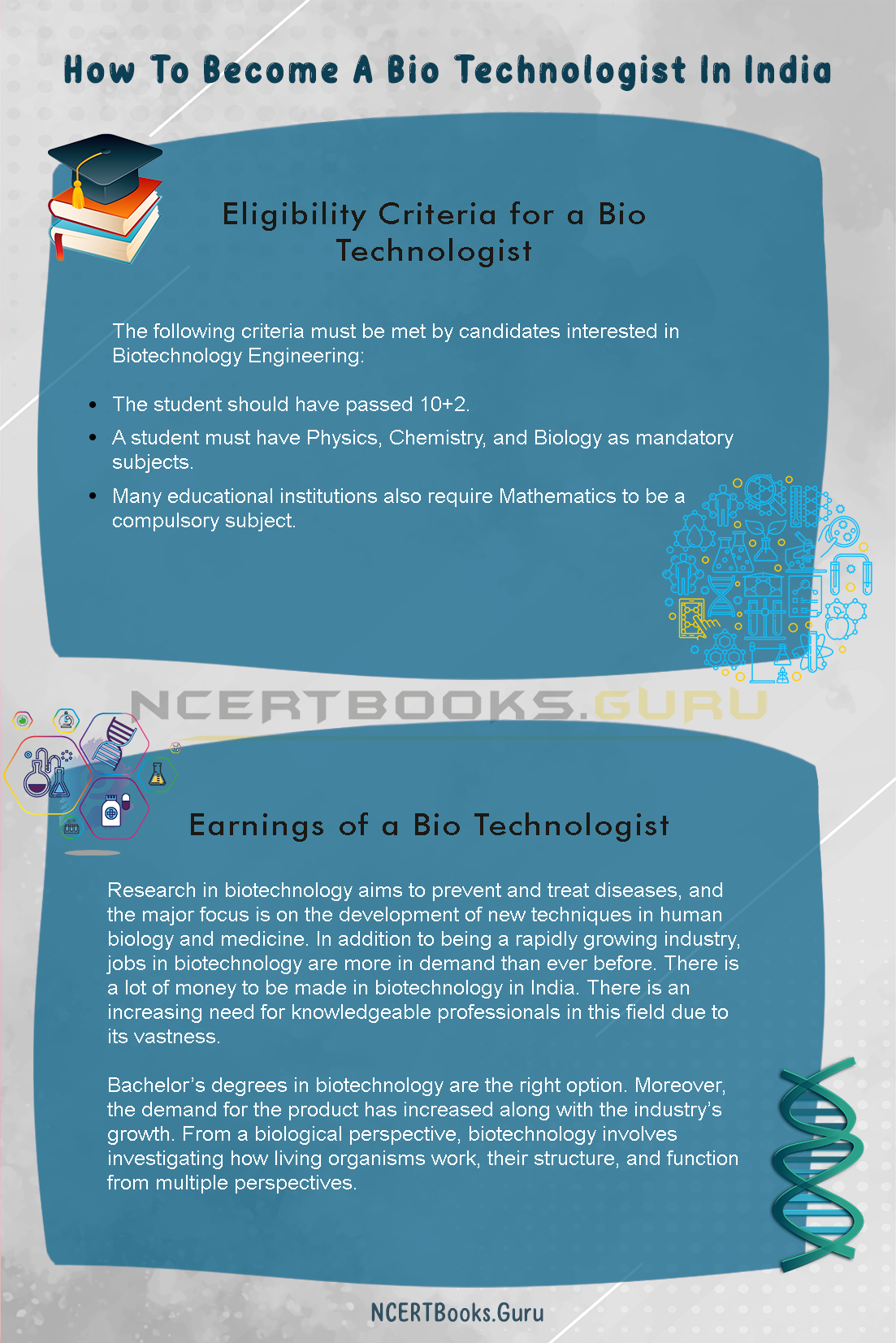 Conclusion on How to Become a Bio Technologist in India?
A degree in biotechnology could be the best choice if you want something different. You need to study biotechnology to become a biotechnologist. An applied biology degree will teach you how to use living organisms in technology, medicine and engineering, among others. These are the most useful resources and payscale for anyone interested in becoming a biotechnologist in India.
FAQ's on How to Become a Bio Technologist in India?
Question 1.
How long is the Biotechnology Engineering course?
Answer:
The Biotechnology Engineering program lasts at least three years.
Question 2.
How much does Biotechnology Engineering cost on average?
Answer:
Biotechnology Engineering carries an average annual fee of INR 80,000.
Question 3.
How many colleges offer courses in Biotechnology Engineering?
Answer:
The following colleges offer Biotechnology Engineering courses: the Indian Institute of Technology (Mumbai), the International Institute of Information Technology (Hyderabad), the Indian Institute of Technology (Chennai), the Indian Institute of Technology (Varanasi), the Indian Institute of Technology (Delhi).