If your heart beats to become a heart specialist in India, then you must choose the field of cardiology in medical courses after Class 12. Cardiology is a medical specialty and a branch of internal medicine that deals with heart problems. It focuses on the diagnosis and treatment of congenital heart defects, coronary artery disease, electrophysiology, heart failure, and valvular heart disease.
On this page, we have provided all the necessary information on how to become a cardiologist, career opportunities, professional growth, salary, perk, and benefits in detail. Read on to find more.
About Cardiologists
Cardiologists are physicians who diagnose and treat heart diseases. Cardiology is one of the most complex fields in medicine. To become a cardiologist in India takes 10-13 years. They specialize in treating diseases like congenital heart defects, heart failure, coronary artery diseases, and valvular heart diseases.
A cardiologist often focuses on one type of patient. An adult cardiologist sees only adult heart patients, a pediatrician cardiologist sees only infant and child patients.
Eligibility to Become a Cardiologist in India
To become a cardiologist, you need to clear your 10th exam. You need to select the course which has the subject Biology in your 12th class. Followed by, you need to get an MBBS degree, then a master's in cardiology to begin your career as a cardiologist.
How to Become a Cardiologist in India?
Below are the steps to become a cardiologist,
In Class 12, you need to select the course having subjects – Biology, Physics, Chemistry and Mathematics.
You need to clear the NEET entrance exam, before starting your MBBS degree.
MBBS (Bachelor of Medicine and a Bachelor of Surgery) is the basic degree you need to complete for entering the medical field. This course takes five and a half years, including one year of compulsory internship.
You need to have a master's degree in cardiology to practice as a cardiologist. There are many entrance exams in India including the All India Post Graduate Medical Entrance Exam, BHU MD/MS entrance tests, and others for post-graduate degrees.
Once you have completed your DM (Doctorate of medicine), get the license from the Medical Council of India.
Once you received your license you are eligible for applying for jobs as a cardiologist in India.
Learn about Course Details of various streams all in one place right from the admission process to salary packages offered after completing the course.
Types of Jobs in India for Cardiologist
There are numerous job opportunities for cardiologists after completing the necessary academic qualifications in the field of cardiology. Some of the most well-known cardiologist job profiles are listed below.
Cardiology Surgeon
Cardiology surgeons operate on the heart and blood vessels in the chest. To work as a cardiac surgeon, you will need a lot of education and training, including a bachelor's degree, medical school, residency, and an internship. In addition, a medical license given by the state must be held in order to practice medicine.
ECG (electrocardiographic) Technologist
Those working as cardiographic/electrocardiographic technologists are tasked with helping doctors diagnose and treat cardiac conditions such as arrhythmias (irregular heartbeats).
Interventional Cardiologist
Cardiologists that specialize in interventional procedures treat a wide variety of heart and blood vessel conditions by using a procedure called catheterization.
Cardiac Catheterization Technologist
They do diagnostic and interventional cardiac catheterizations, as well as other cardiac-related treatments, as part of their employment. They use small catheters inserted through a needle into the patient's blood arteries and listen to determine the heart's shape and function using X-rays and other recordings.
Nuclear Cardiologist
The nuclear cardiologist is responsible for performing tests to specific clinical indications, supervising cardiac stress tests, and assisting patients with their care.
Cardiology Director
The cardiology director is in the senior position in the department and is the head of the cardiology department. His job is to lead and direct the cardiology department's programs and staff. He ensures that the department runs smoothly in order to meet current needs while also anticipating future patient needs by introducing new services, procedures, and technologies.
Interventional Cardiologists
Their role is to perform more advanced procedures than invasive and non-invasive cardiologists.
Invasive Cardiologists
They perform diagnostic procedures such as cardiac catheterization to detect artery blockages.
Read More:
Job Opportunities for Cardiologist
Below is the list of the top industries and sectors that employ cardiologists,
Government Hospitals
Private Hospitals
Specialist Hospitals
Armed Forces Medical Services
Cardiology Clinics
Private Practice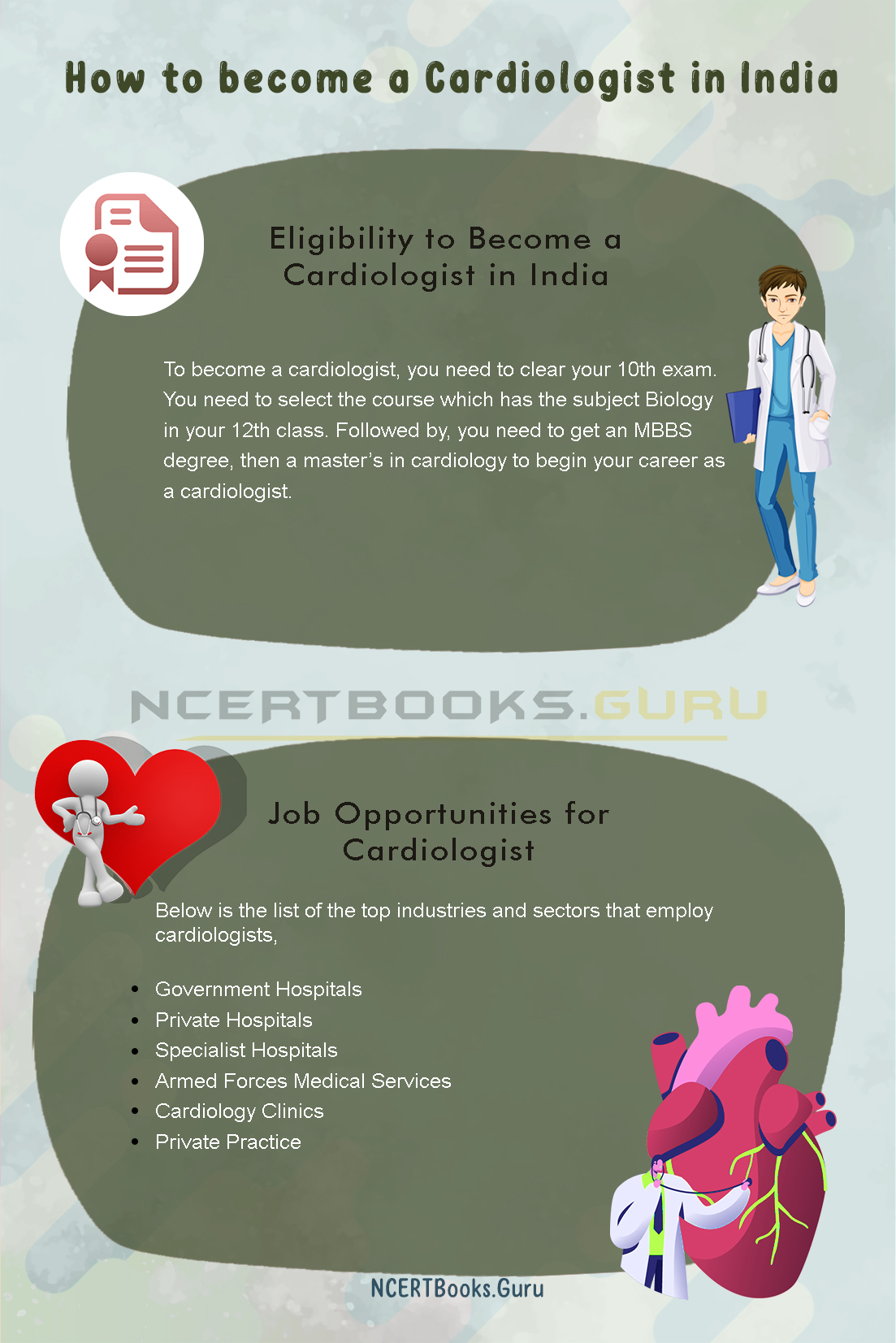 Salary of Cardiologists
Below is the estimated salary for a cardiologist in India. It may vary from individual to individual and company to company.
Entry-level Cardiologist in India – INR 10 LPA
Cardiologists With 5 – 10 Years of Experience – INR 16 LPA
Experienced Surgeon – INR 28 LPA
Cardiologists With 20 Years of Experience – INR 37 LPA
FAQs on How to become Cardiologist in India
1. How many years does it take to become a Cardiologist in India?
It takes around 10-13 years to become a Cardiologist.
2. What to do after NEET to become a Cardiologist?

Get Admission into PG course leading to Doctor of Medicine (MD) in general medicine. After completing a three-year degree of MD, opt for any super specialty course of 3-year DM in Cardiology to be a Cardiologist.
3. Is NEET required for Cardiology?
NEET is not required to pursue Cardiology. The basic eligibility to get into Cardiology is to fulfill 10+2 in Science Stream with Physics, Chemistry, Biology, English as Core Subjects.
Summary
We wish the information shared on the page regarding How to Become a Cardiologist in India has enlightened you. If you need any assistance do let us know so that we can update them. Keep in touch with us to have latest updates on various course details in no time.