Radiology Courses: Are you interested in the radiography course? Or, if you want to see yourself as a radiologic technologist or radiograph, then you have come to the right place. In this article, you can see the best and famous radiography courses that are available in India. Also, this article covers radiology course details like eligibility criteria, further studies, career prospects, and many more.
What is Radiography?
Radiography is a medical course for the persons who will perform diagnostic tests in medical treatment. In detail, it is a diagnosis process where imaging techniques are used to scan the body parts of human anatomy and internal organs. Internal organs, which are not easily accessible, can be scanned using some invasive procedures.
A radiographer provides radiography of patients with the help of X-Ray. It is to know the exact medical condition of the patient. Also, a radiographer can consider CT scans, MRI, and ultrasounds for producing radiography with the help of X-Ray.
A radiographer is a professional who can use all the imaging techniques and equipment to scan the internal organs in the body. Radiographer can also be called as:
Medical Radiation Technologists
Diagnostic Radiographers
Radiologic Technologists
A radiographer's job is to communicate with the consulting doctor by taking out the radiography test that is recommended by the radiologist. Also, the radiographer needs to communicate with the patient and taking care of pre and post-scan procedures.
In general, a radiographer or radiologic technologists work under the guidance of a qualified radiologist doctor. Also, they will be taken part in the scanning process only when they are qualified under some circumstances.
Radiology Courses Types
Radiology field is categorized into two areas, they are:
Interventional Radiology: It is a medical specialty that uses imaging techniques such as CT scans, ultrasounds, MRI scans, Fluoroscopy, and much more for directions. Thus, patients can be diagnosed using some minimally invasive techniques.
Diagnostic Radiology: It is another medical specialty that used the images of X-Ray and other imaging techniques to diagnose the injury of that particular patient.
Radiography Courses in India
When it comes to the degree level, Radiography courses are available in India in three formats. They are:
Certificate Courses
Bachelor's Degree Courses
Radiology Certificate Courses
Certificate Radiography courses are not valuable when compared to diploma and bachelor's degree courses. However, when it comes to the course duration, certificate courses are short. It helps in acquiring basic and simple knowledge of radiography technician skills and the equipment. In such a case, a certificate course can help an individual to enter the initial stage as a technician at diagnostic labs. Some of the popular certificate courses in the file of radiography that are available in India are:
Certificate in X-Ray Technology
Certificate in Diagnostic Radiography
Certificate in Radiography Technician
When it comes to the eligibility criteria, candidates need to possess 10th or intermediate qualification from a recognized board.
The duration of the course depends on the institute. Generally, it could be in between three months to one year.
Also, the admission process depends on the institute. Either an institute can take merit-based admission or direct admission.
When it comes to job opportunities, a radiographer is having huge demand in India as well as all over the world. The health department is growing rapidly at a healthy rate. With this growth, the demand for qualified healthcare professionals also increased. Radiographers are also one of healthcare professionals; thus, they are in high demand.
Radiography professionals can join in the government sector as well as the private sector. Radiographers can be seen in diagnostic departments and imaging departments. Commercial Diagnostic labs are the labs that are known to recruit these professionals in hospitals and clinics.
There are some places where radiographers work, they are:
Government hospitals
Nursing Homes
Diagnostic Labs
Public Healthcare centers
Private Hospitals
An individual can join as an assistant, instructor, or teacher at educational institutes or medical institutes after the completion of the postgraduation level. Also, one can build a career in the research and development sector with the help of a Ph.D. course in the radiography field.
The salary can depend upon the qualification. Professionals who have done their postgraduation course tend to get higher salaries compared to Diploma and Certificate course holders.
Also, Check
Radiology Diploma Courses
Diploma courses are shorter in duration when compared to Degree level courses. Diploma radiography courses are offered by many numbers of private and Government institutes in India. Some of the popular Radiography courses in Diploma that are available in India are:
Diploma in Diagnostic Radiography
Diploma in CT scan technology
Diploma in Medical Radiography
Diploma in X-Ray Technology Course
Diploma in Radio Imaging Technology
Diploma in ECG Technology
Diploma in MRI Scan Technology
The eligibility criteria for this diploma course is that the candidates need to hold an intermediate level in the science stream from a recognized board.
The duration of this diploma course depends upon the institute. However, the course duration could be in between one to two years. A standard Diploma course in Radiography is two years long.
After completion of the diploma course, one can join go for the advanced courses in radiography such as PG Diploma, Ph.D., and M.Sc.
Do Read:
Radiology Bachelor's Degree Courses
Some of the popular Bachelor's Degree radiography courses that are available in India are:
B.Sc. Radiography
B.Sc. Radiography and Imaging Science
B.Sc. Medical Radiologic Technology
B.Sc. Medical Imaging Technology
B.Sc. Medical Technology
B.Sc. X-Ray Technology
B.Sc. Radiology and Imaging Technology
When it comes to the duration of the radiography course, it is three years. The eligibility criteria for a radiography Bachelor's degree is that the candidates should have done intermediate in science stream with Physics, Chemistry, and Mathematics subjects from a recognized board.
After the completion of a Bachelor's degree in radiography courses, one can go for the postgraduation courses and can improve their skills and knowledge on radiography. The popular programs that can be pursued after Bachelor's are M.Sc. and PG Diploma.
Some of the popular areas within the field of radiography are:
MRI
Sonography
Surgical Radiography
Mammography
Angiography
Fluoroscopy
CT Scan
Radiology Courses Eligibility
The eligibility conditions for various Radiology courses are listed here.
Eligibility Criteria for Certificate Radiology Courses After 12th
You must have finished the diploma course after class 12th science.
Undergraduate Radiology Courses Eligibility
Passed 12th class with 50% qualifying marks.
Postgraduate Radiology Courses Eligibility
You should have pursued graduation with a minimum of 50% marks.
Radiology Courses Fee
The annual Radiology Courses Fee for different courses is here.
B.SC – INR 60,000
M.Sc – INR 80,000
Diploma – INR 30,000 to 40,000
PG Course – INR 1,49,000 to 1,80,000
Radiology Study Materials
Radiology at a glance – Rajat Chowdhury
Clinical Guide to Sonography – Charlotte Henningsen
Obstetric Ultrasound – Trish Chudleigh
Core Radiology by Jacob Mandell
Radiology of the urinary system (The Little, Brown Library of radiology) by Milton Elkin
Bontrager's Handbook of Radiographic Positioning and Techniques – Kenneth L.Bontrager
Radiography PREP Program Review and Exam Preparation, Seventh Edition – D.A. Saia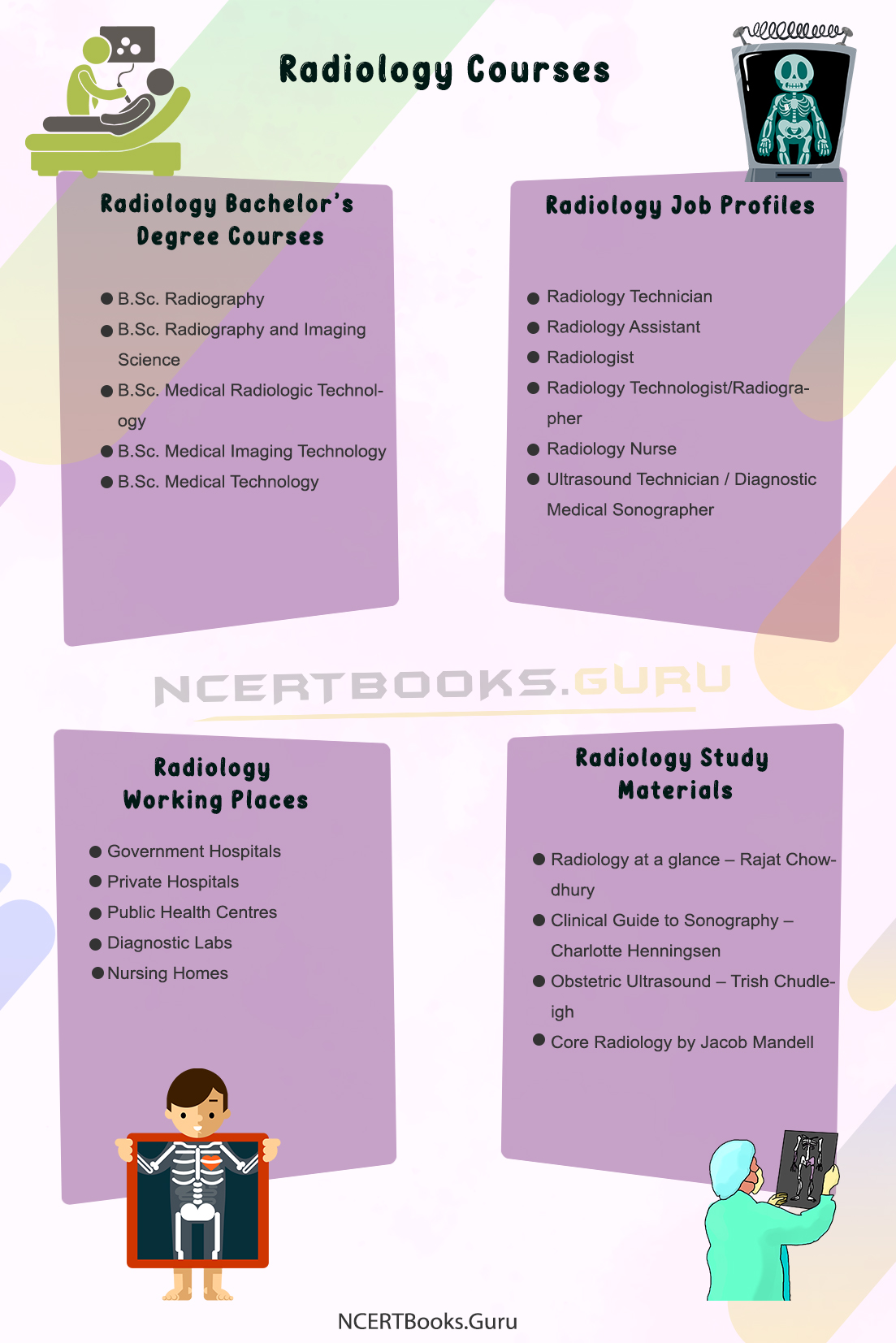 Radiology Job Profiles
Radiology Technician
Radiology Assistant
Radiologist
Radiology Technologist/Radiographer
Radiology Nurse
Ultrasound Technician / Diagnostic Medical Sonographer
MRI Technician
CT Tech / CAT Scan Technologist / CT Scan Technologist
Radiology Working Places
Government Hospitals
Private Hospitals
Public Health Centres
Diagnostic Labs
Nursing Homes
Radiology Course Salary/Pay Scale
A radiologist will get the salary depending upon their job profiles. The average pay of a radiologist is $ 79,037 per year. In India, average pay is Rs 545,630 per year has been paid to the Physician / Doctor, Radiologist.
A physician/Doctor/Radiologists need not think about salary, their salary is good as compared to other professions.
FAQ's On Radiology Courses
Question 1.
What is ultrasound?
Answer:
Ultrasound comprises high-frequency sound waves. These waves will be released by an ultrasound probe and travel through the body. It is a method for monitoring the fetus during pregnancy.
Question 2.
What is the Mammography area in radiography?
Answer:
Mammography is one of the techniques in medical treatment that use X-Rays to detect irregularities of cancer.
Question 3.
In simple terms, what is a radiologist and radiographer?
Answer:
A radiographer is a person who can perform MRI or CT scans. Also, if he can perform the ultrasound, then he or she was known as a sonographer. Even some of the professional radiographers will treat radiotherapy to treat cancer.
A radiologist is a doctor who can interpret diagnostic images. A radiologist can perform some of the interventional procedures such as biopsy, angiogram, etc. Radiologists will give a report of your examination results; thus, patients can take it to the consulting doctor.
Question 4.
What will be the minimum salary for a radiographer?
Answer:
Initially, a radiographer can earn 7k to 15k per month in government or private sector hospitals. However, earnings can depend upon the practice, hospital, area, and qualification.