Beautician Course Details: The Makeup industry has developed so fast and is booming throughout the world as they are hardly affected by the recession or economic comedowns. Those who are passionate about making people attractive can build a career out of it. People want to look beautiful not only to boost their self-esteem but also to present themselves well among their friends. This can be possible by a beautician, cosmetologist, or a beauty expert. To become a known makeup artist, one has to learn a lot of things. One has to develop the master of the art of giving a perfect bride look, a model, or others in general. There are many beauty and makeup courses offered by institutes; one can enroll themselves for a cosmetology course. The academic focus in the field of makeup can benefit you in developing careers as makeup professionals in television sets, films, spas, etc.
Get to Know More about other types of Course Details in Stream wise, and Category wise.
A Brief on Beautician Course
Students can get a diploma or a certificate course to become a certified cosmetologist or a makeup artist. After getting trained in this field, makeup artists can work privately by opening their beauty salons and provide consultation for their clients. They can also choose to work with television artists, on film sets or become theatre assistants. In this course, students learn different aspects of makeup, and they get to learn hairstyling, skincare solutions, flawless makeup techniques, covering skin blemishes, etc.
Eligibility Criteria for Beautician Courses
Eligibility criteria for Beautician courses are not a specific one. Admissions can be taken directly in the diploma or certificates courses after pursuing class 10. There is no previous knowledge needed for makeup or beautician courses. Institutes like VLCC and Lakme Academy take a specific exam before selecting applicants for the program.
Candidates who want to pursue advanced PG Diploma courses need to have some work experience in the industry before joining this course.
Beautician Course Syllabus
Grooming, Hygiene & Safety
Keratin
Manicure & Pedicure
Basic Haircuts
Understanding Skin Type & Analysis
Hair Art & Bridal Hair Styling
Hair Spa & Hair Treatments
Grey Coverage and Root Touchups
Cleansing & Toning practice
Treatments for Hair Fall and Dandruff
Exfoliation & Extraction
Blow drying and Heat Styling
Massage Manipulation
Creative Haircuts and Colouring
Hands & Feet Massage
Perm
Anti-Pigmentation Treatment
Straightening
Hair Spa/ Hair Oil Massage
Men's Hair Cuts
Colors
Brow shaping
Also, Find
Beautician Courses Details
The beautician course helps students to learn about how to work as a makeup artist and deal with using corrective applications in terms of cosmetics for the skin, eyes, cheeks, and lips. Here, students practice and study about how to apply makeup for a regular day or a special occasion, for models who appear for fashion-related photography. Students learn to apply foundations for different skin tones; they learn to use blushes, mascara, eyeliner, lip liner, lip gloss, or lipstick. The makeup classes include theoretical understanding and classroom presentations of face shapes, new trends in cosmetics, color theory, and different massaging techniques.
Special Effects makeup: SFX or Special effects makeup is taught in a lab and or a classroom. Students learn how to apply makeup on the face and the body. The special effects course includes multiple-piece looks with the use of prosthetics, composition, and hair to achieve complicated effects. The course consists of prosthetic casting, sculpting, painting, etc., and students need to practice working with silicone, latex, and foam rubber.
Hairstyling Course: One can start a basic hairstyling course after finishing the makeup course. Hairstyling is an optional course that covers a complete training of the styling tools, like rollers, blow dryers, straighteners, for creating new hairstyles that support the look for any occasion. They learn to manage hairstyles according to facial structures and events.
Stage Makeup course: Theatre makeup is usually different so that the students learn to work with different directors who have different expectations in terms of situations, characters, theatrical lighting, and whether it is for the open stage or a close studio. Makeup artists also need to develop specific historical characters or a horror character. Here, students learn to create injuries, bruises, and abrasions by using cosmetics, prosthetics, etc.; they also learn how to apply the aging effect on actors. Students learn to add body and facial hair and conceal the head with bald caps etc.
Airbrushing Course: Airbrushing course is an optional course where students learn the proper techniques of using an airbrush machine and apply it on the face and the body. Airbrushing classes also include the use of makeup applications and tanning, coloring prosthetics for developing special effects or films, or theatre. This class can be taken after the basic makeup course.
Beautician Course Duration
The duration of the course varies from one institute to another. Classes can extend from three months to a year. To become successful in the makeup industry, one needs to have a stronghold in the industry and need to be an authorized cosmetologist.
Beautician Courses List
A good makeup program should ideally cover the skincare regimen, application of makeup, removal of makeup, hair styling, different application technique, airbrush methods, and how to select colors based on skin tone and occasion. Student can also opt for the following courses to be best at makeup:
Esthetician Programs
Make-Up Artist Courses
Make-Up Artist Training
| | | |
| --- | --- | --- |
| Name of the Programme | Type of Programme | Duration |
| Herbal Beauty Care Course | Certificate Programme | three months |
| Beauty Parlour Course | Certificate Programme | four months |
| Beauty Care Course | Certificate Programme | four months |
| Beauty and Make-up course | Certificate Programme | three months |
| Cosmetology and Beauty Course | Diploma Programme | eight months |
| Beauty and Wellness Course | Diploma Programme | six to eight months |
| Advanced Diploma in Cosmetology | Diploma Programme | eight months |
| PG Diploma in Cosmetology and Beauty Care | Postgraduate Diploma Programme | One  year |
| Beauty Culture and Cosmetology Course | Diploma Programme | eight months |
| Diploma in Beautician Course | Diploma Programme | One  year |
| Ayurvedic Beauty Care Course | Certificate Programme | three months |
Candidates can also apply for online courses as well and ask for distance learning programs for Online Cosmetology Certificates, or Online Esthetician Training.
Beautician Course Fee Details
The fee structure for Makeup Courses may vary from one institute to the other. It can range between INR 20,000 to 50,000 on average. The rated ones can charge higher fees compared to the centers that give training locally.
Institutes for Beautician Courses
Lakme Academy, Mumbai
Lakme Academy, Ahmedabad
VLCC Institute of Beauty and Nutrition
Lakme Academy, New Delhi
LTA School of Beauty, Mumbai
Lakme Academy, Kanpur
ISAS International Beauty School, Pune
JD Institute of Fashion Technology, Mumbai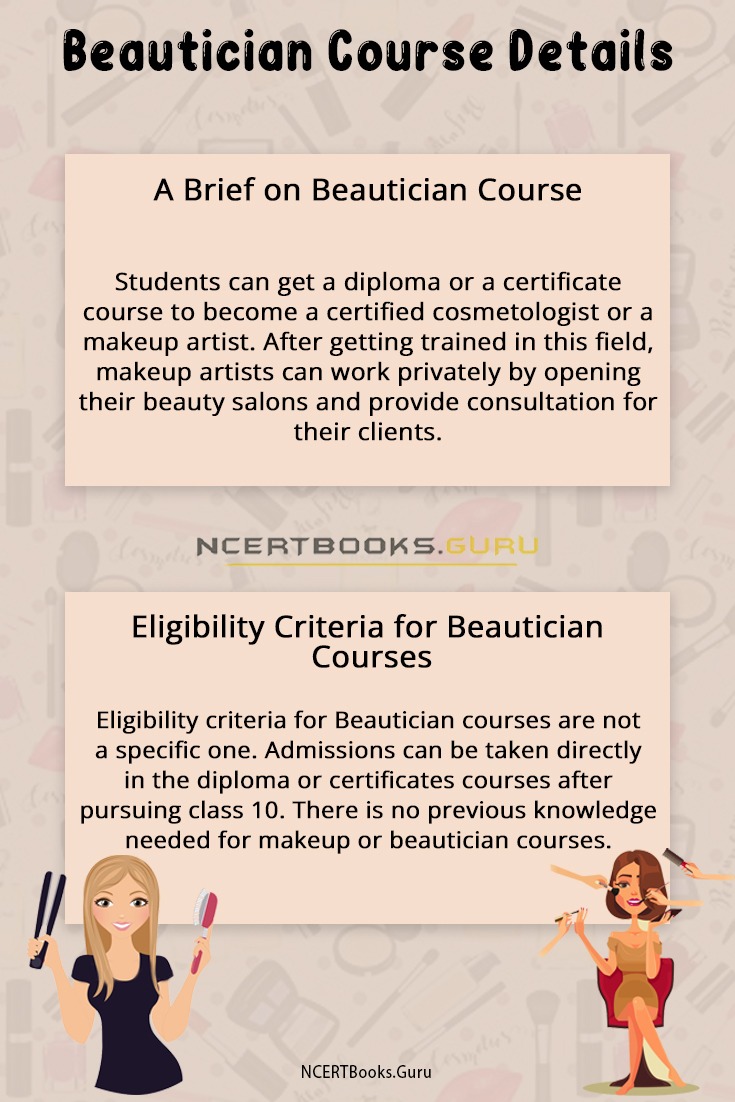 Beautician Career and Job Prospect
There are various amount of job opportunities in this field, and applicants can work in professional salons, spa lounges, beauty centers, etc. After getting experience, experts can also start their beauty salons. Some of the jobs that beauticians can apply are
Nail Care Artists
Hairstylist
Beauty Care Distributor
Salon Sales Consultant
Cosmetology Instructor
Beauty Magazine Writer
Makeup Artist
Manufacturer Sales Representative
Fashion Show Stylist
Beautician Course Salary
A makeup artist who starts to earn can earn Rs. 1.2 lakh to Rs. 1.5 lakh per year. However, after achieving a year's experience at a reputed salon, beauticians can earn up to Rs. 2.5 lakhs per annum. Specialists who work with companies like VLCC, Lakme, L'oreal, etc. or those who are running successful beauty salons can earn up to Rs. 5 lakhs per annum or more. Famous makeup artists working in the fashion industry can also make up to Rs. 7 lakh per annum.
FAQ's on Beautician Course Details
Question 1.
What are the fees structure for the Beautician course?
Answer:
The fee structure for Makeup Courses may vary from one institute to the other. It can range between INR 10,000 to 50,000 on average.
Question 2.
What skills are needed for the Beautician course?
Answer:
A beauty expert needs to have a passion for making people beautiful. Skills required include how to use beauty products, quick learning, interpersonal skills, client management, or proactiveness. Aspirants who want to pursue a beautician course should acquire the necessary skills to complete the course and make a successful profession.
Question 3.
Can the beautician be considered a good job?
Answer:
A beautician can be quite a rewarding job profile. Being a beautician, one gets the opportunity to build confidence in their clients. Beautician is a thriving market and has immense opportunities in our country. Good monetary benefits and the chance to meet various people and build long-term relations are some of the perks of being a beautician.