How to Become a Physiotherapist in India: Physiotherapy is becoming a vital medical profession in India and achieving that designation might seem over one's head but with the correct pathway, it's attainable. Knowing more about Physiotherapy Courses and Types of Physiotherapists in India will help you in choosing the right career path.
In this article below, a synopsis of how to become a physiotherapist after 12th, 10th in India is stated along with the best Physiotherapy Colleges in India, eligibility criteria, career aspects, best books, top companies, and more.
What is Physiotherapy?
Physiotherapy is derived from the term 'Physical Therapy' that assists patients in reinstating their health through Physical Interventions, Exercises, Diagnosis, and Physical Examinations. Physiotherapy is prescribed to the convalescent after any kind of major or minor physical injury accompanied by medications and other treatments.
Physical Therapy or Physiotherapy is a form of therapy that cures any physical disability or abnormal functional abilities through a set of physical exercises. PTs are recognized for laying out a well-structured therapy plan for the patients alongside other treatments if required. Therapists restore the entire movement capability of an individual and provide manual therapy accompanied by electrophysical modalities too.
Types of Physiotherapists in India
Similar to MBBS, the candidates get to choose Physiotherapy Specialization to mold a career. In India, there are numerous types of Physiotherapists, and listed below are a few famed ones:
Orthopedic Physiotherapists: 
Orthopedic Physiotherapists are known for rehabilitating deformities in Bones, Muscles, or Ligaments. Any injury associated with the Skeletal System, especially the extremities and the spine can be cured by Orthopedic Physiotherapists.
Cardio-Respiratory Physiotherapists:
After the pandemic, these physiotherapists are to be called for. Cardio-Respiratory Physiotherapists cure any impairment related to the Heart, Lungs, or respiratory System. After recovering from Covid-19, Cardio-Respiratory Physiotherapists assists patients in gaining back their normal respiration system.
Pediatric Physiotherapists:
Kids Physiotherapists are proficient in dealing with infants to teens. Pediatric Physiotherapists are recognized for curing the child's posture, gross motor function, strength, flexibility, etc.
Sports Physiotherapists:
This specialization of physiotherapy deals with the athletes or sportsmen who get injured during the match. Athletes often hire their Physiotherapists to keep joint-muscle flexibility in check.
Neuro Physiotherapists:
These physiotherapists can treat all brain-related disabilities such as Stroke, Parkinson's, Brain Injuries, Concussions, Alzheimer's, etc. Neuro Physiotherapists primarily deal with mental trauma or similar neuro-related disorders.
How to Become a Physiotherapist in India?
Attaining the physiotherapist designation could be burdensome but is equally practicable if is overseen by correct guidance. To become a physiotherapist in India after Class 12th, one must focus on clearing the entrance exams such as NEET, CET, Private University exams, etc. Mentioned below are a few steps that would aid you in becoming a physiotherapist in India:
Clear Class 12th: The candidates who aspire to become physiotherapists need to clear Class 12 Examinations (Science) with the subject combination- Physics, Chemistry, and Biology. The candidates must secure at least 50% of the aggregate in all three subjects in Class 12th.
Appear for Entrance Exams: There are various entrance examinations to become a physiotherapist after Class XII but the most popular yet tough ones are NEET and CET. Universities do conduct their private entrance tests.
Check College, Cut-off, and Eligibility: After appearing for the entrance examinations, candidates must make sure to achieve the minimum marks required for admission to a decent physiotherapy college. The average expected NEET score is 300-400 out of 720.
Enroll for B.Sc. in Physiotherapy: As per your score, find relevant and recognized physiotherapy colleges that offer physiotherapy. The candidates can also enroll themselves for occupational therapy if they are not eligible for the Physiotherapy Course offered by the University or the College.
Also Check: 
Role of Physiotherapists
Achieving a BPT degree could be tough but it molds candidates for the roles that the physiotherapy career demands. Listed below are a few roles that physiotherapists have to bring about:
It's imperative to examine and assess the patient's case as well as their previous medical history to provide them with the correct treatment. This initial step comprises examining the patient's flexibility, movement patterns, strength, and current overall physical condition.
Curating a treatment is subjective and differs for every patient. The treatment must be feasible for the patient, engaging as well as result-driven. Generally, Physiotherapy treatments are in conjunction with other medical treatments as well. So, analyzing the entire medical history is a compulsion.
The treatment penned down must be executable by the patient and the sufferer must be able to carry out the exercises smoothly. Deriving a herculean exercise is not the aim but to recommend the most efficient ones is.
Home Visits and Assistance
In most cases, patients are not in a frame to visit clinics, and hence the physiotherapists must be prepared for the home visits too. In a few cases, patients do require physical assistance in the treatment thus, the therapist must be prepared for that too.
When it comes to medical fields, patient education is a must. Miscommunication or lack of communication can lead to health issues and hence communication is of the utmost importance in the physiotherapy career.
Best Physiotherapy Colleges in India and Fees Structure
Candidates must aim to choose the best physiotherapy colleges available. To do so, they must tick all the criteria boxes bestowed by the college. Stated below are a few of the best physiotherapy colleges in India along with their Fees Structures.
| | |
| --- | --- |
| Top Colleges | Fees Structure (Per Annum) |
| Apollo Physiotherapy College, Hyderabad | INR 52,500 |
| JSS College of Physiotherapy, Mysore | INR 45,350 |
| Kasturba Medical College, Manipal | INR 1,78,000 |
| Ramaiah College of Physiotherapy, Bangalore | INR 40,000 |
| S.D.M College of Physiotherapy, Dharwad | INR 94,500 |
Eligibility Criteria
Similar to any other field, even aspiring Physiotherapists need to fulfill a certain set of criteria listed below:
10+2 Certificate from a Science field is obligatory with the Physics, Chemistry and Biology subject combination.
Scoring 50% aggregate in the above subject combination is mandatory.
It's a prerequisite to clear the physiotherapy-affiliated entrance exams.
Candidates would not be eligible to appear for the entrance examinations if they fail to achieve 50% aggregate in their Class 12 examinations.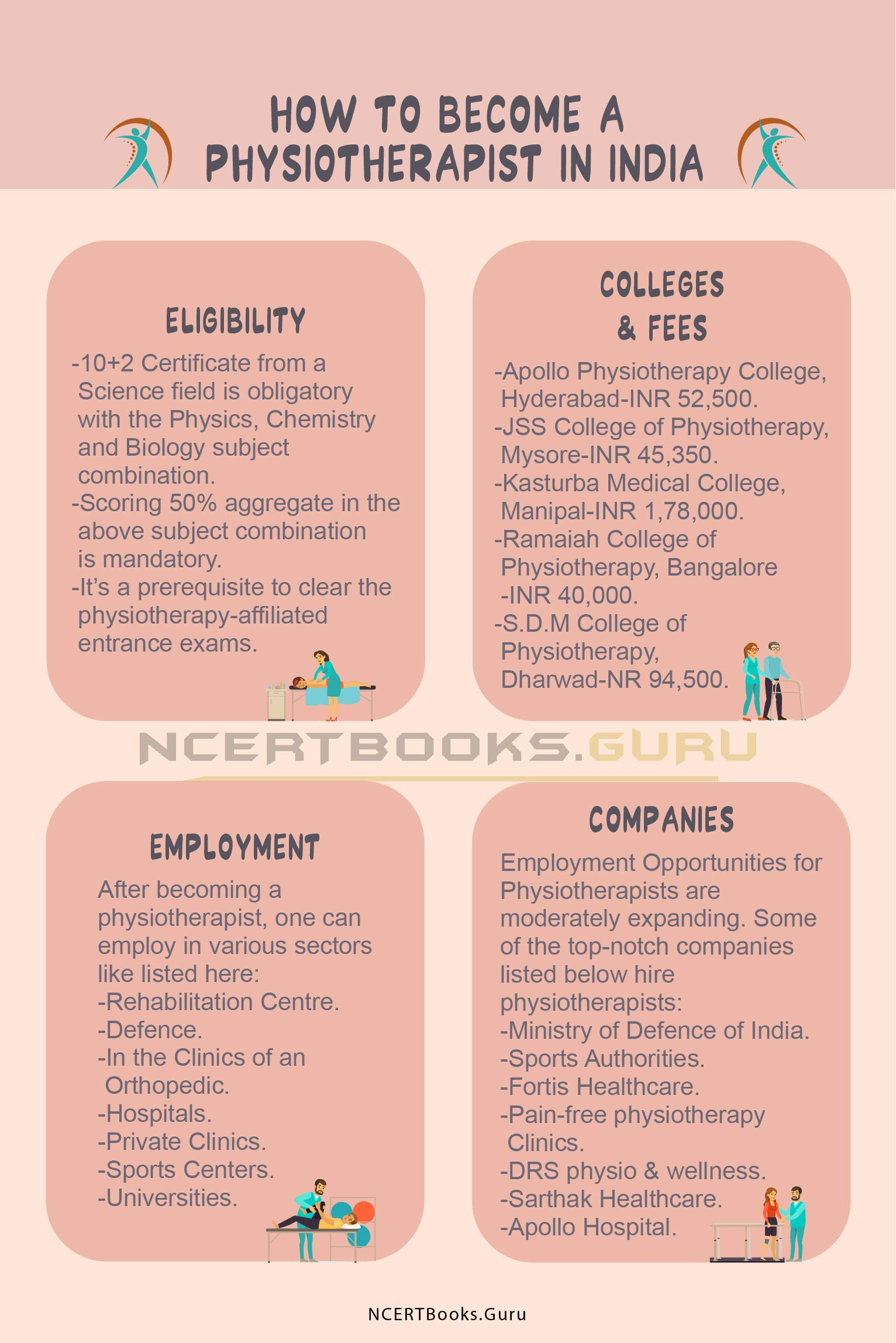 Best Books to Become Professional Physiotherapists in India
There are countless books available for the Physiotherapist Entrance. However, the basic NEET generic preparation Books such as Arihant, Human Anatomy are obligatory to refer. Here are a few book recommendations to clear the BPT Physiotherapy entrance exam:
Orthopedic Physical Assessment- David J Magee
Therapeutic Exercise- Carol Kisner
The Principles of Exercise Therapy- Deena Gardiner
Manual Therapy Approaches In Neuro-Physiotherapy- Ganvir Suvarna
Manual of Mulligan Concept (Revised Edition)- Deepak Kumar
Manipulative Physiotherapy Assessment, Treatment and Improvisation- Biswas Amrit
Essentials of Orthopedics for Physiotherapists- Ebnezar
The candidates must focus on referring to a minimum yet the most efficient book. Practicing MCQs is the key to clearing any and every entrance exam.
Employment Opportunities for Physiotherapists
The scope as a physiotherapist is going well in recent times and also there are numerous employment opportunities for the candidates. After becoming a physiotherapist, you can employ in various sectors like listed here:
Rehabilitation Centre
Defence
In the Clinics of an Orthopedic
Hospitals
Private Clinics
Sports Centers
Universities
Physiotherapy Career in India
After becoming a Physiotherapist, the candidates can either go for masters or get employed in Hospitals, Firms, or other private institutes that are equipped with physiotherapy affiliated apparatus. Home visits are a requisite part of the Physiotherapy career as patients often are incapable of visiting the hospitals or the clinic.
Candidates can establish their clinic but it requires a great deal of monetary investment. Most of the candidates go for a master's degree or intern with pharma-related companies.
Top Companies that hire Physiotherapists
Employment Opportunities for Physiotherapists are moderately expanding. Some of the top-notch companies listed below hire physiotherapists:
Ministry of Defence of India
Sports Authorities
Fortis Healthcare
Pain-free physiotherapy Clinics
DRS physio & wellness
Sarthak Healthcare
Apollo Hospital
Various other high-ranked and foremost hospitals hire physiotherapists. Besides, Physiotherapists can invest in their clinics as well.
Salary of Physiotherapist in India
Pay-scale for the physiotherapist is decent in India. Experience is directly proportional to the salary offered. Salary differs depending on the institution the therapist is working with. The Average Salary of a Physiotherapist in India is 3,60,000 INR per annum. It can hike up to 8,00,000 INR per year with the increasing experience. Some hospitals offer up to 10,00,000 INR packages for candidates who have adequate experience in Physiotherapy.
FAQs on How Can I Become Physiotherapist in India
1. Is it a prerequisite to choosing a Physics, Chemistry, and Biology subject combination to become a physiotherapist in India?
Yes, it is a prerequisite to choose Physics, Chemistry, and Biology subject combination to become a physiotherapist in India
2. Which is the most popular physiotherapy entrance exam?
National Eligibility Entrance Test (NEET) is the most popular physiotherapy entrance exam
3. Is it mandatory to score 50% aggregate in Class XII to become a Physiotherapist in India?
Yes, it is mandatory to score 50% aggregate in Class XII to appear for the Physiotherapy Entrance Exams.
Conclusion on How to Become a Physiotherapist in India
These guidelines would highly be of assistance to you in becoming a physiotherapist. This is a sought-after career pathway that can open various options for aspiring physiotherapists. Apart from this article, for more course details and additional helpful information about How to Become a Physiotherapist in India, bookmark or visit our site @Ncertbooks.guru