In today's era, stress and anxiety are the two things that are quite common, which can also be seen in young stars. Stress and anxiety will cause severe effects on the mental health of people of all ages. According to the expert's study, around 43% of Indians are suffering from depression, and people are ignorant or unable to locate a proper doctor to treat this illness. This shows the importance of Psychiatric in India.
Pursing your career as a Psychiatrist in India is a great choice due to the demand for Psychiatrists. In short, Psychiatrists are medical specialists who assist individuals in dealing with mental health problems. Thus if you want to become a psychiatrist, this article will tell you everything about educational qualifications, career opportunities, salary, and top psychiatrists jobs in India.
About Psychiatrist
Psychiatrist Definition: "A psychiatrist is a medical doctor or physician who specializes in the diagnosis and treatment of mental health problems that include illness and emotional disorders."
Psychiatrists have extensive training in the bio-psycho-social aspects of assessing and treating mental diseases. A psychological state assessment, a physical examination, brain imaging, such as computerized tomography (CT), magnetic resonance imaging (MRI), or positron emission tomography (PET) scan, and blood tests may all be used as part of the clinical evaluation process by psychiatrists.
Eligibility to become a Psychiatrist in India
The eligibility criteria to become a Psychiatrist in India are listed below:
⦁ A candidate must pass 12th grade in the Science stream, with Biology as one of the compulsory subjects.
⦁ After that, a student must earn an MBBS degree.
⦁ Once the MBBS degree is completed, they will have to enroll for the Psychiatry MD Programme or a Diploma in Psychiatric Medicines program.
Note: Doctor of Medicine (MD) is a three-year program, whereas Diploma in Psychiatric Medicines is a two-year program.
Apart from the eligibility criteria mentioned above, one will also have some skill set that will help them become a better Psychiatrist. Let us discuss what those skills are now.
How to become a Psychiatrist in India?
The steps to becoming a psychiatrist in India are given below:
Step 1: Clear your Class 10 and Class 12 Exams
In India, a high school student typically has no idea how to become a psychiatrist. If someone asks them, "What subjects do you need to become a doctor?" they may be perplexed. To pursue a profession in medical science, candidates must graduate 10+2 with a cumulative grade point average of 50% in physics, chemistry, and biology.
Step 2: Appearing for Medical Entrance Exam to Enroll for MBBS
Here are some crucial steps to follow if you want to learn how to become a psychiatrist. To be eligible to follow the course, one must clear admission tests for universities and institutes that offer physiotherapy degree programs. Few medical entrance exams conducted in India for Medical admission are:
National Entrance Examination Test (NEET)
AIIMS EE
JIMPER EE
SCTIMIST EE
NIMHANS EE
Step 3: Purse MBBS Programme
To become a psychiatrist, one must complete at least an MBBS program. After finishing their 12th grade, students can compete for various admission examinations that will help them get into an MBBS program.
The MBBS curriculum lasts five and a half years. It also involves a year of internship. To become a psychiatrist, a person must first complete an MBBS program. Following that, one can pursue higher degrees such as a certificate or a master's degree.
Step 4: Participating in Internship
After completing an MBBS, you must undergo a year-long internship. A blend of didactic study and practical application is used in psychiatric programs. A person will be educated in various fields, including neurology, forensic psychology, and drug dependency, to mention a few.
This is done before the student concentrates on electives and clinical practice in a specific field during their final year. Anxiety, depression, sexual dysfunction, drug addiction, psychosis, and developmental disabilities are among the conditions that can be treated under supervision in your internship period.
Step 5: License and Medical Certification
To practice psychiatry in any state, one must first get a license from the state's medical board. Most states have their own licensing system and standards, but in general, the student must pass an examination that tests his or her understanding of state rules and medical procedures.
Obtaining certification indicates one's expertise and may boost one's career prospects. They provide general psychiatric certification as well as specialties in addictions, adolescent, and forensic psychiatry. For a period of 10 years, board certification is valid.
Step 6: Enrolling for Masters Programme or Diploma in Psychiatry
Pursuing a psychiatric master's degree or certificate. It is entirely up to the person whether or not to take the risk. Having a better education definitely helps you earn more money. It not only provides credibility but also adds value.
Students can utilize the various course details and get complete information regarding the course like the admission process, eligibility criteria, fees, salary offered.
Skills Required to become a Psychiatrist in India
The list of skills that are required to become a psychiatrist in India are as follows:
⦁ Attention to detail
⦁ Patience
⦁ Listening
⦁ Showing sympathy towards patients
⦁ Analyzing patient needs
⦁ Thinking
⦁ Anticipating issues
⦁ Good communication skills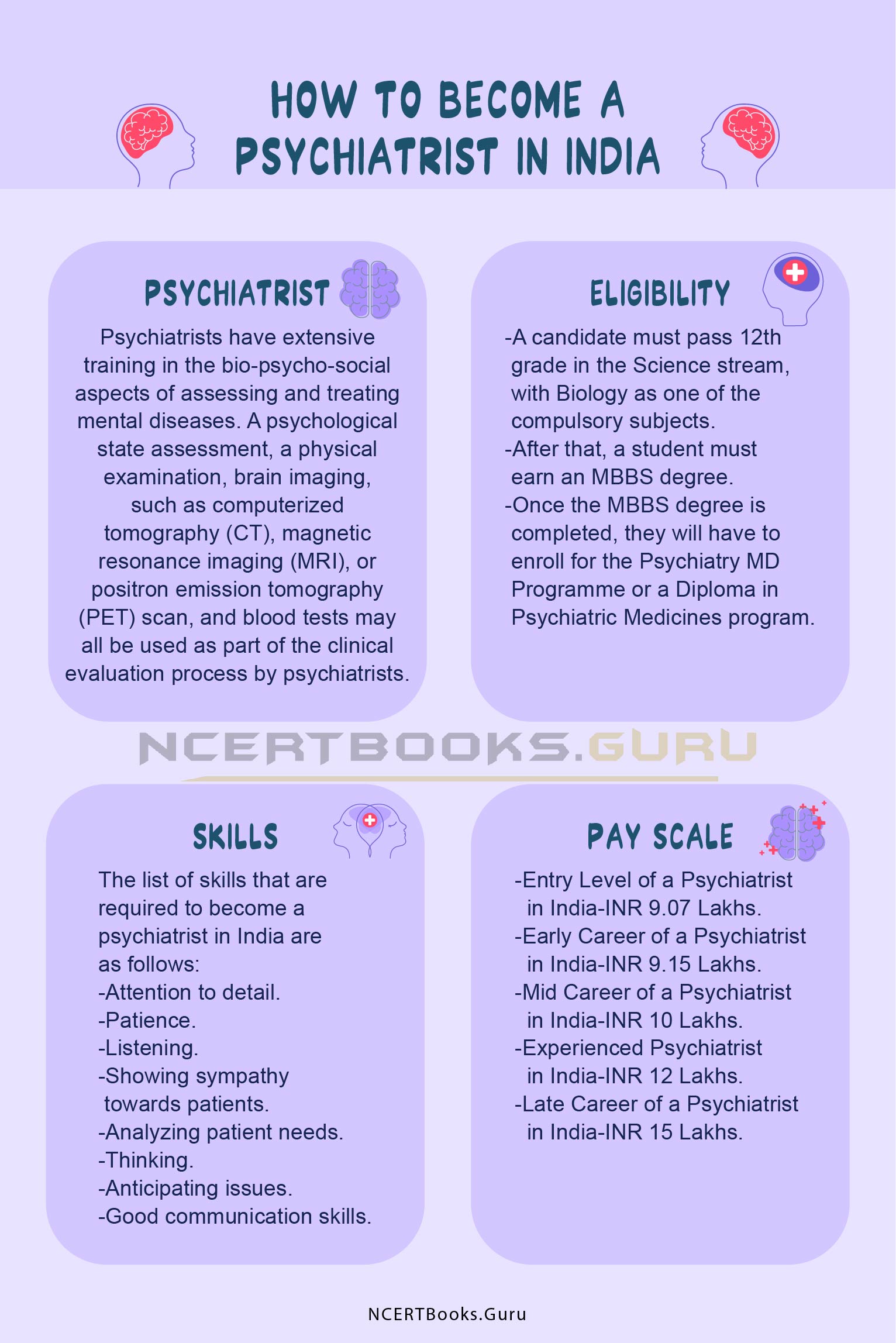 What Certifications are helpful to become a Psychiatrist in India?
Individuals interested in pursuing a profession as Psychiatrists may consider the certificates listed below.
⦁ IIM Calcutta Post Graduate Certificate in Healthcare Management (PGCHM)
⦁ Developing Expert Educators for Healthcare Professions
⦁ Certificate Programme in Hospital & Health Care Management
⦁ Fundamentals of Rural Sociology and Educational Psychology
Types of Psychiatrists to Choose in India
⦁ Clinical Psychiatrists assess, diagnose, and treat patients suffering from mental illnesses. They may work in offices, hospitals, or mental health clinics, among other places. This sort of child psychiatrist's work description entails administering medicine or recommending therapy based on the requirements of their patients.
⦁ Forensic psychiatrists work very closely with the legitimate system to determine defense attorneys' expertise to face charges, provide expert witness testimony, assist in the formulation of defense tactics and sentencing recommendations, assist in the investigation of crimes, and treat criminals with mental illness.
⦁ Correctional psychiatry, often known as prison psychiatry, is a difficult specialization that arose from the necessity to treat the huge number of mentally ill offenders who are incarcerated. Professionals who work in jails and prisons must have a thorough understanding of the environment and the people who are treated there.
⦁ A child and adolescent psychiatrist is a doctor who specializes in the diagnosis and treatment of mental, emotional, and behavioral problems in children, adolescents, and their families.
Also, Refer:
Pay Scale and Salary of Psychiatrist in India
The average income for this profession is between Rs. 123,252 and Rs. 1,957,428. Psychiatrist salaries are determined by the number of years of experience in this profession as well as the institute where you studied. Based on their experience, Psychiatrists in India receive the following compensation package:
| | |
| --- | --- |
| Entry Level of a Psychiatrist in India | INR 9.07 Lakhs |
| Early Career of a Psychiatrist in India | INR 9.15 Lakhs |
| Mid Career of a Psychiatrist in India | INR 10 Lakhs |
| Experienced Psychiatrist in India | INR 12 Lakhs |
| Late Career of a Psychiatrist in India | INR 15 Lakhs |
FAQs on How to Become a Psychiatrist in India
1. Can I become a psychiatrist without NEET?
If you want to become a psychiatrist in India, then you will have to hold an MBBS degree. And the only way to enroll for an MBBS degree is to clear the competitive entrance exams like NEET. Thus NEET is a must to become a psychiatrist in India.
2. How can I become a psychiatrist after 12th in India?
Firstly, make sure that you are clearing your Class 12th examination with Biology as one subject. Then appear for competitive entrance examinations such as NEET and enroll for an MBBS degree. Then complete either a diploma or master course in psychiatrist.
3. How long does it take to become a psychiatrist in India?
Before you can become a qualified Psychiatrist, you must complete nearly 7-8 years of education after graduating from high school.
4. How to become a psychiatrist in India without MBBS?
In India, you cannot become a psychiatrist without an MBBS degree.
5. What is the advantage of being a psychiatrist in India?
The advantage of being a psychiatrist in India is that you can work in a wide variety of locations, including psychiatric hospitals, mental health clinics, NGOs, clinics, or they are own private practice. Specialists are able to operate in a variety of situations, and the work atmosphere is generally quiet and private.
6. What are the disadvantages of being a psychiatrist in India?
Aside from visiting with patients and assisting with their diagnoses and treatments, psychiatrists must also check patient records and respond to after-hours emergency calls from patients. This disrupts the work-life balance, leaving psychiatrists with less time to devote to their personal responsibilities.