Nutrition & Dietetics Course Online: The need for and awareness about nutrition and wellness has risen in recent times. Owing to the lifestyle patterns and continuous schedules, there is an increasing demand for nutritionists and dieticians in every individual's life. The branch of science that deals with this is Nutrition and Dietetics.
The purpose of this field as a whole is to ensure a healthy, nourished life. Nutrition focuses on staying fit and healthy and dietetics is concerned with proper food management. Nutrition and Dietetics courses create professionals who expertise in diet planning, nutrition management, fitness, nutrition and health development, and so on. The Undergraduate and Postgraduate degree courses are the most popular and rewarding but there is a wide variety of other options.
Nutrition & Dietetics Courses Details
The courses in Nutrition & Dietetics are designed to provide theoretical and practical experiences in diet planning and nutrition. The course structures, durations, and requirements vary depending on the institute and other factors.
There are many governments, government-aided and private universities providing Nutrition and Dietetics courses in different layouts. Depending on course duration, syllabus, and scope, the broad categories of Nutrition & Diet Courses are:
Undergraduate Courses: The duration is for 3 years and degrees awarded on completion include – BSc in Nutrition and Dietetics and BSc in Clinical Nutrition and Dietetics.
Postgraduate Courses: They are 2-year degree programs that provide MSc in Nutrition & Dietetics and MSc in Clinical Nutrition degrees.
Certificate Courses: The certificate courses offered by different institutes are short duration ranging from a period of 6 months to 1 year.
Diploma Courses: The Diploma in Diet Assistant and Diploma in Nutrition and Dietetics degrees are provided under this course. The duration varies between 1-3 years.
Postgraduate Diploma Courses: The Postgraduate Diploma courses are available for 1-2 years in Dietetics, Dietetics and Applied Nutrition, Dietetics and Public Health.
Get to Know More about other types of Course Details Streamwise, and Category wise
Nutrition & Dietetics Courses Eligibility
The most common criterion for admission is for candidates to have passed class 12th from a recognized board. To be eligible for a BSc degree, students must have completed their 10+2 in the Science Stream with Physics, Chemistry, and Biology. Admissions are mostly merit-based but depending on the institute rules, entrance tests may also be conducted.
The essential requirement for pursuing a Master's degree is the completion of a BSc in Nutrition & Dietetics with 45% aggregate. Some universities hold interviews in addition to their entrance tests. Admissions on the basis of merit may also be possible in some cases.
The certificate and diploma courses only require students to have completed class 12th. For the post-graduate diploma, many institutes require candidates to have a BSc degree. Some institutes also offer postgraduate diploma on completion of a diploma.
Nutrition and Dietetics Course Fees
Nutrition and Dietetics Course Fees Structure details are along the lines:
Diploma/Certification Course: INR 35,000 to 1,50,000
Undergraduaton Course: INR 50,000 to 2,50,000
Post Graduation Course: INR 50,000 to 2,50,000
Nutrition & Dietetics Course Scope
The top benefits of Nutrition & Dietetics Courses are as listed:
Rising awareness about health and fitness increases the need for nutrition experts and dieticians
A large number of job opportunities available in multiple fields
The job security is high in both personal and professional recruitments
Reputable job positions in hospitals, laboratories, sports
List of Nutrition & Dietetics Courses
The different Nutrition and Dietetics courses in India offered under different degrees are:
Diploma Courses
Food and Nutrition
Introduction to Food and Nutrition
Human Physiology
Food Chemistry
Nutritional Biochemistry
Maternal and Child Health
Human Nutrition
Public Health and Nutrition
Food Quality and Analysis
Family Meal Planning
Food Microbiology
Industrial Management and Facility Planning
Food Science
Food Preservation
Basics of Bakery and Confectionary
Food Packaging and Marketing Management
Dietetics
Ethics and Environmental Studies
Food Biotechnology
Food Service Management
Diet and Patient Counselling
Food Science
Nutrition through Development Stages
Functional Foods
Diet Therapy
Advanced Nutrition
Diet Control
Community Nutrition
Food Cost Quality Control
Nutritional Biochemistry
Nutritional Management Safety
Clinical Nutrition
Financial and Food Management
Specializations
Clinical Nutrition
Food and Science Nutrition
Applied Nutrition
Dietetics
Home Science
Clinical Nutrition
Public Health Nutrition
Sports Nutrition
Paediatric Nutrition
Food Technology
Gerontological Nutrition
Renal Nutrition
Nutrition & Dietetics Courses Admission Process
The admission process primarily includes merit which is – marks obtained by a candidate in their 10+2 exams. But this varies depending upon the state or university offering the courses. In some cases, admissions are based on entrance tests and cut-offs. In both these cases, completion of admission required document verification, interview rounds, counseling process, and many other steps as per the institute requirements.
Nutrition and Dietetics Course Syllabus
Nutrition & Dietetics Course main subjects are mentioned here:
Principles of Nutrition
Food Microbiology
Community Nutrition
Environmental Studies
Post Harvest Technology
Family Meal Management
Food Preservation
Quality Food Service and Physical Facilities
Food Science
Chemistry
Food Service Management
Biochemistry
Environmental Studies
Dietetics
Human Physiology
Fundamental Computer Concepts and Windows
Food Quality Control
Also, Read:
Nutrition & Dietetics Courses Career Opportunities
This field of career has multiple opportunities and job openings. Some of these include Sports Nutritionists for athletes, Paediatric Dietician, R&D Dietician, Clinical Nutritionist, Community Dietician, Consultant Experts, etc. These recruitments are carried out by reputed companies and organizations varying from hospitals to food brands and so on.
The average annual salaries vary depending upon the job profile. The average salary ranges between INR 2,00,000 and INR 4,00,000 for professionals working with clinical or sports setups. In the case of individuals in the management and R&D sector, the salary is around INR 8,00,000 to INR 10,00,000.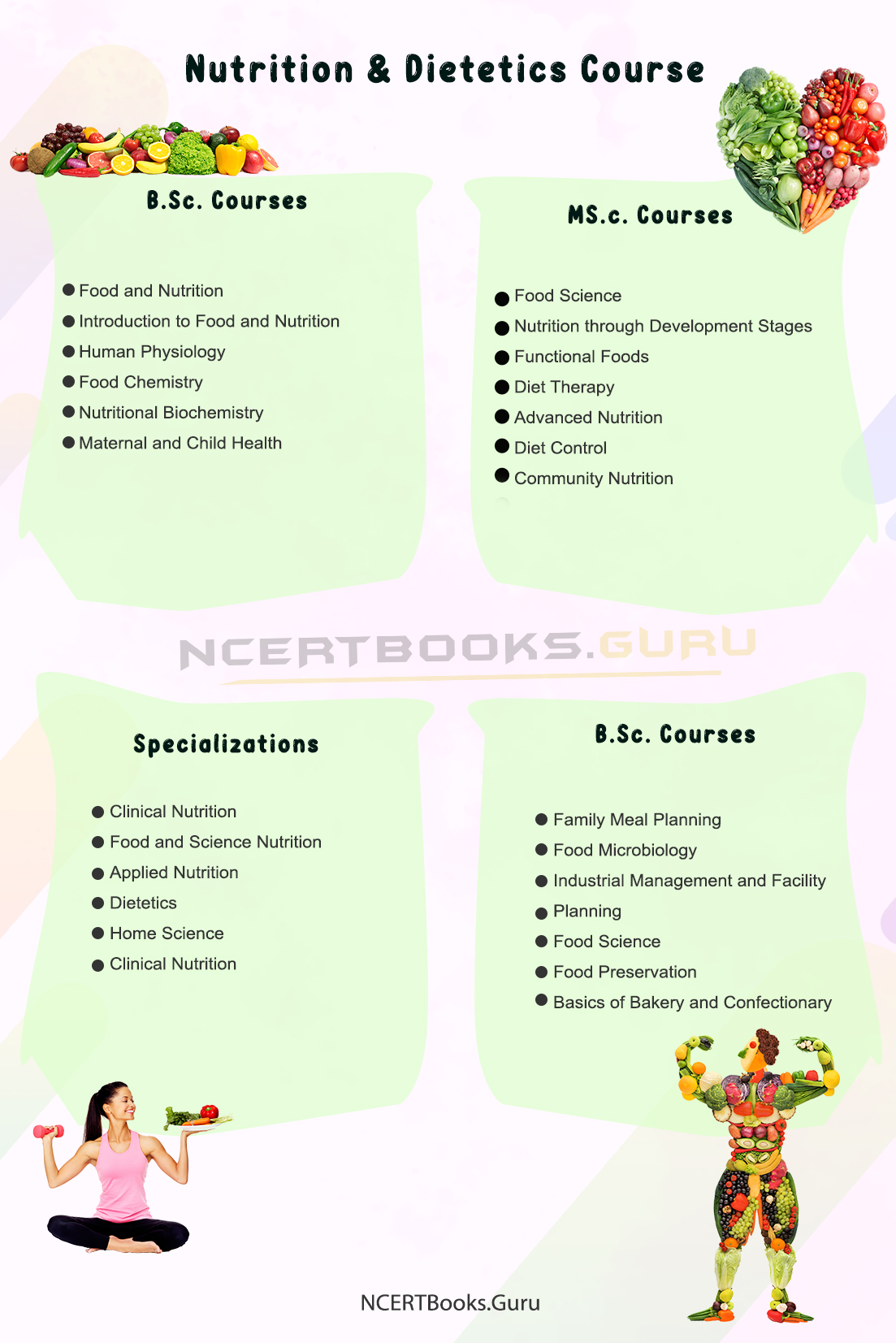 FAQ's on Nutrition & Dietetics Course
Question 1.
Which are the best institutes in India?
Answer:
There are several institutes offering Nutrition & Dietetics Courses in India. The top-rated colleges for this course are universities in Chandigarh, Bangalore, etc.
Question 2.
Are the diploma courses available online?
Answer:
Some universities and websites might be offering online diploma courses. They are accessible and highly useful depending on the connectivity in your area.
Question 3.
What are the prospects of distance learning?
Answer:
Distance learning degree courses are provided by IGNOU (Indira Gandhi National Open University). The learning and assessment process is very student friendly, reliable, and rewarding.
Question 4.
How to become a professional Nutritionist or Dietician?
Answer:
The main concern is your degree – it could be an Undergraduate as well as a Postgraduate degree. A diploma also increases job opportunities. But greater the work experience, the higher will be the credibility and success of a Nutrition expert or Dietician.