Dietitian Diploma Course: The requirement and awareness about dieticians have increased in recent days. People are giving preference to look handsome by following healthy diet plans, fitness and there is a huge demand for dieticians and nutritionists in everyone's life. The branch of science that deals with people eating habits are Nutrition and Dietetics.
The primary goal of a dietician is to ensure a healthy and nourished life. Dietetics focuses on the proper food management in the human body with the correct proportion of proteins, vitamins, and energy. Diploma in Dietetics Course make professionals who expertise in diet planning, nutrition and health development, nutrition management fitness, etc.
Students who are interested in attending Dietetics Diploma Course must have finished the 12th class from a recognised organisation. Eligible candidates can refer to the following sections to get useful course details such as fee, admission procedure, eligibility conditions, required skills, top colleges, career opportunities, job role, salary, and others.
What is Dietitian Diploma Course?
Diploma in Dietetics is a diploma level nutrition and dietetics course. This Dietitian Diploma program is for one duration and focuses on subjects like public health nutrition, therapeutic nutrition, and institutional food administration in a detailed way. Students after completing the 10+2 standard can apply online for Diploma in Dietetics Course and they are shortlisted for admissions by taking a merit list or conducting an entrance exam.
In the dietetics course, students will learn to monitor, plan the diet of patients, athletics in fitness centres, private clinics, sports centres. Dieticians are responsible for advising correct food and food habits by considering patient health, age, lifestyle, allergies. Candidates can pursue PG Diploma in Nutrition and Dietetics Online Course after completing this program.
Dietitian Diploma Course Highlights
The overview of the Dietician Diploma course is listed here.
| | |
| --- | --- |
| Level | Undergraduate |
| Name of the course | Diploma in Dietetics |
| Course Duration | One Year |
| Mode | Regular |
| Exam Type | Semester |
| Educational Qualification | Passed 10+2 |
| Selection Process | Merit Basis/Entrance Exam |
| Course Fee | INR 5,000 to INR 2 Lakhs |
| Pay Scale | INR 2.5 Lakhs to INR 6.5 Lakhs |
| Job Profiles | Clinical Dietitians, Sports Dietician, Pediatric Dietician, Management Dietitians, Community Dietitians, Foodservice Dietitians, Consultant Dietitians, Business Dietitians, Gerontological Dietitians, etc |
| Employment Sectors | Government Hospitals, Private Hospitals, Nursing Homes, Private Clinics, Public Health Facilities, etc |
Know about other diploma courses streamwise and category wise on this website.
Diploma in Dietetics Course Eligibility Conditions
To apply for Dietitian Diploma Course, candidates must meet the following eligibility criteria.
Candidates must have passed the 10+2 exam from a recognised educational board or its equivalent.
As their main subject, candidates must have studied Chemistry, Physics, Biology, and English.
At most colleges or universities, the minimum percentage required for admission is 50%.
Dietitian Diploma Course Admission Process
The detailed admission process for the Dietitian Diploma course is given here. Candidates who have finished 12th class from a recognised organization can fill out the online application form and submit it before the due date.
Submitting Online Applications
The colleges will announce the applications registration dates on their websites.
Eligible candidates can apply online using registration links.
Provide the mandatory details in the registration form and click on the submit button.
The profile is created with login details.
Fill in all the details in the application form.
Scan and upload the educational certificates, photograph, signatures, and other documents. Make sure that all the documents must be uploaded in the given format and size.
Pay the application fee using a credit card/debit card/net banking/UPI.
Entrance Test/Merit List
Applicants are get shortlisted for admission based on their 10+2 marks or by conducting an entrance exam.
The qualified students in the entrance exam will be allowed to do further operations of admissions.
Qualified candidates must submit the original document at the time of certificate verification.
Admission Procedure
Candidates must pay the 1st term college fee to get admission.
Dietitian Diploma Course Fees
The course fee structure for Diploma in Dietetics is given here:
| Institution Type | Minimum Fee | Average Fee | Maximum Fee |
| --- | --- | --- | --- |
| Government Colleges/Public Colleges | INR 5,000/- | INR 35,000/- | INR 1 Lakh |
| Private Colleges | INR 15,000/- | INR 1.5 Lakhs | INR 2 Lakhs |
More Related Courses:
What are the Skills Required for Dietitian Diploma Course?
Candidates who are interested in working in the field of Health and Nutrition and mainly as a Dietitian should have the following skills that help them to work in the professional field.
Communication Skills: It is the ability to pass the information clearly and similarly the person wanted to convey their message is one of the important skills for Dietitian Diploma Course or in any other field. The importance of communication skills is there in all aspects of life whether in professional or personal life.
Time Management Skills: It is another mandatory skill to become a dietician as a Dietician/Nutritionist should know how to manage professional life and personal life at the same time. Time management skills are helpful for individuals to complete a task within a given time. Good time management abilities allow individuals to complete more work in a shorter time and thus reduce the amount of stress and leads to a successful career.
Team Work: It demonstrates the combined actions of the whole group to achieve a particular task. This skill is demanded by the management teams from the students who are applying for Dietician and Nutritionist Diploma. Teamwork skill is useful in making a good atmosphere among the employees and because of which respect, love, and loyalty grows and makes the employees complete more hard work and be supportive and cooperative.
Interpersonal Skills: It is a way to interact with patients and establish a good relationship with them. Few interpersonal skills are responsibility, empathy, leadership, flexibility, dependability, motivation, patience, active listening.
Interest in Health, Diet, and Fitness: It is an important skill that every candidate must have before applying for a Diploma in Dietetics because if a student doesn't have this skill then he will lack in providing good knowledge to the patients.
Diploma in Dietetics Colleges
Here provided are the best colleges to study Dietitian Diploma Course. Interested and eligible candidates can visit the colleges/universities' official websites to know more useful details about them. While you are applying for Diploma in Dietetics Course, check these best colleges to take admission.
| Name of the College | Location |
| --- | --- |
| Pacific University (PU) | Udaipur |
| Prayag Institute of Hotel Management and Catering Technology | Prayagraj |
| St. Joseph's College for Women (SJCW) | Visakhapatnam |
| Amity University | Noida |
| University of Calcutta | Kolkata |
| Institute of Chemical Technology | Mumbai |
| Pondicherry University | Pondicherry |
| Banasthali University | Jaipur |
| NIMS University | Jaipur |
| Chandigarh University | Chandigarh |
| St. Teresa's College | Kerala |
| Osmania University College for Women | Telangana |
| Welcome Group Graduate School of Hotel Administration | Manipal |
| Lovely Professional University | Jalandhar |
| Shoolini University | Himachal Pradesh |
| Mount Carmel College | Karnataka |
| RVS College of Arts and Science | Tamil Nadu |
Dietitian Diploma Course Syllabus
The subjects included in Diploma in Dietitian are given here. Students have to study all these subjects without fail during the course and score qualifying marks.
| S. No. | Subject Name |
| --- | --- |
| 1 | Community Nutrition (theory) |
| 2 | Community Nutrition (practical) |
| 3 | Diet Therapy and Applied Nutrition (theory) |
| 4 | Diet Therapy and Applied Nutrition (practical) |
| 5 | Hygiene and Microbiology |
| 6 | Physiology |
| 7 | Institutional Food Administration (theory) |
| 8 | Institutional Food Administration (practical) |
| 9 | Social Welfare |
| 10 | Project |
Important Books for Diploma in Dietetics Course Subjects
The name of the important books and author names to help the students while studying the Dietitics Diploma Course are listed here.
Community nutrition: applying epidemiology to contemporary practice by Gail Frank
Applied Nutrition and Diet Therapy for Nurses Hardcover
Fundamentals of Foods, Nutrition and Diet Therapy 5th Edition by S.R Mudambi, M.V Rajagopal
Institutional Food Management (Old Edition) Paperback – 1 December 2008 by Mohini Sethi (Author)
Food Hygiene, Microbiology and HACCP Hardcover – Import, 31 December 1999
by P.R. Hayes (Author), S.J. Forsythe (Author)
How is Dietitian Diploma Course Beneficial?
The candidates who are in dilemma of can I study Dietitian Diploma Course or not can go through the benefits of the course and make a decision.
This course provides the good basics for further higher studies and research in this field like M.Sc, PhD, and M.Phil.
They can get jobs in private sector clinics and hospitals and they can also have self-employment.
They can also become a psychiatric nurse where they have to deal with patients who are suffering from emotional and psychological distress.
Other sectors where they can get employment are private sector organisations like leisure cruise companies and private nursing homes.
Diploma in Dietetics Course Suitability
This course is suitable for the students who want to know all about the skill set in nutrition and food habits, training in health care units like clinics, hospitals and community nutrition in close proximity of doctors, dieticians and clinics. Candidates who have team spirit, alertness of mind, tact, comparison can also opt for this course.
Dietitian Diploma Course Career Score and Job Profile
The employment sectors, job profiles for the candidates who have completed their Dietitian Diploma Course are given here. You can get employed in any of the following employment sectors by communicating with top recruits and getting the best jobs.
Employment Sectors
Government hospitals
Private hospitals
Nursing homes
Private clinics
Public health facilities
You can get a chance to work in any of the following jobs if you perform well in the interview and finish the course with good marks.
Job Profiles
Dietetic assistant
Administrative dietitians
Business dietitians
Gerontological dietitians
Foodservice dietitians
Consultant dietitians
Management dietitians
Sports dietician
Community dietitians
Pediatric Dietician
Clinical dietician
Diploma in Dietitians course finished candidates can approach the following recruiting offices to get job easily.
Top Recruiters
AIIMS
Apollo Hospital
Fortis Hospital
Taj Group
Hyatt Corporation
Eli Lily
Nestle
Dumex
Cadbury's
Unilever
Novartis
There is a high career score for the students who have a Dietitian Diploma degree. They have a huge demand ad dietician in the beauty sector, sports sector and hospitals. People who want to maintain a diet must take suggestions from a dietician to maintain their health well. Diploma degree-holding candidates can also choose to pursue higher studies to get better employment with the best salaries.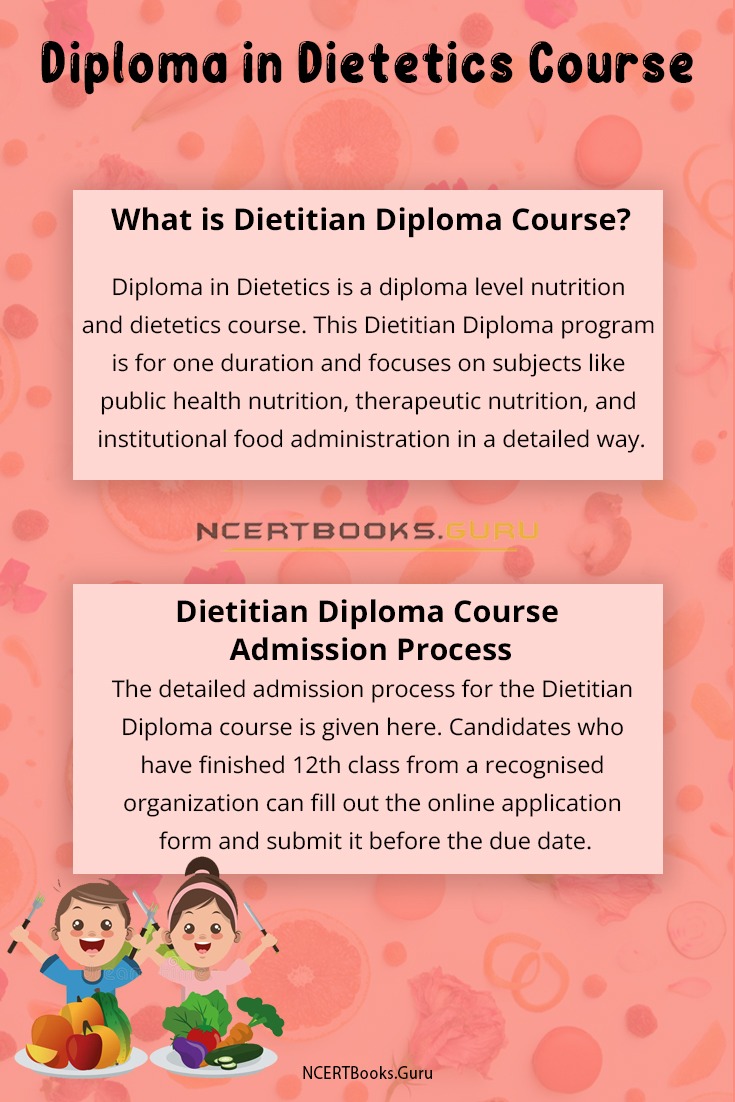 Dietitian Diploma Salary Details, Career Options
Here are the salary details and some popular job profiles for the people who have successfully finished Dietitian Diploma Course. Program completed students can check Nutrition & Dietetics Courses Details.
1. Pediatrician Dietician:
A pediatric dietician works with children of all ages for treating diabetes or obesity and encourage them to have a healthy and nutritious diet. They also warn children's parents to develop healthy eating patterns. Have a look at the minimum, average and maximum salaries of paediatrician dieticians in the following sections.
| Minimum Salary | Average Salary | Maximum Salary |
| --- | --- | --- |
| Rs.3,00,000/- | Rs.4,50,000/- | Rs.6,00,000/- |
2. Clinical Dietician:
The primary job duty of a clinical dietician is to provide medical nutrition food counselling to the patients. They design specific diet plans that focus on patients' health needs and food habits and also give guidance on how to lead a healthy life and its importance. Check out the minimum, maximum, and average pay scale of the clinical dietician.
| Minimum Salary | Average Salary | Maximum Salary |
| --- | --- | --- |
| Rs.2,50,000/- | Rs.3,00,000/- | Rs.5,50,000/- |
3. Dietician in R&D Department:
A dietician can also focus on the research and development to ensure the consistency and nutritional requirements of various food products. Along with obtaining a medical degree, dieticians may work in laboratories and study the effects of different dietary forms on the body. The starting, average and highest  salary details of a dietician who works in the research and development department are given here:
| Minimum Salary | Average Salary | Maximum Salary |
| --- | --- | --- |
| Rs.2,50,000/- | Rs.3,50,000/- | Rs.6,50,000/- |
4. Sports Dietician:
A dietician who is affiliated with various sports clubs and athletic teams is called a sports dietician. The sports dietician prepares diet plans for the sportspersons which helps them to maintain their body weight, muscle and keep their nutritional standards in check. The aim of the sports dietician is to maximise the performance of athletes. The minimum, maximum and average salary details of sports dieticians are along the lines:
| Minimum Salary | Average Salary | Maximum Salary |
| --- | --- | --- |
| Rs.2,45,000/- | Rs.3,75,000/- | Rs.6,50,000/- |
FAQ's on Dietitian Diploma Course
1. Which course is best for dieticians?
The list of top diploma dietitian courses after the 12th class are here:
Diploma in Dietetics
Diploma in Food Science and Nutrition
BSc Nutrition and Dietetics
Diploma in Food Technology
Diploma in Nutrition and Dietetics
Diploma in Nutrition and Health Education
Diploma in Nutrition and Food Technology
Diploma in Dietetics and Clinical Nuterition
2. Can I become a dietitian with a diploma?
To become a dietician, you must have either completed a post-graduate diploma in nutrition and dietetics or M.Sc in food and nutrition, followed by 6 months internship after graduation.
3. What qualifications do dieticians require?
You have to complete a degree or postgraduate qualification in dietetics or human nutrition. If you already finished a degree with an acceptable level of human physiology and biochemistry, then take a post-graduate course.
4. What are some job profiles after the study of diploma in dietetics course?
Community dietitians, foodservice dietitians, business dietitians, pediatric dietitians, clinical dieticians, sports dieticians, management dieticians, consultant dietitians, administrative dietitians, gerontological dietitians, and dietetic assistant are the job roles after pursuing dietician diploma course.
Final Words
We are hoping that the details provided here about Dietitian Diploma Course highlights are helpful for you. And if you still have doubts about this course you can comment in the below section. And if you need any other course details, you can visit NCERTBooks.guru website.