Online Sports Management Courses in India: Sports play an inherent role in the life of almost every individual in India. For those who take an interest in this field beyond the prospect of representing their team as an athlete, Sports management courses in India can help fuel and nourish their career opportunities. Sports management involves finance, event planning, sponsorships, marketing, broadcasting, and ethics associated with a sportsperson or a team.
In recent times, students have been giving more thought to courses outside the customary options of a degree in Engineering or Medicine. They are more likely to pursue their passion as a profession and under the present circumstances, Sports management courses after 12th can take up one of the leading roles in building a secured, successful future. However, it is essential for students to be enrolled in appropriate courses after the completion of their 10th or 12th grade.
We will now explore various options with their eligibility criteria, course framework, job opportunities, and salary along with the average fees for sports management courses.
Sports Management Courses in India
Depending on the background, requirements, and resources available, you may choose any of the degrees as under:
Bachelor's Degree Courses
Master's Degree Courses
Post Graduate Diploma Courses
Doctoral Degree Courses
Sports Management Bachelor's Degree Courses
This is usually an undergraduate course with a 3-year duration. A bachelor's degree can be acquired from a full-time college and provides a theoretical and analytical approach to turn students into trained individuals. The options available include:
Bachelor of Sports Management
BA in Sports Management
BBA in Sports Management
Eligibility: A student may opt for any stream after class 10th and secure decent marks to be eligible for a Bachelor's degree in sports management. But pursuing the Commerce stream which deals with Business Studies, Accountancy, etc. may provide an upper hand in gaining in-depth knowledge. Admission to a specific college requires students to appear in the subsequent entrance exam.
Course Structure: A Bachelor's degree is a 3-year program consisting of 6 semesters. On completion of the prescribed theory, practical, and assignments with necessary professional skills, a student is awarded an undergraduate degree.
Scope: The Bachelor's degree is a professional course and provides a wide range of opportunities dealing with business practices, market management, event planning, securing funds, sports laws and ethics management, and so on in the sports industry.
Apart from these, a student may choose a general BBA degree followed by a Master's degree for a career in sports management.
Sports Management Master's Degree Courses
Sports management courses in India also include the Master's degree program which provides more advanced insights to the enrolled students The course duration is usually 2 years and admission can be both entrance and merit-based depending upon the institution. The different options are:
MA in Sports Management
MBA in Sports Management
MBA in Sports Business
Master of Sports Management
Eligibility: Successful completion of an undergraduate degree from a recognized university with minimum aggregate grades is the eligibility criteria for a Master's degree in sports management. Admission may also depend on the performance of students in the entrance exams and interviews as required. A student with a general BBA degree may also be eligible to pursue a Master's in Sports management.
Course Structure: As mentioned above, this is usually a 2-year degree program with 4 semesters and includes related projects, presentations, and other skill-based assessments, on completion of which, a Master's Degree shall be awarded to students.
Scope: This degree provides an added advantage in a professional workplace as it deals with the development of management and communication skills in addition to theoretical analysis. A Master's degree opens the scope for individuals in the domain of Sports Consultants, Franchise Operations, marketing, media and lectureship in reputed educational institutes.
Also, Check:
Sports Management Post Graduate Diploma Courses
These courses essentially serve as additional qualifications for graduates in diverse fields to increase their job prospects in the industry. In sports management, the options available are:
PG Diploma in Sports Business
PG Diploma in Sports Management
Eligibility: It provides a diploma certificate in sports management and the minimum requirement is a Bachelor's degree from a recognized university in any or a specific field depending upon the course opted.
Course Structure: The duration of this course is 1 year with 2 semesters and deals with advanced management skills, complex business situations, and integrative projects.
Scope: Professionals with a PG diploma degree can take the roles of an event manager, finance manager, or PR and HR manager in sports management firms, franchises, merchandise manufacturers, sports teams, and leagues.
Sports Management Doctoral Degree Course
A doctoral degree in sports management provides the specialization and increases the possibility of securing executive positions, higher salaries, and pursuing research. The doctoral degree options provided include:
Ph.D. in Sports Management 
Eligibility: To be eligible for a Ph.D. degree, a relevant Master's degree may be required. In some programs, test scores, recommendations, statements of purpose, resume, and transcripts may also be essential.
Course Structure: The minimum duration for completion of a Ph.D. degree is 3 years along with specialization, electives, research, and dissertation. The exact time to acquire a doctoral degree may vary as per the individual needs and guidelines of the institute.
Fee Structure of Sports Management Courses in India
Depending upon nature, of course, sports management degrees involve different Sports Management Courses in India fee structures. For a Bachelor's degree, the cost may be between 1,00,000 – 7,00,000 INR whereas Master's Degree courses may range from 22,400 – 8,00,000 INR. Post Graduate Diploma and doctoral degrees vary starting from 1,85,000 INR depending on the institution, projects, and placement involved.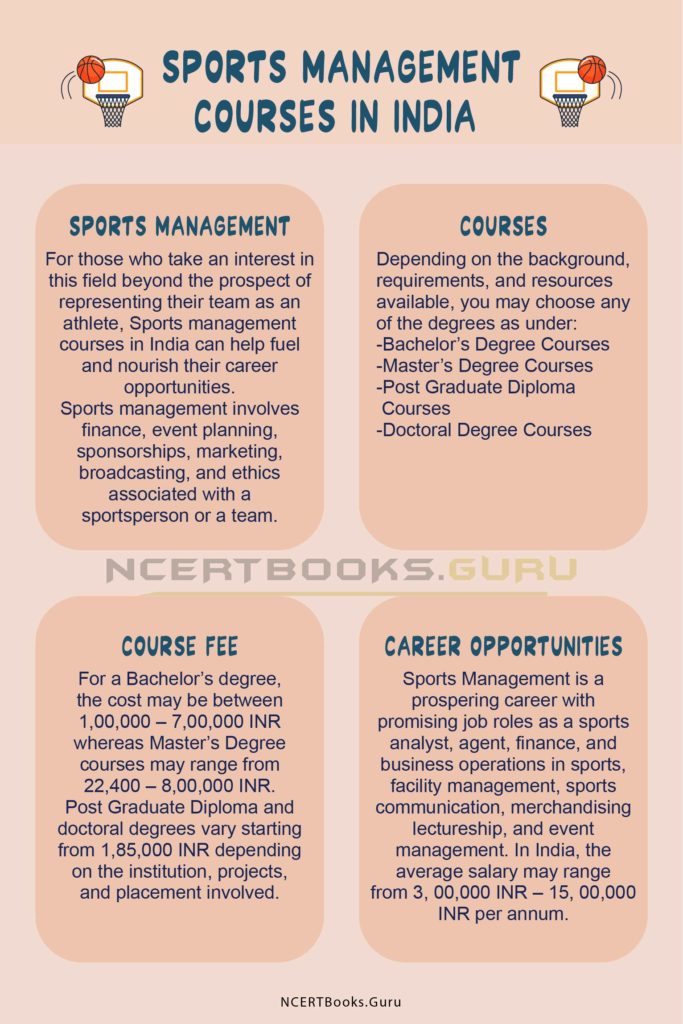 Industry Domains/Career Opportunities/ Salary for Sports Management Courses
Courses in Sport Management can provide real-life experiences to students and enrich their abilities of management, communication, promotion, and marketing. Sports Management is a prospering career with promising job roles as a sports analyst, agent, finance, and business operations in sports, facility management, sports communication, merchandising lectureship, and event management. In India, the average salary may range from 3, 00,000 INR – 15, 00,000 INR per annum.
FAQ's on Sports Management Courses in India
Question 1.
What is the scope of the syllabus for a Sports Management Course?
Answer:
The subjects mainly deal with marketing, management, and entrepreneurship. Some reputed institutes in India include principles of sports management, communication skills, PR and HR management, advertising, promotion, and other sport-related subjects, under their curriculum.
Question 2.
How to know which is the right institute?
Answer:
Students are advised to check the affiliation and recognition of the University, thoroughly go through their brochure and visit premises if possible to better understand the quality of education provided.
Question 3.
Is it possible to complete the course online?
Answer:
Some institutions in India provide distance learning courses in sports management. But these are mostly diploma courses and students may want to pursue a full-time Bachelor's or equivalent degree followed by a diploma to increase their future prospects.