Hotel Management Courses In India After 12th: Gone are the days when engineering and MBBS were the only professional courses students looked upon for further studies after 12th grade. The immense popularity of creative and artistic jobs has come into the frame. Hotel Management courses top the list of popular professional degrees that most students are interested in opting for. The classic chef apron and the hustle-bustle of a corporate kitchen is the dream of many students. However, it can be confusing as to which are the right courses to apply for after 12th grade.
Here, we have brought to you a list of Hotel Management Course after 12th grade along with basic details such as their eligibility criteria, course structure, and placements offered. Before, let us understand more about the industry and its scope.
Why Hotel Management After 12th?
Keen to work in a hotel or the tourism sector? Then hotel management is the perfect course for you. The course will train the student for diverse roles that one might have to take responsibility for at the initial stage of their career in hotel management. A student can expect several numbers of job opportunities after taking up any of the hotel management courses after 12th grade; all thanks to globalization!
Students can learn the best skills required to manage cafes, restaurants, and even large-scale hotels. This qualified professional promises decent-paying jobs and lucrative scope of growth. After attaining experience in the hotel management field, one can build a promising career for himself or herself by promoting in the job or open their own restaurant, club, or hotel as well. You can also pursue Diploma in Hotel Management Course After 10th.
What are the Top Hotel Management Courses After 12th?
Bachelor of Hotel Management
B.Sc. in Hotel Management & Catering
BBA in Hospitality, Travel & Tourism
Bachelor of Hotel Management
Bachelor of Hotel Management, popularly known as BHM provides expert skill-learning opportunities to students, which later helps them acquire promising jobs and sharpen the quality of becoming entrepreneurs.
Eligibility Criteria: A student is required to obtain 50% or more in the 12th class examination to be eligible to sit for the entrance exam held by the particular institute. Each institute has a different grading system and maximum points should be acquired to pass the entrance examination.
Course Details: The course is a 4-year program, divided into 8 semesters. The program focuses on teaching students the fundamentals of hotel management and providing them exposure to working in a commercial kitchen. They are also taught a professional approach to deal with customers and how to deal with dynamic situations that may arise while working in a hotel or eatery.
Scope: The successful completion of the program offers various opportunities to the students. Some of them include working in a five-star hotel, restaurant, or other places that are categorized under the hospitality sector. Major job roles are such as hotel manager, front office manager, event manager, or travel executive.
Do Check:
B.Sc. in Hotel Management & Catering
This particular course focuses on building a professional in the field of Hotel Management. Students can take up this course after completion of the 12th class examination as many Indian institutes are offering the course.
Eligibility Criteria: Students who have passed 12th class with 50% or more marks are eligible for the course. After that, they will have to appear for an entrance examination for the chosen institutes and perform well as per the guidelines to enroll themselves in the course.
Course Details: Sc. is a 3-year graduation course that comprises of 6 semesters. The course primarily focuses on hospitality management such as attending customers and maintaining a warm environment in the place. Some of the subjects covered are communications skills, food production, housekeeping, travel management, etc.
Scope: The course provides excellence in building customer relationships. Thus, students become capable of acquiring jobs such as catering officer, cabin crew host or hostess, hotel manager, or start their own venture.
Diploma in Hotel Management
A diploma in hotel management takes just one year to complete. It is popular among students who do not wish to spend 3-4 years in studying. It holds lesser value than a graduation program but fully trains the students with the theoretical and practical knowledge required to work in the hospitality sector.
Eligibility Criteria: Students who have passed the 10th or class 12th examinations are eligible to pursue a diploma in hotel management. Each institute has set different range of marks required to be eligible to appear for their respective entrance exams. The pattern of each entrance exams also differs in marking.
Course Details: The structure followed for 1 year Diploma in Hotel Management course after 10th differs in each institute. While the usual time period of its completion is one year, it can vary from 6 months to 2 years depending on the institute. Some of the subjects include management skills, principles of tourism management, customer service, food production and nutrition.
Scope: The diploma prepares the students to face difficulties that arise in the hospitality sector. With the outline taught to the students, they become prepared to take up roles such as receptionist, front desk staff, housekeeping, customer attendant, etc.
BBA in Hospitality, Travel & Tourism
For a reputed professional degree and a dream to acquire an MBA degree in the future, students opt for BBA in Hospitality, Travel & Tourism Course. While you must have heard about the Bachelor's in Business Administration course in general, a branch of the course also provides a specialization in Hotel and Tourism Management.
Hotel Management Course Eligibility Criteria: A student who has passed class 12th examination is eligible to enroll for BBA in Hospitality, Travel & Tourism. The course demands successfully clearing the entrance examination of the specific institute or university with good marks.
Course Details: The 3-year course is divided into 6 semesters, each focusing on enhancing the management skills of students that are required in the hospitality sector. The full-time course covers subjects such as public relations, advertising and promotion, human resource management, hotel and tourism management.
Scope: The job profiles offered to students by the placement cell after successfully completing their bachelor's degree in Hospitality, Travel & Tourism are sales executive, department manager, restaurant manager, reservation manager, etc.
The details mentioned above should prep you to apply for hotel management courses after 12th grade. The hotel management courses after 12th fee structure ranges from 2 Lakh p.a and goes up depending on the institute or university one has enrolled in.
Hotel Management Industry Domains/ Career Opportunities/ Salary
Each of the courses promises to brush students' skills, making them capable of acquiring entry-level jobs in the field of hospitality and tourism. Hotel Management is a promising course that has shown massive growth globally. The sector is only climbing up the ladder with the establishment of five-star hotels, resorts, restaurants, clubs, cafes and travel agencies. Therefore, a career in this specific field is a promising one with promising jobs as a chef, manager, and supervisor. The basic Hotel Management After 12th salary starts from INR 15,000- INR 35,000.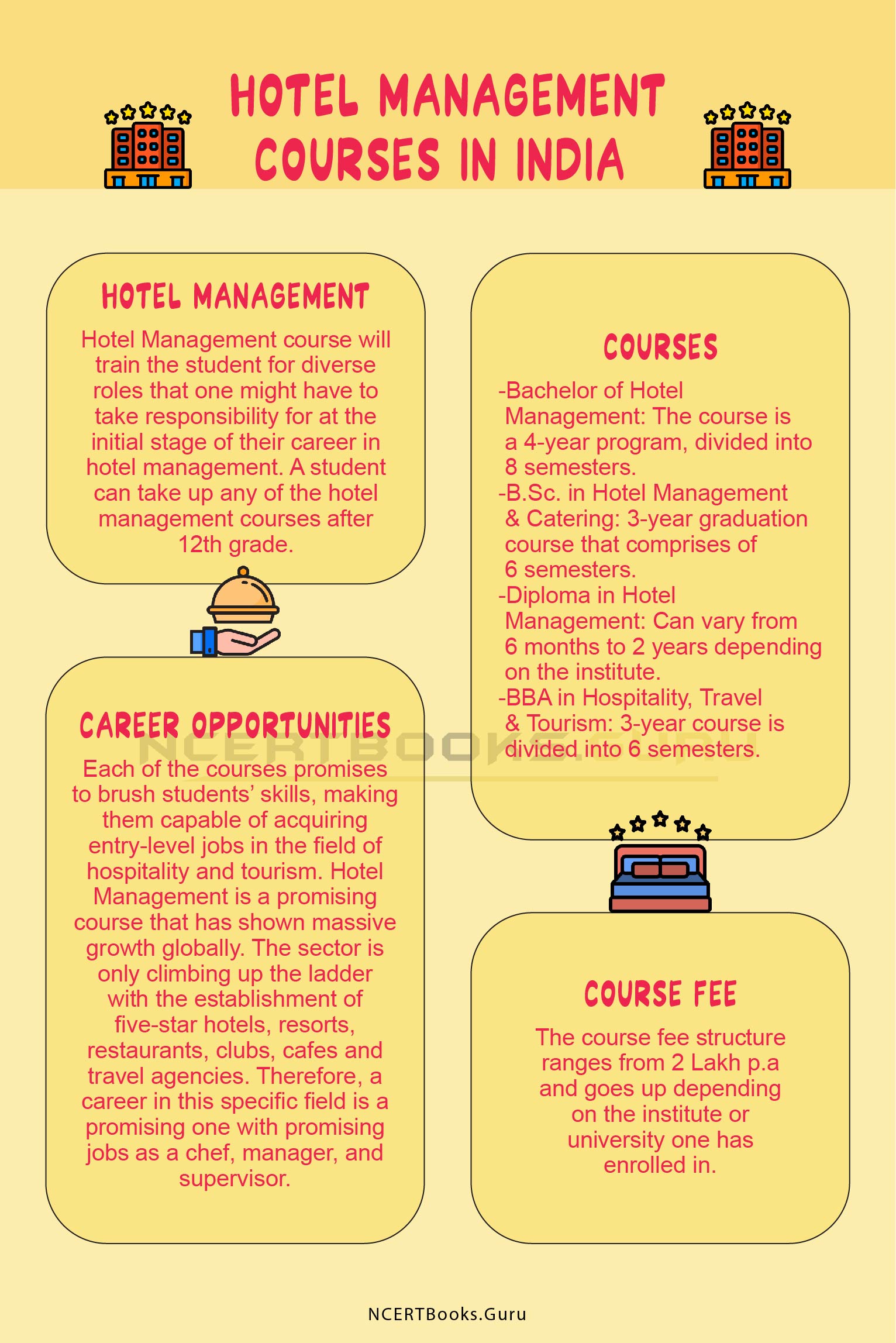 FAQ's on Hotel Management Courses In India After 12th
Question 1.
Will I be able to open my own hotel or restaurant chain after the course?
Answer:
Yes, however, it is recommended to gain some experience in the hospitality sector before opening your own hotel or restaurant.
Question 2.
How to choose the right institute?
Answer:
Make sure that the preferred institute is affiliated to a recognized university or board. You can also check their brochure and premise for the facilities they offer.
Question 3.
What is the prime importance of the hotel management courses I should focus on?
Answer:
The student should primarily focus on practical approaches taught by the institute along with majoring in customer satisfaction.