How to Become a Hotel Manager in India: In recent years, the hospitality and tourism industries have experienced remarkable expansion, particularly in nations such as India. India is one of the world's most popular tourist destinations, with a large number of hotels. Hotels play a crucial role when it comes to offering the greatest hospitality. There is a high need for hotel management specialists due to a large number of hotels in the area. The function of a hotel manager is critical among various professions. A hotel manager has a variety of responsibilities, including overseeing all of the hotel's management employees.
Food and beverage service, front-office operations, sales and marketing, bookkeeping, and other skills are all part of hotel management positions. Many government institutions and private institutes in India provide hotel management certificates, diplomas, and degree programs. All these parameters tempt anyone to become a hotel manager in India and to help you with it, here is a detailed post on how to become a hotel manager in India, their salary, career opportunities, and much more. Read on to find more.
Responsibilities of Hotel Manager
Every hotel has a number of departments that work together to keep things running well, and the hotel managers oversee them all. The position of a hotel manager may appear simple, yet it carries a great deal of responsibility. Marketing, sales, promotion, accounting, budgeting, and recruitment are all areas in which hotel managers are intimately involved.
The following are the main responsibilities of hotel managers,
The hotel's recruitment, deployment, and training of new employees
Keeping the books and keeping track of the budget
Staff management, upkeep, and remuneration
Revenue maximization and cost containment
Management of complaints and customer service
Types of Hotel Manager
Hotel managers are in high demand, as the number of hotels continues to rise. It is one of the most highly prized jobs in the hotel industry. Below are some of the job roles of the hotel manager,
Manager of the Front Desk:
The work of receptionists, reservation customers, and information clerks is directed by the front office manager. They are responsible for ensuring that the guests' needs are met on time. Furthermore, they must encourage communication between the housekeeping and food and beverage departments.
Manager of a Restaurant and Food Service:
They are in charge of thinking about cutlery, paper, textiles, cleaning supplies, culinary instruments, as well as the lodging's furniture and equipment. They are also in charge of scheduling equipment maintenance and repairs.
Chef:
They are in charge of the hotel's complete culinary service, and there are head chefs who advise other chefs on the hotel's menu. They also provide guidance for each of the recipes they will present to the guests. Chefs are completely responsible for all aspects of food preparation, from taste to sanitation.
Banquet Manager:
A banquet manager can rent out meals to businesses for corporate events as well as private parties. They must work closely with the kitchen office as well as the food and beverage manager to guarantee that visitors are served timely stocks, food, and beverages.
Manager of Housekeeping:
The housekeeping manager is in charge of keeping the hotel clean and well-maintained. They supervise the work of maids, cleaners, and sewers, as well as preparing, drafting lists, and overseeing servants' work, as well as ordering cleaning supplies on time.
Skills required to become Hotel Manager
Below are the skills required to become a hotel manager,
Ability to motivate others in the workplace
Good communication skills
Ability to discipline others in the workplace
Ability to work well as part of a team
Ability to remain calm under pressure
Good leadership qualities
Knowledge of hotel management software and data input software is essential
Eligibility to Become Hotel Manager
Below is the eligibility to become a hotel manager in India,
Diploma in Hotel Management:
After passing the class 10 exam, students can choose a diploma in hotel management
Few states have state-level diploma entrance exams, based on those marks admission is given.
Undergraduate Courses in Hotel Management:
Students should have passed the class 12 exam with 50% aggregate to choose the undergraduate course in hotel management
Students are required to clear entrance exams like NCHMCT JEE (National-Level Hotel Management Entrance Exam conducted by National Testing Agency (NTA)) for the BHM program.
Postgraduate Courses in Hotel Management:
Students should clear the undergraduate courses with a 45% aggregate before applying for a postgraduate course in hotel management
Some of the top hotel management institutions require PG entrance exams
Certificate courses in Hotel Management:
After completing class 12, candidates can pursue a certification course at any time of their education. No entrance exam is required for the certification course.
Know about several Course Details belonging to different streams all under one roof and learn all details like Eligibility, Course Duration, Fee Structure, Jobs, Salary Offered, etc.
Job Roles in Hotel Management
A hotel's job opportunities are categorized into three categories,
The hotel porter, front desk employee, front desk manager, maintenance, and cleaning are all part of the front office.
The hotel's Food and Beverage Waiting staff, restaurant manager, kitchen staff, kitchen manager, and more positions are available.
General Manager, Marketing Manager, Revenue Manager, Sales Manager, and others work in Management and Headquarters.
Below are the details of various job roles in hotel management,
They are in charge of talking with the visitors, as well as attending to their needs, which includes learning about the guests' dietary preferences. They also ensure that the clients' meals and hotel stay are free of discomfort or issues.
Waiting staff are also in charge of dealing with any concerns that guests may have, making appropriate arrangements, collecting payments, and remaining vigilant to provide the essential service.
The kitchen staff has one of the most varied jobs in the hotel, with work varying greatly depending on the hotel's size and kind of restaurant. Preparing basic foods, cleaning the kitchen, washing silverware and dishes, setting tables, and assisting cooks or cooks with various jobs are examples of typical activities.
Kitchen Manager

The kitchen manager is in charge of coordinating kitchen operations and keeping track of employee performance. Hiring and firing kitchen personnel, ordering kitchen appliances, purchasing food, adhering to cleanliness standards, supervising food preparation, and ensuring that all employees are properly trained are all examples of activities.
Head Chef
When it comes to food preparation, the head chef is the most significant role in the hotel. The chef is in charge of developing and maintaining the restaurant's menu, as well as leading a team of chefs, sous chefs, and support staff. Instead of the kitchen manager, you might be in charge of the budget.
Room Service
Those who work in hotel room service are frequently affiliated with kitchen and restaurant personnel. The major responsibility, on the other hand, is to give guest service in their rooms.
This could involve speaking with visitors over the phone, taking room service orders to the restaurant, and then delivering food and drinks to the guests.
Hotel porters, often known as bellboys, are in charge of escorting guests to their rooms, transporting their luggage to different floors, and inspecting the rooms. However, because customers frequently ask questions and seek assistance, this is a hotel position that necessitates a solid understanding of hotel operations.
The hotel's maintenance and cleaning department are responsible for all positions linked to the hotel's upkeep. She concentrates on cleaning, fixing, and looking after guests in particular.
The cleaning manager is in charge of organizing the cleaning crew and ensuring that they have all of the tools they need to complete their tasks.
This implies that inventory is kept track of, and cleaning efforts are kept track of. In addition, the job includes hiring, terminating, and training employees. as well as budgeting for the department
A hotel's marketing manager is in charge of advertising the property to potential guests and business partners. This entails overseeing the hotel's advertising strategy and budget, as well as identifying new ways to market the property via non-traditional channels.
The post of the sales manager is sometimes viewed as an optional position in the hotel because key responsibilities such as hotel facilities, wedding services, and other hotel items can be handled by a combination of the general manager, an assistant manager, or the marketing department.
Revenue management is the process of increasing a hotel's revenue and improving its financial performance, typically through a strategic sales approach. This ensures that hotel rooms are offered to the correct consumer at the right price, on the best possible channel, at the right time.
The hotel accounting manager is in charge of the accounting department and all of its employees. Ensuring that the hotel is effectively tracking and documenting income and expenses, managing staff compensation, and ensuring that bills are paid accurately and on time are among the responsibilities.
Also, Check:
How to Apply for Jobs directly to Hotel Chains?
Employees looking for work can contact hotel chains directly and apply for positions.
Marriott International:
Marriott Worldwide is the world's best international hotel brand, with job opportunities ranging from door attendant to dual property senior sales manager. Employees from all around the world can apply for Marriott group jobs because they have locations all over the world.
Accor Group:
The Accor Group is the world's largest hotel company, with 35 subsidiaries throughout the globe. Novotel, Mercure, Adagio, Pullman, Swissôtel, MGallery, Mondrian, Raffles, Banyan Tree, Ibis, Jo&Joe, Sofitel, hotelF1, Orient Express, and Mövenpick are all part of the Accor group.
InterContinental Hotel Group:
IHG owns and operates 5000 hotel properties in more than 100 countries across the world. InterContinental Hotels & Resorts, Holiday Inn, Holiday Inn Express, Hotel Indigo, Crowne Plaza, the Kimpton Hotel & Restaurant Company, EVEN Hotels, Six Senses Hotels, Candlewood Suites, and Staybridge Suites are just a few of the names on the list.
Wyndham Worldwide:
They hold 20 different hotel brands, with a total of 9000 hotel properties and over 40,000 staff directly employed by Wyndham WorldWide. Wyndham, Ramada, TRYP, Baymont, Dazzler, Travelodge, Super 8, Days Inn, Wingate, La Quinta Inns, Wingate, Hawthorn Suites, Howard Johnson, and Dolce Hotels are some of the brands affiliated with them.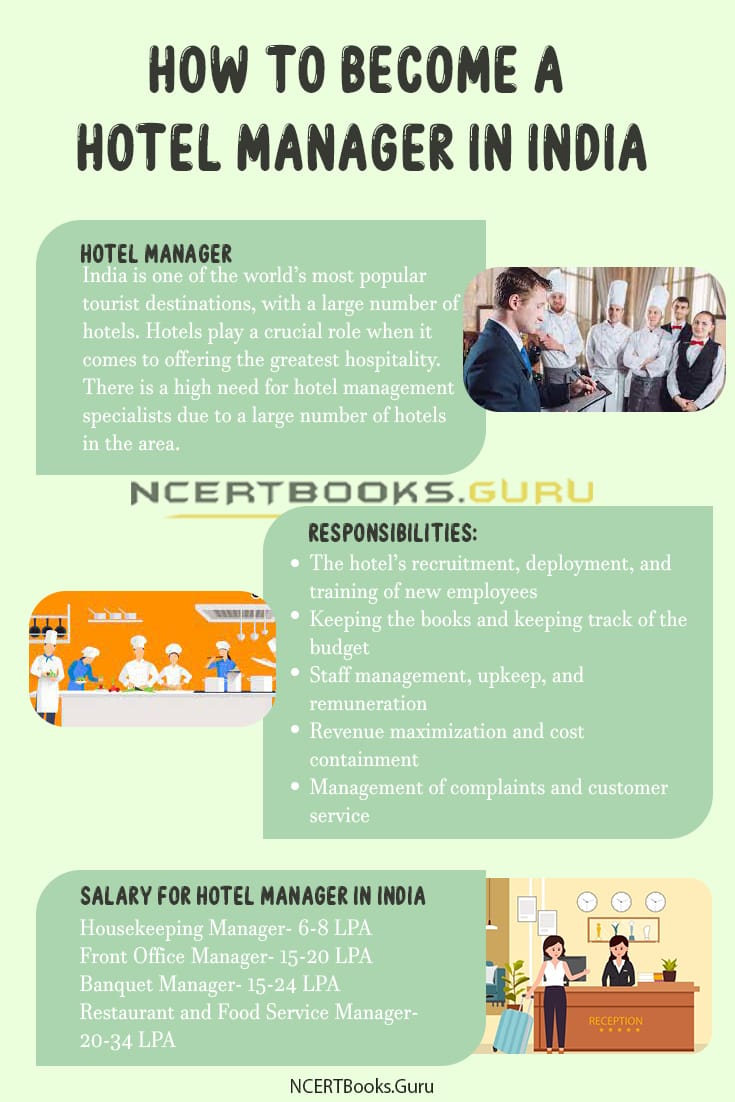 Salary for Hotel Manager in India
Payscale for hotel managers depends from sector to sector, Below are the average salary
| | |
| --- | --- |
| Profile | Salary per annum (in INR) |
| Housekeeping Manager | 6-8 LPA |
| Front Office Manager | 15-20 LPA |
| Banquet Manager | 15-24 LPA |
| Restaurant and Food Service Manager | 20-34 LPA |
FAQs on How to Become a Hotel Manager in India?
1. How do I become a hotel manager?
To become a hotel general manager, you need a high school diploma and some amount of higher education or industry training. Small hotels may only require you to have an associate degree or equivalent experience, while most larger hotels and resorts require a bachelor's degree in service and hospitality management.
2. What is a hotel manager called?
The title "hotel manager" or "hotelier" often refers to the hotel's General Manager who serves as a hotel's head executive, though their duties and responsibilities vary depending on the hotel's size, purpose, and expectations from ownership.
3. What is the total fee for the course Hotel Manager Courses?
The average fee for Hotel Management Courses varies between INR 10,000 to INR 6,00,000 per year depending on the courses.
4. Is a hotel manager a good career?
The salary of a hotel manager varies from one area to another. The salary package of a hotel manager is acceptable in the event that one is working with a five-star hotel. With quality training and experience, one can make a decent professional hotel manager.
5. Can you become a hotel manager without a degree?
Despite the fact that there is no particular degree to turn into a hotel manager, numerous facilities favor a Bachelor's Degree in Hotel Management or a connected field. Some housing chiefs have an associate degree or higher.