Travel and Tourism Courses After 12th: The travel and tourism industry is currently undergoing immense growth. It is the largest service industry in India. It provides heritage, cultural, business, medical and sports tourism. The primary purpose of this area is to promote tourism, maintain the competitiveness of India as a tourist destination, and develop and grow existing tourism outcomes to ensure employment generation and economic growth.
Students have countless career possibilities in this fast-growing industry of travel and tourism. Candidates looking to continue their career in the travel and tourism industry can choose to work for travel agencies, tour operations, immigration, government tourism departments, and customs services, airlines, hotels, and the list continue. As per various studies, the industry is suspected of creating over 45 million jobs in India by 2025.
A Brief on Travel and Tourism Course
Travel and Tourism program captivates students from all over the globe, providing them with the highest quality educational and practical learning. It is created such that classroom training is augmented with on-the-job industrial exposure so as to hone the skills and techniques learned sufficiently. The Government is providing much interest in the tourism sector. Travel and Tourism management experts manage the comfort, travel modes, tour program and overall stay of such tourists in India.
Aspirants can pursue a degree, diploma, or certificate course in travel and tourism at graduation or post-graduation level. Applicants can also seek a Ph.D. in their chosen subject of travel and tourism to grow their career in the area of research.
Travel and Tourism Course Highlights
Name of the Course: Travel and Tourism course
Duration: The duration of the course depends upon the level of the program such as graduate level, postgraduate level, certificate, or diploma level courses.
Application Process: Applicants who have completed their 10+2 and Graduation or Diploma from any recognized University such as State Government/ DEC/ UGC/ AIU/ AICTE/) in any discipline and have proficiency in English ( spoken and written both are mandatory) are eligible to apply for the course.
Application Fee: The entire fee structure may vary from one institute to another. The generic Travel and Tourism Courses fees for the courses start from Rs 50,000 to 4 lakhs.
Career Opportunities: Some career opportunities after completion of the travel and tourism courses online are accounting, Sales, Public relations, Ground staff or In-flight staff, Traffic Assistance, Reservation and Counter Staff, and many more.
Travel and Tourism Course Eligibility Criteria
Most of the institutes in India offer undergraduate or postgraduate level degree, diploma, certificate, distance learning, and online courses in different areas of travel and tourism. Given below are general travel and tourism eligibility criteria for UG as well as PG courses. The eligibility criteria for the course may vary from one institute to another.
Bachelor Degree Courses: A qualified degree in 10+2 in any stream and from a recognised college or university. A minimum of 50 – 60 percent is required to join the course.
Master Degree Courses: A minimum of 45 to 60 percent is required at the bachelor's level. Preferences for applicants who have knowledge in any of the foreign languages can usually opt for the course.
Diploma Courses: A minimum of 50- 60 percent aggregate marks is required in 10+2.
PG Diploma Courses: A minimum of 50- 60 percent in bachelors from any recognized university.
Certificate Courses: Candidates with a minimum of 45 – 50 percent marks from a recognized board can apply for the course.
Get to Know More about other types of Course Details in Streamwise, and Category wise
Required Skill-set for Travel & Tourism Courses
Professionals working in the business of travel and tourism are involved with rendering quality services to people who are away from home on a holiday or business. Candidates seeming to pursue a career in the tourism industry need to love traveling along with the desire to learn new things. Some of the skills that applicants should have to create a successful career in the travel and tourism industry are:
Confidence
Excellent communication skills
Strong interpersonal skills
Pleasant and well-groomed personality
Diligence
Flexibility
Commitment
Enthusiasm
Proper administration and management skills
Patience
Excellent research and planning skills
Problem-solving skills
Organization skills
Time management skills
Strong networking skills
Teamwork
Hardworking
Leadership skills
Travel and Tourism Courses Syllabus/Curriculum
The curriculum of the travel and tourism course depends on what the candidate is pursuing – degree, diploma, or certificate. To get a summary of the program here are some of the courses you can study.
Certificate Course in Travel & Tourism
Tourism Management – Principles and Practices
Airlines, Tours, Travel Agency and Travel Management
Marketing in Service Industry – Airlines, Tours & Hotel, Travel
Airlines – Reservations and Ticketing with fare Constructions
Hospitality Oriented – Language studies
BA (H) Hotel Management, Travel and Tourism
Fundamentals of Travel and Tourism
Concepts of Hospitality and Tourism
Tourism Resources and Attractions in India
Perceptions of International Travel and Tourism
International Tourism: Concepts and Principles-I
International Tourism Geography and Ecology
International Tourism: Concepts and Principles-II
Tourism Geography and Ecology of India
General Aspects of Hotel Management
History, Traveling, and Tourism in India
Tourism Marketing Management
Modes of Transportation System
Concepts of Air Fare Structure and CRS (Computerised Reservation System)
Marketing Management Services
Heritage and Cultural Tourism in India
Concept of Food and Beverage
B.Com Tourism and Travel Management
Tourism Business
Financial Accounting-I
Business Management
Business Economics-I
English-I
Second Language-I
Holistic Development-I
Indian Tourism Product and Geography
Fundamentals in Hotel Management
Financial Accounting-II
Human Resources Management
Business Environment
English-II
Second Language-II
Holistic Development-II
Tourism Marketing
Study Tour Report
Corporate Accounting
Indian Financial System
Principles and Practice of Insurance
Business Communication
Second Language-III
Indian Constitution
MBA in Tourism and Travel
Principles of Management
Financial Accounting
Fundamentals Of Communication & Interview Preparation
Human Resource Management
Mastering The Interview & Networking Skills
Introduction to travel and tourism
Tourism Marketing
Travel Agency Management
Geography of Travel
International Tourism
Internet Marketing
Tour operations management
Customer-Centric Organisation
Relationship Marketing
PG Diploma in Travel and Tourism
Historical, Cultural, and Architectural Background of India
Tourism Operations and Products
Travel Formalities and Tourist Facilities
Tourism Marketing
MA in Travel and Tourism
Historical Background of India
Tourism Recreation
Tourist Indian Destination
Religious and Cultural Background of India
Tourism Transport System
Tour Operations and Formalities
Travel Formalities/Domestic Travel and Facilities
Architectural History of India
Tourism Planning
International Tourist Destination
Tourism Marketing/Tourism industry in India
Art, Iconography, and Craft
Research Methodology
IATA and its functions
Tourism Management/Tourism Management and Operations
Ph.D. in Travel and Tourism
Contemporary issues in Tourism Management
Tourism Research Methodology and Statistics
Tourism Policy and Planning
Thesis Planning and Seminar
Tourism Marketing and Promotion
Tourism research Thesis
Master of Philosophy (MPhil) in Tourism
Conceptual Framework of Tourism
Research Methodology
Advanced Research Techniques
Dissertation
Scope of Travel and Tourism Course
The Travel and Tourism industry is one such industry that even though it is relatively new to the others but is growing and is also expected to do well in the coming years as well. There are many industries that are direct contributors to the industry and hence, at the end of the day, create greater job opportunities for those that would want to be a part of the industry. Restaurants, hotels, retailing, transportation, travel agencies, tourist attractions, leisure, recreation and sport, and cultural industries are a number of contributors to the industry.
Also, See:
Travel and Tourism Course Career Options
There is a lot of scope in the travel and tourism sector both in public and private. These are some of the profiles one can look into:
Tourism Department: There are jobs as counter and reservation staff, marketing staff. There is also the provision of Information assistants at the Tourism departments office where applicants are chosen through competitive examinations held by the Staff Selection Commission. One can work as a Guide which is listed under the tourism department. The Ministry of Tourism identifies three types of guides; regional, state and local.
Airlines: One can opt between becoming a ground staff or in-flight staff. You can also have the option of becoming Traffic Assistance, Reservation, and Counter Staff.
Hotels: It a service industry that serves the essential requirement of food and accommodation. One can choose from Operations, Front Office, Housekeeping, Food and Beverages, Accounting, Sales, Public relations and Security, etc.
Tour operators: They help to arrange conducted tours to different tourist spots and handle the travel and accommodation of the tourists.
Travel Agents: Travel agents appraise the requirements of tourists and people in business and help them make the best possible travel arrangements. Many resorts or travel groups use travel agents to promote their tour packages to travelers.
List of Top Recruiting Companies for Travel and Tourism
Some of the top Recruiting Companies are
Cox & Kings Ltd
MakeMyTrip (and GoIbibo)
Yatra
Jet Airways
Flying Fox
Kuoni Travel
Expedia
Air Asia
Travix Leisure & Travels Pvt Ltd
Thomas Cook (India) Ltd
ClearTripIndia Healthcare Tourism (IHCT)
SOTC India
East India Travel Co
Club Mahindra Holidays
TravelGuru
American Express Global Business Travels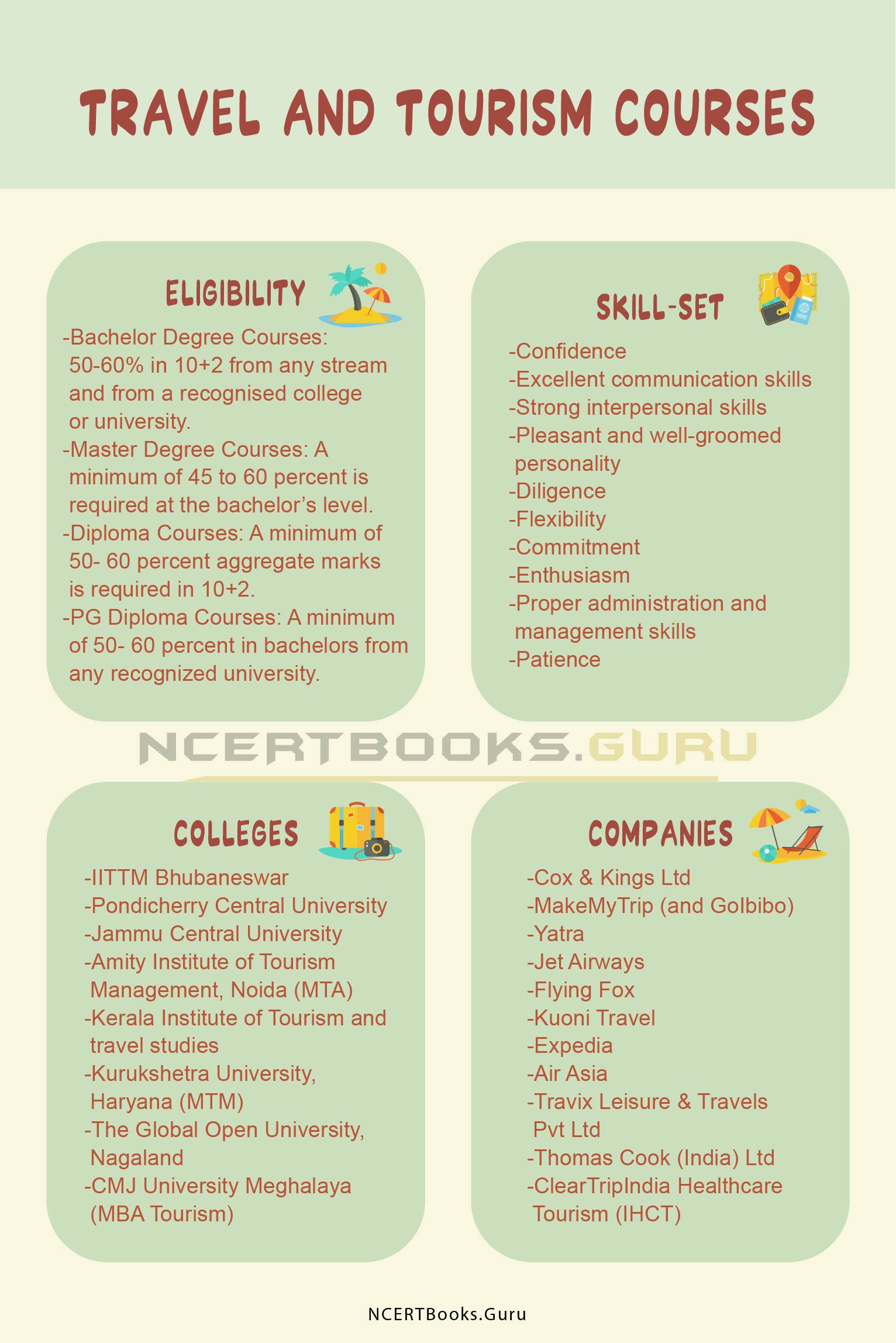 Top Travel and Tourism Courses Colleges
IITTM Bhubaneswar
Pondicherry Central University
Jammu Central University
Amity Institute of Tourism Management, Noida (MTA)
Kerala Institute of Tourism and travel studies
Kurukshetra University, Haryana (MTM)
The Global Open University, Nagaland
CMJ University Meghalaya (MBA Tourism)
CV Raman University Chhattisgarh
IITTM Gwalior
FAQ's on Travel and Tourism Course
Question 1.
What is the importance of the Travel and Tourism course?
Answer:
A Travel and Tourism course will teach students about business management, marketing fundamentals, human resources, cross-cultural awareness, and much more. The information and experiences gained through the program are essential and helpful for a variety of careers.
Question 2.
What are the fees structure for the Travel and Tourism Courses in India?
Answer:
The fee structure for the course may vary from one institute to another. The generic fees for the courses start from Rs 50,000 to 4 lakhs.
Question 3.
Name some of the colleges for Travel and Tourism Courses in India?
Answer:
Some of the top institutes for the courses are:
Pondicherry Central University
Jammu Central University
Amity Institute of Tourism Management, Noida (MTA)
Kerala Institute of Tourism and travel studies
Kurukshetra University, Haryana (MTM)