B.P.Ed Course Details: Bachelor of Physical Education is a three-year undergraduate program that educates education on the care and development of the body. The course can also be pursued in part-time and distance learning; however, most institutes provide regular B.P.Ed courses to facilitate sports and physical training. The course is very productive for individuals who want to make a career in sports or become fitness trainers. A passion for games and eagerness to play sports is the prerequisite for this course. All B.P.Ed. Courses are facilitated by the All India Council of Physical Education.
Why Pursuit B.P.Ed Course Details?
Individuals will be in the limelight of some of the major national events conducted by India's government under the sports authority of India like Commonwealth Games, Ranji Trophy, and others. The individuals can be recruited in some of the national teams as players or as a trainee in their opted sports. A real-time association will be some of the most exceptional individuals.
Professional post-graduation can open up their own sports academy in their choice of sports in different states under the umbrella of India's sports authority.
Below mentioned are some of the B.P.Ed job opportunities in which an individual can opt:
Commentator
Physical Education Instructors
Trainer/Instructor/Coach
Sports Journalist After completing a B.P.Ed degree, one can go for a masters' degree in Physical Education or Health and Fitness Management, which in turn helps an aspirant go for doctoral programs in this field. By studying the B.P.Ed course, aspirants can expand their awareness of fitness.
Bachelor of Physical Education (B.P.Ed) Eligibility Criteria
Minimum Qualification Required: 10+2
Minimum Marks Required (Aggregate): 45%
Minimum Age Requirement: 17 years or more.
Top Colleges for B.P.Ed Course in India
Maharshi Dayanand University – [MDU], Rohtak
Mahatma Gandhi University – [MGU], Kottayam
Chandigarh University – [CU], Chandigarh
Banaras Hindu University – [BHU], Varanasi
Chhatrapati Shahu Ji Maharaj University – [CSJMU], Kanpur
The University Of Lucknow – [LU], Lucknow
Magadh University – [MU], Gaya
Annamalai University – [AU], Chidambaram
Aligarh Muslim University – [AMU], Aligarh
University Of Mysore – [UOM], Mysore
Rajeev Gandhi College, Bhopal
B.P.Ed Admission Process
Admission to the B.P.Ed. The program is done through a combination of physical, fitness, and academic tests. Students who have passed the exams of class 12 can apply for the program. Performance in the following tests is evaluated to select students for admission:
Academic Test: A general English test is conducted for aspiring candidates. Candidates have to secure at least 40% marks to be considered for admission.
Physical Fitness Test: Different physical pursuits are conducted for boys and girls (push-ups, broad jump, yard running, yard dashing, and flexing) to test their physical abilities. Candidates who will score 50% or more in this test will be considered for admission.
Game/Sport Playing Ability Test: Each institution has a list of sports available. Candidates have to select a 'sport of choice' for which the respective university or institute examines them. It is essential to score at least 50% marks in this test.
The cumulative score in these three tests is evaluated by the respective institute basis, in which the list of shortlisted candidates is prepared. Students can also pursue B.Ed Courses to get good jobs.
B.P.Ed Entrance Exams
There are various institutes which conduct entrance exam for B.P.Ed course. Some of the entrance exams are listed below:
Gurukula Kangri Vishwavidyalaya Haridwar B.P.Ed. Entrance Exam
Swami Vivekanand Subharti University Meerut B.P.Ed. Entrance Exam
Lucknow University B.P.Ed. Entrance Exam
Kanpur University B.P.Ed. Entrance Exam
Acharya Nagarjuna University Physical Education Common Entrance Test
Fee Structure in B.P.Ed Colleges
The average B.P.Ed course fee ranges from INR 6,500 to 51,000 per annum. This may vary according to the universities or colleges you want to choose this course.
Bachelor of Physical Education (B.P.Ed) Syllabus
First Year
| | |
| --- | --- |
| Theory Subjects | Activity Subjects |
| English and Communication Skills – 1 | Athletics |
| History and Culture | Gymnastics |
| History of Physical Education | Football |
| Educational Psychology, Guidance, and Counselling | Wrestling |
| Applied Anatomy and Physiology | Boxing |
| | Weight Training, Weight Lifting, Power Lifting, and Best Physique |
| | Swimming |
| | Judo |
| | Light Apparatus Activity/ Calisthenics |
Second Year
| | |
| --- | --- |
| Theory Subjects | Activity Subjects |
| English and Communication Skills – 2 | Athletics |
| Foundation of Physical Education | Badminton |
| Educational Methodology | Kho-Kho |
| Sports Psychology | Kabaddi |
| Recreation, Camping, Play, and Leadership Training | Table Tennis |
| Teaching Methodology in Physical Education | Volleyball |
| Physiology of Exercise | Handball |
| Teaching Practice | Softball |
Third Year
| | |
| --- | --- |
| Theory Subjects | Activity Subjects |
| English and Communication Skills – 3 | Athletics |
| Kinesiology and Bio-mechanics | Yoga |
| Sports Management | Tennis |
| Measurement and Evaluation | Cricket |
| Health Education | Hockey |
B.P.Ed Job Opportunities
Candidates who have pursued B.P.Ed courses can take up different types of jobs in the field of sports. Jobs for providing physical training are available in schools and colleges. Apart from this, B.P.Ed graduates are also hired by various sports clubs and sports teams to provide training to aspiring individuals. Candidates who are skilled in communication and have pursued B.P.Ed can also become sports journalists. There is also a lot of scope for private training centers for those who want to start a fitness business venture. The following are some of the profiles that candidates can take up after completing B.P.Ed. program.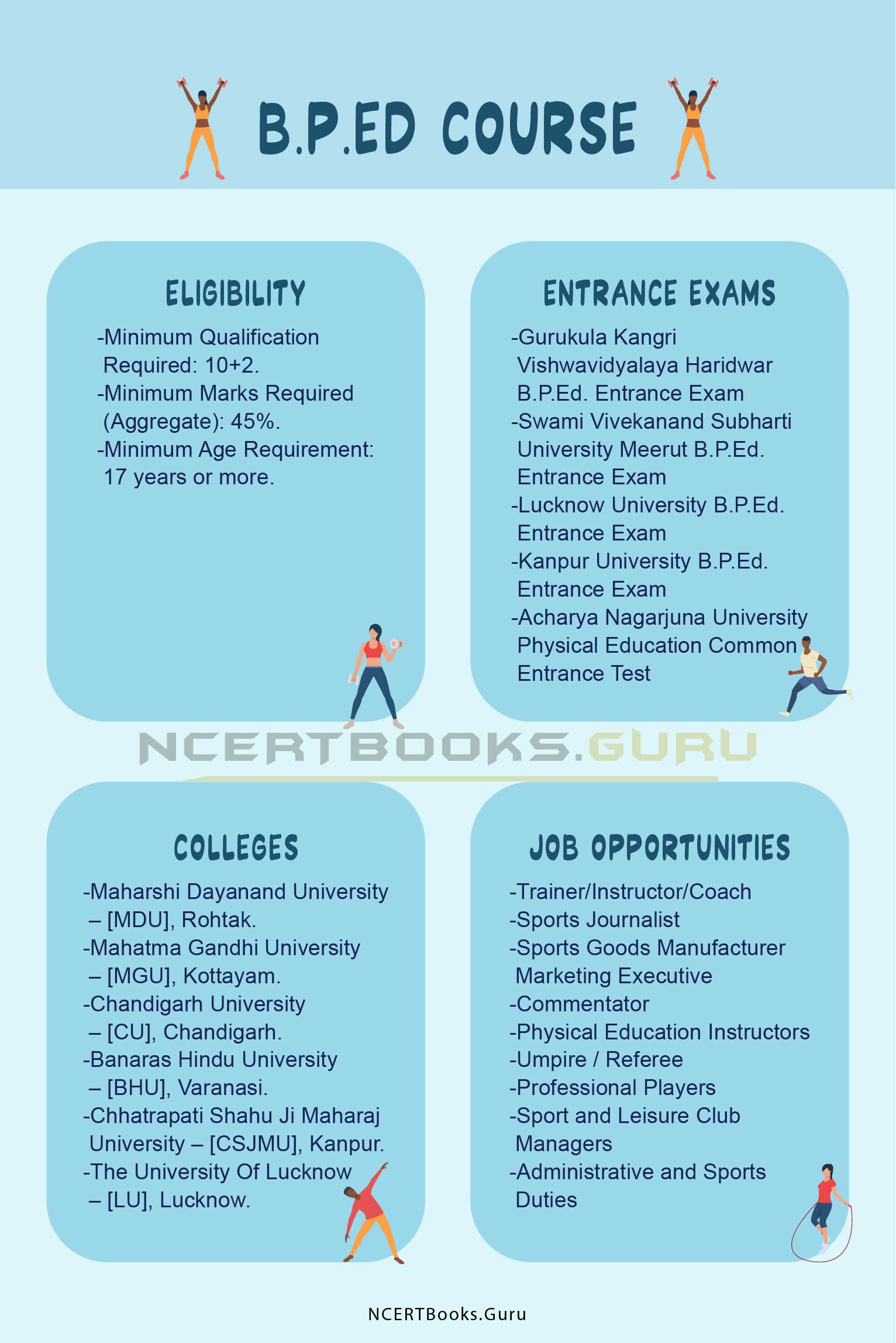 There is good job scope for B.P.Ed graduates in government as well as the private sector. Some of the jobs are listed below:
Trainer/Instructor/Coach
Sports Journalist
Sports Goods Manufacturer Marketing Executive
Commentator
Physical Education Instructors
Umpire / Referee
Professional Players
Sport and Leisure Club Managers
Administrative and Sports Duties
Sports Photojournalists
Sports Administration
Also, Refer:
B.P.Ed Course Salary
The average B.P.Ed salary is INR 3.68 lakh per annum. Which may vary according to skills and experience. The field one is giving training will also be taken into consideration for salary.
Question 1.
Do we have a sustainable career after B.P.Ed?
Answer:
Once getting into a reputed college, school, or any institution, the candidate has a sustainable career.
Question 2.
What is the maximum salary one can after the course?
Answer:
Depending upon the institution the candidate is joining, it can quickly go beyond 5-6 Lakh per annum.
Question 3.
Does Table Tennis come under the B.P.Ed course?
Answer:
Yes, Table Tennis is a subject in B.P.Ed.
Question 4,
Is it possible to go for B.P.Ed after completion of the degree?
Answer:
Yes, it is possible. The course duration will be two years if you go after a bachelor's degree.
Conclusion
B.P.Ed has a perfect future. In this age where people have become so conscious of their body, the demand for physical trainers and sports teachers will skyrocket, and those interested in physical activity can choose for such a course.