Distance Education Courses: Distance education courses are becoming popular all over the world. However, distance education courses have been helping people access to learning for centuries. Distance education is also referred to as online learning and distance learning. Even there is a scope of distance education in the future. Everyone is getting attracted to this distance education course mode and wish to pursue their higher education along with their career.
Do you want to live in India but study in New York? Do you study engineering and want to specialize in accounts as well? Or do you have responsibilities or work full time but want to value your time at home with a basic degree? In such cases, distance education courses or programs are the best choices for you. Now, in this article, we shall discuss the distance education courses, and it's advantages.
What is Distance Education?
Distance education is defined as the practice of using some correspondence or assistance to learn. It usually involves students engaging in learning materials, no matter where you are. With this practice, a teacher in New Zealand could offer instructions to students all over the world. In that case, it helps students access teachers who may go live to attend classes. Moreover, distance education help students who cannot attend classes because of work or some other responsibilities.
With the help of these distance education programs, you can study any degree-based courses. Some of the best colleges and universities always ensure that their distance learning courses are of the same quality as regular based courses or programs.
Most of the students think that distance education courses are for certificate courses or short-term programs. In fact, that is not true; you may find distance learning courses not only for short term certificate courses but also for Ph.D. degrees or Masters. However, there are some colleges and universities that are known to offer the best education programs under this distance education mode.
Therefore, sometimes, it becomes challenging for the students to make the right decision of the university. In such cases, here are some things that students need to follow in selecting the right university or college to choose the distance education courses.
Must Check: Diploma in Labour Law Distance Education
Things to Remember While Choosing Distance Learning Courses
Course Accreditation
Students should remember that the courses are nationally recognized and accredited. Therefore, it can lead to a certified degree and will be accepted by the organizations in the future. Moreover, it is important to check the accreditation of the college or university when choosing the distance education course.
One of the most important things to remember is that the recognized accreditation agency should accredit the program. It is because that this accreditation agency would have investigated the various subjects that are offered by the university to ensure that they are coordinated in the educational standards.
Study Materials and Digital Learning Environment
The quality of the Digital learning environment and study materials are important to check when it comes to distance education courses. If the students are offered a motivational learning environment along with interactive tasks and videos, then they can improve the chance of success.
Student Support Services
Students need to remember that the quality of personal assistance and support from the lecturers are of utmost importance. It is because that student support services can influence the success or failure of the students. However, students need to consider the following things:
Check whether there are personal appointments
Know that the institution is offering personal assistance at the time of exam preparation?
Check out whether they will clear your doubts immediately or need to wait for several days to get answers?
Course Duration
If you are juggling between study time and work hours, then you know the value of resource time. Most of the courses take around one to two years to complete. In such cases, if you know the course duration in advance, then you will be able to adjust your timings for your work and study.
Advantages of Distance Education Courses
Study From Anywhere and Anytime
One of the best things about distance learning is that you can learn your course from anywhere and at any time. Except in cases where you need to attend a tutorial or an online lecture through videoconferencing. Simply, you will get the freedom to deal with the study materials at any time in distance learning mode.
Flexibility of Time
Distance learning provides the flexibility of time. It offers complete freedom to choose your free time for taking up the course. All you need is a computer with an internet connection to learn. Also, you don't need to go in person to submit anything or ask doubts.
Easy Access to the Experts
One of the best things about distance learning is that it will offer you the best and great chances to have access to the experts in your courses even if they are from different countries. Also, you can stay connected with them from any part of the globe.
Save Money
One of the other benefits of distance education courses is saving money. The total cost that you incur for distance learning will be less when compared to a regular college or university. Therefore, you can easily afford any course in any university or institution.
Pursue a Job with Studies
You can learn or pursue your college studies while you are working. It is because there is no fixed time for distance learning courses. Also, you can work all day and can study at night or vice-versa.
Distance Education Courses Offered
As there is a gradual increase in the popularity of distance education, many of the educational institutions have started distance learning courses. It starting from certificate level to PG level can be done by the students. Also, courses are offered in the field of management, IT, technology, and many more.
Distance Education UG Courses
Bachelor of Arts (B.A)
Bachelor of Commerce (B.Com)
Bachelor of Science (B.Sc)
Bachelor of Business Administration (BBA)
Bachelor of Computer Application (BCA)
Bachelor of Sciences in Information Technology (B.Sc IT)
Also, Read:
Distance Education PG Courses
Master of Arts (M.A)
Master of Commerce (M.Com)
Master of Science (M.Sc)
Bachelor of Education (B.Ed)
Master of Business Administration (MBA)
Master of Computer Application (MCA)
Master in Interior Design
Master in Fashion Management & Design (MFM)
Master of Journalism and Mass Communication (MJMC)
Master of Science in Information Technology (M.Sc IT)
Dual Degree Courses
Executive Diploma in Strategic Management & Leadership + MBA
Executive Diploma in International Business Management + MBA
PG Diploma Courses
PG Diploma in Business Administration
PG Diploma in Information Technology
PG Diploma in Journalism and Mass Communication
PG Diploma in Computer Application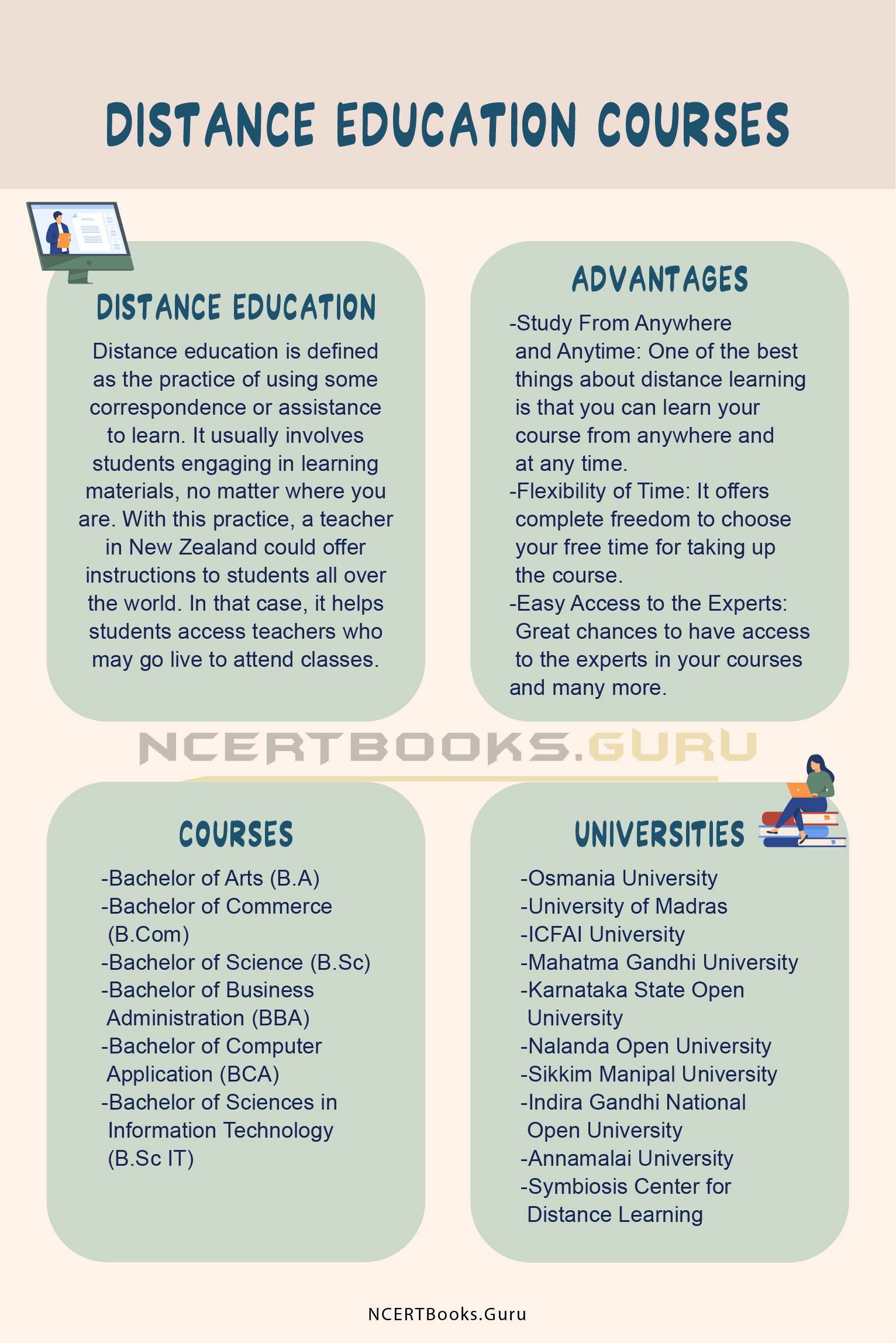 Best Distance Education Universities in India
Osmania University
University of Madras
ICFAI University
Mahatma Gandhi University
Karnataka State Open University
Nalanda Open University
Sikkim Manipal University
Indira Gandhi National Open University
Annamalai University
Symbiosis Center for Distance Learning
FAQ's on Distance Education Courses
Question 1.
Why do distance education courses cost less when compared to regular courses?
Answer:
The reason behind the affordable prices in distance learning courses is that there will no additional costs incurred by the institutions. However, some of the universities offering free tuition online programs while some are charging moderate tuition fees just like regular-based colleges.
Question 2.
Do you think student support services are important that are offered by distance learning providers?
Answer:
Yes, student support services influence the success or failure of a student to an extent. However, there are some services to the students that can offer satisfaction, they are:
Personal appointments
Prompt reply to the doubts posed by the students
Personal assistance to the students in preparation for exams.
Question 3.
Do regular courses and distance learning courses offer the same value?
Answer:
Yes, distance learning education and regular courses are given the same level of recognition and value.
Question 4.
What is the best method of finding the best and affordable distance education course?
Answer:
The best method of finding the best and affordable online course is to research the available education institutions using some global information website. In fact, you can check out some of the reviews of students who have already enrolled in the courses.