Diploma in Labour Law Distance Education: Labour laws are also known as employment laws. Over the years, distance learning has gained quite an amazing response all over India. Education has changed drastically and this COVID-19 pandemic has further let the students move toward distance learning programs. Lies is one of the most popular disciplines among students.
Hence, it's of utmost importance for the students to know that there are a number of institutes that offer distance learning Law Courses in India as their importance was determined a long time ago in order to include a number of candidates in legal professions judicial functioning, and other Law Offices.
Just continue with the following article to know more about diploma labour law distance education courses details. Want to gather information like eligibility criteria, admission process, entrance exams, subjects, top colleges in India, fees, career options after the course, salary? Check the below modules without fail. So let's get started!
About Diploma in Labour Law Distance Education India
Maximum of the distance learning courses offered by the top universities of India are recognized by multiple regulatory bodies such as the Distance Education Bureau (DEB), Association of Indian Universities (AIU), University Grants Commission (UGC), and Bar Council of India (BCI), All India Council for Technical Education (AICTE).
Law enthusiasts can opt for a variety of distance education diploma courses. The course is designed to provide basic knowledge to the students about the labour law system. The students who will pursue this course will learn about the legal skills and practices that are prevailing in this field.
This course deals with different laws that are established to regulate the working conditions of labourers all across the country. It focuses on proper management and timely addressing of the labour population. This is done to keep the functioning of the labour class optimum, efficient, and sustainable.
The aim of a diploma in labour law is to impart knowledge to students in the respective domain so that they can become skilled professionals and fulfill the demands of the industry. This course prepares professionals who are academically and technically advanced in order to deal with the hardships of the practical world in the most efficient way.
This course teaches the students theoretically as well as practically. Apart from the various theory papers, there are also assignments presentations and internships that are included in the course duration in order to provide students with hands-on industrial experience.
Labour Law Distance Education Diploma Course Eligibility
The minimum eligibility criteria for enrolling in a diploma course for labour law distance education is that the candidate must have a graduation degree in any discipline from a UGC-approved university with a minimum of 55% marks.
It doesn't matter what is your field of graduation, you can go for a diploma course in labour law course if you have completed your graduation. You must not have any backlogs that need to be cleared at the time of admission to the labour law diploma course. Students who have the equivalent diploma are also eligible for this course.
Do Check: LLB Course Details
Diploma in Labour Law Admission 2022
The students can take admission to a diploma in labour law distance learning program via online or offline mode. For an online mode of admission, the students must fill out the application form and submit it along with scanned documents on the official website of the college to which they want to get admitted.
Foreign offline mode of admission, the students must visit the admission cell of the college that they want to get admitted to along with the application form, and the original documents post of the students are also required to submit instalment of the fees at the time of admission to confirm their seats for the course.
Entrance Exams for Labour Law Course in Diploma
Following is a list of the popular entrance examinations conducted throughout the nation in order to shortlist candidates for admission to the diploma in labour law course:
Must See: List of Law Courses in India
Diploma Course in Labour Law Distance Education Subjects
There are multiple subjects that are taught throughout the one-year duration of the course of the diploma labour law program. The syllabus of colleges is made out of these subjects and semester wise it is taught throughout the entire course. Following order subjects of study during the labour law diploma course:
Law relating to wages and monetary benefits
Law relating to industrial relations
Dissertation
Law relating to Social Security and safety measures
Law relating to trade unions and labour welfare
Principles of administrative law
Law relating to an administrative tribunal
Vivah
Projects
Top Colleges for Diploma in Labour Law Distance Education
There are various institutes all across the country that provide top-quality education in the diploma in labour law Online course. Following is a list of the top institutes that the students can enrol in if they want to pursue a diploma in labour law course:
Banaras Hindu University, Varanasi
Jamia Millia Islamia, New Delhi
Symbiosis law school, Pune
Gujarat National Law University, Gujarat
Christ University, Bangalore
Manik Chand Pahade Law College, Aurangabad
Devi Ahilya Vishwa Vidyalaya, Indore
Bharati Vidyapeeth, Pune
Deen Dayal Upadhyay Gorakhpur University, Gorakhpur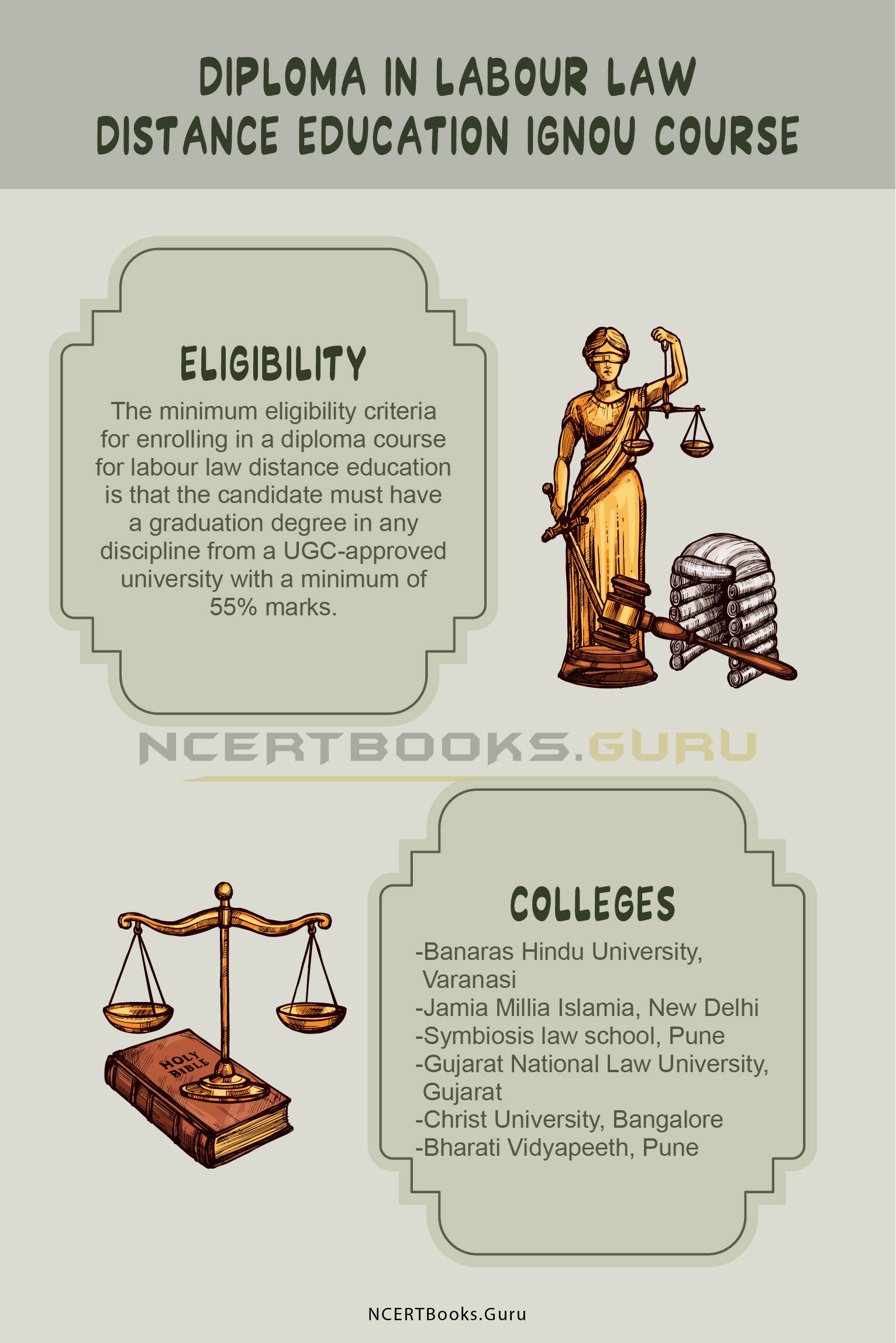 Labour Law Distance Education Diploma Course Fees
The average fee for a labour law distance education diploma program is somewhere around INR 5,000 to INR 50,000 for the entire course duration of one year. The fee completely depends upon the college to which the student is admitted.
See More: How to become A Lawyer in India
Job Opportunities After Diploma Labour Law Distance Education
A question that comes to mind very often regarding distance education is. "Is studying law in distance mode even worth it?" if you want to practice law in the courts taking up full-time LLB programs is your only way. However, if you go for distance learning law courses you will big offer rewarding careers with huge demand and amazing future prospects in the legal sector.
After doing a diploma in labour law inner distance education format you can see jobs not only in the public sector but also in the private sector where professionals with in-depth legal knowledge are in high demand. Various NGOs and international organizations looking for diverse causes including juvenile justice, legal aid, human trafficking, etc. Following are the most popular job options for students doing law courses:
Cyberlaw expert
Human rights expert
International humanitarian law professional
Patent attorney
International humanitarian law trainer
Patent agents
Paralegal
Provident fund manager
NGO worker
Human resource manager
Consultant
Legal expert
Diploma Course in Labour Law Distance Education Salary
The average salary of an individual who holds a diploma in labour law and is a fresher's somewhere around INR 2,00,000 to INR 5,00,000 per annum. The salary also depends upon the position in which the individual is working and the salary keeps on increasing as the experience of the person in the industry keeps on increasing. It is a general trend and it's quite obvious that the experienced people have more salary than the newbies.
FAQs on Diploma in Labour Law Distance Education IGNOU
1. Can I pursue a diploma in labour law through an online mode?
Yes, there are some institutes that offer various certification courses through online mode for a labour law diploma.
2. What are the various job positions after a labour law diploma course?
Completing a labour law diploma course opens up a pool of opportunities for the candidates. Following are some top job profiles for diploma holders in labour law:
Employee manager
NGO worker
HR manager
Consultant
EPF officer
3. What are the national level entrance examinations for admission into the diploma in labour law course?
Following is a list of the popular entrance examinations conducted throughout the nation in order to shortlist candidates for admission to the diploma in labour law course:
Conclusion
We hope that this article was able to provide you with all the information regarding a diploma in labour law distance education online. Learning all the details about the diploma course in labor law distance education will help you make up your mind whether to go for it or not. Thus, we believe that you take the best decision for yourself. If changed your mind to learn any other courses then make sure to check our course details page @ncertbooks.guru