B.Ed Course Details: Teaching considered to be one of the noblest professions and a popular career choice among students. If you are pursuing or wish to pursue a Bachelor of Education Course you can refer to the article completely. Have an insight into info like B.Ed Full Form, Eligibility, Admission, Entrance Exams, Jobs & Career Prospects. Clarify all your concerns related to B.Ed Course by diving deep into the article.
What is B.Ed?
B. Ed referred to as Bachelor of Education is a Bachelor's Degree undertaken for those who wish to opt for Teaching as their profession. Course Duration typically is for 2 years with a total of 4 semesters. This degree is necessary for teaching at secondary and higher secondary divisions. It is also referred to as Bachelor of Training in some universities.
B. Ed Course is designed in a way that it develops skills and our understanding so that we can impart quality education in students.
B.Ed Course Details
| | |
| --- | --- |
| Course | B.Ed |
| B.Ed Full form | Bachelor of Education |
| Eligibility | Any Degree/ Graduation |
| Duration | 2 years |
| B.Ed Course Fee | Total Fee of Rs. 20,000-25,000 |
| Course Type | Regular mode / Distance mode |
| Starting salary offered | 3.5 Lakhs Per Annum |
| Advance Courses | M.Ed |
| Similar Courses | BA B.Ed, B.Sc B.Ed, B.Com B.Ed |
| Employment opportunities | Teaching field, Lecturer Jobs, Training Faculty |
B.Ed Course Eligibility
Minimum Qualification needed for admission into B. Ed Course is that candidates should complete any of them BA, B.Sc or B.Com from a recognized college or university. They need to score a minimum percentage as it is a prerequisite to get B.Ed Admission.
Some Universities and colleges even conduct Entrance Exams to provide admission to candidates.
B.Ed Course Admission
Usually, B.Ed Admission is done through the Entrance Exams held by the government or Universities. Candidates will be provided admission purely on the basis of scores obtained in the Entrance Examinations organized by the govt or various universities.
Bachelor of Education Course Fee
Students who want to join the Bachelor of Education Course must be aware of the fees to know whether it meets their financial status. Usually, college fee varies from college to college depending on the college/ University Standards. Average Fee ranges somewhere between 6000 – 1 Lakh Per Annum.
B.Ed Course Duration
Bachelor of Education Course is a professional degree that lasts for about 2 years and follows a semester-based system. This Course prepares students to work as Teachers in  Schools after completion of it.
Also, Refer: M.Phil Course Details
Required Skillset for B.Ed
| | |
| --- | --- |
| Good communication skills | Confidence |
| Critical thinking ability | Good organizational skills |
| Enthusiasm | Empathy |
| Patience | Quick Learner |
B.Ed Subjects
Subjects pursued in the Bachelor of Curriculum suggested by various universities and colleges are as follows. Have a glimpse at them and know the B.Ed Subjects in advance and score well. Get to know the Semester wise Subjects for B.Ed Course by referring below.
| S.No | Semester I Subjects |
| --- | --- |
| 1 | Childhood & Growing up |
| 2 | Education in Contemporary India |
| 3 | Development and Management in School Education |
| 4 | Gender, School & Society |
| 5 | ICT in Education |
| 6 | Language Across the Curriculum |
| 7 | Communication Skills and Expository Writing |
| 8 | Understanding Self, Personality & Yoga |
| S.No | Semester II Subjects |
| --- | --- |
| 1 | Learning & Teaching |
| 2 | Assessment for Learning |
| 3 | Content & Pedagogy 1 Part I |
| 4 | Content & Pedagogy 2 Part I |
| 5 | ICT Applications |
| 6 | Fine Arts and Theatre |
| 7 | Pre Internship |
| S.No | Semester III Subjects |
| --- | --- |
| 1 | Content & Pedagogy 1 Part II |
| 2 | Content & Pedagogy 2 Part II |
| 3 | Observation of demonstration lesson / video lesson |
| 4 | Simulated lessons with the integration of skills including instructional materials |
| 5 | Simulated lesson with ICT mediation |
| 6 | School Internship |
| S.No | Semester IV Subjects |
| --- | --- |
| 1 | National Concern & Education |
| 2 | Creating an Inclusive School |
| 3 | Knowledge & Curriculum |
| 4 | Guidance and Counselling |
| 5 | Practical Examination |
B.Ed Syllabus
National Council of Education Research and Training [NCERT] frames a uniform curriculum for Bachelor of Curriculum. Check out the B.Ed Course Syllabus for all the semesters listed below and have a better idea of the topics to prepare. It is necessary for the aspirants to have a prior idea on the subjects list so that it becomes easy during the time of the exam.
B.Ed Course Syllabus-Semester 1
1
Learner as a Developing Individual
Contemporary India
Language Background of Students
Introduction to ICT
2
Development and Learning
Constitutional Provisions and Education
Nature of Classroom Discourse
ICT and Pedagogy
3
Understanding Childhood in a Socio-cultural perspective
Policy Framework for Development of Education in India
Informational Reading and Writing
ICT for Assessment and Management
4
Adolescence: Issues and Concerns
Initiatives of Government of India
5
Stages of Child Development: Implications for Teachers
Contemporary Indian Education: Concerns and Issues
Syllabus for B.Ed Semester II
| S. No. | Learning and Teaching | Knowledge and Curriculum | Assessment for Learning |
| --- | --- | --- | --- |
| 1 | Understanding the Learner | Knowledge and Knowing | Assessment and Evaluation: An Overview |
| 2 | Understanding Learning | Forms of Knowledge and its organization in Schools | Context of Assessment |
| 3 | Learning in 'Constructivist' Perspective | Curriculum Determinants and Considerations | Assessment Procedure |
| 4 | Understanding Teaching | Curriculum Development | Data Analysis, Feedback, and Reporting |
| 5 | Teaching as a Profession | Curriculum Implementation and Renewal | |
Bachelor of Education Semester III Syllabus
| S.No | Engagement with the Field: Tasks | Creating an Inclusive School | Health, Yoga and Physical education |
| --- | --- | --- | --- |
| 1 | Tasks and Assignments in different Courses | Understanding Inclusion in Education | Health Education |
| 2 | School Internship | Understanding physical, psychological and social-cultural diversity | Physical Education |
| 3 | Courses on Enhancing Professional Capacities | Addressing Learners' Diversity | Yoga |
B.Ed Semester IV Syllabus
| S. No. | Gender, School and Society | Reading and Reflecting on Texts | Arts in Education | Understanding the Self |
| --- | --- | --- | --- | --- |
| 1 | Gender Issues: Key Concepts | Read the prescribed stories | Visual Art and Craft | Understanding of Self |
| 2 | Socialization Processes in India: Family, School, and Society | Essays/ Excerpts from Literary Texts | Performing Arts: Dance, Music, Theatre, and Puppetry | Development of Professional Self and Ethics |
| 3 | Creating Gender Inclusive Classroom | Essays /Excerpts from Educational and Scientific Texts | Theory: Appreciation of Art | Role of Teacher in Developing Understanding of Self among Learners |
Colleges List Offering B.Ed Course
Some of the renowned colleges in India that provide the B.Ed course are as such. You can choose from the below -mentioned list and make your choice simple. Pick the one that best suits your requirements and join the Bachelor of Education Course.
Annamalai University, Cuddalore
Amity Institute of Education, New Delhi
Bangalore University, Bangalore
Indira Gandhi National Open University – IGNOU, Delhi
Panjab University – PU, Chandigarh
Jamia Millia Islamia Institute of Post Graduate Studies and Research
The University of Kerala, Department of Education
University of Madras
Maharishi Dayanand University
Madurai Kamaraj University
Mother Teresa Women's University
SNDT Women's University
Patna University
Also Check: B.Sc B.Ed Integrated Courses
B.Ed Specializations
Specialization Options available to the students of Bachelor of Education Curriculum are in the following fashion
B.Ed (Accounts)
B.Ed (Arabic)
B.Ed (Biological Sciences)
B.Ed (Business Studies)
B.Ed (Child Development)
B.Ed (Commerce)
B.Ed (Computer Science)
B.Ed (Economics)
B.Ed (Education of Handicapped)
B.Ed (English)
B.Ed (Geography)
B.Ed (Home Science)
B.Ed (Information Technology)
B.Ed (Malayalam)
B.Ed (Maths)
B.Ed (Natural Science)
B.Ed (Physical Science)
B.Ed (Sanskrit)
B.Ed (Social Science)
B.Ed (Special Education – Locomotor and Neurological Disorder)
B.Ed (Special Education)
B.Ed (Special Education) (Learning Disability)
B.Ed (Special Education) (Mental Retardation)
B.Ed (Special Education) (Visually Impaired)
B.Ed (Tamil)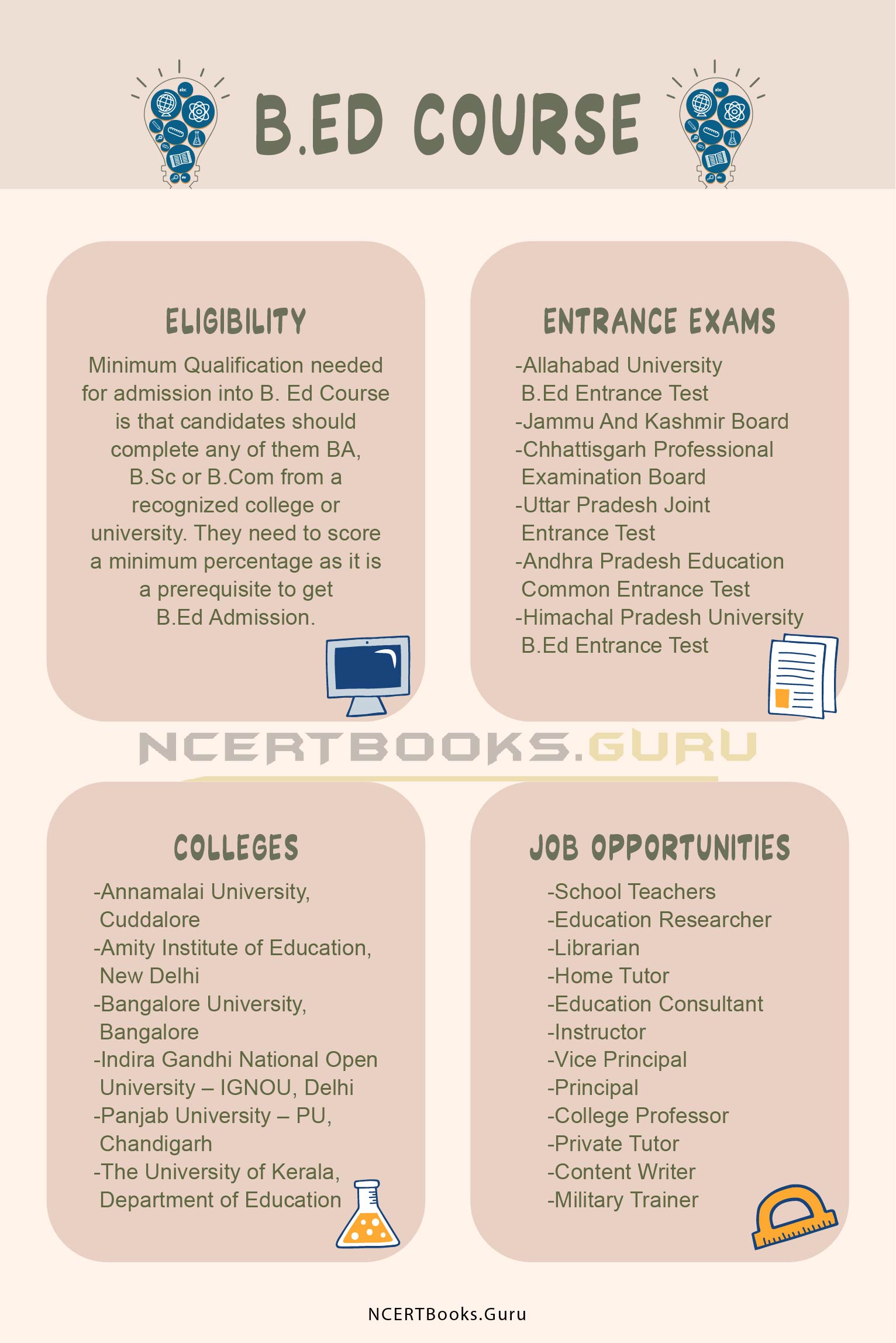 Bachelor of Education Entrance Exams
In order to provide admission to the candidates, various universities and colleges organize Entrance Exams to screen the aspirants on a merit basis. We tried mentioning a list of such entrance exams for the B.Ed Curriculum. They are as under
Allahabad University B.Ed Entrance Test
Jammu And Kashmir Board
Chhattisgarh Professional Examination Board
Uttar Pradesh Joint Entrance Test:
Andhra Pradesh Education Common Entrance Test
Himachal Pradesh University B.Ed Entrance Test
Do Check: B.Com Course Details
B.Ed Job Opportunities
Candidates done with the B.Ed course can have a wide scope of Employability in the Job Market. B.Ed Graduates can set up their careers in various fields and we gave some of the job profiles here. Check out the major and lucrative job options for a Bachelor of Education Graduate.
School Teachers
Education Researcher
Librarian
Home Tutor
Education Consultant
Instructor
Vice Principal
Principal
College Professor
Private Tutor
Content Writer
Military Trainer
Principal
Education Counsellor
Online Tutor
B.Ed Course Salary
Salary Offered to the candidates in private and public sectors is a bit different. However, Salary packages differ based on the specialization they have opted for and the experience gained. On Average, Bachelor of Education graduates will get around 3.5 LPA. This can increase based on the diligence and skillset gained by the individual with time.
FAQs on B.Ed Course
Final Words
We believe the above-furnished information has shed some light on B.Ed Course Details. Hope, the info prevailing cleared all your ambiguities like course fee, job opportunities, salary & scope. If you have any further queries do leave us your doubts through the comment box and we will try to resolve them at the earliest. Stay connected to our site for more updates.