Free Online Food Processing Courses: In today's world, a wide variety of career opportunities are accelerating. Food processing courses details are one of the leading and most rewarding among these with a large scope for employment.
As against the earlier notion of catering to specific fields of education, students now look forward to popular and professional courses in their own fields of interest. Food processing courses after 12th class fall under a broad branch of science and include processing, manufacturing, preservation, and other related techniques. It plays a major role in the food processing industry which is developing in proportion to the increasing needs of the food supply.
We will now scroll through a list of courses, eligibility criteria, the scope of employment, average fees, and salary offered by this industry, and the right course choices.
Online Food Processing Courses Offered
The main courses offered are:
Bachelor's Degree Courses
Master's Degree Courses
Certificate Courses
Diploma Courses
Food Processing Doctoral Degree Courses
Depending on the area of interest, resources, and circumstances, any of the above courses can be chosen.
Food Processing Bachelor's Degree Courses
This is usually an undergraduate course with a  3 – 4-year duration. A bachelor's degree provides a theoretical, technical, and analytical approach which in turn shapes students into trained individuals.
The various options available include:
B.Sc in Home Science
B.Sc in Food Technology
B.Sc in Food Science
B.Tech in Food Processing and Technology
Food Processing Courses Eligibility: For admission to Bachelor's degree courses, a student is required to pass 12th standard with the Science stream with Physics, Chemistry, Mathematics (PCM) or Physics, Chemistry, Biology (PCB) as the compulsory subjects. The B.Sc courses are usually merit-based with a minimum aggregate requirement or entrance based. Admission to B.Tech food processing courses is generally through JEE Mains, JEE Advanced, and other entrance tests.
Course Structure: A Bachelor's degree is a 3-year program consisting of 6 semesters or 4-year program with 8 semesters in case of Engineering. On successful completion of theory, practical and technical course requirements with necessary professional skills, a student is awarded an undergraduate degree.
Scope: The Bachelor's degree is a professional course and when acquired from an affiliated university, provides various opportunities in food processing companies as food technologists, technicians, bacteriologists, toxicologists, chemical analysts, biochemists, and several other work positions.
Food Processing Master's Degree Courses
A Master's degree in this field provides broader and wider insights and opportunities to students. It is usually a 2-year course with variations depending on the institution of enrolment. Under this, the courses that can be opted are:
M.Sc in Home Science
M.Sc in Food Technology
M.Sc in Food and Nutrition
M.Sc in Biotechnology
M.Tech in Home Science
M.Tech in Food Technology
M.Tech in Biotechnology
M.Tech In Food Preservation
Food Processing Courses Eligibility: Students who wish to pursue the above mentioned MSc. or M.Tech needs to have completed their Bachelor's degree in Science or Technology in the food processing courses. For admission to M.Tech courses, one may appear for GATE. Both merit-based and entrance based admission options are available.
Course Structure: The Master's courses are usually a 2-year degree program with 4 semesters and include related coursework, presentations, and other skill-based assessments, on completion of which, a Master's Degree is awarded to students. M.Tech courses are not essentially research-oriented as against MSc. courses.
Scope: The completion of this degree opens recruitment opportunities in different sectors including research laboratories, food processing establishments, plantations, health sectors, etc. in different positions of responsibility.
More Related Articles
Food Processing Certificate Courses
Certificate courses are essential for beginners to start their careers. The scope may be limited in comparison to other courses but these courses help substantially in skill development. The certificate course options include
Certificate Course in food processing and preservation 
Eligibility: For a certification course in the field of food processing, a student must have passed the class 10th examination from a recognized board.
Course Structure: The duration of a certificate course ranges from 1-6 months and includes the prescribed syllabus with assignments as required.
Scope: An individual may be employed in processing and preservation domains, food supply chains, machine operation or they may also start their career with self-employment.
Food Processing Diploma Courses
A diploma in food processing provides an additional qualification which may benefit students with better job options. Some of the diploma courses in food processing are as under:
Diploma in Food Processing
Diploma in Food Preservation
Diploma in Food Processing and Technology
Diploma Food Processing Courses Eligibility: The criterion to be eligible for a diploma course is that a student must have passed the class 10th or 12th examinations from a certified board in any stream as available. Depending on the institution, other additional criteria may also be needed.
Course Structure: A diploma is of a short duration varying from 6 months to 2 years or even 1-3 month courses designed to develop a basic knowledge among students.
Scope: The students with a certified diploma have required skills, understanding, knowledge, and ideas necessary in the food industry. Employment may be with food companies, supply chains, or other sectors and may help already employed individuals in a promotion.
Food Processing Doctoral Degree Course
A doctoral degree in food processing is a specialization which enhances the possibility of securing executive positions, higher salaries, and pursuing research in the industry. The degree options provided include:
Ph.D. in Food Technology
Ph.D. in Biotechnology
Ph.D. in Food Preservation
Ph.D Food Processing Courses Eligibility: To be eligible for a Ph.D. degree, a relevant Master's degree in food processing is required. In some programs, test scores, recommendation, statement of purpose, resume, and transcripts may also be essential.
Course Structure: The minimum duration for completion of a Ph.D. degree is 3 years along with specific core courses, electives, research, and dissertation. The time to complete a doctoral degree may vary as per individual needs, requirements, and guidelines of the institute.
Scope: A Ph.D. degree ensures job prospects as a research scientist who contributed in numerous ways to the growth and development of the food industry. Numerous other prestigious positions of work are available for individuals specifically with a doctoral degree in a particular field.
Food Processing Courses Fee Structure
Different courses under food processing have different annual fees depending on the institution as well as the course being pursued. A bachelor's degree may have average annual fees ranging from INR 3,000 – INR 1, 00,000. For the Master's degree, the cost varies from INR 5,000 – INR 5, 00,000 approximately. The course fees for certification or diploma may range from INR 25,000 – INR 50,000 annually. Doctoral degrees involve a higher expenditure starting from 1,85,000.
Online Food Processing Courses – Industry domains/Career opportunities/ Salary
Food processing accounts for the highest number of direct as well as indirect recruitments in India. The industry is ever-growing with countless areas of research and development available for prospective professionals. The entry salary is between INR 2,50,000 – INR 3, 00,000 but with experience and services, the salary gets raised to around INR 4, 00,000 – INR 5, 00,000 per annum.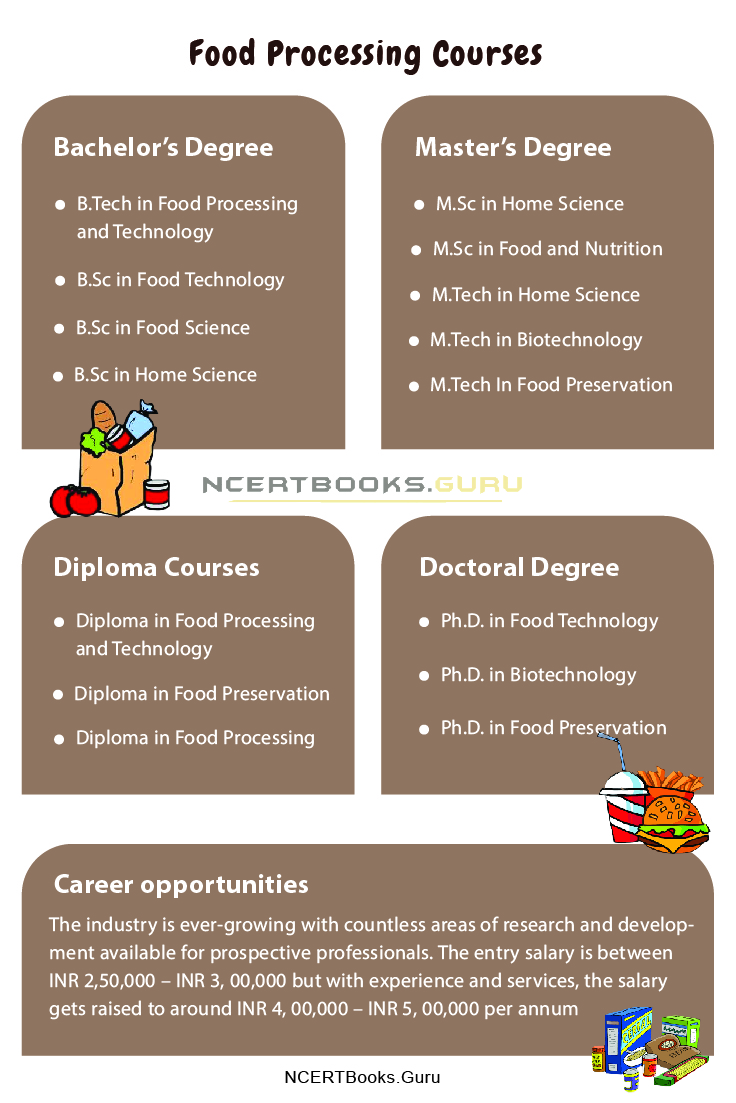 FAQ's on Food Processing Courses
Question 1.
What is the most essential factor to succeed in a career in the food technology & processing industry?
Answer:
Try to focus on the application and experience taught by the courses. It is also necessary to be aware of job openings and utilize the opportunity with commitment and dedication.
Question 2.
How to know which is the right institute?
Answer:
Students are advised to check the affiliation and recognition of the University, thoroughly go through their brochure and visit premises if possible to make a better decision.
Question 3.
Is it possible to complete the food processing course online?
Answer:
Many reputed institutions in India provide distance learning courses in food processing. But full-time courses from recognized universities may be more beneficial as far as jobs are concerned.