A Diploma in Food Technology is a Food Technology curriculum at the Diploma level. The food sector is extremely dynamic, and it is continually evolving to satisfy consumer expectations and incorporate technological advancements.
Diploma Food Technologists is tasked with finding innovative approaches in biotech and food manufacturing, as well as comprehending the link between food, nourishment, and wellness, as the global population grows.
The Food Technology Diploma Course equips students with the information and skills needed for quality control and research & innovation in food processing companies. If you are interested in pursuing a career in this field, we are here to show you how to get started with your Diploma in Food Technology journey.
Table of Contents:
About Diploma in Food Technology and Course Duration
Diploma in Food Technology duration ranges between 2 to 3 years depending on the institution curriculum; students can pursue Diploma in food technology as it is one of the favorable courses to choose. Food technology diploma courses are provided in a variety of disciplines, including food samples, quality control, dairy technologies, and food manufacturing.
Diploma in Food Technology courses encompasses the fundamentals of food production, food science, microbiology, and food standards testing methods. Food technology is an area of science that studies the methods and techniques used in the manufacturing, preparation, storage, packing, labeling, quality control, and marketing of food items. Food Technologists enhance the quality of available food.
Also Refer:
Skills Required for Diploma Food Technology Course
Skills are the basic requirements that are needed for the successful completion of a given task. It enhances your ability to do work with expertise. Some of the skills that you will need are as follows:
Curiosity in food science
Interest in diet and health
Technical abilities
Practical abilities
Organizing abilities
Issue Resolving
Ability to conduct research
Skills in observation
Taking a scientific approach
Time management
Consumer market awareness
Analytical mind
Possess the ability to work with a wide range of details
Diploma in Food Technology Colleges in India with Fees
Colleges and Institutions are difficult to choose as there are a number of colleges that offer the same courses, but to help you choose among them we have listed some of the best colleges with their Type(Private/Public) and their Total Fees which will guide you to choose the best colleges.
Name of the College/University
Type
Total Fees
Mirmadan Mohanlal Government Polytechnic College,

Nadia

Public
INR 1.8 K
UOU – Uttarakhand Open University

Haldwani

Public
INR 6.65 K

Falakata Polytechnic College

Jalpaiguri

Public
INR  1.8 K
Government Polytechnic College, Adampur

Hisar

Public
INR 27 K
Government Polytechnic College, Bhiwani

Bhiwani

Public
INR 27 K
Himalayan University

Dehradun

Private
INR 30 K – 1.38 L
Faculty Centre for Integrated Rural Development and Management, Ramakrishna Mission Vivekananda Educational and Research Institute

Narendrapur, Kolkata

Private
INR  35.1 K
Swami Vivekanand University

Sagar

Private
INR  59.1 K – 84 K
Galgotias University

Greater Noida

Private
INR 1.15 L
AKS University

Madhya Pradesh

Private
1.2 L
Diploma in Food Technology Eligibility Criteria
At both the undergraduate and postgraduate levels, students can pursue a degree, diploma, or doctoral program in food technology.
To undertake the curriculum at the undergraduate level, applicants must have completed Class 12th in the Science stream with courses such as Physics, Chemistry, Biology, Math, and Home Science, as well as meet the university/minimal institution's qualification marks that range between 50% –  60%.
Admission Procedure for Food Technology Diploma Course
Admission to these programs is based on both merit and entrance examinations. Applicants are chosen for direct enrollment to a diploma-level course based on their performance in the qualifying exam.
Most Common Entrance Exams Conducted for Diploma Food Technology Course
The majority of academic institutions admit applicants to their Food Technology diploma programs based on a written entrance exam. Some universities, on the other hand, offer applicants direct admission based on their performance on the previous qualifying test. Also, many colleges and universities carry out their own entrance tests.
Some of the common exams for the Food Technology diploma course are as follows:
JEE Main
JEE Advanced
GATE Exam
UPSEE/AKTU Exam
VITEEE Exam
IPU CET Exam
COMEDK Exam
MHT CET Exam
JEEP 2020 (Joint Entrance Examination Polytechnic)
CFTRI (Central Food Technological Research Institute Entrance Examination)
IICPT (Indian Institute of Crop Processing Technology Entrance Examination)
Diploma in Food Technology Subjects (Syllabus)
Although the disciplines and course curricula vary depending on the program and degree, the Diploma in Food technology program covers a wide range of topics such as food processing, preservation, production, labeling, marketing, and quality assurance.
The following are some of the wide range of subjects you may anticipate studying in a Food and Technology Diploma Course.
Seafood and Dairy Technology
Applied Food Biotechnology
Crop Processing Technology
Meat and Poultry Processing Technology
Food Additives
Confectionery Technology
Fermented Milk Products
Food Analysis
Packaging Technology
Product Design & Development
Food Microbiology
Enzyme Technology
Food Hygiene and Sanitation
Nutrition and Health
Food Processing
Food Plant Layout & Design
Laws and Quality Assurance
Unit Operations in Food Processing
Food and Vegetable Processing Dairy
Plant Engineering
Best Books To Study Diploma Food Technology Course
To begin with your course, the most important things you require are your books, so here are a few lists of the books which will guide you in your journey of a Diploma in Food and Technology.
Introduction to Food Toxicology By Takayuki Shibamoto, Leonard Bjeldanes
Practical Design, Construction, and Operation of Food Facilities By J. Peter Clark
The Produce Contamination Problem by Karl Matthews, Gerald Sapers
Microwaves in the Food Processing Industry by Bernard Schweigert, Richard Mudgett, Robert Decareau
Starch: Chemistry and Technology by Roy Whistler, James Be Miller,
Statistical Methods in Food and Consumer Research by John Hawthorn, George Stewart, Bernard Schweigert
Food Preservation Process Design By Dennis Held man
The Chemistry and Technology of Pectin by Steve Taylor, Reginald Walter
Sensory Evaluation Practices By Herbert Stone, Rebecca Bleibaum,
Thermo bacteriology in Food Processing By C. Stumbo
Future Scope of Food Technology Diploma Holders
In India, Food Technology has a lot of opportunities. The Indian food processing industry is one of the world's largest, with 9 million jobs predicted to be created by 2024.
Individuals can seek occupations such as Lab Tech, Biochemist, Food Technologist, Production Supervisor, Home Economist, and others after successfully passing Diploma and other courses in Food Technology.
Rather than seeking work, one could also pursue further education in the field. After completing a diploma program, students can pursue master's courses. Ph.D. courses can be pursued after finishing a master's degree. Candidates with a Ph.D. degree can work as lecturers and professors.
Diploma in Food and Technology Specializations
There are different areas of Specialization in Diploma Food and Technology where students can explore their career opportunities, some of the areas are listed below:
Cereals, dairy products,
alcoholic beverages,
Cereals, dairy products,
Vegetables and fruits
Processing of oil and oilseeds
Meat and fish
Sugar
Do Check:
Career Prospects in Diploma in Food Technology in India
After completing a diploma, certificate, UG, PG, or Ph.D. level Food Technology course, you will have a plethora of work prospects in India. Food companies and farms engage food technologists to produce food products all over the country.
Below are some of the job profile that is offered to the aspirants who have completed their course in Food and Technology diploma courses:
Food Safety Manufacturing Units
Laboratories
Processing and Distributing Units
Quality Assurance Units
Research Units
Storage Units
Food Business Management
Food Marketing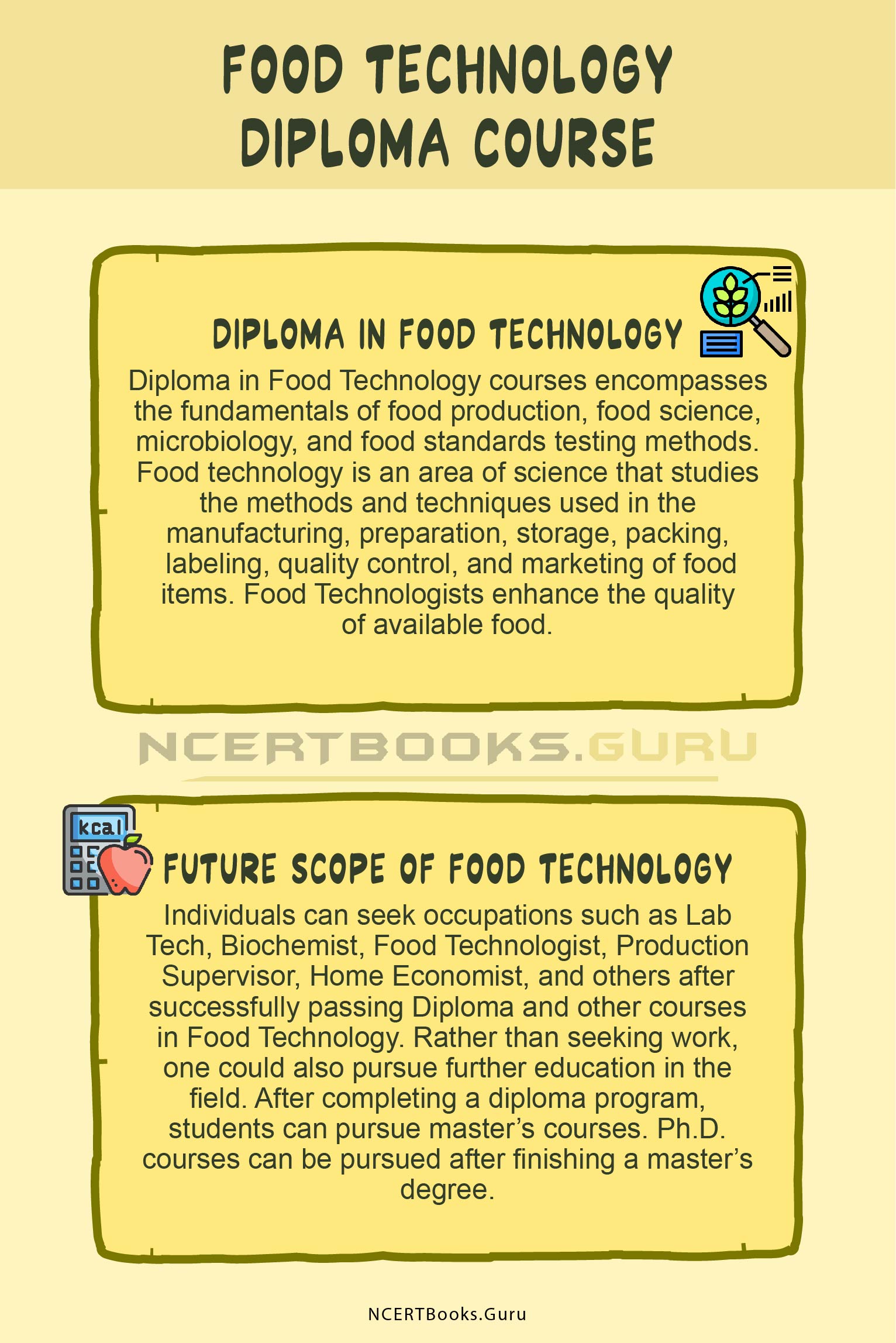 Top Recruiters Offer Jobs for Diploma Food Technology Graduates in India
You can start your career as a Food scientist or Food Technologist once you have a degree or diploma in the field or you can work for different research and development firms supervised by the government. Bachelors and diploma holders can find jobs as Food Technologists, Organic Chemists, Biochemists, etc.
Food and beverage Departments, Food Business Administration, Food Advertising, Food Manufacturing, Production Organizations, Food Hygiene Manufacturing Units, Laboratories, and other industries use dairy technologists.
Below is the list of some of the best companies that hire Degree and Diploma holders in Food and Technology:
Agro Tech Foods
Amul
Britannia Industries Ltd
Cadbury India Ltd
Dabur India Ltd
Gits Food Products Pvt Ltd
Milkfood
MTR Foods limited
Nestle India Pvt Ltd
Parle Products Pvt Ltd
PepsiCo India Holdings
Perfetti India Ltd
Diploma in Food Technology Salary per Month in India
Individuals with a diploma and another degree in Food Technology can work in both the government and private industry. A good salary package is available to the Food Technologist in a variety of work descriptions. The salary paid to diploma holders in Food Technology specialists, on the other hand, differs from firm to company and is determined by the type of activity he or she performs.
In India, a beginner can expect to earn between INR 2,00000 and INR 5,20000 per year, while an experienced Food Technology professional can expect to make between INR 5,50,000 and INR 30,00000 per year.  To better understand the salary of a job profile we have listed a few jobs along with their monthly salary:
Lab Technician Average monthly salary = INR 28,730
The average monthly salary for a biochemist =INR 32,800
Food Technologist  Average monthly salary = INR 34,610
The average monthly salary for a Production Manager = INR 63,075
Home Economist Average monthly salary = INR 45,565
1. What purpose does food technology serve?
Food technology, in simple words, is the implementation of food science to the manufacturing, packaging, storage, marketing, quality control, and use of food items. Technology, Analytic Chemistry, Biotech, Quality Assurance, Food and Wellness, and Food Safety Practices are all part of this interdisciplinary discipline.
2. What work opportunities exist for diploma food technologists?
You will be engaged by food enterprises and farms to process food products around the country after completing a diploma certificate course in food technology in Food Technology. Graduates of Food Technology programs are typically hired by food companies and farms that prepare food products.
3. What are diary technologists' primary duties?
A Food Technologist is someone who works with raw resources to turn them into food. Developing procedures and equipment to manufacture recipes on a big scale, maintaining that strict hygiene food safety regulations are fulfilled, producing new product concepts and ideas, etc are a few of the frequent work tasks of food technology specialists.
4. Can I take a diploma food technology course online?
It all relies on what you're looking for. If you are a working professional trying to improve your skills, online courses are a good option. If you want to work in the sector of food technology, though, offline classes will be advantageous because they will increase networking, communication, and a variety of other abilities.
Conclusion
Food Technology is the science that is applied to improve the quality of food and make it healthier and more beneficial for us to consume. Food is one of the basic requirements of our lives, we can't survive without food. So, the job opportunity in Food Technology is a never-ending process.
A Diploma in Food Technology will make you a trained and skilled technologist who knows the importance of food and how to improve the quality of food that will be beneficial for the individual as well as for the industry.
So if you have the interest and the passion to be a successful Food Technologist this is the field for you. Make use of the details provided in this article and give life to your dreams and make them a reality. For more career updates and other course details, visit our comprehensive website @ ncertbooks.guru