BAF Course: Bachelor of Accounting And Finance (BAF) is a three-year undergraduate course that offers in-depth knowledge about financial accounting and other financial subjects. The University of Mumbai introduced it in the year 2003-2004. It is a three-year self-financed course. This Course has six semesters, two semesters in a year. If you have an interest in accounting and finance-related subjects, then this is the Course for you. Day to day work of a BAF graduate includes preparing a balance sheet, recording the transactions of the company, preparing financial reports for the company.
BAF Course Full Form is Bachelor of Accounting And Finance.
About Bachelor In Accounting And Finance (BAF) Course
BAF stands for a bachelor's in accounting and finance. As this course focuses on the accounting aspects and finance related aspects the common subjects of this Course are financial accounting, business communication, auditing, cost accounting, information technology, quantitative methods for business, taxation and foundation course. If we choose to do distance learning, then we have to give an exam once a year for three years. In healthy learning, we can attend college lectures and give exams twice a year for three years.
The Course is for the students who want to build their career in the accounting and financial field. This degree comes under the subdivision of BCom(bachelor of commerce). It is beneficial for the students who want to pursue chartered accountancy (CA) because the majority of the subjects are very similar. It gives exposure to the entire financial markets. It is a highly demanding course these days.
BAF Course Eligibility Criteria
The eligibility criteria of the Course is ten plus two or equivalent level of education and a minimum aggregate score of above fifty percent. That means anyone who has passed the class ten, as well as class twelve standard, can apply for this Course. Previous background in the accounting field is not required to do this Course.
Students of science and arts background till class twelve can also join this Course. There are some colleges and universities which conduct the entrance exams. There is no maximum age limit for doing this Course. Anyone who has passed class 12 can opt for this Course.
Also, Read: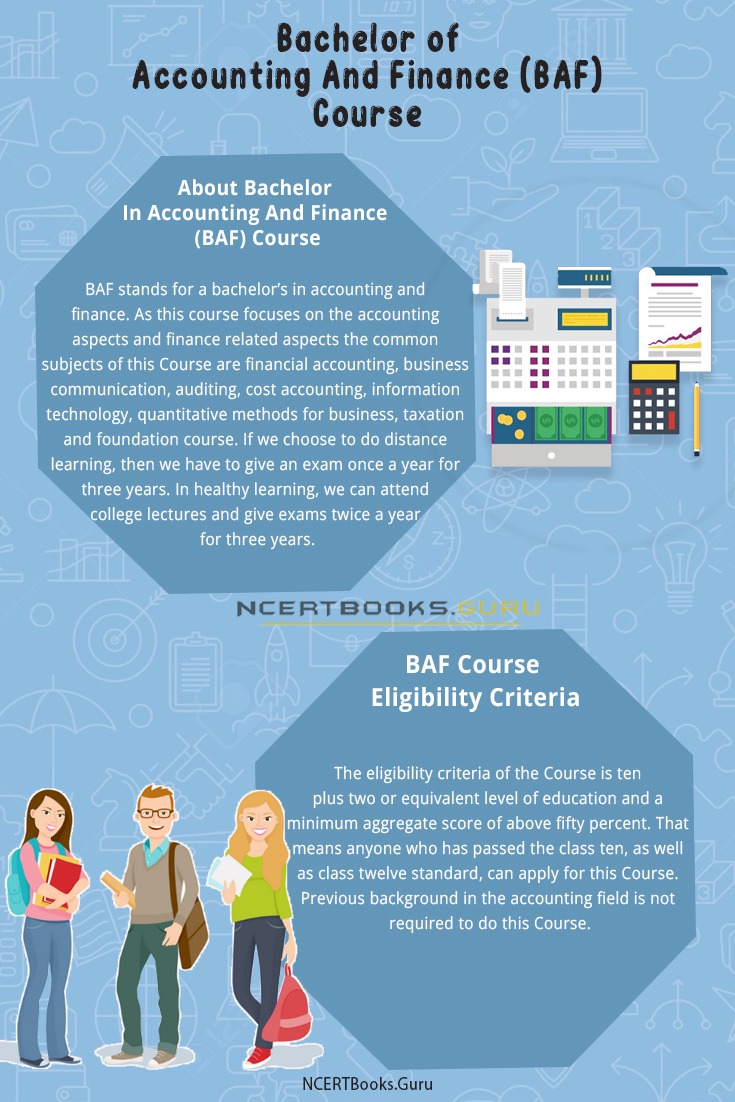 Syllabus of BAF Course
BAF Course Subjects details are listed here.
First Year 
Elements of financial accounting 1
Financial accounting 2
Economics (microeconomics)
Commerce (business environment)
Information technology (accounting software) 1
Foundation course
Quantitative methods for business 1
Business law 1
Auditing 1
Business communication 1
Business communication 2
Second Year
Cost accounting 1
Commerce
Quantitative methods for business 2
Cost accounting 2
Auditing 2
Foundation course
Financial accounting 3
Information technology 2
Financial accounting 4
Third-year
Economics 4
Taxation 3
Risk management
Financial accounting 5
Managerial economics
Organizational Behavior
Auditing 3
Cost accounting
Foundation course
The syllabus above is for Mumbai university. The syllabus may be different in different universities, but there are some subjects like accounting and costing, which is common in the whole Course irrespective of the universities.
Scope of BAF Course
The scope of BAF is quite extensive and exhaustive. It is a specialized course for accounting and finance, so the students get the advantage in case of job vacancy related to the accounting companies. The overall salary is also comparatively high as compared to other self-financed Courses. It also depends upon the company that is recruiting.
For example, if a company is looking for a specialized accountant, then the demand for the BAF graduate students increases. Students can also perceive chartered accountancy, chartered financial Courses, which will help in increasing the overall package of the student. Students can also go for a Masters in Finance(MBA in finance) after completing the BAF course. Having a double degree always helps ahead in the career. One can also perceive a risk management course as a postgraduate course.
Individual colleges in certain cities offer campus placements which turn out to be very helpful to the students. Due to more and more advancements in technology and due to an increase in accounting companies, the demand for accountants and junior accountants is very high. Thus there is a lot of scope in the finance and accounting course.
Get to Know More about other types of Course Details Streamwise, and Category Wise.
Career Options And Job Prospects for BAF Student After The Course
BAF Course Job Opportunities are here. Students who have completed their BAF Course can get the following job options.
Financial Consultant
Accounting Analyst
Marketing Manager
Billing Data Analyst
Accounts Assistant
Finance Analyst
The BAF Course salary package differs as per the Job designations and professional experience. The entry-level salary of a fresher is around three lakh Indian rupees. The following are some fields where BAF graduates are generally employed
Financial Analysis
Taxation
Accountancy
Banking
Auditing
Actuarial Science
Financial planning
BAF Course Colleges
Mithibai College, Vileparle East, Mumbai
Kishinchand Chellaram College, Churchgate, Mumbai
H R College of Commerce and Economics, Churchgate, Mumbai
Birla Institute Of Liberal Arts And Management Sciences, Kolkata
Smt. MMK College of Commerce and Economics, Bandra, Mumbai
K P B Hinduja College of Commerce, Charni Road, Mumbai
Shaheed Sukhdev College of Business Studies, New Delhi
Gayatri Vidya Parishad College For Degree and Post Graduate Courses(GVPCD), Visakhapatnam
Marks Classes, Pune
Government Autonomous College(GAV), Kalahandi
Stella Maris College, Chennai
Sri Ram College of Commerce, Delhi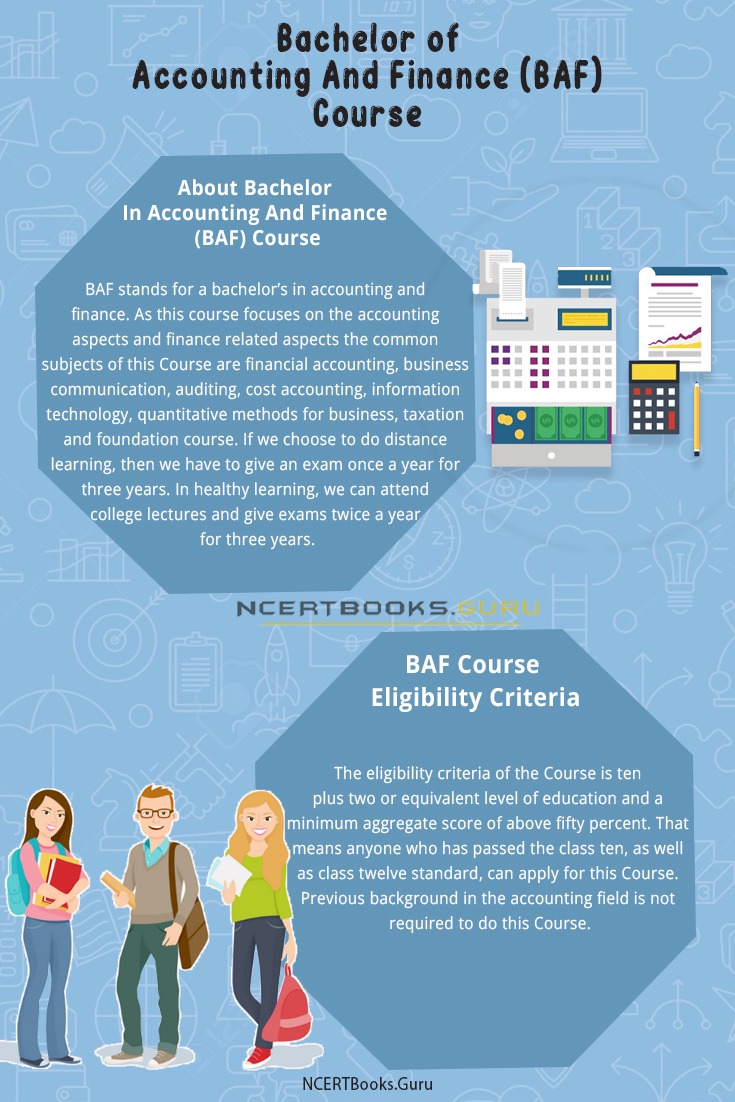 What to Study After BAF?
Masters of Commerce/ M.com (accounting and finance): M.com in accounting and finance is a two-year post-graduation course in the domain of accounting and finance along with related aspects. This Course is available in only a handful of countries, particularly in the commonwealth nations. The Course is designed to provide a holistic view and in-depth knowledge of the disciplines of Accounting and Finance and quite literally make them "Masters" of the trade.
Master of Business Administration in Finance (MBA-Finance): The courses in an MBA program cover various subjects of business such as accounting, applied statistics, finance, managerial economics, entrepreneurship, marketing, and operations in a manner most relevant to management analysis and strategy. This is one of the most sought-after courses after BAF and can be pursued in both domestic and international universities. An MBA in finance specifically entails the study based on the subject of finance.
Master of Commerce/ M.Com: One can also do an M.Com or Master of Commerce degree, which is a postgraduate master's degree focusing on commerce, management, economics and accounting. Rather than focusing on just the accounts and finance side of the story, this Course focuses on all of the accounting fields. This course is offered only in commonwealth countries. This Course fits the bill of the "jack of all trades."
Chartered Financial Analyst (CFA): The Chartered Financial Analyst Program is a professional certificate course that is offered internationally by the CFA Institute, which is based in America. Anyone who completes the program is awarded the "CFA charter". A CFA usually deals with the financial aspects of the company and is usually the financial manager of the company.
Chartered Accountancy (CA): CA is considered the second-best Course in the whole world. CA exams in India are conducted by ICAI(Institute of Chartered Accountancy of India) and require to pass three exams Foundation, Inter, and CA final. A Graduate degree holder in the field of commerce and accounts can directly give the Inter exam of the CA. After clearing the Inter level of the exam, one has to do an article ship for three years where he/she gets the practical experience. It is one of the most challenging courses in the world—only two to three percent of the students clear all three exams in one go.
Financial Risk Manager Program: FRM exams are conducted by the Global Association of Risk Professionals(GARP, USA) and require clearance of two levels. It is not a professional degree like CA and CS; it is a certified course. Two years of experience is required for giving the exams. An FRM certificate holder has career opportunities in risk management, trading, structuring, modeling, etc.
Company Secretary (CS): Company Secretary is a professional course offered by ICSI(Institute of Company Secretary of India). This Course can be done after completing BAF or can be done simultaneously. It has three exams Foundation, Executive and professional. It gives an overall view of how a company works. It is more of a theory orientated Course, where all the company laws come into the picture. This course will provide you with the knowledge and understanding of corporate finance and legal affairs practices.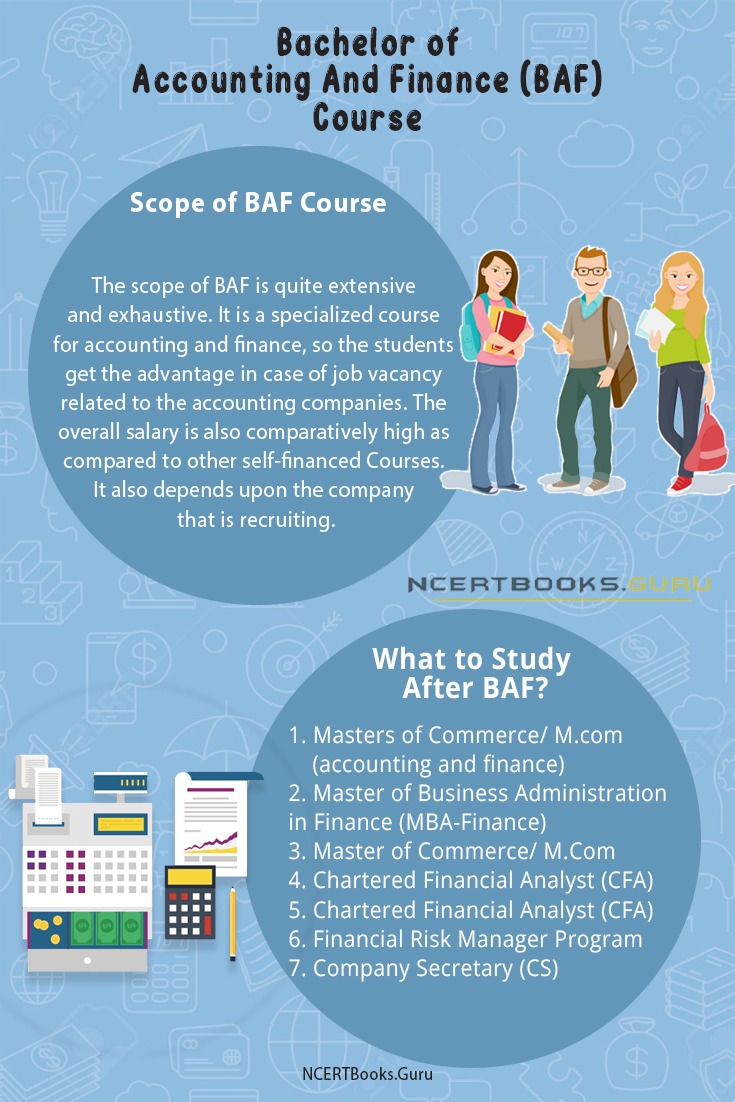 FAQ's on Bachelor In Accounting And Finance (BAF) Course
Question 1.
What is the duration of the Bachelor In Accounting And Finance (BAF) course?
Answer:
The duration of the Bachelor In Accounting And Finance (BAF) course is six semesters over a period of three years, after class twelve.
Question 2.
What are the career or job options for students after the BAF course?
Answer:
After completing the BAF course students can pursue their career as a Financial Consultant, Accounting Analyst, Marketing Manager, Billing Data Analyst, Accounts Assistant, Finance Analyst, etc.
Question 3.
What is the fee for the Bachelor In Accounting And Finance (BAF) course?
Answer:
The course fee differs from college to college, but on average it is about Rs. 30,000-40,000.
Conclusion
This course gives students the bird's eye view of how a company works financially and about maintaining the accounts of the companies. BAF is an upcoming course that is soon to hit the primary stream radar. It's a different area of study which is recommended to the students who are focused on a career in finance and accounting. If the student has a keen interest in accounting and finance-related aspects, then he/she should go for this degree course. There are less theory and more practical knowledge of this undergraduate degree. If some students want to go for chartered accountancy or financial postgraduate Course, then they can opt for this degree. It can be done simultaneously with professional courses like CA, CFA, and CMA.
The average fees of this Course are around thirty thousand Indian rupees annually. The fees for different universities are different. Doing this Course from a good university will benefit the student in their career ahead. One can also get self-employed by stating the business in this field related to the Course.