Event Management: Wikipedia defines event management as "the application of project management to the creation and development of large scale events. It involves studying the brand, identifying the target audience, devising the event concept, planning the logistics, and coordinating the technical aspects before actually launching the even". This definition is an accurate representation of what event management is.
Event management is one of the most sought after and rapidly growing service industries in India. As more and more products that are adding value to the customers are coming up in the market, Servitization of those products, marketing, projecting and all other background score falls under an event management category
There are enough misconceptions about event management. It is not just arranging parties or wedding ceremonies. Of course, it involves large scale social events but is not limited to it. Just find a venue, come up with a good theme, get some food and drink, book a band, and send the invites out on time, this is not event management. If it is done by anyone and everyone, then it is not event management.
Unfortunately, like many things that seem simple creating a successful event requires a lot of hard work and a diverse range of skills and experiences from project planning to budgets. It is a study of project management, including logistics and supply chain. A lot of mathematical calculations and scientific theories goes into planning a large scale event like International conventions, industry exhibitions, governmental summits, etc,
With over 25,000 event businesses and over a million0 people employed in events both in the organized and unorganised sector, the event industry adds at least or more than 1% of the total GDP of the Indian service sector, having a much broader spectrum of usage across all industry types. As the types of events currently popular in the country demonstrate:
Parties, launches and events for companies marketing and branding projects
Exhibitions- Kumbh Mela events to auto fares and HR exhibitions
Political rallies and campaigns
Summit- G20, UN summits
Elections and democratic events
Sporting events– from the Olympics to FIFA matches.
Roadshows, conferences and other events – from Apple events to TED-X to IPO (Initial Public Offering) Projects and Educational awareness programs like that of AIDS or Cholera.
Wedding ceremonies
Concerts
Fundraisers and charity– from Marathon to high profile fundraising events.
Fashion shows to marketing campaigns– from Mumbai Fashion Week to Milan Fashion show to Nike pop up events and Coca Cola engagement marketing.
Given any, across the business, health, education, charity, sport, hospitality, leisure and tourism, run events to make their connections, it's no wonder that event management is predicted to grow to $70 billion by 2022!
So it's sure shot prediction that a career in event planning and management can give you a resourceful and a bright future with financial independence and job satisfaction.
Also, Refer: M.Com Course Details
Event Management | Event Planning Course Details – Fee, Duration & Career Options
This article will give you a brief idea about all the aspects of event planning and management.
If at all you would want to pursue this course, why would you do it?
Why should we study event management?
Concerning this attribute, there are a few factors involved before we can convincingly conclude, which option is better. An MBA or any business course in event management from top tier Universities like Mumbai University or Bangalore University or JBIMS can cost you more than 2L, in fee, for two years but still has an ROI is around 0.5. But then again, it's a top school, the likes of which getting into one are highly thin on the ground. But there are other equally good top schools like JNU (Jawaharlal Nehru University) or other public universities whose fee is not more than Rs. 25,000 per year.So the ROI here can be as high as 10. The average pay package provided to students during on-campus placements in these schools is around 2 to 4L per annum depending on the experience and competence of the student.
On the other hand, to clear all the same in tier 2 or tier 3 colleges can cost you Rs. 50,000. While the average pay package for an event manager, in the beginning, will be around 6lpa. Career growth is strong and robust.
Job satisfaction: Are you content with working on your own for other companies as an outsider or are you someone who is excited or dreamt of working for the likes of Olympics, FIFA or IPL? I ask this question simply because while event mangers are mainly confined to having their small businesses at the beginning of the career trajectory, an MBA in event management teaches you the ins and outs of the event management business world. An MBA can teach you to be a business leader, train you to be the next big thing and I am not even exaggerating.
Passion and interest- Making people happy and content with your job is a soul-satisfying job. While pay is one aspect, just to follow your passion is a whole other thing. If you have a bend of mind for event planning right from your childhood, then you have a high probability of being a success in this career path.
So what does it take to be successful in event management career path?
Strong negotiating skills

You will mostly be dealing with people from the top management level of the companies, who might be above your pay-grade, so to deal with such people requires strong negotiating skills to have leverage over your business and clients.

Perfectionism

In event management, perfectionism is the key and success factor lies in the detail and every detail that matters. This includes keeping track of all details required to do your work efficiently, whilst also enabling other people to understand exactly what's required of them and when. This job is a type of job where time is of the essence.

Organizational skills

Having skills and capability to organize planning, assets and human resources. All of them should work in tandem and it's the event manager who is responsible for that. Scheduling and tasking is a valuable skill needed.

Creativity and innovative

Creativity isn't only important for designing the branding and marketing aspect of every event, but also in coming up with solutions to the inevitable problems. You need to be ready with alternate plans and systems should be in place in case unforeseen and unavoidable circumstances.

Multitasking and balance between responsibilities

At the very same instance of time, an event manager might be booking an act for a play for a drama, while next talking to the CEO of a global company for his next event and also convincing his boss about the reports – the event planner role is an immersed of multitasking.

Budgeting

Managing excel spreadsheets and having a clear opinion of spending on negotiating affordable prices, effective budget management is a skill for success in event management.

Team player

Working for a team or managing a team by being its leader when the situation demands, is an important skill – without successful teamwork, no event can deliver, or be delivered, effectively.

People skills

With You will be working with people from different walks of life, from janitors to cleaners to CEOs and celebrities, your ability to inspire, relate to and communicate with anyone (from clients to caterers and crew) is of vital nature.
So once you are into the course, the following are the topics you will mostly be studying and implementing in the industry:
Important subjects in Event Management
Human Resource Management
Finance Management
Communication Skills
Inter-Department Coordination
Catering Management
Event Planning
Budget Planning
Logistics
Law and other legal aspects
Marketing
Advertising and Promotion
Branding and Brand Promotion
Public Relations
Media Management
University is not the only way you can get into this field.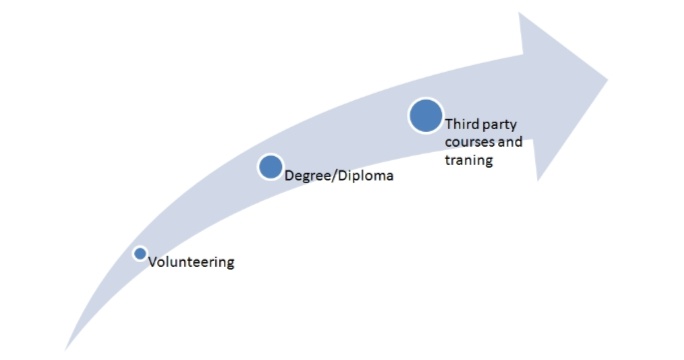 Volunteering- Being passionate about this career is all that it takes to volunteer and kick start your journey. This type of volunteering with degree or training offers you a firsthand real-world experience of what's involved in putting events together, adds experience to your resume and helps in building a portfolio. It helps you develop your network in the industry and brings you close to recruiters and event management companies. This can also help you decide if you are cut out for the job or not.
University Degree-Over 100 universities in India offer a degree course in event management.
Some of them are

The Indian Institute of Learning and Advanced Development, Haryana
SVKM's Harkisan Mehta Foundation Institute of Journalism and Mass Communication
S. Dempo College of Commerce & Economics
National Institute of Event Management, Mumbai
Pearl Academy, Mumbai
Courses and Training– There are plenty of dedicated event management training courses available. Whether you're starting from scratch, have already taken a degree or want to change careers, there are plenty of opportunities. Learning experience which is quicker than traditional university routes and includes that vital industry experience to support the start of your career as an event planner.
Do Check: BCA Course Details
Event Management Roles and Career Options
What are the various roles and designations you will be getting once you graduate from the course:
Logistics Manager
Celebrity Manager
Advertising and Marketing Executive
HR Manager
Brand and Image Specialist
Resources Purchase Manager
Consultant
Event Planner
Event Coordinator
Event Manager
FAQs on Event Management
1. What is Event Management Course?
Event management is a growing field that involves the planning of large-scale events such as festivals, trade shows, and product launches.
2. Can I do Event Management after 12?
Yes, you can do Event Management after 12th and in fact, it can be the best option for a 12th Pass Out.
3. Is Event Planning a Good Career?
Event Management is a career that drives you through the passion for learning and exploring the field even more.
4. What is the fees of Event Management Course?
Course Fee usually ranges from 20,000 – 1,20,000. It can vary from college to college or institute to institute. You better check out in advance itself.