M.Com Course Details: An increasing number of students are opting for the commerce stream to pursue their career in, which is not surprising at all, given the need for commerce graduates in the industry. The demand for commerce education has increased manifold over the years, especially after the dot-com bubble and the 2008 Lehman Crisis.
The curriculum and pedagogy have improved considerably for both B.Com and M.Com to nurture students in accordance with the demands and needs of the industry. Commerce graduates are required across all industries and hence their job stability is industry independent. Besides, it's well known that every business, every governmental and non-governmental organization in it, needs these critical functions and competencies possessed by commerce graduates, and hence there is no dearth of job opportunities in the market.
M.Com Full Form – "Master of Commerce"
In this article, let us see the basics of M.Com, its eligibility criteria, Admission Process, Course Duration, fee structure, and most importantly, why taking up M.Com in India is good for your career.
What is M.Com?
With the advent of technology and globalization, managing the financials and economic aspects of organizations has become the primary focus in every country. And this focus can be fulfilled by someone who is well versed in accounting and financial knowledge. And this is where your degree in M.Com comes in handy.
A master of commerce is 2 years full-time post engineering degree. It is university-level education that acts as a gateway for students to jump into their professional careers after having successfully completed their degree in bachelor on commerce. Once you have completed B.Com Course, M.Com can be done in the specialization of your choice and desires. A degree from reputed colleges like Delhi University or JNU (Jawaharlal Nehru University) can pave a long way ahead in the field and provide you with a strong career. List of Commerce Courses in India details is here.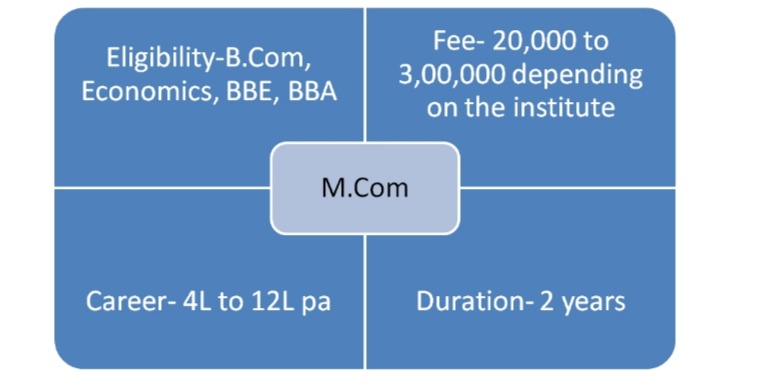 The career growth in an M.Com course is highly robust and dynamic in nature because here you will studying the subject of your choice and the ones that will actually help in your profession in the later stages of your career
Starting salary depends on the stream opted for and the college is chosen.
Fees vary according to affiliations and the management of the institutions.
A degree in master in commerce can hone the entrepreneurial skills of the students. Every year 5% to 10% of students graduating from top schools opt out of the placements in order to start their own firm. Many students pursue their Ph.D. in their stream of specialization. Since research and development in financial engineering, corporate finance, and economics are given priority by different governments across the world, a Ph.D. will also help you make a dent in the world.
Why should you study M.Com?
Good job opportunities, a bright career, and a good pay scale across industries are the reason behind this trend. And this trend is a blessing that is done right so by students and institutions, given the timely inventions and innovations happening around the world coming from organizations and the institutes that nurture them.
Here are the reasons a degree in M.Com is important for your career:
M.Com Entrance Exams | How to get into M.Com?
The only thing you need, in order to get into a good commerce college, is hard work and passion. Everything else, including training, books, study materials, entrance exams, etc., is all just to get where you want to.
Many colleges admit students if they fulfil the eligibility criterion. But to get into top colleges, there might be entrance examinations.
The various exams across India to pursue M.Com are, which are popular and of significance to students:
CUCET- Central University Common Entrance Test
AUCET – Andhra University Common Entrance Test
OUCET – Osmania University Common Entrance Test
Mohammad Ali Jauhar University Entrance Exam
State university entrance examination
Examinations conducted by private universities
More than an examination, cut-off marks matter to get into a top college for your M.Com dream.
But how do you get into a good commerce college?
From choosing the right college to opting for the stream of your interest and preparing well for the exams, all the help you need is available right here, right now.
Eligibility Criteria for M.Com
The basic eligibility criteria required for M.Com are candidates is to have graduation in Commerce Stream. As an alternative, you can even do honours in economics or business/management studies.  Most of the universities require 45-50% marks in order to give Admission into M.Com.
Also, Check
M.Com Admissions
M.Com Colleges offer Admission to Candidates based on the merit list. Candidates will be shortlisted if they meet the eligibility criteria set by the concerned college or university. Most colleges offer a merit-based admission whereas Few colleges conduct a university level entrance exam too.
Fee Structure for M.Com
The average M.Com Course Fees for a Candidate lies in between 20,000  – 3 Lakhs Per Annum depending on the institute. The fee usually varies based on the prestige of the institute, faculty provided, placement facility, and also on the management/ government quota.
Master of Commerce Course Duration
Master of Commerce is a 2 Year Post-Graduate Course that helps aspirants to analyze the subjects related to commerce. It is a specialized course that trains the individual for a career in the finance and corporate sector. CHeck Best Commerce Courses After 12th here.
M.Com Specializations
A commerce degree in the right field and the right college according to your needs and aptitude can provide you with a bright and successful future ahead. And on top of this, a masters' degree in commerce specialization will take you places in your career that you would have always dreamt of.
Master of Commerce is a course that has many specializations. Aspirants can go with the following specializations during their M.Com Course List and they are as follows
Accounting
Finance
Marketing
Human Resources Management
Taxation
International Business
Entrepreneurship
Business Analytics
Corporate Law
Industrial Business
Operations Management
Management Accounting
Colleges list offering M.Com in India | Where to study M.Com?
Every year, more than 1 lakh students sit for various commerce stream examinations across the country. There are enough M.Com seats for most of them. But doing M.Com is different from doing M.Com from the right college. We will help you choose the right college, but before that let us break some myths about commerce colleges, shall we?
If you don't do M.Com from top schools, then it is not worth it- Not necessarily. DU or JNU or SRCC might be the most sought after institutes in India, but it's in no way a tool to measure your career success. It all depends on you and only you whereas institutes can just open the gate for your career. But then again, it does not mean you shouldn't aim for these institutes, they are at the top because they deserve to be there.
Cracking the cut-off is next to impossible- It is impossible only if you believe it is impossible. An M.Com course is a post-graduate program. It's not ungodly to crack the cut-off rates. With proper guidance and efforts, anybody can crack the criteria and get into college.
A job is guaranteed if I Do M.Com- Nothing is guaranteed unless your competencies are honed. Even Du or JNU does not guarantee any job for anybody. Again, it all depends on you.
Some of the most sought after commerce colleges in India are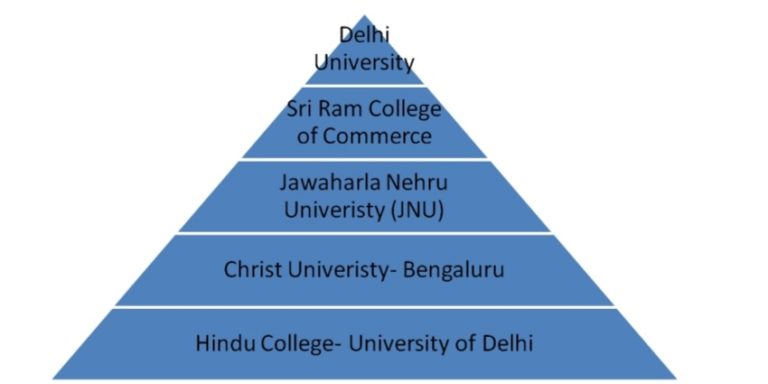 SRCC is considered to be the topmost prestigious institute to study commerce and economics in the country. There are various other public universities like Delhi University, JNU, and Anna University which are also the most sought institutes in the country. Many private run institutes like Christ University and St. Joseph's college of commerce are the frontrunners when it comes to student choices.
M.Com College List is included here:
Lady Sriram College, New Delhi
St. Joseph's College of Commerce, Bangalore
Christ University, Bangalore
Loyola College, Chennai
St. Xavier's College, Kolkata
Anil Surendra Modi School of Commerce, Mumbai
Symbiosis College of Arts & Commerce, Pune
St. Joseph's College of Commerce, Bangalore
Hans Raj College, Delhi University
Madras Christian College, Chennai
M.Com Course Details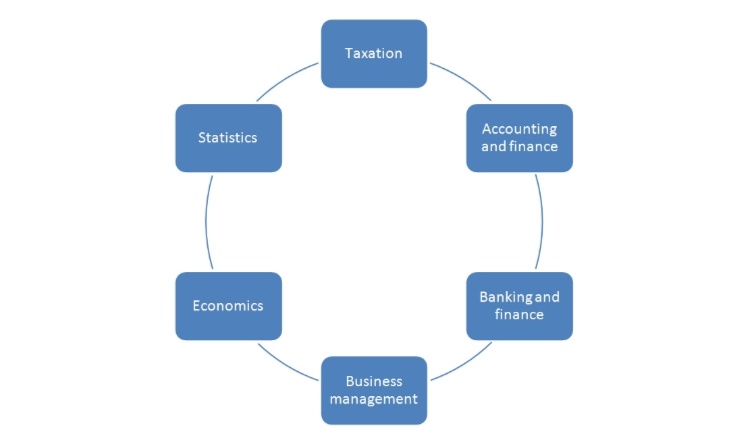 Each of these courses consists of the following subjects:
Taxation
Accounting theory
Advanced corporate accounting
Financial management
Indirect taxation: Central and state taxes
Service tax
Strategic marketing management
E-Commerce
Advanced financial and cost accounting
International business environment
Electronics
Accounting for business decisions
Applied cost accounting
Cost control techniques and theories
Enterprise resource planning
Investment and portfolio management
Management accounting
Modern banking
Insurance and risk management
Quantitative techniques for finance
Security analysis and portfolio management
Banking and finance
Investment management, banking law, and practice
Marketing of financial services
Modern banking theory, law, and practice
Quantitative techniques for financial management
Research methodology
Commercial Bank Management
Business policy and strategic management
Foreign exchange markets and forex management
International banking and finance
Business management
Negotiations and conflict management
Organizational behaviour and leadership
Human resource management
Current issues in global business
Knowledge and information systems
Managerial economics and economic theories for business decisions
Global virtual enterprise
Global strategic management
Fundamental theories of project management
Economics
Advanced Econometrics
Time Series and Business Forecasting
Game Theory and Application
Marketing Research
Urban Transport Economics
Corporate Finance
Portfolio Management
Energy Economics
Agriculture Economics
Financial Risk Management
Ecosystem Services and Ecological Economics
Labour economics
Statistics
Actuarial science,
Applied information economics,
Biostatistics,
Business statistics,
Data analysis,
Demography,
Econometrics,
Energy statistics,
Engineering statistics,
Psychological statistics,
Social statistics
Master of Commerce Subjects
Have a glance at the M.Com Course Subjects as per the Latest Curriculum and have beforehand knowledge. It will be easy for you during the time of preparation as you be familiar with the concepts to cover.
Accounting for Managerial Decisions
Business Environment
Computer Applications in Business
Computer Financial Accounting
Corporate Legal Environment
Corporate Tax Planning
E-Commerce
Economics of Global Trade and Finance
Financial Management
Management Concepts and Organisation Behaviour
Managerial Economics
Marketing Management
Statistical Analysis
Strategic Management
Banking & Finance
Commercial Bank Management
Entrepreneurial Management
Financial Bank Management
Financial Markets
Human Resource Management
International Finance
Investment Management
Research Methodology in Commerce
Financial Institutions and Markets
Project Planning
Control Security Analysis
Portfolio Management
Advertising and Sales Management
Consumer Behaviour
Marketing Research
Foreign Trade Policy
International Business Environment
International Marketing
Statistics
M.Com Course Syllabus
We tried mentioning the Syllabus for M.Com Course as per the Latest Curriculum followed in a majority of the colleges. You might observe minor deviations in the Syllabus followed in certain colleges. However, the core part remains the same. Candidates can also get M.Com Books details which are helpful to score better marks in the course.
S. No.
Subjects of Study
Compulsory Papers
1
Accounting for Managerial Decisions
2
Business Environment
3
Computer Applications in Business
4
Corporate Financial Accounting
5
Corporate Legal Environment
6
Corporate Tax Planning
7
E-Commerce
8
Economics of Global Trade and Finance
9
Financial Management
10
Management Concepts and Organization Behaviour
11
Managerial Economics
12
Marketing Management
13
Statistical Analysis
14
Strategic Management
Optional Papers
1
Banking & Finance
2
Commercial Bank Management
3
Entrepreneurial Management
4
Financial Bank Management
5
Financial Markets
6
Human Resource Management
7
International Finance
8
Investment Management
9
Research Methodology in Commerce
Apart from the subjects listed above, candidates need to pick at least a group from the following
| S.No | Group Name | Group Subjects |
| --- | --- | --- |
| 1 | Accounting and Finance | Accounting for Managerial Decision, Advanced Financial Accounting, Corporate Financial Accounting, Financial Institutions and Markets, Project Planning, Control Security Analysis, Portfolio Management |
| 2 | Marketing | Advertising and Sales Management, Consumer Behaviour and Marketing Research |
| 3 | International Marketing | Foreign Trade Policy, Procedures and Documentation, International Business Environment, International Marketing |
| 4 | Statistics | – |
Job Opportunities after M.Com
M.Com Graduates will have lucrative career options in a variety of areas and the employment scope is such
Investments Analyst
Accounts Assistant
Investment Banker
Assistant Accountant
Market Analyst
Accountant
Marketing Manager
Business Analyst
Money Manager
Cashier/Teller
Operations Manager
Corporate Analyst
Personal Finance Consultant
Executive Assistant
Risk Analyst
Finance Manager
Securities Analyst
Financial Analyst
Scope after M.Com
Some of the most prestigious organizations to work for after completing your degree are
KPMG
JP Morgan
Barclays
Wells Fargo
Reliance
Tata
Reserve Bank of India
Securities and Exchange Board of India
If you aspire to give it back to society and work for government organizations, you need to clear certain government examinations conducted by UPSC (Union Public Service Commission) to work with various Public Sector Units and governmental bodies like:
RBI- Reserve Bank of India
FMC- Forward Market Commission
SEBI- Securities and Exchange Board of India
Planning commission
PFRDA – Pension Fund Regulatory and Development Authority
IRDA- Insurance regulatory and development authority
BSNL- Barat Sanchar Nigam Limited
IOL- Indian Oil Limited
SBI- State Bank of India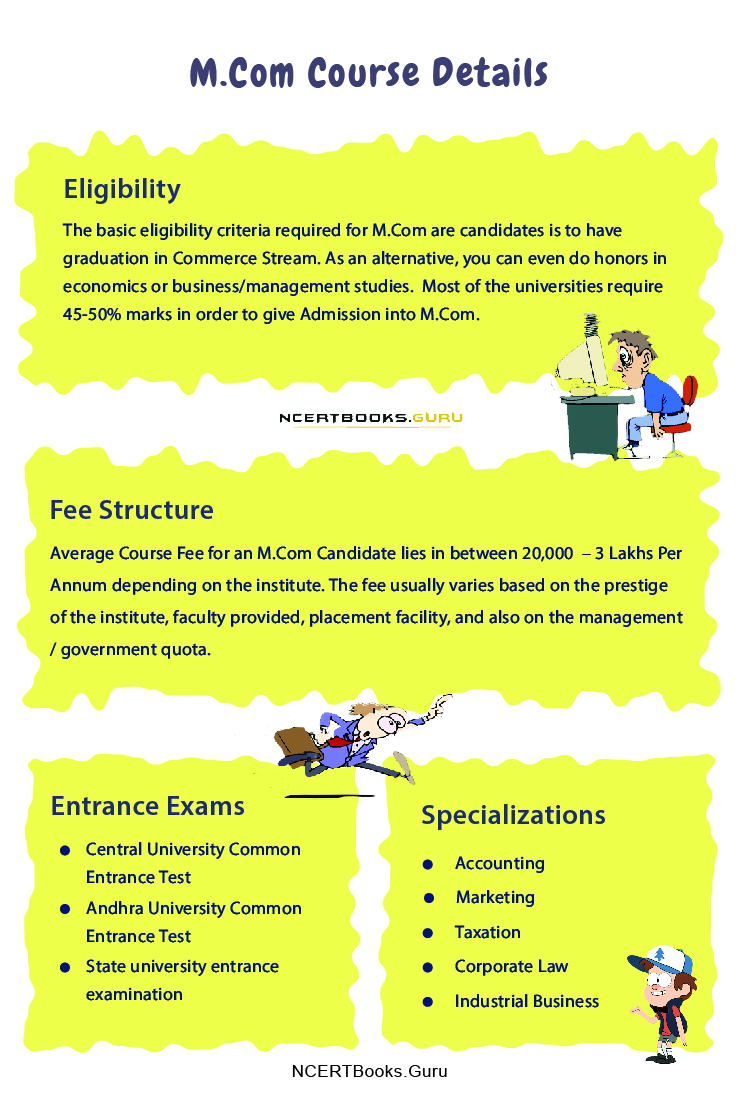 Salary/Earnings offered to M.Com Candidates
Graduates will get an average Salary of 4 Lakhs Per Annum initially. Salary varies from firm to firm and based on the sector in which you are working. Once, you gain enough expertise and skillset, and based on the diligence of the individual salary will not be the constraint. You can demand more if you have the right skills.
FAQs on M.Com Course Details
Final Words
We wish the info shared above regarding M. Com Course Details has been beneficial in clarifying your queries to the fullest. If you have any other queries feel free to leave us a comment and our team of experts will guide you at the earliest. Stay tuned to our site for the latest updates regarding Books, Syllabus, Course Details, Study Materials, etc.