BDS Course Details: One of the most desirable careers most of you wish to opt after MBBS is BDS. You can avail the complete info regarding the Bachelor of Dental Surgery from this page. Have an insight into information like BDS Full Form, Eligibility, Admission, BDS Course Duration and Fee Structure, Syllabus, Scope, and Salary Offered. Clarify all your ambiguities regarding the Under Graduate Professional Course by going through the entire article.
What is BDS?
Bachelor of Dental Surgery abbreviated as BDS is one of the most sought after courses after MBBS. Usually, BDS enables an aspirant to pursue their career as a Dentist. Students will be taught about dental problems, dentures, and surgery.
Aspirants will be educated in the fields of dental treatment, including dental anatomy and oral histology, community dentistry, oral pathology, dental materials, surgical procedures, oral medicine & radiology, Pedodontics, etc.
BDS Course Details
| | |
| --- | --- |
| Course | BDS |
| BDS Full form | Bachelor of Dental Surgery |
| Eligibility & Requirement | 10+2 or equivalent |
| BDS Course Duration | 4 years |
| Fee Offered |  50,000 to 4 LPA |
| Course Type | Regular mode |
| Starting BDS Course salary offered | 3 LPA |
| Advance Courses | M.Sc. in Primary Dental Care, M.Sc. in Paediatric Dentistry, M.Sc. in Restorative and Artistic Dentistry |
| Similar Course | MBA |
| Employment opportunities | Dentist, Surgeon, Dental health consultant |
BDS Course Fees
Average Fees vary depending on the university and also on the BDS college/ university standards. This even depends on the college reputation, as well as management or government quota in which the student has taken admission. Average Fee for a Bachelor of Dental Surgery aspirant will be in between 50,000 – 4 Lakhs Per Annum.
BDS Course Duration
BDS is an undergraduate degree for 5 Years that trains students to enter the noble profession of Dental Surgery and Science. You can pursue the course either through Full Time or Part Time. Usually, the Bachelor of Dental Surgery Course follows a Semester Based System.
Eligibility Criteria for BDS
The BDS Course Eligibility to gain admission is that the students need to clear their 10+2 with English, Physics, Maths, Chemistry as their main subjects with a minimum percentage. Aspirants can even gain admission through National Competitive Exam called NEET.
Apart from the central government-administered examinations, State Governments even conduct state level exams. Do Check the List of Dental Courses.
Bachelor of Dental Surgery Admission
You need to appear for an All India Entrance Level Examination if you want to get admission into a Government College. Based on the marks scored in the Exam, 10+2 candidates will be allotted admission into reputed universities. Students need to appear for the counseling process by the concerned authorities and seats will be allotted based on the merit list as well as the seats available. Interested aspirants can also see other Medical Courses in India.
BDS Subjects
Course Subjects pursued as a part of the Bachelor of Dental Surgery Curriculum are prevailing here. A Minor variation can be observed in the subjects followed in certain colleges or universities. However, most of them remain the same.
Oral Pathology
Public Health Dentistry
Oral Microbiology
Nutrition
Pediatric & Preventive Dentistry
General Human Anatomy
Microbiology
Periodontology
Orthodontics & Dentofacial Orthopaedics
Oral And Maxillofacial Surgery
Embryology
Oral Medicine And Radiology
General Human Physiology
Dietetics
Crown and Bridge
General Pathology
Dental Materials
Histology
General Surgery
Biochemistry
Dental Therapeutics
General and Dental Pharmacology
Preclinical Conservative Dentistry
Oral Histology
Embryology
Conservative Dentistry And Endodontics
Preclinical Prosthodontics
Dental Anatomy
General Medicine
Orthodontics and Dentofacial Orthopaedics
Bachelor of Dental Surgery Entrance Exams
There are plenty of Entrance Exams available to get admission into the Bachelor of Dental Surgery Course. Some of the Entrance Exams conducted by the respective colleges or universities are provided in this article. They are in the following fashion
Madhya Pradesh Dental/Medical Admission Test [MPDAT]
All India Common Entrance Test Bachelor of Dental Surgery [AICET BDS]
Rama University Entrance Test [RUET]
Guru Gobind Singh Indraprastha University Common Entrance Test [IPU CET]
National Eligibility cum Entrance Test [NEET]
Goa Common Entrance Test [GCET]
Jawaharlal Institute of Post Graduate Medical Education and Research [JIPMER]
Siksha O Anusandhan University Admission Test [SAAT]
BDS Course Syllabus
Course Syllabus followed as per the Bachelor of Dental Surgery Curriculum is mentioned here. Minor deviations can be observed in the curriculum in some of the colleges or universities. However, the core of the syllabus remains the same throughout the nation. Refer to the subjects you need to study in advance and make your preparation effective.
First Year Subjects
Nutrition and Diabetics
Dental Materials
Oral Histology
Preclinical Prosthodontics and Crown & Bridge
General Human Anatomy
Dental Embryology
Human Physiology
Preclinical Conservative Dentistry
Dental Anatomy
Biochemistry
Second Year Subjects
General Pathology and Microbiology
Preclinical Conservative Dentistry
Oral Pathology and Microbiology
Dental Pharmacology and Therapeutics
Preclinical Orthodontics
Preclinical Prosthodontics and Crown & Bridge
Dental Materials
General Pharmacology
Third Year Subjects
Prosthodontics and Crown & Bridge
Oral and Maxillofacial Surgery
Conservative Dentistry and Endodontics
Orthodontics and Dentofacial Orthopaedics
Public Health Dentistry
Periodontology
General Surgery
Oral Pathology and Microbiology
Pediatric and Preventive Dentistry
Oral Medicine and Radiology
General Medicine
Fourth Year Subjects
Oral Medicine and Radiology
Public Health Dentistry
Conservative Dentistry and Endodontics
Oral and Maxillofacial Surgery
Prosthodontics and Crown & Bridge
Pediatric and Preventive Dentistry
Orthodontics and Dentofacial Orthopaedics
Periodontology
Must See:
List of BDS Colleges in India
There are plenty of Colleges available across the country that offer BDS Course but we have compiled a few of them that are renowned. Top Bachelor of Dental Surgery Colleges are in the following fashion
Manipal College of Dental Sciences, Manipal
Sri Ramachandra University, Chennai
Maharashtra University of Health Sciences, Nashik
Vydehi Institute of Medical Sciences, Bangalore
Maulana Azad Institute of Dental Sciences, New Delhi
SRM Institute of Science and Technology, Chennai
SDM College of Dental Sciences and Hospital Sattur, Dharwad
Gujarat University, Ahmedabad
KIIT University, Bhubaneswar
Government Dental College & Research Institute, Bengaluru
Amrita College of Dentistry, Kerala
Faculty of Dental Science, King George's Medical University, Lucknow
Dental College, Thiruvananthapuram
Govt. Dental College & Hospital, Andhra Pradesh
BDS Job Opportunities
An enormous scope of employment is available for candidates who are done with the BDS Course. You have a plethora of Opportunities both in Private and Public Sectors of Medical Industry. Some of them are as follows
Dental Clinics
Hospitals
International Welfare Organizations
Indian Armed Forces
Research Labs
BDS Career Options
Employment Opportunities that come with the Bachelor of Dental Surgery Course are in the below fashion. You can choose any of the Job Profiles after finishing your BDS Course.
Oral Pathologist
Dental Surgeon
Dental health Consultant
Lecturer
Medical Writer
Advance Courses after BDS
Candidates usually after finishing their Internship in BDS Course will opt for higher studies. Some of the advanced courses that you can do after Bachelor of Dental Surgery are in the following fashion
M.Sc. in Primary Dental Care
M.Sc. in Paediatric Dentistry
M.Sc. in Restorative and Artistic Dentistry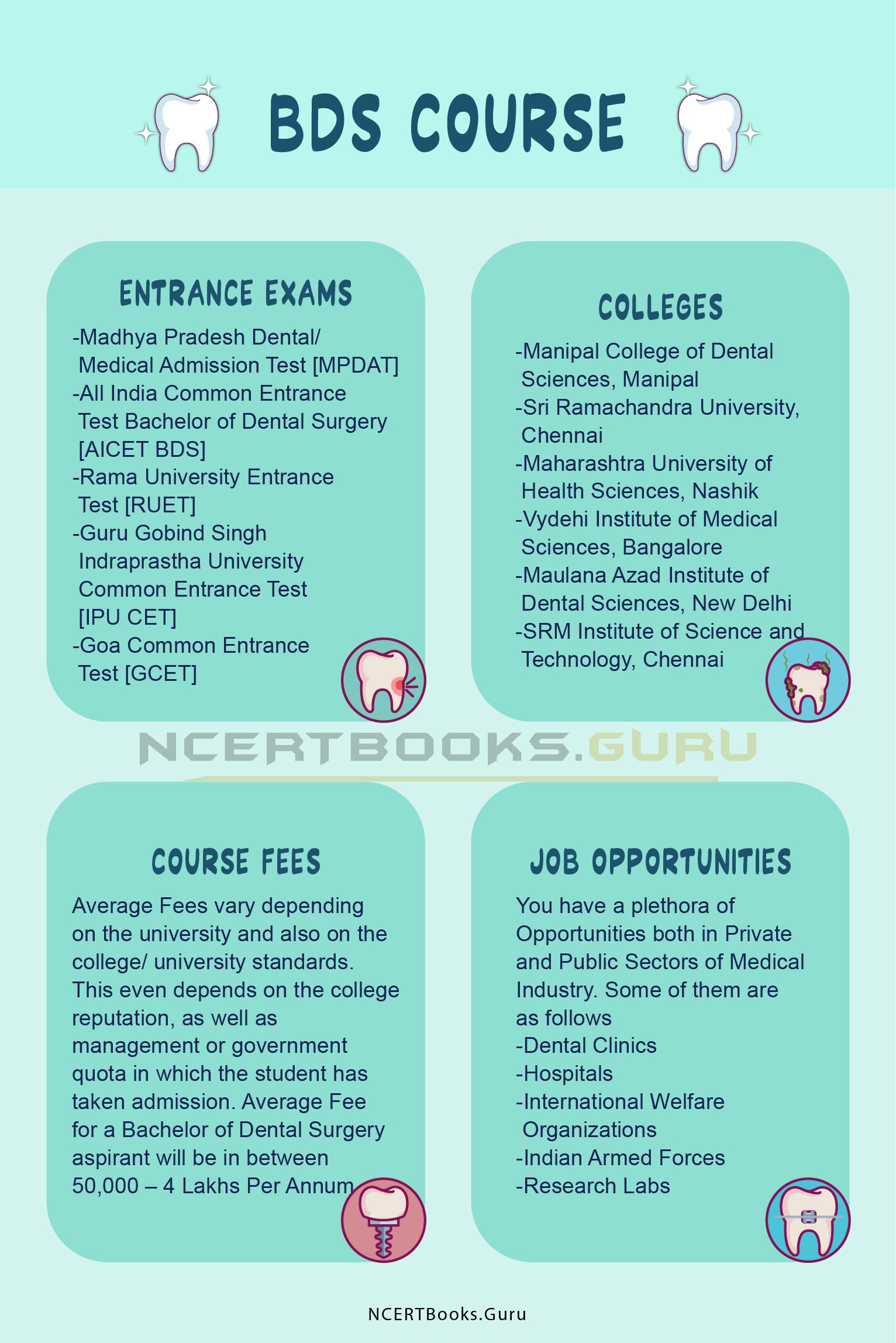 Wages/ Salary Offered to BDS Graduate
Average Course Salary for a Bachelor of Dental Surgery Graduate is around 3 Lakhs Per Annum. However, this varies based on the sector of Employment the aspirant is working, diligence, skillset, and experience gained by the individual in the respective field.
FAQs on BDS Course
Summary
Hoping, the information shared as far as our knowledge is concerned regarding BDS Course Details has been useful in Clarifying your concerns. For any other information or queries related to this drop us a comment via the comment section and we will help you out at the earliest. Keep in touch with our site for more updates on this.