MDS Course Details: If you are planning your career as a Dental Surgeon, then there is no other better option than pursuing MDS. MDS Stands for Master of Dental Sciences. This is a post-graduation degree that has a duration time of three years. Dentistry is a part of Medicines that will stop the disease effects occur on the teeth. It is two years for those who have a Post Graduation Diploma as recognised under DCI. Students who opt and improve their research skills in the dental area should go for MDS Course.
Hence they will learn about essential disciplines in dentistry. If you have finally made your mind into this course, then learn about the complete details about the course. The necessary information included in the below article is the fee structure, duration, eligibility, subjects and concepts, salary, and employment opportunities.
Get to Know More about other types of Course Details in Stream wise, and Category wise.
MDS Course Details
| | |
| --- | --- |
| MDS Full Form | Master of Dental Sciences |
| Duration | Three years after BDS or two years After Post Graduation Diploma under DCI recognition |
| Eligibility | 50% minimum marks in BDS |
| Fees paid | 6 to 30 lakhs for the entire course of three years |
| Salary Offered | 6-10 lakhs in a year |
| Job opportunities | Ceramist, Dental Assistant, Dental Hygienist, Dental Surgeon, Medical Representative, and many more |
| Type of Course | Degree course of three years |
| Admission Procedure | Entrance examination at state or national level |
| Skills Required | Able to solve dental and oral problems with health |
Subjects, Concepts in MDS Course Details
You will have various options in specialisation under MDS Course. You can specialise in the field you like. Hence the syllabus will vary as you specialise in a field. However, the basic skill set that you must have is you must be able to solve dental and oral problems. Also, you must specialise in the research work. With this, you will attain a good job in various fields. Your clarification for the concepts and knowledge will define your future position. The basic subjects will be:
Orthodontics
Oral Pathology
Conservative Dentistry
Periodontics
Oral and Maxillofacial Surgery
List of Colleges Offering MDS Course
There are numerous colleges in India offering MDS Course Degree. Some of the top colleges are listed below:
All India Institute of Medical Sciences, New Delhi
SRM Institute of Science and Technology, Kattankulathur
Manipal College of Dental Science, Mangalore
Government Dental College, Mumbai
Maulana Azad Institute of Dental Science, Delhi
S.D.M. College of Dental Sciences & Hospital, Dharwad
MDS in Delhi-NCR
MDS in Maharashtra
MDS Course Duration
You will have to attempt annual mode of examination once you take admission in the course. The course offerings do not have any semester system. It will take you through a total of three yearly examinations. Thus the duration for MDS course is three years after completing BDS. This course is a post-graduation level degree. Also, there is a provision of two years if you have passed PG Diploma under-recognition of DCI. This is a particular case.
MDS Course Fee Structure
The total MDS Course fees lie somewhere between INR 6 to 30 lakhs for the entire degree. Also, the fees of a government-owned college of the institute will be less as compared to a privately owned college or university. Hence on average, we can say that it might take 2-8 lakhs in a year.
MDS Course Eligibility Criteria
Given below are the eligibility criteria and the minimum qualification required to take admission to MDS Course.
Minimum Qualification Required: You must have completed your bachelor's degree as BDS Course or the equivalent degree as recognised under the Dental Council of India.
Health: You must suffer from any contagious disease and must be fit for the course.
Age Limit: You must be at least 21 years to take admission in the MDS course. Hence you can apply for the entrance test of AICET.
MDS Course Admission Procedure
If you want to take admission in MDS Course, then you will have to follow a strict pattern. NEET MDS entrance examination is held, and you need to cover its criteria. However, before this, many state-level examinations were also preferred, but now the criteria have changed to NEET MDS level. Clear the examination, and you shall be liable to enter MDS Course. If you are eligible for the course then you need to follow the below process to take admission:
Fill the online application form.
Clear your entrance exam
Take admission in the college as per counselling results.
MDS Course Syllabus
There are various options available for you in specialising to MDS Course. The below are listed ones, and you can choose according to interest.
Oral & Maxillofacial Surgery
Applied Basic Sciences
Minor Oral Surgery and Trauma
Recent Advances in Oral & Maxillofacial Surgery
Maxillofacial Surgery
Periodontics
Recent Advances in Periodontics
Applied Basic Sciences
Diagnosis, Treatment, Implantology, and Preventive Periodontology
Etiopathogenesis Of Periodontal Diseases
Orthodontics
Applied Basic Sciences
Recent Advances in Orthodontics
Growth and Development, Diagnosis & Radiology, and Basics in Orthodontics
Dentistry
Dentistry Material
Endodontics
Recent Advances in Conservative Dentistry
Conservative Dentistry with preventive dentistry
Oral Pathology
Oral Pathology, Oral Microbiology & Forensic Odontology
Recent Advances in Oral Pathology
Applied Basic Sciences
Laboratory and Histopathological Techniques
Also, Refer
Job Profile and Other Employment Opportunities
In the field of dentistry, the demand for surgeons has been rising day by day. Government and private units have been recruiting surgeons. They help in providing the best oral health services to the people. For good health, dental care has become an important aspect. If you have completed the MDS course, you will be eligible for the following job profiles:
Orthodontist
Dental Surgeon
Periodontist
Researcher/ Professor
Oral and Maxillofacial Surgeons
Prosthodontist
Private Practitioners
Ceramist
Dental Lab Technician
Medical Representative
Forensics & Oral Pathologist
Dental Hygienist
Dental Assistant
Private Practitioner
Sales Representative
You can even pursue other Dental Courses in India to get placed in the following sectors with best job options.
Various sectors to provide a job under MDS Course job profile include:
Hospitals
Dental Colleges & Research Institutes
Dental Labs
Military Services
Private Hospitals & Clinics
Educational Institutes
The career scope for MDS Professionals has been rising and hence the demand increases. You will have a better and secured future in the coming time.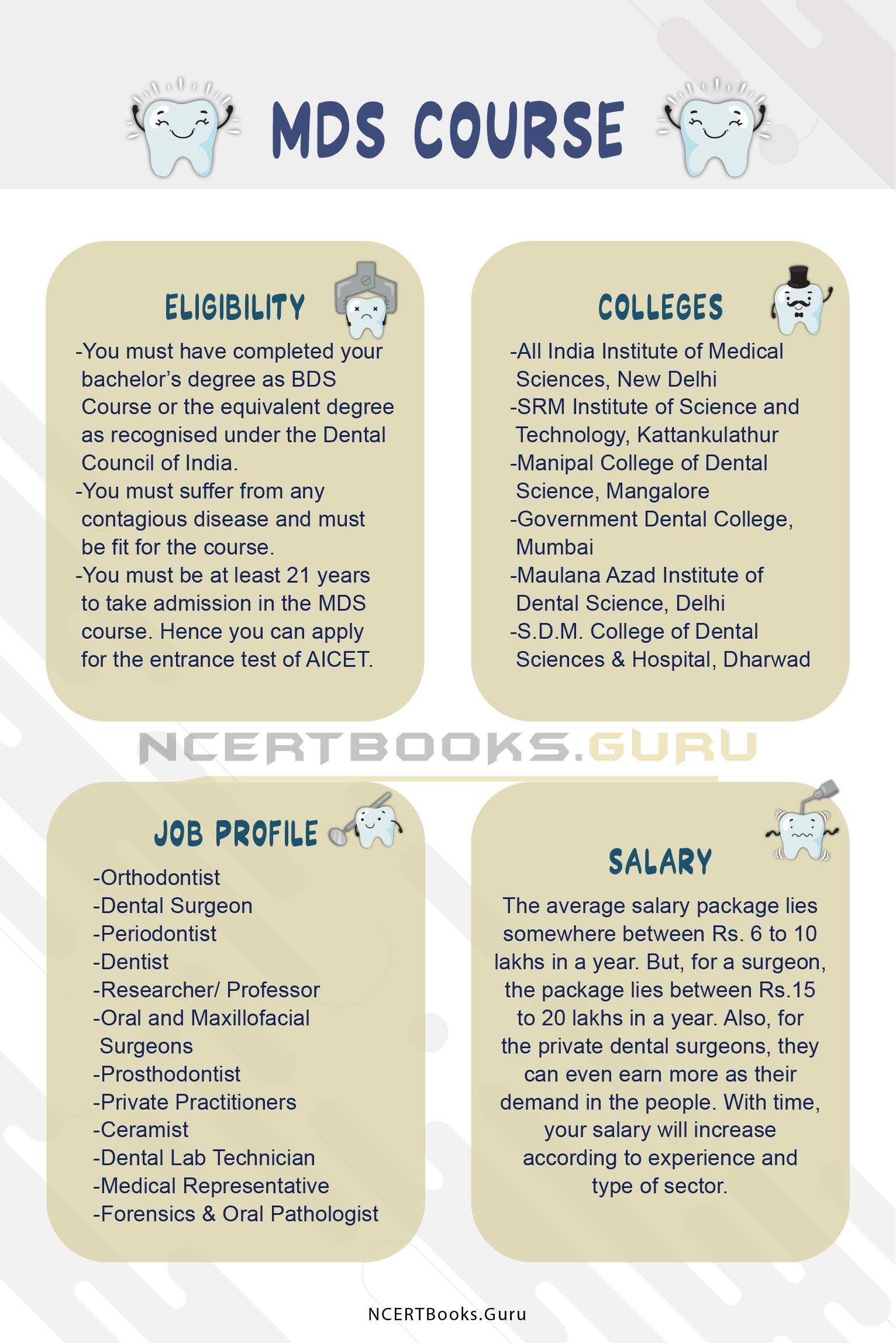 Salary Offered to MDS Professionals
After you have completed the MDS Course and study, you will earn a good package as the job profiles listed above. For different job profiles, there are different packages. Yet, the average salary package lies somewhere between Rs. 6 to 10 lakhs in a year. But, for a surgeon, the package lies between Rs.15 to 20 lakhs in a year. Also, for the private dental surgeons, they can even earn more as their demand in the people. With time, your salary will increase according to experience and type of sector.
FAQ's on MDS Course Details
Question 1.
List the most famous specialisations under the MDS course?
Answer:
If you are into MDS course then you can specialise in a particular field. Some best specializations include Orthopaedics, Public Health, Microbiology, Conservative Dentistry, and Oral & Maxillofacial Surgery.
Question 2.
Is it necessary to go for MDS after BDS?
Answer:
Like an MS and MD doctor, MDS degree holder is given high preference. Yet, if you want to be a private practitioner, then BDS is enough for you.
Question 3.
Is it worth doing MDS?
Answer:
MDS degree will fetch you to the different job profile that is highly paid all over India. Hence it is worth doing the MDS course.
Summary of Master of Dental Sciences Courses
The data listed above must have helped you gain enough information to take admission in the MDS course. You can specialise in the field as you prefer under this course.