B.Arch Course Details: An increasing number of students are opting for an architecture stream to pursue their career in, which is not surprising at all, given the construction boom in the country, with a staggering number of bridges, tunnels, skyscrapers, and luxury villas coming up each and every day. Government and corporations are struggling to make cities cleaner, more beautiful, and more sustainable in nature. And that is exactly where an Architect is needed.
B.Arch Course Details
The demand for education in interior design and architecture courses has increased manifold over the years, especially after the dotcom bubble and the 2008 Lehman Crisis, because that is when the construction boom started appearing in India, with a staggering amount of funding coming from governmental and international organizations for the development of infrastructure and smart cities. People associating architecture with just building design and drawing work are living in the Stone Age. The curriculum and pedagogy have improved considerably for B.Arch to nurture students in accordance with the demands and needs of the industry.
From
BIM management
Technical design
Drafting and 3-D drawing
Workplace consultancy
Urban designing
City planning and town development
Proprietorship
In this article, let us discuss the basics of B.Arch, its eligibility criteria, and most importantly, why taking up B. Arch in India is good for your career.
There are plenty of institutes in the country that provide top education for its students in the architecture stream. A B.Arch degree from top colleges like Jamia Millia Islamia University, School of planning and architecture-New Delhi, Indian Institute of Technology-Roorkee, etc., can provide you with pay packages of more than 10 lakhs per annum along with the satisfying job roles that you dream of. And the respect and favoritism you demand from recruiters once you have graduated from the B.Arch course are far more than the ones you demand from just an interior design course that can be taken from private coaching centers.
With the advent of technology and globalization, building smart cities, constructing office spaces that are environmentally friendly and aesthetic are the new norm for every organization. And this focus can be fulfilled by someone who is well versed with the principles of architecture, design, and planning. And this is where your degree in B.Arch comes in handy.
A B.Arch degree or equivalent is a highly approved and favored degree in many parts of the world for a secure and stable future. Good job opportunities, a bright career, and a good pay scale across industries are the reason behind this trend. And this trend is a blessing that is done right so by students and institutions, given the timely inventions and innovations happening around the world coming from organizations and the institutes that nurture them.
An architecture degree in the right field and the right college according to your needs and aptitude can provide you with a bright and successful future ahead. And on top of this, a bachelors' degree in architecture specialization will take you places in your career that you would have always dreamt of.
You have come to the right place to know the ins and outs of what a degree in B.Arch means and what it constitutes of: Here we have the answer to all your "Whys What Where and How".
B.Arch Course Details – What?
A bachelor of architecture is a 5 year full-time undergraduate degree. It is university-level education that acts as a gateway for students to jump into their professional careers after having successfully completed their intermediate or 12th. Once you have completed 12th/Intermediate, B.Arch can be done in the specialization of your choice and desires. A degree from reputed colleges like Delhi University or JNU (Jawaharlal Nehru University) can give a long way ahead in the field and provide you with a strong career.
The career growth in a B.Arch course is highly robust and dynamic in nature because it is a 5 long year course, where you will be learning practical and real-life architecture planning. This is a type of course where theory takes a secondary place and practical simulations take a primary position for student learning
Starting salary depends on the stream opted for and the college is chosen.
Fees vary according to affiliations and the management of the institutions.
A degree in bachelor in architecture can hone the entrepreneurial skills of the students. Every year 5% to 10% of students graduating from top schools opt out of the placements in order to start their own architecture and design firm. Many students pursue their dreams abroad working with governmental, non-governmental organizations (NGOs), and rural organizations for social development projects that involve village design and planning.
Why Choose B.Arch?
Here are the reasons a degree in B.Arch is important for your career: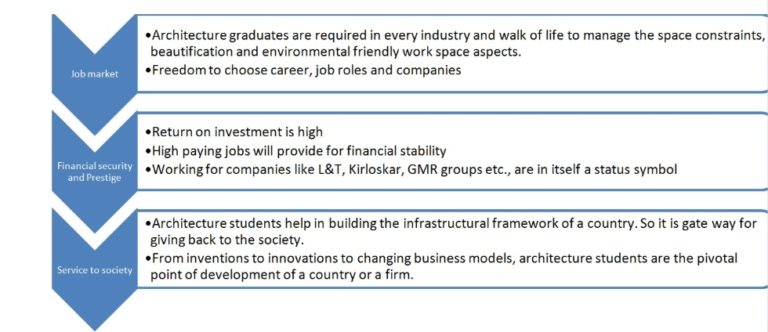 B.Arch Entrance Exams
The only thing you need, to get into a good architecture course, is hard work and passion. Everything else, includes training, books, study materials, entrance exams, etc., is just to get you where you want to be. Many colleges admit students if they fulfill the eligibility criterion. But to get into top colleges, there will be entrance examinations.
The various exams across India to pursue B.Arch are, which are popular and of significance to students:
NATA- National Aptitude Test in Architecture
JEE- Jon Entrance Exam- Main (AAT)
State and central Level entrance examinations like:
JNTUPACET- Jawaharlal Nehru Technological University Planning And Architecture Common Entrance Test
UPSEE-Uttar Pradesh State Entrance Examination
K-CET-Karnataka Common Entrance Test
WBJEE- West Bengal Joint Entrance Examination
IPU CET- Guru Gobind Singh Indraprastha University Common Entrance Test
COMEDK-UGET
TANCET- Tamil Nadu Common Entrance Test
Examination cut-off marks matter to get into a top college for your B.Arch dream.
So, how do you get into a good architecture college?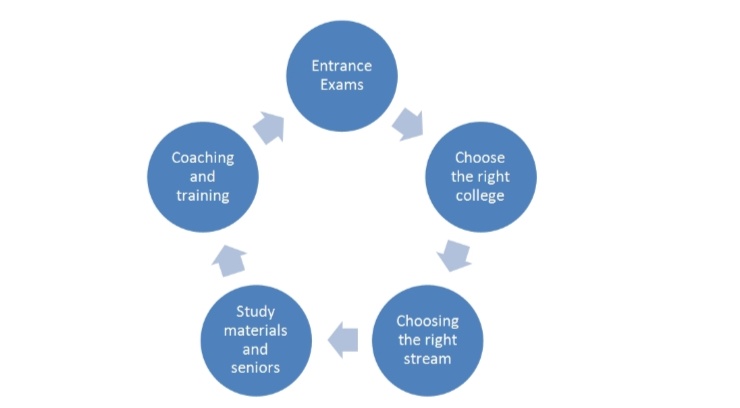 From choosing the right college to opting for the stream of your interest and preparing well for the exams, all the help you need is available right here, right now.
Also, Check:  Diploma Course in Architecture
Aspirants willing to join the Bachelor of Architecture should know the fees before joining itself. B. Arch Fees range from 20,000 – 3 Lakhs Per Annum depending on the college or university.
Where to study B.Arch?
Every year, more than 1 lakh students sit for various architecture examinations across the country. There are enough B.Arch seats for most of them. But doing B.Arch is different from doing B.Arch from the right college. We will help you choose the right college, but before that let us break some myths about architecture colleges, shall we?
If you don't do B. Arch from top schools, then it's not worth it- Not necessarily. DU or JNU or IIT might be the most sought-after institutes in India, but it's in no way a tool to measure your career success. It all depends on you and only you whereas institutes just can open the gate for your career. But then again, it does not mean you shouldn't aim for these institutes, they are at the top because they deserve to be there.
Cracking the cut-off is next to impossible- It is impossible only if you believe it is impossible. A B.Arch course is an undergraduate program. It's not ungodly to crack the cut-off rates. With proper guidance and efforts, anybody can crack the criteria and get into college.
A job is guaranteed if I Do B.Arch- Nothing is guaranteed unless your competencies are honed. Even DU or JNU does not guarantee any job for anybody. Again, it all depends on you.
Some of the most sought after architecture colleges in India are: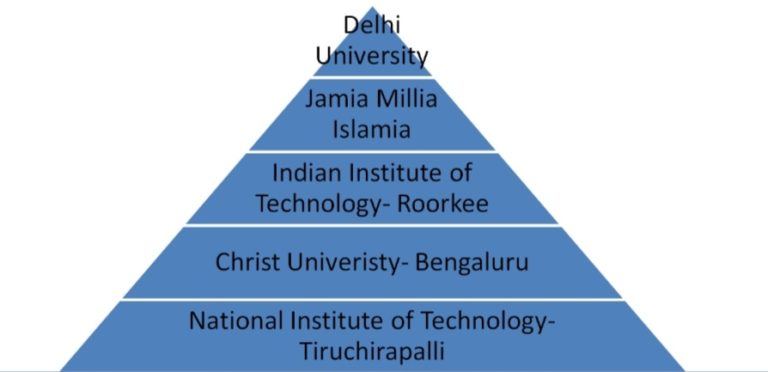 DU is considered to be the topmost prestigious institute to study architecture and interior design in the country. There are various other public universities like Jamia Millia Islamia, JNU and Anna University which are also the most sought-after institutes in the country. Many private run institutes like Christ University and St. Josephs' college of architecture are the frontrunners when it comes to student choices
List of B.Arch Colleges
B. Arch is offered in various colleges across the country. Some of the top colleges that Provide the Bachelor of Architecture course is along the lines
School of Planning and Architecture, Delhi
Sir J.J College of Architecture, Mumbai
IIT, Kharagpur
Birla Institute of Technology Mesra, Ranchi
Jadavpur University, Kolkata
Jamia Millia Islamia University, Delhi
Manipal Institute of Technology, Manipal
Chandigarh College of Architecture, Chandigarh
IIT, Roorkee
NIT, Thiruchirapalli
Do Refer:
Subjects taught in B.Arch Course
Subjects may vary slightly depending on the college or university you have chosen. Some of the subjects that are thought to students in the B.Arch program are as follows
Architecture Design
Building construction
Theory of Structures
Building Management
History of architecture
Town planning
Smart city planning
Auto-CAD
Revit Architecture
3-D home design software
Architectural Drawing
Computer & Software Lab
Workshop Practice
Architectural appreciation
Design Applications
Training
Thesis Project
Once you are well-versed with the basics of architecture, you will get the rhythm and dynamics of the program structure. At the end of the 4th year or the beginning of 5th year, you will have thorough knowledge to choose your specialization. The specialization chosen can either be for further studies, like M.Arch, or for your career path in the years to come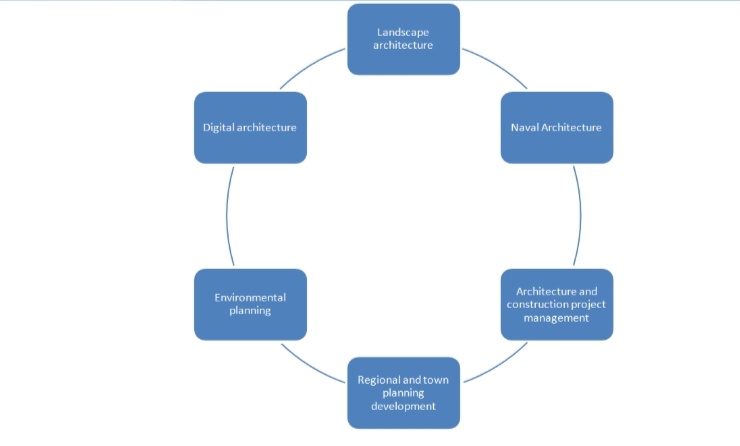 B.Arch Course Syllabus
The major part of the Syllabus that comes in Bachelor of Architecture is as such. Most of the colleges adhere to the following syllabus and there can be a slight variation depending on the college or university.
Materials & Methods of Construction
Structural Mechanics
Descriptive Geometry
Evolution of Architecture
Climate and Architecture
Climate and Architecture
Landscape Architecture
Building Diseases and Treatment
Quantity Surveying, Specification
Design of Structures
Urban Design
Architectural Acoustics
Interior Design
Building Economics & Project Management
Design Methodology
Architectural Thesis
Must See: BBA Course Details
B.Arch Job Opportunities
Once you finish the B.Arch Course you will have plenty of opportunities in various fields. Have a look at them and join the one you wish to have a career in
Manager – Interiors
Data Analyst – Architecture
Architecture Draftsman
Manager – Architecture
Projects Assistant Manager – Architecture
Architectural Assistant
Staff Consultant
Sales/Business Development Manager
Interior Designer – Retail
Future of B.Arch Course
Once you complete your B.Arch course, there will plenty of job opportunities awaiting your skills.
Some of the job roles you will land up in are:
Freelance Architect
Interior and spatial designer
Town planning consultant
Urban development consultant
CAD technician
Building surveyor
Production designer
VFX artist
Some of the most prestigious organizations to work for after completing your degree are:
Larsen and Tuboro Constructions- India
Kirloskar constructions- India
Perkins and Will- USA
Woods Bagot- Australia
Nikken Sekkie- Japan
IBI group- Canada
GMR Group- India
Gensler- USA
If you aspire to give it back to the society and work for government organizations, you need to clear certain government examinations conducted by UPSC (Union Public Service Commission) to work various Public Sector Units and governmental bodies like:
Regional Development authorities
Ministry of Urban Development
Public Works Committee
Planning commission
National Highways Authority of India
Town planning bodies
Pollution control boards
Scope of B.Arch Course
A B.Arch degree will forever be an evergreen degree because countries like India are heavily investing in infrastructure development, science and technology, and rapid industrialization, which will need good architecture and design knowledge to sustain. More and more architects and builders are required in the future, both in public and private sectors to run the country and its economy.
Salary Offered to B.Arch Candidates
Aspirants after completion of their B.Arch Course can earn 2 – 4 Lakhs Per Annum. Salary will not be the constraint if you have skills and some companies even pay more. However, this varies based on the company and sector in which you have joined. You can ask for more after gaining experience and skillset.
FAQs on B.Arch Course Details
Final Words
Now, that you have got enough ideas on B.Arch Course Details clarify all your concerns. If you need any help regarding the Bachelor of Architecture Course do leave us a comment via the comment section, our team will reach you out. Stay in touch for more updates regarding various Course Details, Books, Notes, Study Materials, etc.