Diploma Course in Architecture: Tired after looking for a perfect course? Here you go! Enter into the world of designing, building, and architecture with a Diploma Course in Architecture at your nearest city.
Diploma in Architecture is a three-year course about designing, construction, and supervision of sites and buildings. The course will help you to get into the field of diploma in architecture after 10th, plus two or degrees. The course will be semester-wise, with great opportunities for future careers.
Jump into the further modules and refer to the other information of diploma in architecture engineering courses like duration, fees, top colleges, courses list, admission process, eligibility, career, jobs, salary, etc. to make an effective decision about your career in the architecture field.
Why Diploma Course in Architecture?
With a great demand in the construction field, you can easily get in, with a Diploma in Architecture in India. A lot of opportunities are awaiting the aspirants in the construction field. Various job profiles are also available which makes a Diploma in Architecture course highly desirable for everyone.
Check out the diploma architecture course details overview below.
Diploma Architecture Engineering Course Details – Overview
Course: Diploma in Architecture
Duration: 1-3 years
Admission Process: Entrance based/Merit-based
Top Entrance Exams: NATA, CEED, JEE Mains
Tuition Fees: INR 8K – 85K per month
Salary: INR 1.2 – 1.8K LPA
Know the various courses, eligibility, admission process, exam guides, top institutes, exams, career options, and top recruiters of the Diploma in Architecture course by checking below.
Various Diploma Courses for Architecture
There are various Diploma Courses for Architecture. You can apply to the best as per your skill and interest. Here is a list of them.
Advanced Diploma of Building Surveying
Diploma in Building Design Management(Standard)
Advanced Diploma of Building Design(Architectural)
Higher National Certificate in Interior Architecture
Architectural Technology
Advanced Diploma in Professional Practice in Architecture
Diploma in Construction Management
International Diploma in Landscaping
Diploma in Architectural Engineering
Diploma in Architectural Assistantship
Foundation Diploma in Architecture and Design
Diploma in Construction Technology
Diploma in Architecture Eligibility Criteria
Not every Tom, Dick, and Harry can get into construction. There are certain eligibility criteria for you to get into. Know them wisely.
Those who have cleared 10th from a recognized Board can apply for a Diploma in Architecture.
Aspirants with a minimum age of 16 years are eligible.
Those who have secured an overall score of 55% in the qualifying exam can apply.
Those who have minimum pass marks for all the subjects at the qualifying exam are eligible.
Science and mathematics are a must for the applicants.
Admission Process for Diploma in Architecture Course
Various institutions opt for various processes for admission to the Diploma in Architecture. Some lookup the marks in entrance exams while some others check the scores of previous qualifying exams. There are institutions that conduct their own entrance exams for the applicants.
Applicants are also selected by the merit list prepared based on the qualifying exams. Some institutions might go for an interview as a selection process. Some of the popular entrance exams conducted in India include
DELHI CET
NATA
CEED
TANCET
AP POLYCET
TS POLYCET
CET
JEE Mains
AIEEE
Best Books for Architecture Diploma Subjects
You can also make use of the top recommended books to prepare for the entrances. This will help you to get focused rather than being clueless.
Experiencing Architecture by Steen Eiler Rasmussen
Why Buildings Stand Up: The Strength of Architecture by Mario Salvador
Ultimate AWS Certified Solutions Architect Associate 2021 by Harry Thomas
The LEGO Architect by Tom Alphi
Top Institutions that offer Diploma Architecture | Best Diploma in Architecture Colleges
Here is a list of the top institutions that provide Diploma in Architecture Courses. Find out which one suits you the most.
Indian Institute of Technology, Chennai
Indian Institute of Science, Bengaluru
Cochin Technical College, Cochin
Indian Institute of Technology, Kharagpur
Indian Institute of Technology, Delhi
Aryabhatt Polytechnic, Delhi
Indian Institute of Technology, Kanpur
Indian Institute of Technology, Varanasi
Academy of Architecture, Mumbai
Indian Institute of Technology, Roorkee
Indian Institute of Technology, Mumbai
Birla Institute of Technology and Science, Pilani
BITS Pilani-KK Birla Goa Campus, Goa
Deogarh Institute of Technology, Deogarh
Diploma in Architecture Fees
Tuition fee on average for a Diploma in Architecture course can start from INR 8K to INR 85K per annum.
Career Options after Diploma in Architecture course
A wide range of career opportunities is awaiting the candidates who have successfully completed their Diploma in Architecture course. Grab yours from the following list.
Layout Designer
Automotive Designer
Interior Designer
Builder
Assistant Architect
Architectural Engineer
Landscape Engineer
Highway Engineer
Architectural Historian
Land Developer
Civil Engineer
Structural Engineer
Building Contractor and Researcher
Site Supervisor
Drafter
Software Architect
Technician
You can also specialize in the field of Landscape Architect, Research Architect, Restoration Architect, Lighting Architect etcetera. Some other specialization fields include:
Production drawing
Model making
Property Development/ Real Estate
Surveying
Arbitrators
Information Technology
Historic Preservation
Architects can also work in areas like landscape arrangements, heating, plumping, ventilation systems, sewerage systems, electrical wiring, cooling etcetera.
Also Read:
Private and Government Sectors That Offers Architect Jobs
Both private and Government sectors offer jobs for architects who have completed Diploma in Architecture Engineering courses. Private sectors might be great in number, anyone can apply for top companies. The government has also implemented better options to employ architects. Check out which one suits you.
Government Sectors
Leading Government organizations that make use of architects include:
Department of Railway
Public Work Department
Town and Country Planning Organization
Archaeological Department
National Building Construction Corporation Ltd.
Ministry of Defence
Post and Telegraphs
National Institute of Urban Affairs
Housing and Urban Development Corporations
National Institute of Urban Affairs
National Building Organization
Public Sector Undertaking
Leading Architectural Firms and Companies
There are various architectural firms and companies that you can apply for after completing the course. The list below is the leading firms in and across India.
Zaha Hadid
Oscar & Ponni Architects
Dude Architects
Morphogenesis
Atelier Bow-Bow
Kembhavi Architecture Foundation
Erick Van Egraat
Leo A Daly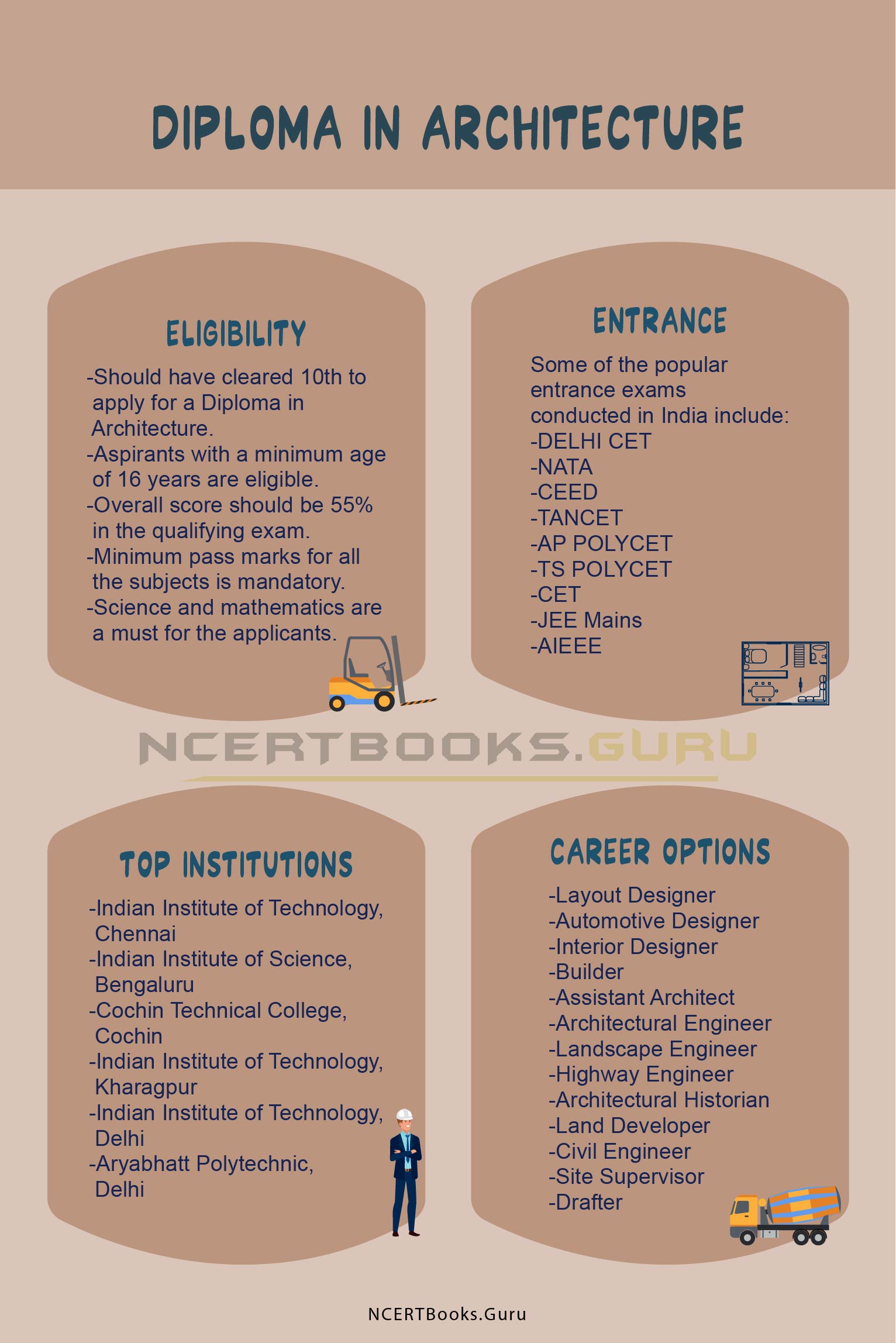 Diploma in Architecture Salary
The greatest attraction to the course can, of course, be salary. Everyone dreams of a desirable income from their work.
Salary After Completion of Diploma Architecture Course
Those who have passed out with flying colours can definitely dream of a fair salary on average starting from INR 10K to INR 15K per month.
FAQs on Diploma in Architecture Syllabus, Subjects, Eligibility, Government Colleges
1. What jobs are offered for diploma in architecture students?
After completion of your course successfully, a variety of jobs are awaiting you including structural engineer, assistant architect, builder, interior designer, site supervisor etcetera.
2. What is the highest salary offered after learning a diploma in architecture course?
Salary might vary depending on the course you have taken, the job you have entered as well as your experience. However, an average salary starting from INR 10K to 15K per month can be expected.
3. Can I apply for a diploma architecture course after 10th?
Yes, you can. You should have a minimum age of 16 years to apply for the course. Be it 10th or 12th you should have passed all the subjects with qualifying marks. Diploma in architecture Subjects such as science and mathematics is a must for the candidates. The course duration is three years and admission criteria might vary depending on the institute.
Summary
Thus, a 1 year Diploma Course in Architecture is a fine career option for anyone. With ample government colleges, private institutes, and facilities, you can join the course and pass out with flying colours.
You can choose your career as per your wish with a variety of job profiles. The attractive salary offered for those completing the course also makes it a dream cum life option. So, what are you waiting for? Grab your opportunity now! Also, visit ncertbooks.guru for other course details and how to become articles.