How to Become an Architect in India?: Indian architecture has grown over time with civilization. The Taj Mahal, being mentioned among the seven wonders of the world to numerous architectural structures and monuments built across the nation, invites people worldwide to visit and explore them. With rapid urbanization, we all require houses, buildings, malls and landmarks to be built. This inspires the young generation to take up architecture as a profession but do you know how to become an architect in India? This article answers this question.
For this, let us understand what exactly is an architect. An architect is a person who plans, designs and constructs a building and advises in the construction of structures. Architects design and plan buildings by using their knowledge and provide services for designing architectural structures. Architects must first design these structures, be it a building, hospital, shopping mall or structures such as a statue. This makes them creative and innovative thinkers and good at the art of designing architectural structures.
Refer to Course Details to know more about related courses and find details like Admission Process, Eligibility Criteria, etc.
Let us now understand how architects work. Architects are not just confined to designing buildings, but part of their job requires taking care of projects, plans and ensuring public safety. Architects have to do the design work first and then proceed ahead with the development. Besides, creative design architects need to have knowledge of AutoCAD or CAD for architectural designing. Once done, they can present these designs on paper to the clients. Once the designs are approved, architects then work-alongside with contractors to construct the architecture according to the designs. During construction, the architect visits the site and monitors, negotiates and resolves problems undertaking many responsibilities.
How To Become An Architect In India?
For this, a person has to work diligently by choosing the right path from school onwards with the required study. The student has to pass the 12th grade with 50% of marks and compulsory subjects chosen at school should be Physics, Chemistry and Mathematics. Alternatively, a three-year diploma course from a recognized institution or college, after 10th grade with subjects with Physics and Math qualifies the student to get into the field of architecture.
Coming now to the process after school and diploma, the student needs to appear and qualify for the entrance examination in architecture after which they can take admission into colleges. The most prominent and widely accepted entrance examination is NATA (National Aptitude Test in Architecture). The COA Council of Architecture conducts the NATA entrance exam for undergraduate admissions into the Bachelor of Architecture degree course. NATA tests the following abilities in Drawing, Observation, Critical thinking ability, Aesthetic sensitivity and Sense of proportion.
Apart from NATA, there are other exams such as the JEE Mains for undergraduate engineering programs B.E/B.Tech (Bachelor of Engineering/Bachelor of Technology). The JEE Paper 1 and JEE Advanced is conducted for admissions into IIT's (Indian Institute of Technology). The JEE Main Paper 2 is conducted for admission into NIT's (National Institute of Technology). The Graduate Aptitude Test in Engineering (GATE) entrance test is given for admissions into postgraduate programs. CEED (Common entrance examination for design) is a test designed in two parts for those students aspiring to study architecture and design. KIITEE (Kalinga Institute of Industrial Technology Entrance Examination). These are the prominent test to be taken for the entrance examination. Apart from this, qualifying for the university entrance examination qualifies students to gain entry to architectural programs.
Courses to Become an Architect
Now that we have seen the entrance test examinations, we will explore the programs or courses to study to become an architect. Degree courses in architecture is a total of 5 years, and diploma courses are of three years. The degree courses are longer as it teaches techniques and unique skill sets.
Degree Courses to Become an Architect in India
Bachelor of Architecture
B Arch (Architecture and Regional planning)
B arch (Building and Construction Management)
B arch (Landscape Architecture)
B arch (Interior Design)
B.E. (Construction Technology)
B.Sc. (Residential space design and management)
B Tech (Urban and Regional Planning)
Bachelor of Planning
Master degree in Architecture (M. Arch)
Diploma Courses to Become an Architect in India
Foundation Diploma in Architecture and Design.
Diploma in Construction Technology.
Diploma in Architectural Assistantship.
Diploma in Architectural Engineering.
Diploma in Town Planning.
Key Skills Required for an Architect
Along with the degree, here are the key skills needed for becoming an architect
Project Management
Project Coordinating
Autodesk AutoCAD Architecture
Autocad 2000i
Autodesk 3ds Max
Graphic Design
Adobe Design
Adobe Photoshop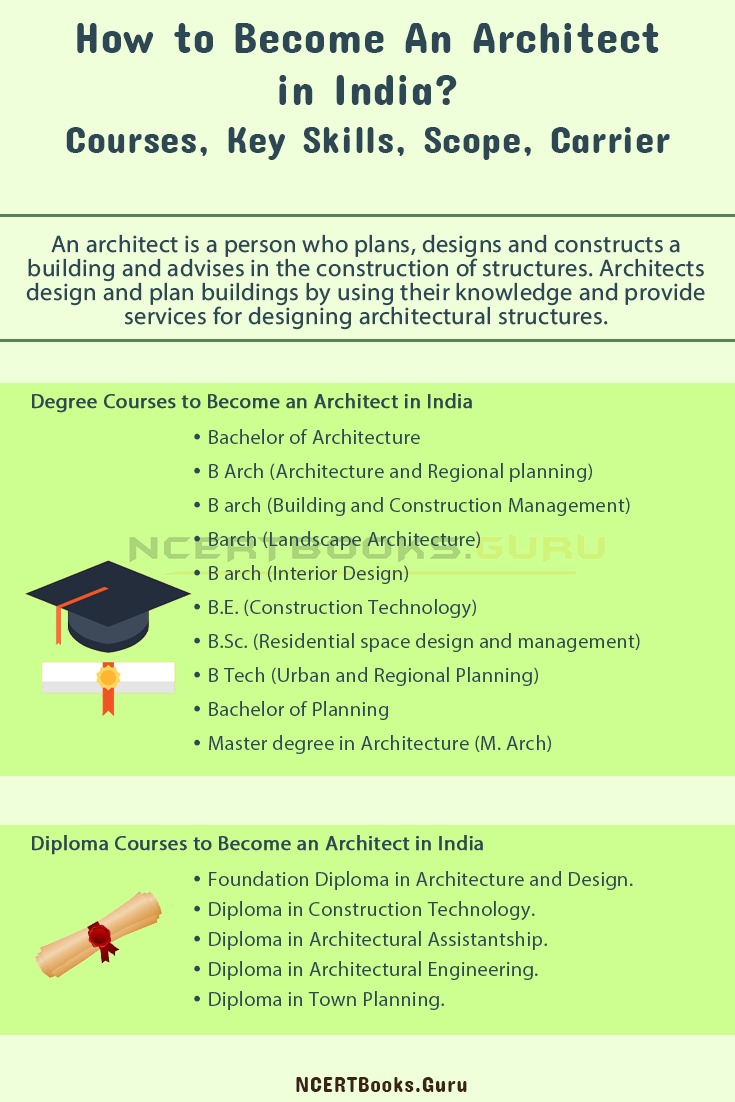 Best Colleges to Enroll for Architecture in India
Indian Institute of Technology – IIT, Kharagpur
Indian Institute of Technology – IIT, Roorkee
School of Planning and Architecture – SPA, New Delhi
National Institute of Technology – NIT, Thiruchirapalli
Sir JJ College of Architecture – SJJCA, Mumbai
Birla Institute of Technology – BIT Mesra, Ranchi
Jadavpur University, Kolkata
School of Architecture and Planning, Anna University, Chennai
CEPT University, Ahmedabad
Chandigarh College of Architecture – CCA, Chandigarh for Post Graduation
Jamia Millia Islamia University-JMI, New Delhi
Anna University, Chennai
Manipal Institute of Technology, Manipal.
Government College of Architecture, Lucknow.
Maulana Azad College of Technology, Bhopal.
Goa College of Architecture, Goa.
Centre for Environmental Planning and Technology, Ahmedabad
Amity University, Delhi
Aligarh Muslim University-AMU Aligarh
Also, See:
Scope of Architecture for Architects in India
An insight into the scope of architects after their education. With the rapid urbanization across towns and cities and in the world, the scope of architectural education increases every day, and demand for architecture is high.
Career Options for Architects
There are plenty of career options for architects to pursue some of them are:
Architectural Engineer,
Town Planner,
Landscape architect
Building designer
Building Consultants
Building Contractor
Building Researcher
Production designer
Project Managers
Design and Developers
Design Managers
Interior Designer
Set Designer
Earning opportunities are many for architects in India. Architects can start their private practice. They can even earn a good income by being appointed as an architect at big companies. They can even work in a government design agency interested in designing, and they can have a successful career. While businesses are growing green and urbanization occurring in small spaces, there is a need to prepare eco-friendly projects. Architects are much needed to provide environmentally friendly designs.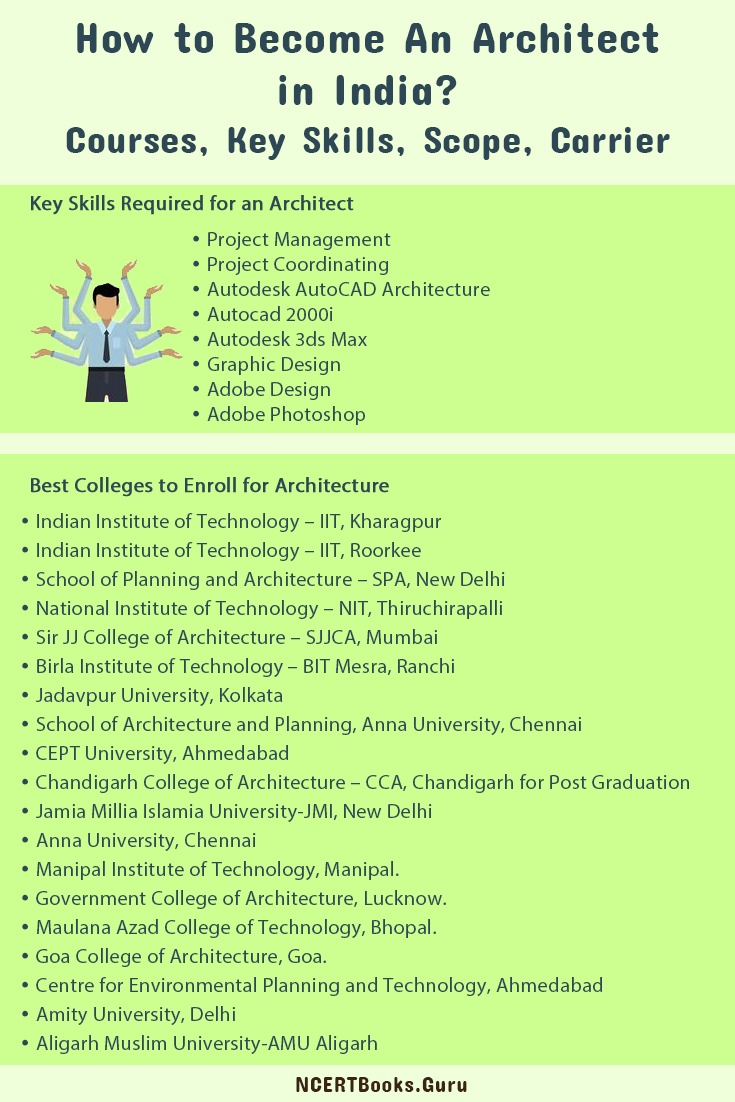 FAQ's on How to be an architect in India?
Question 1.
What are the education requirements to become an architect in India?
Answer:
To pursue studies in architecture, you should have a minimum of 50% marks in Class 12 (H.S.C. or 10+2 or equivalent exam) with core subjects as Physics, Chemistry and Math for undergraduate degree admission into B. Arch (Bachelor of Architecture). Alternatively, admission to a B.Arch program can be attained by a diploma in civil engineering according to the 10+3 scheme with 50% marks.
Question 2.
Is there an entrance test for B.Arch programs in India?
Answer:
Yes, to obtain admission in the first year of the B.Arch degree program, it is compulsory to take the National Aptitude Test in Architecture (NATA). This test enables higher academic institutions to measure students' aptitude in architecture and the grade in the class 12th exam.
Question 3.
What skills does NATA test?
Answer:
Drawing
Critical thinking ability
Observation
Aesthetic sensitivity
Sense of proportion
Question 4.
Where to appear for NATA tests in India?
Answer:
NATA tests can be given at designated test centres which are recognized architectural institutes in India. Further details on centres can be found on the NATA website.
Question 5.
How much are the fees for an architecture course in India?
Answer:
An architectural course is approximately above Rs 50000 for the first-year level. This makes the course in architecture quite expensive.
Question 6.
What is the duration of a B.Arch degree course in India?
Answer:
The duration for a full-time B.Arch. degree After 12th grade is 5 years
Question 7.
Which are the recognized B.Arch. Programs in India?
Answer:
There are many educational institutions to pursue B. Arch degrees in India. The degree pursued should be recognized by the COA (Council of Architecture of India) and (AICTE) All India Council of Technical Education.
Question 8.
What Are The Specialized Courses In Architecture In India?
Answer:
Institutions offer specialized courses at the postgraduate level, such as the M.Arch. degree
However, specializations nowadays are at the undergraduate level as well.
Question 9.
What Are The Specializations Offered In The Area Of Architecture?
Answer:
There are many areas of specialization for those looking to specialize in the field of architecture. The prominent ones are
Interior Design – As the name suggests, Interior designing courses incorporate all the aspects of interior, including interior décor and lighting and adequate space utilization etc.
Landscape Architecture – The curriculum of this course comprises various aspects of nature such as eco-system analysis, wasteland management, historical landscapes and urban landscapes.
Environmental Architecture – This course comprises of incorporates theoretical & conceptual aspects related to energy systems and is related to the environment
Digital Architecture – Digital architecture is based on digital designing software.
A PhD program can also be pursued after acquiring the M.Arch. Degree. Research work can be undertaken in a specialized field such as urban design, industrial design, transport planning, housing and environmental planning etc.
Conclusion
Overall, pursuing academics and a career in architecture in India is an innovative and creative field with an opportunity to study from historical monuments to innovative and contemporary structures.