How to become An Archaeologist in India?: The person who will study Archaeology is called an archaeologist. An archeologist studies the civilizations and cultures of human. It talks about the study of the human past and presents through the left-over remains. It is nothing but the study of dishes, tools, bones, and clothes which are left-over. All these left-overs are collected, observed, and studied to collect interesting information to conduct research. The research is conducted using the available data, artifacts, and biofacts available in the environment.
Archaeology has many branches like the study of lithics-stone tools, ancient plants-paleoethnobotany, animals-zooarchaeology, human remains-bioarchaeology, fossil sciences, and more. These branches explain that Archaeology is much more than digging the earth using tools. So, if you are someone who is looking to become an archaeologist in India, read further:
Refer to Course Details to know more about related courses and find details like Admission Process, Eligibility Criteria, etc.
In India, most of archaeologist works in the Archaeological Survey of India (ASI). An ASI diploma is a must to work in this area in India.
Eligibility Criteria To Become an Archaeologist in India
Before moving further, let us see the eligibility criteria for becoming an Archaeologist:
The applicant must have completed their Class XII with at least 50% of marks.
The applicant must have finished them under graduation on the subjects like Archaeology, Ancient History, History, and more.
For getting a master's degree, the applicant must have finished their graduation with at least 50% marks.
How to Become An Archaeologist in India?
For becoming an archaeologist in India, one has to fulfill the below educational requirements and have to follow the below steps:
One has to earn a bachelor's degree: To become an archaeologist, one has to have completed the undergraduate program and earn a bachelor's degree in cultural heritage, ancient history, archaeology, history or geography or anthropology, or other related fields. One has to enroll himself in a B.A. Archaeology program. Joining in B.A. must take place after the completion of higher secondary education. If the student is looking to become a Marine Archaeologist, he should have an Engineering degree. This educational background will be an additional benefit to you, as you will regularly make assessments of the archaeological remains and actively participate in the excavation projects.
For joining the College, write the Entrance Exam: Admissions for the BA Archaeology are mostly based on the merits. But many top colleges regularly conduct entrance exams for taking admission. IPU CET, BHU PET, and AUCET are the state entrance exams that also include personal interviews.
But if you are looking for admission in MA, colleges will conduct personal interviews where thesis and research works from BA degree are an additional advantage.
Picking the right College: This is highly important as the student must have good field experience to become an archaeologist. When you apply for the College, choose where the on-field experience is the highest and how good the College offers work exposure via internships.
For working as an archaeologist, one must have either a bachelor's or master's degree. So, let us see some colleges in India which offer these courses.
Do Read:
Institutes for Bachelors in Archaeology
Mahatma Gandhi University, Kottayam
Maharaj Sayajirao University of Baroda
Barkathullah Vishwa Vidyalaya, Bhopal
Banaras Hindu University, Varanasi
The Banaras Hindu University, Varanasi, is one of the top Archaeology schools in India.
Institutes for Masters in Archaeology
The Delhi Institute of Heritage Research and Management, New Delhi
Institute of Archaeology, New Delhi
Bangalore University, Bangalore
University of Kerala, Thiruvanthapuram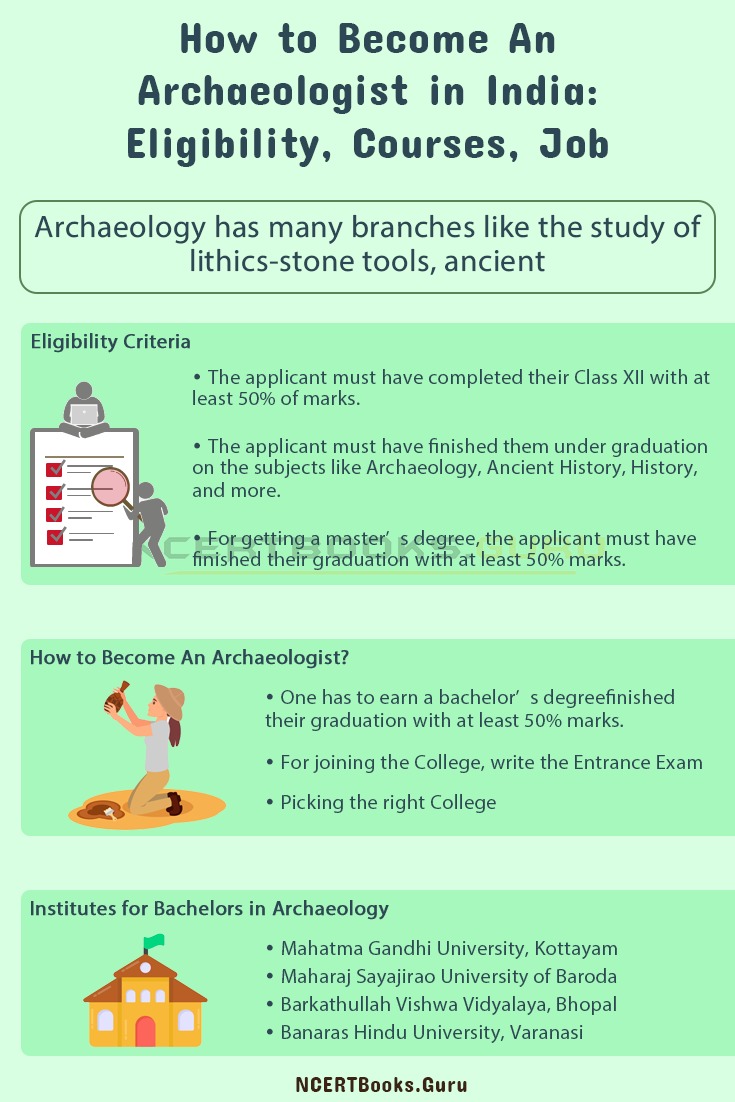 Steps for Landing an Archaeologist Job
Once you get a degree in the field of Archaeology, you have to remember and follow the below steps for landing a job:
Better to complete an internship
Completing a fellowship or an Internship will give you the better field experience, which is the prime requirement of archaeological jobs. You can do these internships at government agencies, archaeological organizations, and museums. When you do the internship, you can even estimate how well you are at the job and making the right career choice.
Always better if you have a master's degree
Though a bachelor's degree will land you with entry-level jobs, when you do a master's course and earn a degree, you will have a better understanding of the field, which will better your skill levels. PG Diploma, Diploma, M.Phil., and M.A. in Archaeology are the master's degrees one can pursue.
Earn a doctorate
Earning a doctorate will let you work as an Archaeology professor and help you take up higher-level projects. Completing the doctorate will take three years, and additionally, you will have to do field research for seven months on a specific topic.
Join the Archaeology association for regular updates
Joining these associations will help you stay in touch with people of similar likes and help you know the latest updates of the news that are archeology-related.
For landing, a job creates a CV
A CV holding the information related to your experience, skills, and education will help impress the employer. Focus on the field experience in the field of your choice when you write the CV.
Which jobs do you land into?
Laboratory technician, heritage consultant, excavation technician, preservation officer, cultural resource specialist, collections manager, and associate archaeologist are the most common entry-level jobs you may land into.
Archaeologist Types
Now that we know how to become an archaeologist, let us see the Archaeologist types:
Environmental archaeologists
They study the interrelationship between the natural environment and an ancient group of people. They talk about the natural habitat that the ancient people lived in. They regularly examine the crops, animals, and plants present in the period they are researching. Their study also involves laboratory experiments.
Bioarchaeologists
Bioarchaeologists are professionals who study the skeletal remains at archaeological sites. These study the skeletal remains at the site. This study includes the study of genetics, ancient diseases, and human remains.
Ethnoarchaeologists
These people talk about the ethnographic investigation of living communities that were present previously. This will help in gaining past knowledge. They have to study the site and culture and compare it with the present people living today in the same site.
Landscape archaeologists
It is the study of landscapes and their artificial and natural changes. The archaeologist will examine for understanding any link between habitats and human behavior.
Aerial archaeologists
Making use of photography and aerial surveys, the archaeologists will try to spot new dig sites. This doesn't deal with excavations.
Underwater archaeologists
Also known as maritime and marine archaeologists, they study the remains underwater, such as shipwrecks, cities, and more. They dive deep into the water and use tools for the search.
Aviation archaeologists
They discover and study the remains of abandoned airbuses, runways, aircraft, or anything dealing with aviation history. Using the information, they will gather information and explain the events and past behavior that were the reason for aircraft crashes.
What are the Skills the one Studying Archaeology Should Have?
An archaeologist must be capable of studying the things used by individuals in the past. They have to excavate and find proofs and observe those proofs to get outcomes. He has to have food knowledge on Topography and History.
The skills required are:
Good Research Skill
Teamwork Skills
Good Eye to detect and find In-Depth Details
Communication and Writing Skills
What are the different Responsibilities and roles of an Archaeologist?
They have to be capable of studying the documents to find historical pieces of evidence.
They must study excavated structures and objects and identify the date and other details to interpret their significance.
They have to preserve and restore the human past and the ancient civilization.
They have to survey, research and assess the sites of the historical cultures and societies.
They have to recommend methods to conserve and interpret any findings and write and publish the reports of what is found on the recording site.
Collect materials, metals, bones, and stones, place them in the bags, and mark them.
Capable of teaching Archaeology at universities and colleges.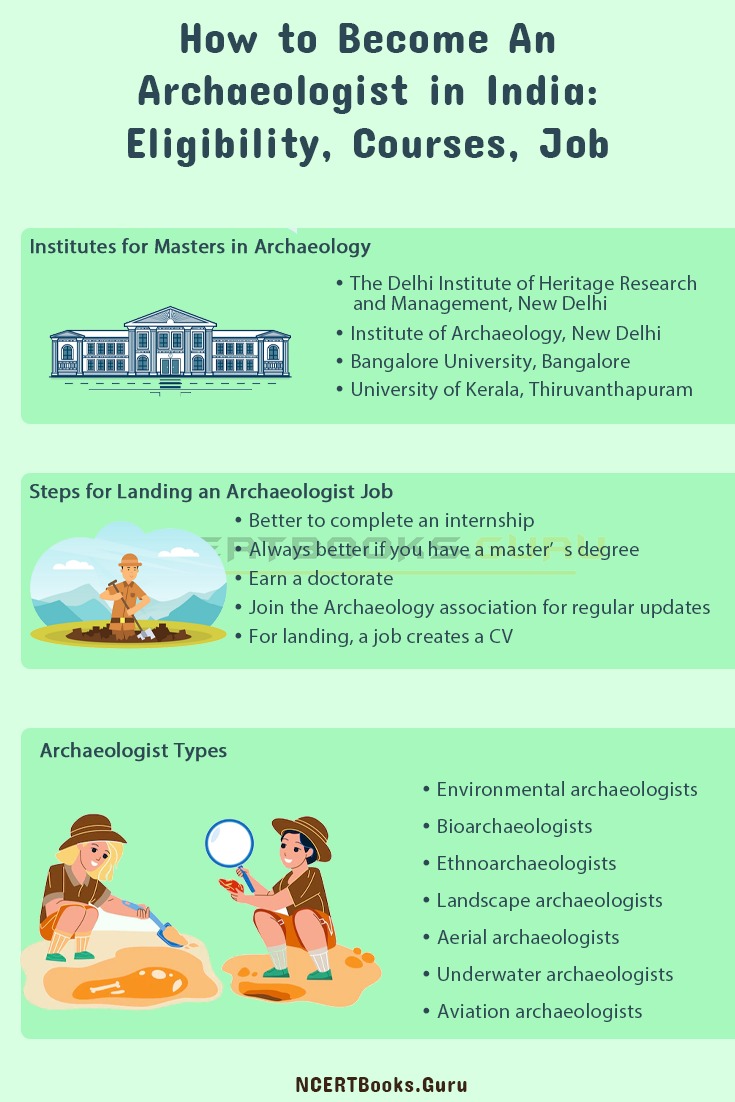 Can an Archaeologist land a Government job in India?
Yes, there is scope to land a government job as an archaeologist. Some of the places are:
Cultural galleries.
National Museum
Archaeological Survey of India
Indian Council of Historical Research
National Heritage Agencies
Colleges and Universities
What is the Basic Salary of an Archaeologist in India?
There is a huge demand for Archaeologists these days as there are fewer numbers in the market. This demand has resulted in very good pay packages to the Archaeologists. A fresher can get a salary of 30,000 every month, and an experienced professional can get a salary between five to nine lakhs per annum.
Parting Words
If you are someone who achieves self-satisfaction after discovering some part of history or the culture that has been hidden for years, then this is the best career option for you. Along with interest, you should have enough patience and work hard to find results. It is the best profession for you if you love to unravel mysteries. Also, unraveling or discovering something new will bring a great reputation in the field of Archaeology.