It's that time of the year again, where hundreds of thousands of students across the country have just finished their 12th standard exams, spending a small time vacation and a get-away with their families, before getting ready for the admissions round. While preparing for the exams takes one kind of effort, the things that need to be done after the exams are a whole different avenue of head-ache for students of the present generation.
BBA Vs. B.Com
The competitiveness and the level of ambitions around the country have increased multifold compared to the atmosphere in the 90s. There are plenty of career choices for the students to choose from and this can be overwhelming. From their parents to siblings to uncles, aunts and all the well-wishers, a flood of opinions and career advice will be pouring down, just to make the matters worst.
Get all your documents ready, do well-read and thorough research on every career option you have come across, match it with what you want to do in life and why. Once your mind is clear and you have at least narrowed it down to two-three options, sit back and relax, this article will help you with it. This article will be especially talking to students who are confused with two of the most popular career choices in India, BBA and B.COM.
Every career opportunity provides you with different pros and con,
The same goes for BBA and B.Com.
Below are some of the things that a degree in these two can fulfill-
The above terms are self-explanatory and is the reason mainly why people pursue these popular courses
These are some of the questions we will be tackling in this article today, which will help us understand which course is better and for whom:
What?
Why?
How?
Where?
For what?
What next?
Also Check: BBA Course Details
BBA Vs. B.Com – What?
Bachelor of Business Administration or BBA is a 3-year full-time professional undergraduate course in Business Management. BBA course equips you with the right knowledge and skills in business and management and imparts knowledge of the principles which are perfect for a career in the corporate world. A degree in BBA is offered by private universities, deemed and Deemed-to-be universities and public and autonomous institutions. The course curriculum is mostly guided by the UGC (University Grants Commission) and AICTE (All India Council for Technical Education). This course is mainly for students who are interested in getting into the managerial aspects of the business world.
B.Com which stands for Bachelor of Commerce is a study of Accountancy, Cost Accountancy, Taxation, Auditing, Business Law, Economics, Business Administration, etc. There are plenty of other optional subjects of the students to choose from, for example, Statistics and Banking which depend on the university and its style of pedagogy design. B.Com is a course for students who are good at and have a favourable bend of mind for numbers and analytics. It also consists of a theoretical study, and most students will be able to pursue an additional course like CA, CS etc. to strengthen the required skill set in this field.
Some of the subject you will be studying if you pursue BBA are:
Human Resource management
Operations management
Marketing and sales
Corporate finance
Business analytics
Business development
Some of the subjects you will be studying if you pursue BBA are:
Statistics
Accountancy
Cost management
Economics
Mathematics
BBA Vs. B.Com – Why?
Do you have the managerial skills?
Are you a born leader?
Are you someone who is naturally inclined to make money?
Are you interested in business?
Are you impressed with the first business management in your family?
If the answer is yes to the above questions, then a course in BBA is a perfect one for you to hone your management skills and propagate it to build and bright robust career for yourself. I say this because being a business's manager is not for everyone. I am not saying it's a born skill, but you need to have that bend of mind built into you, right from a young age, to make a mark in this field.
So once you have understood your character and persona s fit for BBA degree, why would you want to do that?
Here is a list of the whys?
Get into the power corridors of the business world
Tap into your entrepreneurial ambitions
Your career will be industry independent because business managements required across all the industries and sectors.
Develop a robust network
Mark a dent in the business world with your skills and competency.
On the other hand,
Are you good with numbers?
Are you someone who does the monthly budget for your dad?
Are you a money-minded person?
Is your logical and analytical thinking good?
Are you someone who does critical reasoning in every situation?
If the answer is yes to the above questions, then a degree in B.Com is a perfect one for you to pursue your dream career.
From auditing the biggest of the big companies to taxation laws, corporate finance, derivative, stock brokerage etc, There is no stopping you if you are into financial aspects of the world. A bright career with plenty of option to choose from will be waiting at your doorstep if you are good at what you do along with required certificates in your hand.
So why would one choose to pursue a career in B.Com?
Interest in taxation and corporate finance
Interest in holding companies financially accountable
To work independently or have entrepreneurial dreams
Have bend of mind for stock markets
BBA Vs. B.Com – How?
BBA Eligibility
For admissions into BBA courses, students are needed to clear the 10+2 or equivalent examination from any recognized board or school. Some colleges consider the criteria for securing 50% marks in the qualifying exam. The age should be between 17 to 25 years.
B.Com Eligibility Criteria:
Eligibility criteria for B.Com course: The candidate must have studied Commerce in class 11 and 12 with Accountancy, Business Studies, Economics, Maths/optional subject and English as main subjects. The candidate must meet the minimum cut-off criteria for admission to the college applied to.
BBA Vs. B.Com – Where?
There are plenty of college and universities in India that offer both BBA and B.Com and have a good reputation among its students
These are some of the top colleges in India to pursue a career in B.Com
Some of the top colleges in India for pursuing a degree in BBA are: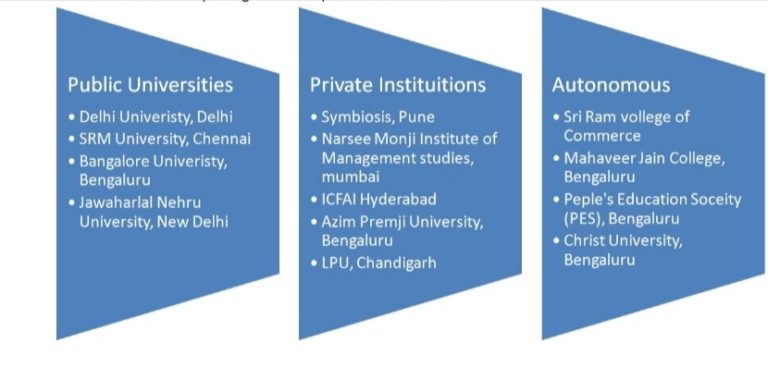 BBA Vs. B.Com – What next?
Ultimately, we purse degrees to have job satisfaction and financial independence. Passion and ambition also come into account, provided the first two aspects are fulfilled.
Some of the career options once you have purse a degree in B.com are:
CA (Chartered Accountant),
CS (Company Secretary),
ICWA (Institute of Costs and Work Accounts) or CMA (Cost Management Accounting),
FM (Financial Management),
CA (Cost Accountant).
CA (Chartered Accountant)- Chartered Accountants are simply those who do auditing of financial statements, fill up corporate taxes, give financial advice, etc. CA's deal with areas like Taxation, Accounting & auditing, applied finance, management accounting, etc.
CS (Company Secretary)- Company secretaries are the ones who basically run the companies. Their primary role in a company is to look after the day to day running of the company. They have to look after the legal, administrative, and many more functions in a company.
ICWA (Institute of Cost and Management Accounts)- The CMAs are the specialists who deal with framing the business strategies and value generation. It is their job to draft and put into effect everything that deals with the financial conservation of the company.
Financial Management- Financial Manager's job is to manage the finances of the company. It is his work to make sure that the funds available should be spent effectively. His job affects the profits and losses of the company.
Cost Accountant- There is a difference is Chartered Accountant and Cost Accountant. Initially, the subjects covered in both are the same. But the job of Cost Accountant is to plan the annual or yearly budget. Whereas chartered accountant has to audit the budget.
Some of the career options once you have purse a degree in B.com are:
HR(Human Resource) Manager- The vital job of an HR manager is to administer and maintain the HR department. A new recommendation in a company is raw and needs to be worked on. It is his work to recruit new employees in the company and then look after their overall well being.
Operations Team Leader(OTL)-The OTL's job is to deal with the administration of the services provided to the customer of the company. They also work towards maintaining the condition of the building & equipment of the company.
Project Manager -The Project Manager is the link between the higher authorities and the working staff. He leads and reports the functioning and progress of the projects taken over by the company. He is responsible to look after and set the project effectively.
Business Consultant/Business analyst- A business consultant is responsible to help the companies to deal with the different challenges that the companies face. He/she helps them be up to date with the upgrades and new technologies that run the world. To inform them about the new suitable keywords of the technological world and run the business in line with the changing technological landscape in the industry.
Business Development Executive- The job of a Business Development Executive is to basically analyze the current market and business trends. He has to create plans to boost up the business. He also provides with the outlining of costing and accurately investing the money in the project.
Both BBA and B.Com have their own bright spots and limitations. It all depends on what are the students' needs, desires, aptitude and ambitions.
Must See: B.Com Course Details
FAQs on BBA Vs B.Com
1. Which is better BBA or B.Com?
Both BBA and B.Com offer similar career prospects. If you want to pursue an MBA BBA would be a better option. However, in reality, doesn't make much difference. BBA concentrates more on practical aspects and B.Com on theoretical aspects.
2. Is BBA good for future?
Yes, BBA is a good and promising course for any student in the future and has a great scope.
3. Is BBA and B.Com Same?
BBA is a Business Management Course and B.Com is an undergraduate course in the Stream of Commerce.
4. Is B.Com difficult?
No, B.com isn't difficult. There is no such thing as difficulty it all depends on your interest in the particular course.