B.Tech Course Details: A B.Tech degree or B.E is a highly approved and favoured degree in many parts of the world for a secure and stable future. And this assumption is done rightly so, given the timely inventions and innovations happening around the world, thanks to engineers and the institutes that nurture them.
An engineering degree in the right field and the right college according to your needs and aptitude can provide you a bright and successful future ahead. You have come to the right place to know the ins and outs of what a degree in B.E means and what it constitutes.
Here we have the answer to all your "Whys What Where and How".
B.Tech Full Form – Bachelor of Technology

B.E Full Form – Bachelor of Engineering
Here, we have provided all the required information about B.Tech Course Details like course duration, fees, admission, colleges list, specialization courses, job options, and many more. Simply go through with the below available links and directly jump into the needed details about the Bachelor of Technology Course. 
Contents in this Article:
What is B.Tech Course?
A bachelor of technology is a 4-year full-time undergraduate engineering degree. It is a university-level education that acts as a gateway for students to jump into their professional careers. A degree from reputed colleges like IITs and NITs can pave a long way ahead in the field.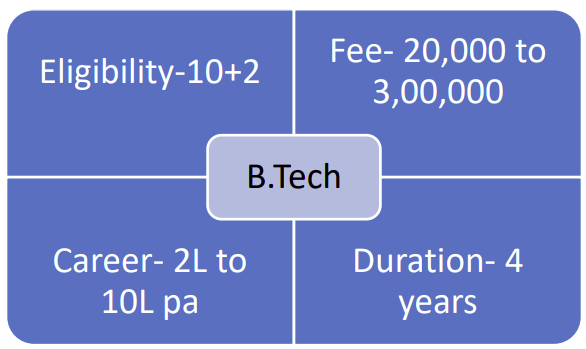 The career growth in a B.Tech course is highly robust and dynamic in nature
Starting salary depends on the stream opted for and the college chosen.
Fees vary according to affiliations and the management of the institutions.
A degree in Engineering Course can hone entrepreneurial skills of the students. Every year 5 to 10% of students graduating from IITs opt out of the placements in order to start their own firm
Other Related B.Tech Courses Details:
Why Choose B.Tech?
Job Market
Engineers are required in every industry and walk of life.
Freedom to choose a career, job roles and companies
Financial Security and Prestige
Return on investment is high
High paying jobs will provide for financial stability
Working for companies like L&T, Maruti, Google, etc., in itself is a status symbol
Service to society
Engineers build the world. So it is a gateway to giving back to the society
From inventions to innovations to changing business models, engineers are behind everything.
B.Tech Course Details 
| | |
| --- | --- |
| Course  | B.Tech |
| B.Tech Full form | Bachelor of Technology |
| Eligibility for B.Tech After 12th | 10+2 or equivalent |
| Duration | 4 years |
| B.Tech Course Fees | Rs.1,411,000 |
| Course Type | Regular mode / Distance mode |
| Starting salary offered | Rs. 15,000 to Rs. 45,000 per month |
| Advance Courses | M.Tech |
| Similar Course | BE |
| Employment opportunities | Software Engineers, System Integrator, System Analyst |
Eligibility Criteria for BE/B.Tech Course
The basic eligibility requirement for admissions to any B.Tech programme is:
Candidates must have passed Class 10+2 exam from a recognized board with Physics, Chemistry, and Mathematics as core subjects.
They must also have secured minimum aggregate marks of 60% in the above subjects combined.
Please note that the B.Tech eligibility criteria would vary from institute to institute.
B.Tech Entrance Exams
The admission process for Bachelor of Technology [B.Tech] Course can be done through popular entrance exams as listed below:
Joint Entrance Exam Main [JEE Main]
Birla Institute of Technology and Science Admission Test [BITSAT]
VIT Engineering Entrance Examination [VITEEE]
Andhra Pradesh Engineering, Agriculture, and Medical Common Entrance Test [APEAMCET]
Uttar Pradesh State Entrance Exam [UPSEE]
Joint Entrance Exam Advanced [JEE Advanced]
Indian Institute of Science Education and Research Aptitude Test [IISERAT]
A consortium of Medical, Engineering and Dental Colleges of Karnataka Undergraduate Entrance Test [COMEDK UGETT]
West Bengal Joint Entrance Examination [WBJEE]
Telangana State Engineering, Agriculture, and Medical Common Entrance Test [TS EAMCET]
Indraprastha University Common Entrance Test [IPUCET]
Maharashtra Common Entrance Test [MHTCET]
Karnataka Common Entrance Test [KCET]
Kalinga Institute of Industrial Technology Entrance Examination [KIITEE]
SRM Institute of Science and Technology Joint Entrance Examination [SRMJEE]
Amrita Entrance Examination- Engineering [AEEE]
Manipal University Online Entrance Examination [MU OET]
Symbiosis Entrance Test [SET]
B.Tech Admission Process | How to get Admission in B.Tech Course?
The only thing you need, in order to get into an engineering college, is hard work and passion. Everything else, including training, books, study materials, entrance exams, etc., are all just too to get where you want to.
But how do you get into a good engineering college?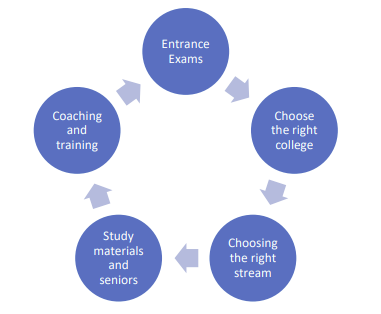 From choosing the right college to opting for a stream of your interest and preparing well for the exams, all the help you need is available right here, right now.
The B.Tech Course Admission Procedure is the same for all Engineering Courses in India.
Also Read: 
Fee Structure for Bachelor of Technology
If you have qualified in the entrance exam then you can offer for the scholarship scheme by the respective state and college. The BTech course fees differ with respect to colleges or universities. The average course fees for the Bachelor of Technology [B. Tech] is INR 40,500 to INR 1.5 lakhs per annum.
Do refer to Course Details to know more about related courses and find details like Admission Process, Eligibility Criteria, etc. 
B.Tech Course Duration
Candidates will be awarded as B.Tech UG Degree Graduate after completion of the course duration with minimum qualified marks in all semesters. The duration of the undergraduate Bachelor of Technology course is Four Years for all specializations like computer science, electrical, electronics, civil, chemical, etc. 
B.Tech Course – Where to Study?
Every year, more than 10 lakh students sit for various engineering entrance exams across the country. There are enough engineering seats for most of them. But doing B.Tech is different from doing B.Tech from the right college is different. We will help you choose the right college, but before that let's break some myths about engineering colleges, shall we?
If you don't do B.Tech from IITs or NITs, then it's not worth it– Not necessarily. IITs might be the most sought after institute in India, but it's in no way a tool to measure your career success. It all depends on you and only which institutes just can open the gate for your career. But then again, it does not mean you shouldn't aim for these institutes, they are at the top because they deserve to be there.
Cracking entrance exams is next to impossible– It's impossible only if you believe it's impossible. A B.Tech course is an undergraduate program. It's not ungodly to crack IT. With proper guidance and efforts, anybody can crack the exam.
A job is guaranteed if I Do B.Tech– Nothing is guaranteed unless your competencies are honed. Even IITs do not guarantee any job for anybody. Again, it all depends on you.
Some of the most sought after engineering colleges in India are: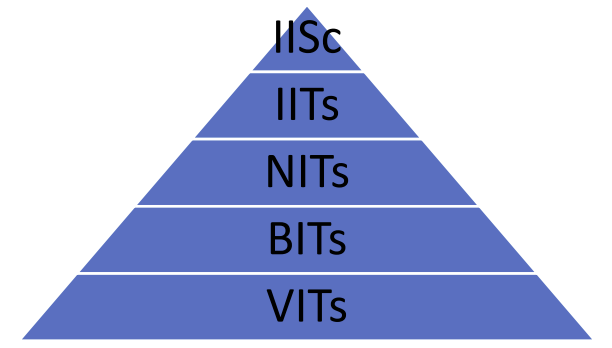 IISc Bangalore is considered to be the topmost prestigious institute to study science and technology in the country. There are various IITs like IIT Bombay, IIT Delhi, and IIT Madras which are the most sought IISc IITs NITs BITs VITs after IITs. Many private run institutes like Manipal Institute of Technology and Birla Institute of technology are the frontrunners when it comes to student choices.
List of Top Colleges in India Offered Bachelor of Technology
The list of top colleges in India for Bachelor of Technology [B. Tech] curriculum is tabulated below:
| Sl. No. | Name of the College |
| --- | --- |
| 1 | IIT Kanpur |
| 2 | IIT Kharagpur |
| 3 | IIT Bombay |
| 4 | IIT Madras |
| 5 | IIT Delhi |
| 6 | BITS Pilani |
| 7 | IIT Roorkee |
| 8 | IIT-BHU |
| 9 | IIT Guwahati |
| 10 | NIT Warangal |
| 11 | NIT Surathkal |
| 12 | NIT Kurukshetra |
| 13 | NIT Tiruchirappalli |
| 14 | NIT Allahabad |
| 15 | Jadavpur University |
| 16 | IIEST Shibpur |
| 17 | Vellore Institute of Technology |
| 18 | SRM Institute of Science and Technology |
| 19 | Amrita University |
| 20 | PES University |
Some of the most sought after courses are: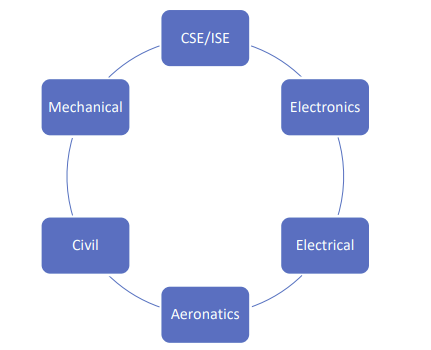 What is the difference between a BE and B.Tech degree?
Difference between BE and B.Tech
BE
B.Tech
BE is more theoretical and knowledge oriented. It is a study based on theory.
B.Tech is a skill/data-oriented. The course is more of application engineering.
B.E. course deals with engineering aspects of Science
B.Tech course deals with the technical aspects of Science
The course is applied to develop innovative equipment and useful technical gadgets in Science and Technology.
The course applies the principles of engineering and technology to modify structures and thereby enhance their quality.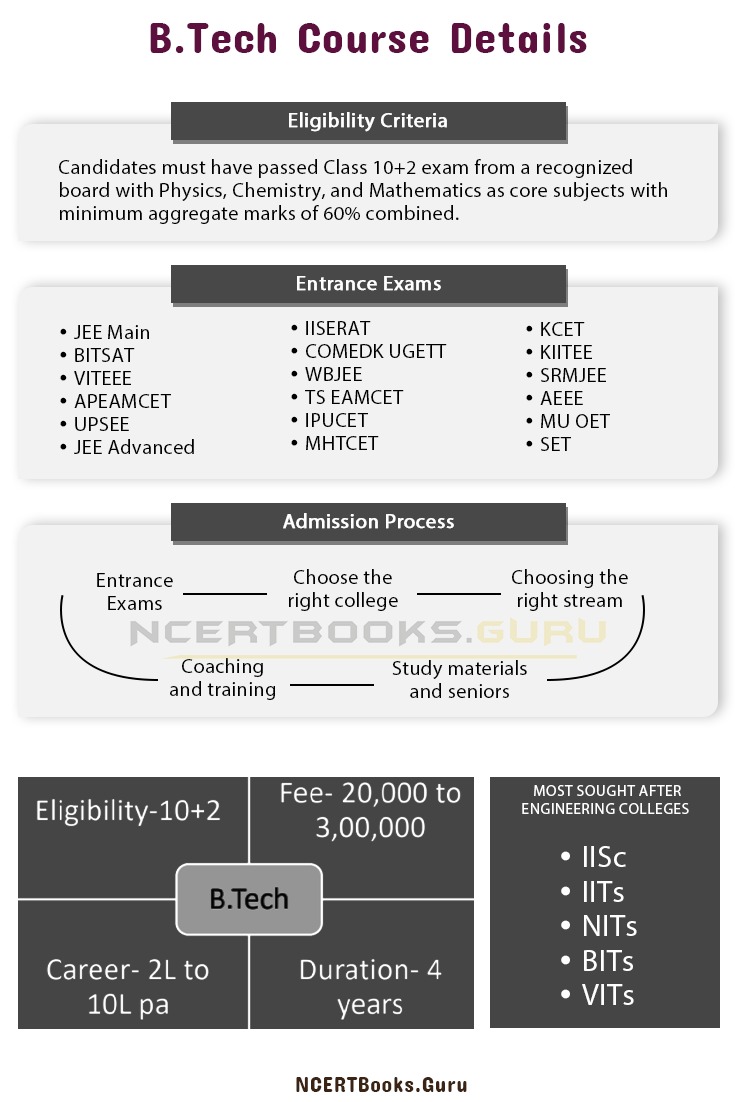 Required Skillset for BE/BTech
| | |
| --- | --- |
| Ability to communicate – verbal and written | Familiarity with Industry Standards |
| Knowledge of the core subject | Teamwork |
| Creativity | Multi-disciplinary exposure |
| Application of the knowledge | Leadership Skills |
| Analytical & Creative thinking | Acquaintance with Computers & IT |
Specialization Courses for Bachelor of Technology 
The following are some of the most popular B.Tech Courses List, that can be taken by the students who have qualified in the entrance exams. 
Computer Science and Engineering.
Electronics and Communication Engineering.
Mechanical Engineering.
Civil Engineering.
Information Technology
Download B.Tech Syllabus for all courses.
B. Tech Undergraduate Can Become
After completion of UG in Btech stream, passed graduates can become an engineer in their specialized stream. A list of few job designations are given below:
Computer Engineer.
Drafting and Design Engineer.
Aerospace Engineer
Chemical Engineer.
Civil Engineer.
Agricultural Engineer.
Biomedical Engineer.
Automotive Engineer.
Job Opportunities For B.Tech Graduates
The job openings for BTech graduates are huge in technical fields. Any graduate who has successfully attempted a BTech degree can get a job in almost all the sectors in India. Besides being recruited as engineers, bachelor of technology graduates are also appointed as consultants, subject matter experts, researchers, managers, etc. Here is the list of some of the popular fields and firms that B.Tech holders can choose for the career options below.
Telecommunications and networking
Programming and software development
Computer science research
Information systems operation and management
Image processing, graphics, and multimedia
The Web and the internet
Training and support
One who wants to get a job in the software field must choose Software Engineering Courses during their Bachelor of Technology.
B.Tech Course – Future
Once you complete your B.Tech course, there will plenty of job opportunities awaiting your skills.
Some of the most prestigious organizations to work for after completing your degree are:
Google
Microsoft
Boeing
L&T
BMW
Ford
Mahindra
Indian Oil
If you aspire to give it back to the society and work for government organizations, you need to give IES (Indian Engineering Services) examination to work various Public Sector Units like
Bharat Petroleum
Coal India Limited
GAIL CSE/ISE Electronics Electrical Aeronautics Civil Mechanical
BSNL etc.
A B.tech degree will forever be an evergreen degree because countries like India are heavily investing in infrastructure development, science and technology, and research and developments. More and more engineers are required in the future, both in public and private sectors to run the country and its economy.
Students who want to go for higher studies can refer Best Courses After B.Tech.
B.Tech Graduate Salary In India
For engineering graduates in any of the specialization can earn a starting salary from Rs 20,000 to 30,000 per month. The experienced graduates can draw a yearly income of Rs. 5 lacs to 10+ lacs depending upon the company you are working for. Not only in India but also in other countries engineering students can earn huge salary packages in many top-level companies. 
Candidates should pursue top 10 Engineering Courses to get the highest salaries.
Frequently Asked Questions on B.Tech Course Details
1. Should I do an MBA after B.Tech?
Yes, an aspirant of B.Tech should pursue an MBA after graduation to increase his or her employability. Companies prefer candidates with managerial experience and knowledge as it will help in the logistical side apart from the technical expertise.
2. Which stream is best in B.Tech?
There is no specific best stream in B.Tech. All the specialization branches of B.Tech have their unique value and lucrative employability opportunities or research options. It depends on a person's interest, which should govern the stream an aspirant wishes to pursue.
3. Is B.Tech better than B.Sc?
Yes, B.Tech is better than B.Sc if the aspirant wishes to learn about the technical application side of technology rather than the research scope. However, for research scope, B.Sc has more opportunities than B.Tech.
Final Words
We believe the information furnished above regarding B.Tech Course Details has been essential for you to get deep knowledge about the course. If you need any help from us, please contact us via the below comment box. We will surely get back to you with the best possible solutions asap. Meanwhile, bookmark & visit our site regularly for getting more updates on Course Details, Notes, Books, Study Materials, Exams.