Mining Engineering Course Details: Are you interested in learning about minerals and extraction? If so, there could be no other better option than choosing a Mining Engineering Course. In the course, candidates will learn about the technologies and techniques for the identification and extraction of the minerals. The term Mining Engineering is the combination of two branches "mining" and "engineering." Mining is all about getting coal or other minerals from a mine. Engineering is a branch of science that deals with the design, building, and uses of engines.
About Mining Engineering Course Details
Mining Engineering course is available at various levels like Diploma courses, B.E./B.Tech., ME/M.Tech. The course is for those interested in learning the mining of different products. There are rising demands for professional trained Mining Engineers to create high-quality designs. Also, demand is for the processes to maximize efficiency and safety. After the identification of mineral deposits by geologists, mining engineers have the responsibility to decide the place of explosion.
Some important duties of a Mining Engineer are:
Feasibility study
Construction of mines
Maintenance of mines
Designing engineering structures
Ventilation and cooling in mines transportation
Marketing of minerals, etc
Not only this, but they also have to keep the surroundings safe from wastes and pollution. It comes to pass during the process of mineral extraction. Read below to have complete fee details, course duration, salary offered, job opportunities, admission process, and eligibility for Mining Engineering Course.
Overview of Mining Engineering Course Details
| | |
| --- | --- |
| Course | Mining Engineering |
| Duration | 1-3 years depends upon course type |
| Eligibility | The aspirant must have cleared 10th standard |
| Fees paid | INR 50K-2 lakh |
| Salary Offered | 5-6 Lakhs per annum |
| Job opportunities | Junior Mining Engineer, Assistant Mining Operator, Technical Consultant |
| Type of Course | Certification, Diploma, Undergraduate, Postgraduate course |
| Admission Procedure | Merit/ performance-based |
| Skills Required | Creativity to create unique methods |
Subjects and Concept in Mining Engineering Courses
Subjects like electrical and mechanical engineering, engineering drawing, mining safety, mining survey, computer-aided designs, calculus, social science and humanities, economic analysis, soil mechanics, and drafting have studied that help in research and development in the mining field.
Get to Know More about other types of Course Details in Streamwise, and Categorywise.
List of Colleges Offering Mining Engineering Course
Indian Institute of Technology at Kharagpur
Indian Institute of Technology, Delhi
Indian Institute of Technology, Guwahati
Indian Institute of Technology, Mumbai
Indian Institute of Technology, Kanpur
Indian Institute of Technology, Raipur
Indian Institute of Technology, Kurukshetra
Indian School of Mines, Dhanbad
Government Engineering College, Gujarat, etc
Duration of Mining Engineering
Mining Engineering degree is a 4-year course in which the candidate must pass 10+2 with physics, chemistry, maths. Theory subjects are easy to learn with practical experience. The criteria are similar to other engineering courses to take admission and for eligibility.
Mining Engineering Course Fee
The fee for the course depends upon various factors like the type of institute, the popularity/ranking of the institute, merit, and the scholarship earned by the student.
The fee for the government institutes is much lower as compared to any private institutes. And merit-based admissions also have a lower fee. But the average course fee is between 50K-5 lakhs.
Mining Engineering Eligibility Criteria
Eligibility for Mining engineering differs from college to college. However, there are some eligibility criteria that must be fulfilled before applying for admission. These criteria are as given below:
The student must have studied science subjects like maths, physics in the 12th, or qualifying exam.
The candidate must have 50% aggregate in 12th standard
Students who are waiting for the 12th result may also apply.
Mining Engineering Admission Procedure
Admission in Mining Engineering may be based on different factors. It depends on the type of institute a candidate is applying for, given below is the detailed information regarding the admission process:
Merit-Based Admission: seats are offered to the student based on his performance in the 12th standard. Many states like Haryana, Tamil Nadu, Maharashtra, and many others offered online counseling.
Entrance-Based Admission: some institutes conduct entrance exams for the admission process. The seat is offered if the candidate clears the entrance exam.
Direct- Admission: Candidates can get direct admission without any entrance exam in any private institute. The candidate has to visit the respective college for admission.
Mining Engineering Course Subjects
Several subjects are to be studied under the Mining Engineering Course. The theoretical subjects that are includes are given below:
Ventilation
Industrial Management
Rock Mechanics
Mine Health and Safety
Mine Planning
Environmental Aspects of Mining
Drilling and Blasting
Design of Engineering Structure
Minerals Processing
Material Processing
Ore Reserve Analysis
Mine Cost Engineering
Job Profile and Other Employment Opportunities
The candidate may be appointed as:
Mining Engineer- Granite
Mining Engineering Technicians
Research Engineers- Data Mining
Deputy Chief Mechanical- Metals and Mining
Assistant Mining Engineer
Mining Engineer
Mine Planner
Technical Consultant- Mining Industries
There are numerous career options for the candidate after completing graduation. They are also eligible for teaching if they pursue a master's degree in mining engineering. In India, candidates have a better scope of profitable job opportunities for candidates.
Given below is a list of top companies where the candidate can apply for:
The Indian Bureau of Mines
Geological Survey of India
IPCL
Essel Mining and Industries Ltd.
Damodar Valley Corporation
Neyveli Lignite Corporation
Essel Mining and Industries Ltd.
Hindustan Zinc Limited
Adani Mining Pvt.Ltd.
ArcelorMittal
Bharat Forge Limited
Cairn Energy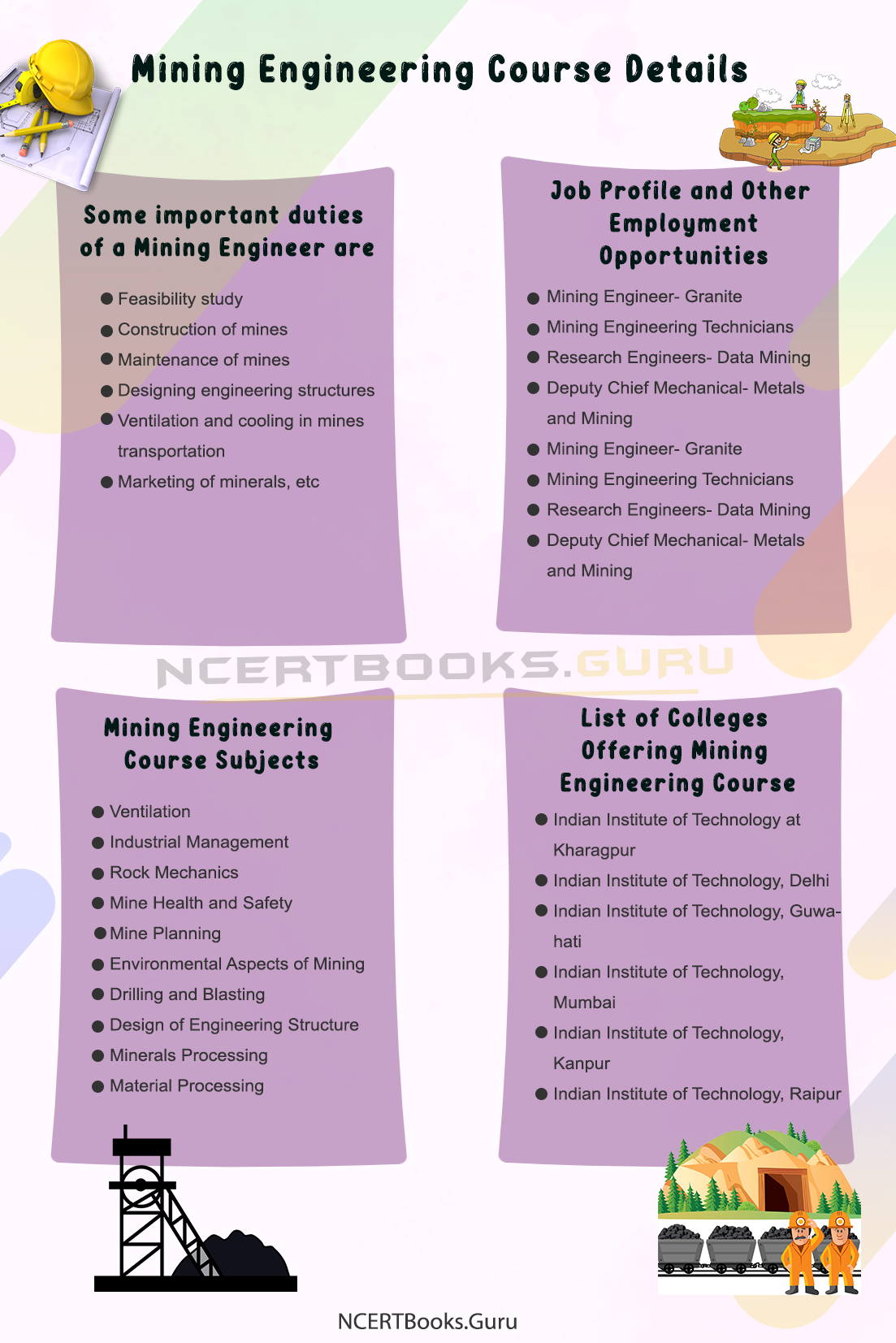 Salary Offered to Mining Engineering Professionals
The candidate who has graduated with Mining Engineering and wants to join any of the job profiles will earn an average salary of 6 to 8 lacs per year. As one will gain experience and learn skills, they will see an increase in their salary. Also, it depends upon the location and the organization you are working for. As compared to other professions, they earn more compensation. In countries like the US, mining engineers earn approximately $90,070.
FAQ's on Mining Engineering Course Details
Question 1.
What do mining engineers do?
Answer:
The person who makes sure that underground resources like minerals, metals, oil, gas, etc., are extracted safely and bring well-organized plans for possible mining sites.
Answer:
It is the process of extraction of valuable minerals or geological materials from Earth. Mining Process will have a great scope in the coming times. So the demand for engineers is increasing.
Question 3.
What is the process of learning mining?
Answer:
To become a minimal engineer, one needs to gain at least a bachelor's degree and further pursue a master's degree in research. It is to ensure you have mastered your field with great knowledge.
Summary
Hopefully, through the knowledge above, you must gain all the detailed information about the Mining Engineering course in India. Topics are covered in brief details include the fee, duration, eligibility, salary, job prospects, and the admission procedure.