Best JOb Oriented Courses After B.Tech: Bachelor of Technology is still the most preferred undergraduate degree course that students choose after clearing class twelve examination in the science field. The duration of the B.Tech is four years, and it is offered by various engineering institutes and colleges all over the world. But what happens after completion of B.Tech?
There are various courses that one can perceive after completion of B.Tech. If a student has completed B.Tech from a very famous and well-known institute like I.I.T.' s(Indian Institute of Technology) and N.I.T.' s(National Institute of Technology) they usually go for the campus placements which is very beneficial for them. For the students who choose to study further, they can always go for post-graduation.
About Courses After B.Tech
B. Tech stands for Bachelor in Technology. It is a four-year undergraduate professional course. After four years, the students are awarded a professional undergraduate degree. B. Tech is done in various fields; some of them are Computer science, Aerospace, Mechanical, civil, Ceramic, Chemical, Electrical, etc. This course is also offered by some well-known institutes like I.I.T.'s and N.I.T.
Courses After B.Tech (Bachelor in Technology)
After the completion of the B.Tech course student can opt for a Master's program. The masters are offered in the core engineering subjects like M.Tech and M.E. They can also choose to study further by opting for a Ph.D. program. The students who wish to explore the field of business can do M.B.A. after B.Tech.
M.Tech/M.E
M.Tech(Masters in technology) and M.E. (masters in engineering) are post-graduate courses offered by various universities in India. In both these courses, students will have to choose one specific field in which they want to specialize or excel. The most common exam which students need to give for the M.Tech course is Graduate Aptitude Test for Engineering (GATE). This is an entrance test, and it is held annually. It is the benchmark test for all engineering students. There is no other post-graduate entrance exam like TANCET, etc. However, some private universities conduct their entrance exam. Some popular fields/specialization that B.Tech graduates can take up for M.Tech.
Automobile Engineering
Thermal Engineering
Chemical Engineering
Software Engineering
Energy Engineering
Industrial safety engineering
Computer Integrated Manufacturing
Product Design and Development
Information Technology
Get to know about more types of course details arranged streamwise and categorywise.
Top Colleges for M.Tech, M.E and Fee Structure
JECRC University, Jaipur – seventy thousand rupees per annum
CRM Institute of Technology, Hyderabad – sixty thousand rupees per annum
Brainware University, Kolkata – One lakh twelve thousand per annum
College of Engineering, Roorkee – eighty-three thousand nine hundred per annum
Sage University, Indoor – one lakh thirty-five thousand per annum
M.B.A. (Masters in Business Administration)/PGPM or PGDM (Post Graduate Diploma/Program in Management)
After graduating in B.tech, many graduates sit for college placements and then gain a few years of professional experience. After gaining a couple of years of work experience, for better corporate exposure as well as for further academic knowledge, youngsters choose to enroll themselves for full time or part-time M.B.A. programs. Full-time M.B.A. programs go on for two years.
However, there are part-time M.B.A. programs as well, which go on as weekend M.B.A. programs or as normal part-time M.B.A. programs to suit people who enroll for the course while having other commitments. There are executive M.B.A.'s for people with many years of corporate work experience. Various specializations generally have to be opted for during the second year of M.B.A. programs.
These specializations mainly are – marketing, finance, or H.R. (human resource). Apart from these, there are M.B.A. programs that focus on some other specific and targeted streams like data science, big data, rural marketing, media, and communication, etc. to prepare one to meet the current global demand of the fast-changing world. The course curriculum changes accordingly.
However, few basic subjects like accounting (financial, managerial, cost accounting), marketing research, organization behavior, business laws, etc. are static for almost all M.B.A. programs. A PGDM (Post Graduate Diploma in Management) or PGPM (Post Graduate Program in Management) is equivalent to an M.B.A. degree in current times.
M.Sc.
Master in Science is something that a B.tech graduate can consider after graduation. There are a plethora of streams in science that one can master and get their degrees. From data science to business analytics to any other specialized Masters in science, a candidate can opt for the program as per their underlying interests. The duration of the course, however, varies in accordance with the university as well as the course.
Generally, M.Sc takes about two to three years. Once you attain or obtain your master's degree, you can then also go ahead and do your Ph.D. It is important to remember that the Ph.D. is only recommended for those who want to grow and further their career in the field of academics or research.
Civil Service Exams
Many B.tech graduates who are keen on serving the country decide to enroll themselves and give a shot at civil service exams. But, civil service exams are not a piece of cake. With a vast and rigorous curriculum, exams like I.A.S. (Indian Administrative Services) expect the students to know everything that they can know as anything gets asked in the examination paper.
There are also State public commission exams that are a little less difficult than I.A.S. (Indian Administrative services) or I.P.S. (Indian Police Services) or I.F.S. (Indian Forest Services) and UPSC exams that graduates try giving after B.tech. One cannot specify the duration for such courses as each level is difficult and varies with person as to how many attempts and thus how much time is taken. Moreover, the students are very stressed as a lot is expected out of them in the exams.
Others  
Mass-communication, Literature, Biotechnology, Agriculture, Hospital Management, Resource Procurement, Production, financial courses – both short term as well as long term courses, Journalism, Banking, and other avenues. It is possible to explore endless opportunities in terms of further education and career options as long as you are interested in a particular thing. Some graduates, after b.tech., opt for civil service exams like UPSC and I.A.S. or I.P.S. or other state service exams as discussed above.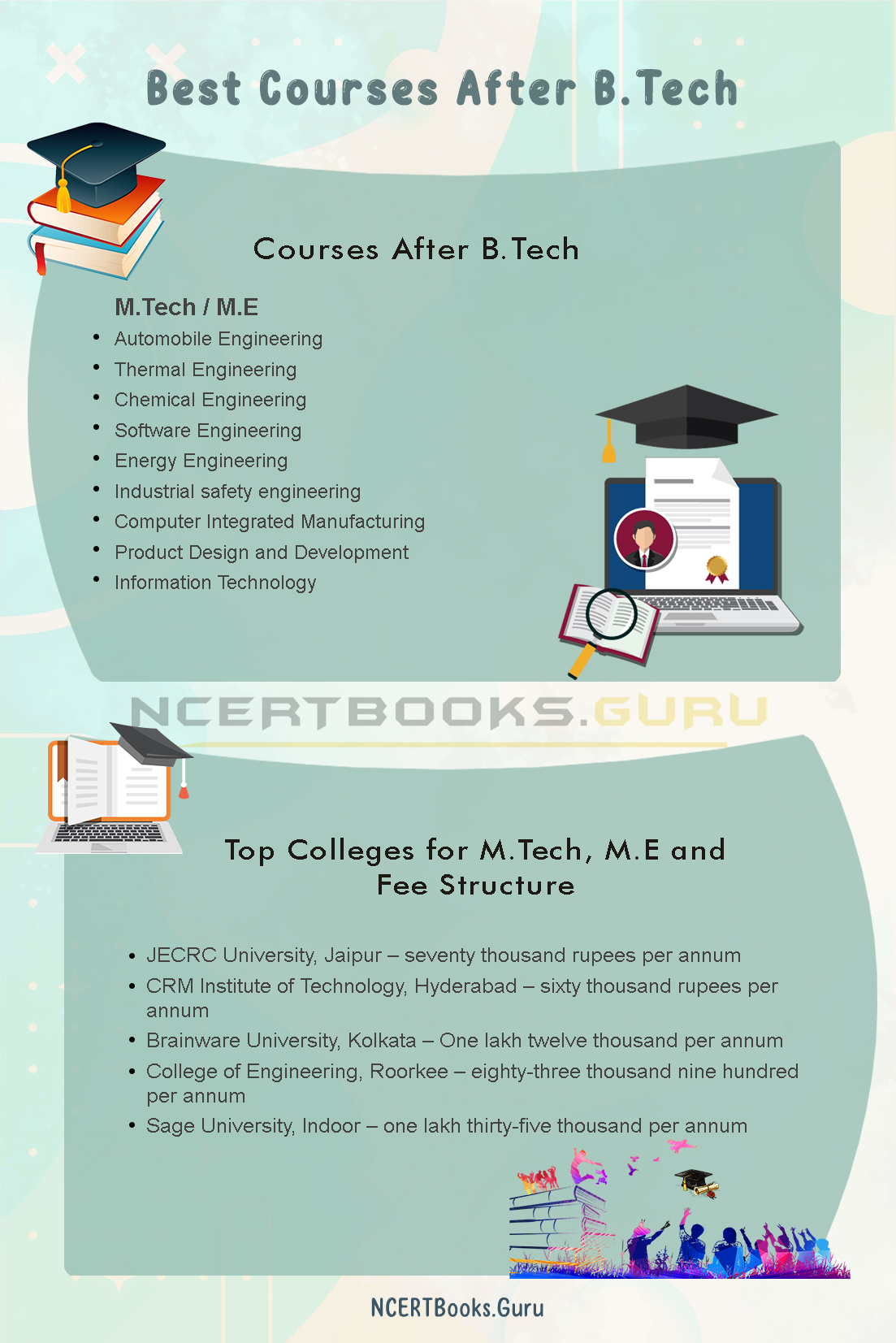 Do Refer Related Articles:
FAQ's on Courses After B.Tech
Question 1.
What are the options available after completing B.Tech?
Answer:
After completing one can go for jobs, and in case they want to study; further, they are eligible for various courses across domains related and unrelated. B. Tech prepares one with technical knowledge in the domain of study, meanwhile opening doors of various avenues.
Question 2.
How much does a B.Tech course cost in India?
Answer:
The fee structure differed as per colleges, but on average, Rs 3-5 Lakh.
Conclusion
Gone are the times when one needed to finish their M.tech after they are done with their B.tech just by the rule of thumb. With the education system becoming more progressive and inclusive, it is now possible to pursue so many other career branches even if it is not connected to b.tech directly.