Process Engineering Courses: If you are willing to build up your career in Process Engineering then you are required to pursue a bachelor's such as B.Tech in Process Engineering. The field will teach you about design, optimization, control of processes, fundamental laws, and more.
Engineering includes various other aspects of engineering such as agriculture, chemical, food, mining, and more. By pursuing this degree you will learn the implementation of quality, safety, and reliability in the process industry.
About B.Tech Process Engineering Courses In India
BITS Pilani offers you B.Tech Course in Process Engineering. Process Engineering Course Duration is 4 years which consists of 7 semesters. It is a work-integrated program for working professionals. As the course is available in an online format so you can easily opt for the same.
The course provides the framework for working professionals to focus on designing, operating and control of physical and chemical processes. It will also provide enhancement to work in the biological processes. B.Tech in Process Engineering provides you long time skills development which later helps you in the process industry. With the help of it, you can frame your career in the realistic path of your own choice.
To know more about the B.Tech Process Engineering Courses you may read the below article and know the complete details for fees, eligibility, colleges, and more.
Bachelor's Process Engineering Course Admission Process
You can directly apply to the Chemical Process Engineering Courses from the official website through the following steps:
Visit the official website and create an account
Then fill out the application form and submit the required details
Pay the application fees.
Also, in the end, you will be required to provide your own signatures and your mentor's signature.
Do not forget to take a printout of the form for future reference.
Process Engineering Course Eligibility
The basic eligibility criteria to get into the B.Tech Process Engineering is:
You must hold either diploma in engineering course or a Bachelor of Science degree in the relevant domain.
Your bachelor's degree must be completed with a minimum aggregate of 60% marks.
You must hold a minimum of 2 years of work experience in the engineering area such as agriculture, Pharma, Fertilizer, Petroleum, Chemical, etc.
Fees for Process Engineering Course
For B.Tech Process Engineering you have to pay Rs 1500 as application fees, Rs 16,500 as admission fees, and Rs 57,750 as semester fees. The Process Engineering Online Course Fee structure is very well defined and you can easily pay the fees through instalments.
Process Engineering Colleges
B.Tech Process Engineering is an online course. As the course is available online so you are not required to visit the college. But for Masters in Process Engineering, there are various colleges such as
IIT Roorkee
IIT Kanpur
NIT Trichy
NIT Surathkal
MANIT Bhopal
BITS Pilani
Institute of Technical Education and Research Bhubaneswar
UPES Dehradun
IIT Bombay
Hindustan Institute of Technology and Science
Do Refer
Skills Required for Process Engineering Course
There are various skills required for the process engineers such as
Mathematical Skills
Software Systems
Computer Knowledge
Problem Solving Skills
Team Work
Communication Skills
Analytical Skills
Auto CAD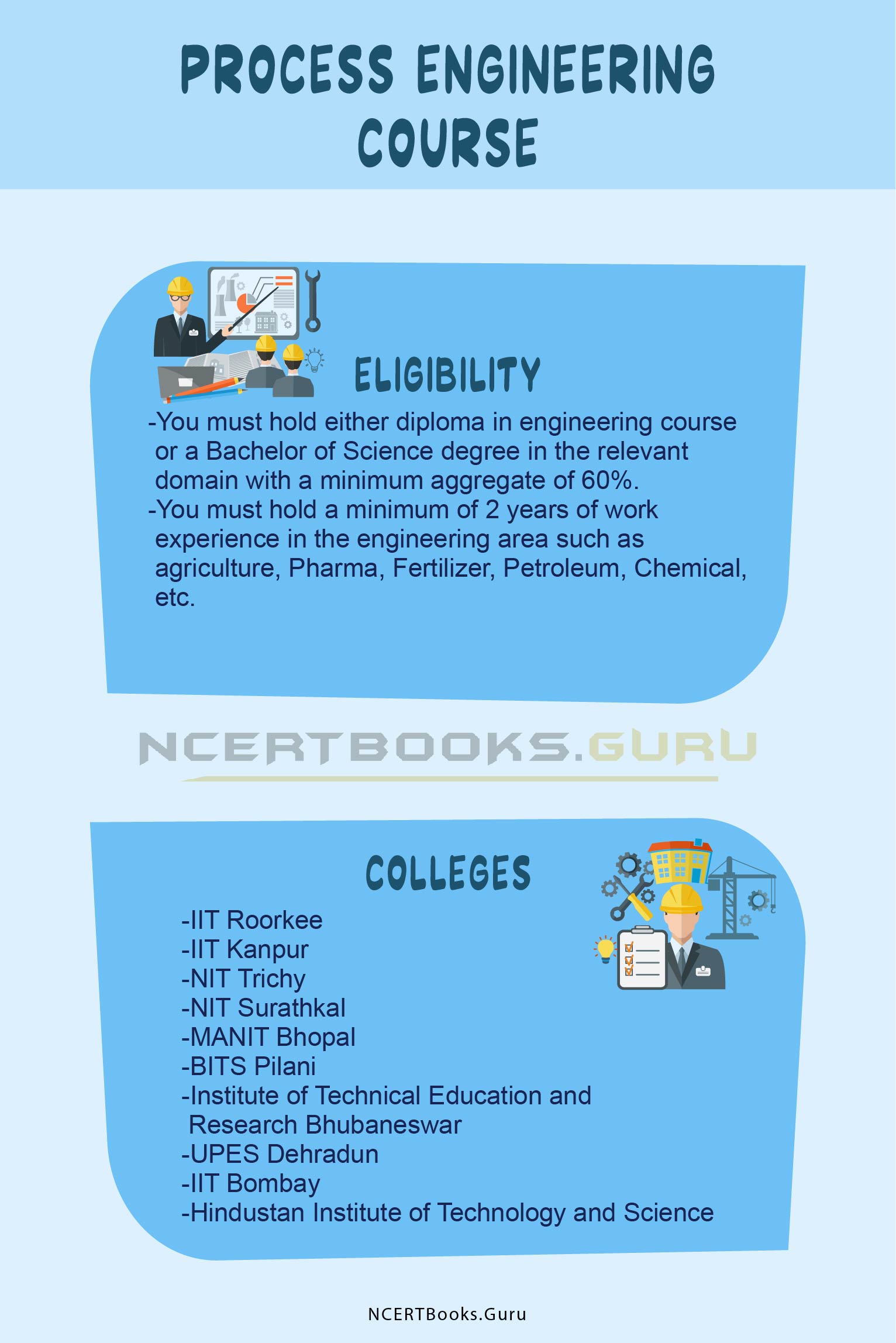 Process Engineering Syllabus
The actual syllabus for the process of engineering according to the semesters is different from college to college. But the pattern and subjects will remain the same. The B.Tech Syllabus for Process Engineering Courses also included elective courses which will be taught during the classes. Here, is the list of core and elective subjects for the process engineering course.
Core Subjects
The core subjects are a little important from the mark's point of few. They have more weightage and will make you score a high percentage if you get high marks in that.
| | |
| --- | --- |
| Calculus | Computer Programming |
| Chemical Engineering Thermodynamics | Fundamentals of Transport Processes |
| Electrical & Electronics Technology | Engineering Materials |
| Energy Management | Process Equipment Design |
| Linear Algebra & Optimization | Chemical Process Calculations |
| Process Design Principles | Dissertation |
| Process Plant Safety & Environment | Process Control & Instrumentation |
| Technical Report Writing | Principles of Management |
| Unit Operations – I | Engineering Measurements |
Elective Subjects
There is a choice in elective subjects. You can choose whichever suits you as informed by the university. These do not have high weightage but they are scoring subjects.
| | |
| --- | --- |
| Environmental Pollution Control | Fertilizer Technology |
| Extractive Metallurgy | Cement Technology |
| Furnace Technology | Power Plant Engineering |
| Materials Management | Steel Processing |
| Production Planning and Control | Essentials of Project Management |
| Quality Control Assurance & Reliability | Manufacturing Processes |
Career Scope and Job Opportunities after B.Tech Process Engineering
Process Engineers are in great demand these days. If you are choosing this course then you must be relaxed you will get good career opportunities. You can work in both the private and government sectors as a process engineer, Even there are various specific fields in which you can perform such as Pharma, Chemical Industry, Agricultural industry, environmental industries, and more. There are various job profiles that are waiting for you after the completion of your degree.
 Senior Process Engineer
Junior Process Engineer
Food Hygiene Engineer
Chemical Engineer
Professor
Process Engineers Salary
As the career scope is quite good it created a high-rated salary for you. The average salary is INR 4 LPA to INR 8 LPA. It is totally dependent on your job profile and the task which you ate performing.
FAQs on UG Process Engineering Courses
1. From where I can pursue B.Tech in Process Engineering?
Ans. You can opt for B.Tech in Process Engineering Courses from the best colleges all over India. As the course is an amazing opportunity for working professionals, it is a work-integrated learning program.
2. What is the duration of Process Engineering Courses?
Ans. The bachelor's course has a duration of 4 years which included 7 semesters. The master's course in Process engineering is available for the duration of 2 years.
3. What is the eligibility for the Process Engineering Course?
Ans. You must be a working professional with a minimum bachelor's degree in the relevant field. Also, you have at least 60% marks in your bachelor's.
4. What is the role of a process engineer in a firm?
Ans. Process Engineers are required to design, analyze, control various processes in the industry. They were mainly recruited for chemical, biotechnology, and manufacturing firms.
Final Words
We have included the complete and latest information on B.Techg Process Engineering Courses Details. You can visit our official website to know more about process engineering courses or other engineering domains. If you have any queries feel free to ask in the comment section below.