How to Get Admission in M.Tech Courses at IITs, NITs Without GATE Score? The need for higher educational qualifications, certificates, and degrees is a must in the current world of competition. This is mainly as a result of the career opportunities and professional requirements reaching a peak. Under this scenario, an Undergraduate degree might not be enough to accomplish all future plans. M.Tech (Master of Technology) is a very rewarding degree to pursue, for job prospects in the technical and industrial domain.
An interesting fact is that many universities at the central and state levels offer M.Tech courses without GATE scores. Multiple admission procedures are followed which are accessible to a wide range of students. The most sought after institutes in India – IITs and NITs also follow a similar structure of admission to M.Tech courses.
M.Tech Courses in India & Eligibility
There are premier institutes in India that provide M.Tech courses without GATE (Graduate Aptitude Test in Engineering). Admissions can be based on merit or scores in the entrance tests conducted by different universities. There are sponsored seats for government employees in some institutes where employees get sponsored by their organization.
The compulsory requirement to be eligible is a B.Tech (Bachelor of Technology) and BE(Bachelor of Engineering) degree in a particular branch.
Students with an MSc degree can also pursue M.Tech courses. For sponsored students, the requirement is for them to have a minimum of 2 years of work experience. Direct admission in M.Tech Without GATE & IITs can also be possible on the basis of merit provided candidates who have a CGPA of 8 and above. This applies to the eligibility criteria for direct admission to some NITs as well.
M.Tech Courses Fee Structure
The fee structure and other costs depend on the location of the institute, the University of Affiliation, total seats and other factors. The approximate fees for admission to various IITs are around INR 50000 and INR 250000. Other government institutes offer M.Tech courses with lower fee structures.
For private institutes, the costs are usually more with other concession amounts to be paid. Hostel and mess facilities may require extra costs. But in the case of sponsored candidates, the course duration expenditure is borne by the company. The course fees can be paid in installments and waivers if offered in the case of candidates with reservations.
Get to Know More about other types of Course Details Streamwise, and Category wise.
M.Tech Courses Admission 2021 Dates
The commencement of the application process and admission dates depends on different institutes. Various offline and alternative modes have been adopted in 2021 for admission to M.Tech courses. The application dates for NITs are yet to be announced. Some IIITs which conduct their own entrance or direct admissions opened their portals in February and March.
Most of the state universities conducted their application process between and 2nd and 3rd week of July 2021. Central institutes opened the applications from the 3rd week of March to the end of May. These dates can vary considerably for different institutes. The best way to track the process is to keep visiting their official websites regularly.
Also, Read:
List of Institutes Providing M.Tech Courses In India Without GATE
The list of M.Tech Admission 2022 Without GATE in Government and Private Colleges is given here:
IIT Delhi
IIT Bhubaneswar
IIT Hyderabad
Jamia Millia Islamia
Jawaharlal Nehru University
Aligarh Muslim University
Pondicherry University
University of Hyderabad
The universities and colleges mentioned above conduct their own entrance tests for admission to M.Tech courses.
M. Tech Courses Admission Process
After a candidate has met the eligibility criteria for a particular institute, different steps are to be followed to complete the admission process.
After application links are closed, merit lists are released.
If the university conducts its own entrance through different forms, cut off lists will be released.
Next, it comes to the counseling process where students eligible as per merit or entrance course apply to the institutes.
After counseling, the confirmed list of candidates will be released in a series of rounds
The document verification process through physical modes is the next step, after which students can join the course classes as and when they commence
These steps are similar for most institutes with slight variations from state to state, government and other institutes.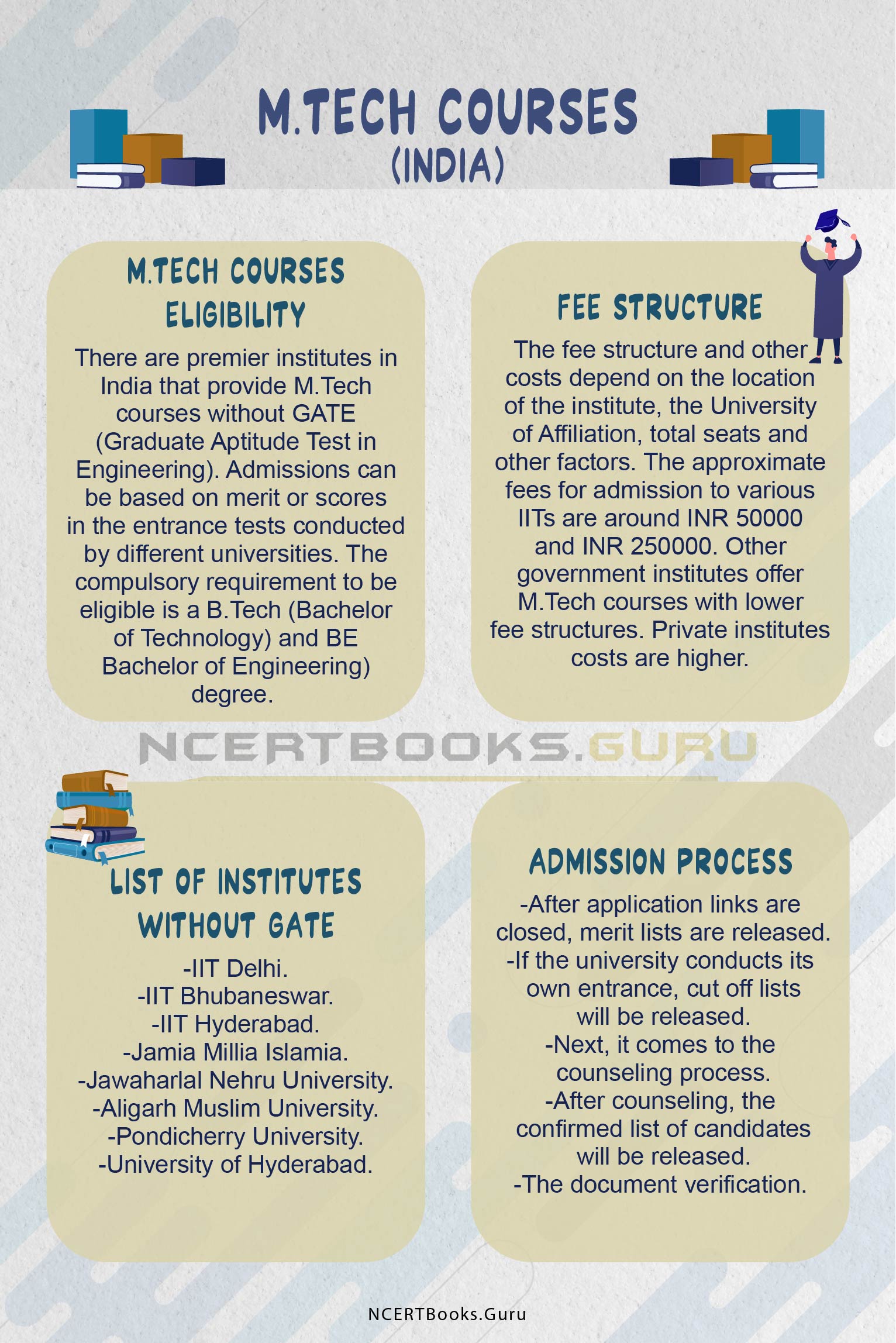 FAQ's on How to Get Admission in M.Tech Courses at IITs, NITs Without GATE Score
Question 1.
What are the job opportunities after M.Tech?
Answer:
Different job options become available to you with this degree. Technical, educational and many other fields hire a large bulk of M.Tech degree holders.
Question 2.
Can I pursue M.Tech after BSc?
Answer:
To be eligible, an M.Tech course requires you to have a BTech, BE, or MSc degree. So, after a bachelor's degree, you need to study for 2 more years.
Question 3.
What is the average salary for an M.Tech degree holder?
Answer:
The average salary package may vary based on the company, the pay and benefits will be higher compared to an undergraduate degree.
Question 4.
Are distance learning programs available?
Answer:
There are open universities in India that offer distance learning programs in most fields including the technical domains.