Amity University Courses: Amity University Sets the Benchmark of global education with the best practices, theories, resources, and standards all over the world. The University offers more than 300 programs at more than 150 institutions and Centers.
Amity University UG PG Diploma Ph.D. Courses 2022 admission started at all the campuses. The Last date to apply at Noida campus Courses is 21 May 2022. The last date for applying to global students is 30 June 2022.
The Amity University Ranked India's # 1 Non-Profit Pvt. University. In this article, we are sharing all the details regarding the List of Amity University Courses Online distance education, open courses, UG & PG Courses, 1-year Diploma Courses in amity university list, Eligibility, Fee Structure, Application Procedure, etc.
Why Amity University?
Amity University is not only grooming professionals but also grooming good human beings with values across all its centers. The University has awarded more than 25000 scholarships to students, and partners with 80 International Universities as Research Partners.
The University has successfully provided top Placements in all Streams. More than 1000 Acres of high-Tech Campuses. More than 300 labs in various streams. It has 27 years of experience in the Education Field. Have a look at the below outline of the amity university and know what are the courses they are offering to students.
Overview of Amity University Courses in India
| | |
| --- | --- |
| University Name  | Amity University |
| Campuses | Noida, Lucknow, Jaipur, Gurgaon, Gwalior, Greater Noida, Mumbai, Raipur, Ranchi, Kolkata, Patna, Mohali. |
| International Campuses | Dubai, London, Amsterdam, Singapore, Mauritius, China, Romania, Tashkent |
| Last Date to Apply Noida Campus | 21 May 2022 |
| Website | https://www.amity.edu/ |
| Address Noida | Sector-125, Noida-201313 |
| Contact Number | 0120-245252/ 4713600 |
Amity University Courses List 2022
Amity University offers full & part-time courses for Bachelor's and master's degrees to Indian students as well as Global students. The University offers courses at Both Graduate and Postgraduate levels. Here is a list of graduate and postgraduate courses list:
Amity University Graduate Courses
Course Name 
Eligibility
Bachelor of Design (B.Des.) Fashion Communication
10+2 with(min 50%)
B.Des. Fashion Design
B.Des. Fashion Styling & Image Design/ Textile Product Design
B.Des. Fashion Technology/ Product Design/ Textile Design
B.Tech Civil Engineering/ Computer Science & engg./ Electronics & Communication Eng.
10+2 with PCM min60%
B.Tech (Mechtronics)
10+2 60% with PCM + 60 % in Math + English Proficiency Test, Interview
B.Tech Robotics
BA( Hons.) International Relations/ General / Business Economics
10+2 with 55%
BA Film Making
10+2 with 50%
BA (Hons.) English / Applied Psychology/ Economics
BA (Hons) Economics+ B.Ed/English B.Ed/ BA Hons History + B.Ed/ Political Science + B.Ed/ Sanskrit + B.Ed
10+2 with min 50%
BA (Hons) French
10+2 + English Proficiency Test + Interview
BA (Hons) German
BA (Hons) Political Science/ History
10+2 with 50%
BA (Hons.) PPE(Philosophy, Politics & Economics)/ BA Public Administration Courses/ Sociology/ Spanish/ Sanskrit
10+2 with 50% + economics 50% / (Sanskrit as subject in 10+2 for Sanskrit )
B.A (Hons) Philosophy
10+2 with min 50%
B.A. (Journalism & Mass Communication)
10+2
BA Multimedia & Gaming
10+2
BA Tourism Administration
10+2
BA LLB
10+2 with min 60%
BA (Hons) Psychology
10+2
BA, LLB (Hons.)
10+2 with min 60%
B.Com (Hons)
10+2 with min 60% + English Proficiency Test Interview
B.Com International
10+2 with 60%
B.Com, LLB
10+2 with 60%, English Proficiency Test, interview
B.Ed Special Education (Autism Spectrum Disorder/ Learning Disability, Mental Retardation, Intellectual Disability)
Graduation with min 50% and B.Tech with 60%
Bachelor of Elementary Education
10+2 with 60% with one language either English or Hindi
Bachelor of Physical Education
10+2
B.Sc (Hons) Environmental Science, BSc+ MSc integrated (Chemistry, Conceptualised Chemistry, Geo-Informatics/ Physics/ conceptualized Physics/ Human Genetics and Molecular Medicine/ Biochemistry )
10+2 with 60% PCM/PCB with 60 % in the respective subject course.
BSc IT International/ Actuarial Science/ Geo-Informatics/ Agriculture/ Anthropology/ Biotechnology
10+2. With 60% PCB/PCM
B.Sc Animation & Visual Graphics
10+2 with 50%
B.Sc clinical psychology
10+2
B.Sc. Animation & VFX
10+2 with 50%
B.Sc Biology
10+2 with 60% and 60% in Biology
B.Sc Dietetics & Applied Nutrition
10+2
B.Sc Economics
10+2 with 60% and math or economics 70 %
B.Sc Hons. Environmental Science/ Nanoscience
10+2 with 60% in PCB/PCM
B.Sc Biotechnology/ Chemistry/ Mathematics/ Physics
10+2 with PCB/ PCM 60%
B.Sc Microbiology
10+2 PCB/PCM 60%
B.Sc (Hons.) Medical Biotechnology/ Zoology/ Yoga/ Life Science/ Home Science/ Medical Physiology
10+2 with PCB/ PCM 60%
B.Sc IT
10+2 with 60% PCM
B.Sc Medical LabTechnology/ Molecular Medicine & Stem Cell Technologies, Nursing/ Biological Science
10+2 with 60% PCB
BSc+ MSc Integrated (Chemistry Hons/ Computational Physics/ Biotechnology/ Food Science Technology and Processing/ Geology/ Microbiology)
10+2 with 60% PCB/PCM
B.Tech (Aeronautical Engineering/ Automobile Engg.)
10+2 with PCM 60%

Entrance Test

B.Tech Aerospace engineering
10+2 with PCM 60%

Entrance Test

B.Tech (Bioinformatics/ Avionics/ Biotechnology/ Electronics & Electronics Engineering / Electronics & Instrumentation/ Food technology, Industrial Heavy Machinery/ Mechanical Engg./ Nanotechnology/ Nuclear Science & Technology/ Solar & Alternate energy/ Civil engg/ Artificial Intelligence/

10+2 with 60% PCB / PCM+ Entrance Test

B.Voc (Power Distribution Management/ Building Construction Technology/ Refrigeration & air conditioning/ Software Development)
10+2
B.Arch
10+2 with 50% PCM
BBA (Banking, Financial Services, and Insurance/ marketing, International Business Artificial Intelligence/ tourism Management)
10+2 with 60%
B.Com
10+2
Bachelor of Fine Arts
10+2 with 50%
Bachelor of Performing Arts/ Bachelor of Visual Arts (Acting/ Film and Television Production)
10+2 with 50%
B.Pharma
10+2 with 60% PCM/PCB
Bachelor of Social Work
10+2 with 60% and Medically Fit
BCA
10+2 with 60% PCM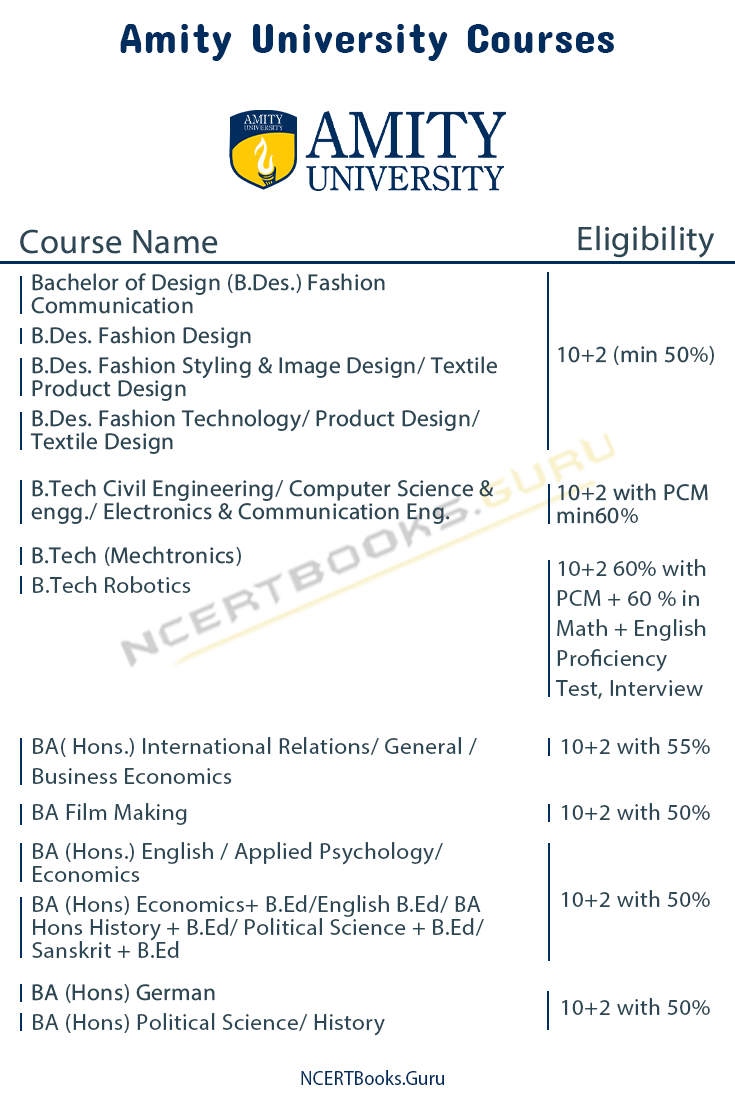 Amity University Postgraduate Courses
The university of amity offers various Amity University master's courses on almost all their campuses. Here is the list of amity university pg courses offered for graduate students.
Course Name
Eligibility
LLM
LLB or Equivalent with min 50%
LLM Business Law
LLM Constitutional Law/ Criminal Law
LLM (Family Law, Criminal Law/ Human Right/ Intellectual Property Right/ International Environmental Law/ International Trade & Economic Law, Media & Entertainment Law/ Medical & Health Law, Tax Law)
MA Fashion and Retail Management
Graduation with 50% in relevant field
M.Des (Design / Fashion Technology/ Fashion Textile)
Graduation with 50% in relevant Field
M.Pharma Drug and Regulatory Affairs
B.Pharma with min 60% from PCI approved institution
M.Phil (Clinical Psychology)

M.Sc with 50% in relevant field

M. Phil English/ child and Adolescent Psychology
M.Sc Genomics
Graduation with min 55%in Life Sciences
MA (Advertising & PR/ Business Economics/ defense & Strategic Studies)
Graduation
MA English
Graduation with English
MA Fashion and Textile/ History/ International Relation/ Organizational Psychology/ Public Administration/ Public Policy & governance/ Sociology/ Sanskrit
Graduation
MA Film and TV
Graduation
MA Journalism and Mass Communication
M.Ed Special Education (Learning Disability/ Intellectual Disability)
B.Ed with 50% Special Education
M.P.Ed
B.P.Ed with 50%
M. Pharm (Pharmaceutical Chemistry/ Pharmaceutics)
M.Sc (Forestry/ Horticulture/ Applied Geology/ Bioinformatics / food and Nutrition)/ Geographic Information System & Remote Sensing
Graduation with 50% in relevant Field
M.Sc Biotechnology
Graduation with Biology/Life Science/ Biotech etc with 60%
M.Sc (Atmospheric & Environmental Science/ Data Sciences/ Cyber Security/ Food Technology)
Graduation with min 50% in relevant Subject
M.Sc Biochemistry/ Clinical Psychology/ Clinical Research/ dietetics & Applied Nutrition)
M.Sc Forensic Science

Graduation with PCM/B subjects

Graduation with 60% in relevant Subject

M.Sc Hons (Physics, Biotechnology, Bioinformatics,Chemistry, Food Science & Processing, Geoinformatics)
M.Sc IT/ Molecular/ Medicine/ Nanoscience, Microbiology, Marine Science/ Network Technology & Management / Neuroscience/ Solar and alternate Energy/ Virology)
M.Tech (Aerospace Engg./ Artificial Intelligence/ Automobile Engg./ Avionics/ Control system/ Data Science)
B.Tech with 60% and 60% in 10+2
M.tech (Biotechnology)/ Computer Science/ Electronics and Communication
B.Tech with 60% and 10+2 60%
M.Com
B.Com with 50% min and 10+2 with60%
MCA
Graduation with PCM subject 50% , Math 50% ,BCA 50%
Master of Physiotherapy/ Interior Design/ Public Health/ travel and Tourism/ Urban Design
Full time 41/2 yr course BPT / Graduation in ID respectively/ Graduation
MBA
Graduation with 50%
MFA Applied Arts
Graduation with 50%
Related University Courses Articles: 
Do Check: BA in English
Amity University Diploma Courses
Amity University offers Undergraduate diploma courses at its campuses. The eligibility for enrollment in these Diploma Courses is 10th pass with min 45%, class 10+3 or Class 12th (10+2+2).
The courses are available in modes. Weekend mode: Monday to Friday 9 am to 4 pm and Monday to Friday 5 pm to 8 pm. Weekend Mode: Saturday & Sunday 9 am to 6 pm. The list of course offered at the Noida Campus are as follows:
Diploma in Computer Engineering
Diploma in Elementary Education ( 12th with 50% along with English & Hindi ).
PG Diploma in Clinical Art, Clinical Embryology
PG Diploma in Psychology.
Must Check: BA Syllabus 2022
Amity University Online Courses
Amity University also offers online courses accredited by UGC and with additional accreditations with US and UK. Amity University started online courses with its well-researched curriculum and faculty.
The University's online program benefits more than 225,000 students and more than 36000 campus placements. You can enroll yourself in online courses at the university as it offers both Bachelor's and Master's programs.
Master of Arts (MA): 2 years
Amity University Distance Education Courses
The candidate who can't join at any campuses of Amity can join Amity University distance Education course through its website: http://addoe.amity.edu. Here is a list of courses:
Master of Business Administration
Master of Computer Application
Master of Commerce (Financial Management)
MA (Journalism and Mass Communication)
Bachelor of Arts
Bachelor of Business Administration.
BCA
B.Com
Bachelor of Arts (Journalism and Mass Communication)
BA (Tourism administration)
B.Sc Information Technology
Diploma in Advertising And Brand Management
Diploma in Business Management
Diploma in the French Language
Diploma in Information Technology
Diploma in Forex Management
Amity University Courses and Fee Structure
Amity University Courses fee details vary according to the course and campus. The Courses fee at Noida Campus is a bit higher than other centers of the University. Here we are sharing some of the main amity university course fee structures with you. Hope it may help you choose the campus and course.
| | |
| --- | --- |
| Courses | Fee  |
| B.Sc Hons. | Rs 50,000 to 150,000/- per sem |
| B.Tech | Rs 115,000 to 172,000/- |
| B.Arch | Rs 109,000 per sem |
| BCA | Rs. 71,000 per semester |
| BFA | Rs, 30,000 to 70,000 per semester |
| B.Com | Rs. 90,000 to 147,000 per semester |
| BA Honors | Rs. 60,000 to 132,000 per sem |
| BBA | Rs 90,000 to 150,000 per semester |
| BA/BBA LLB | Rs. 70,000 to 132000 per semester |
| M.Tech | Rs. 70,000 to 150,000 first sem |
| M.Sc | Rs. 50,000 to 70,000 per year |
| MBA | Rs. 150,000 to 3,00,000 first sem |
Amity University Courses Eligibility
Like all other Universities Amity Also has different eligibility Criteria for different-2 courses. The Amity conducts its own Engineering Test AmityJEE, for Engineering stream admission, you have to appear either in IIT JEE Exam or state Engineering Exam, or Amity University JEE exam.
The score in the exam and other eligibility decides your selection for the University courses. In some courses, the selection is on a merit basis.
For Management courses, your score in CAT, and MAT is the criteria for admission.
If you take the Architecture Courses, you need to appear in NATA/ JEE-II and UPSEE Paper 4.
For Design courses, Eligibility is to upload your Portfolio.
For most of the courses, the English Proficiency Test is also compulsory.
Also Know:
Admission Process for Amity University Courses Online 2022
For admission at any of the Campuses of Amity University. You can choose anyone out of three choices. You can apply online on the Website of Amity University: https://amity.edu.
Here you can fill out the application form online and pay through Credit or Debit Card.
The second way is to go to any campus office and buy an Admission Brochure for Rs 11,000. and Submit it.
The third way is to download a free admission Form from the website and fill and send the form to your campus with a demand draft of 11,000 rs.
The Application Fee for Admission at Amity University is Rs. 1100/- for any course.
Amity University Course Online Application Form 2022
You can apply for any Amity University Courses through an online or offline process. For an online application, you have to visit Amity University Website: https://amity.edu.
Then go to the link Admissions in the menu bar. You can check eligibility, and application procedure here, from the application procedure you can also download the online application and send it with DD of 1100/ Rs. to the campus you want to join.
A relief to students who have secured 80% in the 12th standard is exempted from the selection process criteria. Only an application form is enough for their admission to the course. Here are the steps to apply online application:
Step 1: Obtain the application form from the website: http://amity.edu. By paying online through debit or credit card.
Step 2: Select the program offered by the Amity University program list.
Step 3: Fill out the application form with all the required fields, and submit the form. filling Email Address is mandatory as all the admission information is sent through mail only.
Step 4: Upload the documents Class X mark sheet, and recent Passport size photograph.
Step 5: Pay online through a Credit or Debit Card.
You can check the status of your application at the Amity University Admission Microsite. You can take the Career Test available at the Amity University Website if you are not sure what program you have to choose. A career test will help you choose the program.
Must See:
FAQs Regarding Amity University Online Courses
Q1: Where do I have to register myself for the admission process?
You have to register yourself for the admission process at Amity University Website: http://amity.edu.
Q2: Is a CAT/MAT/GMAT score necessary for admission to an MBA at Amity University?
No, If you have appeared for CAT, MAT, or GMAT exam you have to appear for Amity Written Test, then GD and Interview process for admission in any specialized MBA program.
Q3: Which course do I choose at Amity University, I am not able to choose?
Are you confused about which course I choose for admission at Amity University? You can choose it by taking the Career Test of Amity University. It will help you choose the right course.
Q4: I do not have an online payment option. How can I fill out the amity university application form online?
You can download an online application from the website of Amity University, fill out the form and send it to Amity Campus if you want to take admission with a demand draft of 1100/– which is a non-refundable amount.
Q5: What are the eligibility criteria for admission to B.Tech Course at Amity University?
For admission in any B.Tech Course you have to qualify JEE/ any state entrance test for engineering or Amity JEE exam. You have to also fulfill the eligibility criteria for admission like 10+2 with min 60% marks and 60% marks in Math. You must have to qualify for the English Proficiency Test plus an interview.