Master of Law LLM Course Details: Master of law or LLM course is an undergraduate degree of two years for the students who are interested in the law field. The course curriculum is divided into four semesters in these two years. Students with an undergraduate degree in law or a professional law degree can get inducted into this course. This course will take the students deeper into the law field and make them understand the different complex aspects of the law.
The students have to choose a specialization in this course to pursue their careers in that particular specialization field. There is a wide range of specialization available in the law field, such as- Civil Law, Tax Law, Criminal Law, Corporate Law, Commercial Law, Labor Law, Real Estate Law, and many others.
Get to Know More about other types of Course Details in Stream wise, and Category wise
Students are required to gain in-depth knowledge and develop appropriate skills in the chosen specialization field. This course educates the students with practical knowledge that will develop their research and analyzing skills.
The Master of Law or LLM course will develop a student's skills and knowledge, turning them into an efficient law professional. The course uses practical methods of teaching to give professional learning experience to the students. Job availability in the law field is very scarce, so to get a job in the law sector, students are required to have unique skills to catch the eye of recruiters.
There are many specialization fields in LLM for students to choose from. Specializations, like international business law, can increase the student's opportunity to get a job abroad and continue a successful career. Similarly, there are many specializations which can give the students a successful career.
The pay scale in the law sector is very high, and a student with a master's degree in law can get hired in big law firms with a good salary.
Students with a master's degree in law can stand out among many students seeking jobs and can attract recruiters to hire them.
Skillset Required for Master of Law LLM Course
LLM is a complex course because the law is one of the toughest fields to pursue a career. Students are required to work hard and give all of their efforts into this course so to complete it successfully. In doing so, students required some skills that will help them to complete the course with ease and not much pressure. The required skills will help the student to understand different subjects of this course and gain in-depth knowledge in this field. These skills are the same for various Law Courses in India. Some of the required skills for this course are:
Research Skills: The student must have appropriate research skills in order to gain knowledge in this course. In the law field, professionals are required to do a lot of research before coming to any conclusion. The research is done in some cases, should be appropriate and authentic.
Arguing Skills: This is the most important skill, a law professional should possess for being successful in his/her career. Professional with good arguing skills can put up his point in any circumstance and will not be suppressed by any other person's decision.
Confidence: Students for becoming an efficient law professional are required to be confident in everything he/she is doing. Students lacking confidence in their work can get suppressed by anybody in the world, which is not a good quality in the law sector.
Intellectual: The students are required to be intelligent so that they can study and interpret human behaviour and come into conclusions basing upon those behaviours.
Communication Skills: The student should be a good communicator so that he/she can communicate information properly to the listener without causing any trouble for them.
Presentation Skills: The student must possess the skills to pitch and present his/her idea in front of others in such a way that the presentation will make the listeners believe the student's idea or opinion.
Master of Law LLM Course Duration in India
The Master of law or LLM course is a two-year postgraduate course with the main objective of improving the skills and knowledge of the students in the field of law. The students are educated in a practical based learning system in these two years.
This two-year course is divided into four semesters. In these four semesters, the students will gain basic knowledge as well as advanced knowledge in different aspects of the law.
Master of Law LLM Course Eligibility Criteria
Students are required to qualify some eligibility criteria to get admission into this course. This is the process different colleges use to shortlist the students. Colleges reject the application of students who don't fulfil the eligibility criteria for this course. The eligibility criteria for this course is as follows:
The student must have passed LLB Course/Bachelor of law from any recognized university.
Students passing 5-year integrated law courses are also eligible.
Some colleges fixed minimum mark criteria for shortlisting the students. These colleges or universities want the students to score a minimum of 55% marks in their graduation.
Master of Law LLM Course Fees Structure
The average course fee of Masters of Law or LLM is Rs 2 Lakhs for two years. The amount of course fee charged depends upon the college the student is taking admission into. Top law colleges charge more as compared to ordinary colleges.
The course fee doesn't include other expenditures that the student has to incur in these two years. Some of these expenses are hostel fees, mess fees, library fees, the fee charged for different college seminars and functions.
Master of Law LLM Course Syllabus
LLM Business Law Subjects
Insurance Law
Business Law
Law and Social Transformation in India
Legal Education and Research Methodology
Law Relating to Regulatory Authorities
Legal Regulation of Economic Enterprises
Commercial Arbitration
Environmental Law
Alternate Dispute Resolution & Securities Law
Judicial Process
Law of Industrial and Intellectual Property
Indian Constitutional Law: The New Challenges
International Trade Law
LLM (Constitutional Law)
National Security, Public Order and Rule of Law
Law and Social Transformation in India
Research Methodology
Administrative Law
Mass Media Law
Constitutionalism: Pluralism & Federalism
Administrative Process and Judicial Control
Human Rights
Dissertation
Indian Constitutional Law- The New Challenges
Judicial Process
LLM (Criminal Law)
Research Methodology
Life and Fire Insurance
Judicial Process
Banking Law
Consumer Law
Corporate Law
Theories of Law
Legislative Process
Legal Concepts
Law of Intellectual Property
Competition Law
Corporate Jurisprudence
LLM (Family Law)
Family Law III – Nuclear and Extended Family Rights
Family Law V – Family Property and Succession
Comparative Public Law
Foreign Business Language
Foreign Business Language
Family Law IV – Penal Laws on Family Affairs
Family Law I – System Scope Sources and Schools
Law and Justice in Globalizing World
Legal English and Research Methodology
Family Law VI – Family Disputes Resolution
Family Law II – Marriage and Matrimonial Remedies
LLM (Human Rights)
International Obligation
Concept & Classification of Rights
International Humanitarian Law
Human Rights and International & Regional Perspectives: Implementation Mechanism
Human Rights & Criminal Justice
Concept of Human Rights
Refugee Law
Human Duties, Responsibilities & its Effectuation
Dissertation Research
People's Rights to Self-determination
Constitutional Governance of Human Rights in India
Jurisprudence & Human Rights: Lego Philosophical perspectives
Dialectics of Human Rights
Concept of Human Duties
Emerging Concept of Human Rights
LLM International Trade Law
Law and Practice in International Banking and Commercial Payments
Charter Parties: Law and Practice
e-Commerce
International Litigation and Arbitration
World Trade Law
Introduction International Trade Law
Marine Insurance
Also, Refer
Master of Law LLM Career Options
Job opportunities in the law sector are low as compared to the other sectors, but the pay scale in this sector is much higher than the other sectors. Being hired in a reputed law firm can get the students to earn huge fortunes and to prosper in their careers. There are many career options available in the law sector where a law professional can get hired in. Some of these career options are:
Advocate: A student with this degree can be a professional advocate. Advocates are hired by individuals or companies to fight their cases. Advocates are required to research efficiently and present proper facts in front of the court to prove his claim. There are also other responsibilities of an advocate, such as scrutinizing and drafting contracts.
Solicitor: Students need to specialize in a particular area such as tax, litigation, family or property to become a solicitor. Companies hire solicitors to get his/her advice in their legal matters. With the help of the solicitor, companies can avoid getting into legal issues.
Judge: A student can get selected as a judge. A judge is required to ensure that the legal rights of both the parties fighting a case are not hampered. A judge listens to the arguments of the advocates and comes to a conclusion based on these arguments.
Legal Advisor: Legal advisors is one of the most popular job profiles in the field of law. Governments and different private companies hire a legal advisor in order to prevent their organizations from getting into any legal complications.
Notary Public: In order to get hired in this post, job seekers are required to have some job experience. The Central Government or State Government makes the recruitment for this post. The responsibility of this job profile is to handle and maintain the legal matters of the government.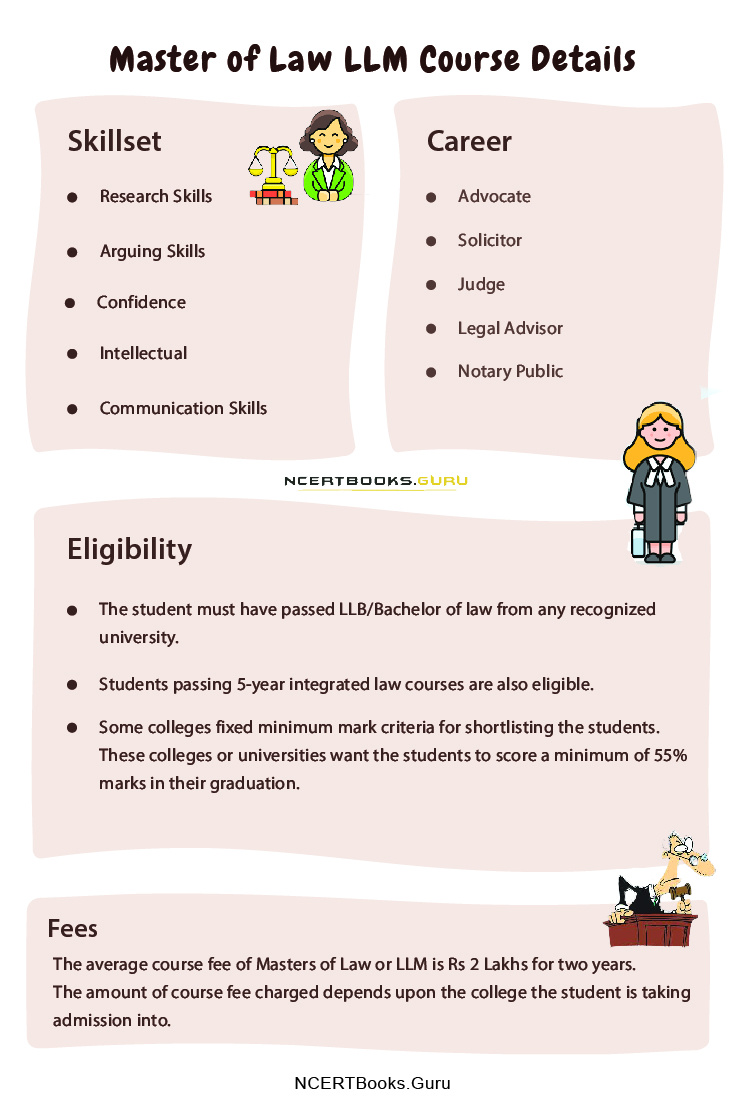 Master of Law LLM Course Salary
Law is one of the highest-paid sectors. Getting a job in the field of law is difficult, but the pay scale is much more than the other sectors. The average salary in the law sector is Rs 10 Lakhs for freshers Experienced professionals are paid more than the amount as mentioned earlier.
The expected salary of some of the job profiles are:
| | |
| --- | --- |
| Job Profile | Annual Average LLM Salary |
| Advocate | Rs 10 Lakhs |
| Solicitor | Rs 8 lakhs |
| Judge | Rs 15 Lakhs |
| Legal Advisor | Rs 8 Lakhs |
| Notary Public | Rs 36 Lakhs |
Master of Law LLM Course Admission Process
Admissions into this course are done through the entrance exams. Some of the popular entrance exams in India are CLAT and LSAT. Universities also conduct their own entrance exams for shortlisting the students. Some of the university-based entrance exams are IPU, CET, DUET, etc.
Some of the top colleges of India are:
National Law University, Bengaluru
National Law University, New Delhi
Nalsar University of Law, Hyderabad
Indian Institute of Technology, Kharagpur
FAQ's on Master of Law LLM Course Details
Question 1.
How can I pursue LLM in India?
Answer:
Students need to have a graduation degree in the law sector and should have a minimum of 55% in his/her graduation to get qualified for admission into this course. Students need to appear for an entrance exam to finally get selected and pursue the course in a university or college.
Question 2.
Is it worth doing LLM in India?
Answer:
This course is a master's course in law and offers a lot of job opportunities for students. As Law sector is one of the highest-paid sectors, students after completing their postgraduate degree can get hired in top law firms with highly paid salaries. Therefore, in recent days LLM in India has become a good choice for the students.